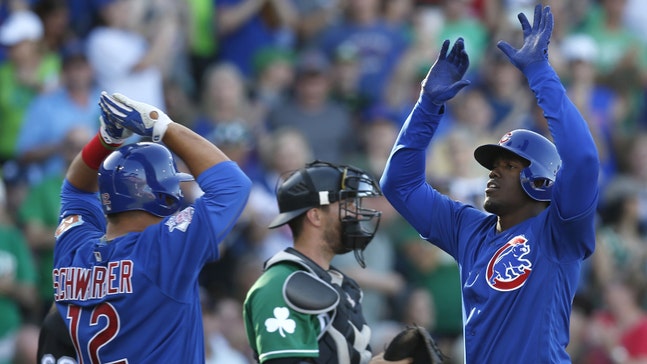 Cubs hammer Bradley from outset
Published
Mar. 18, 2016 12:29 a.m. EDT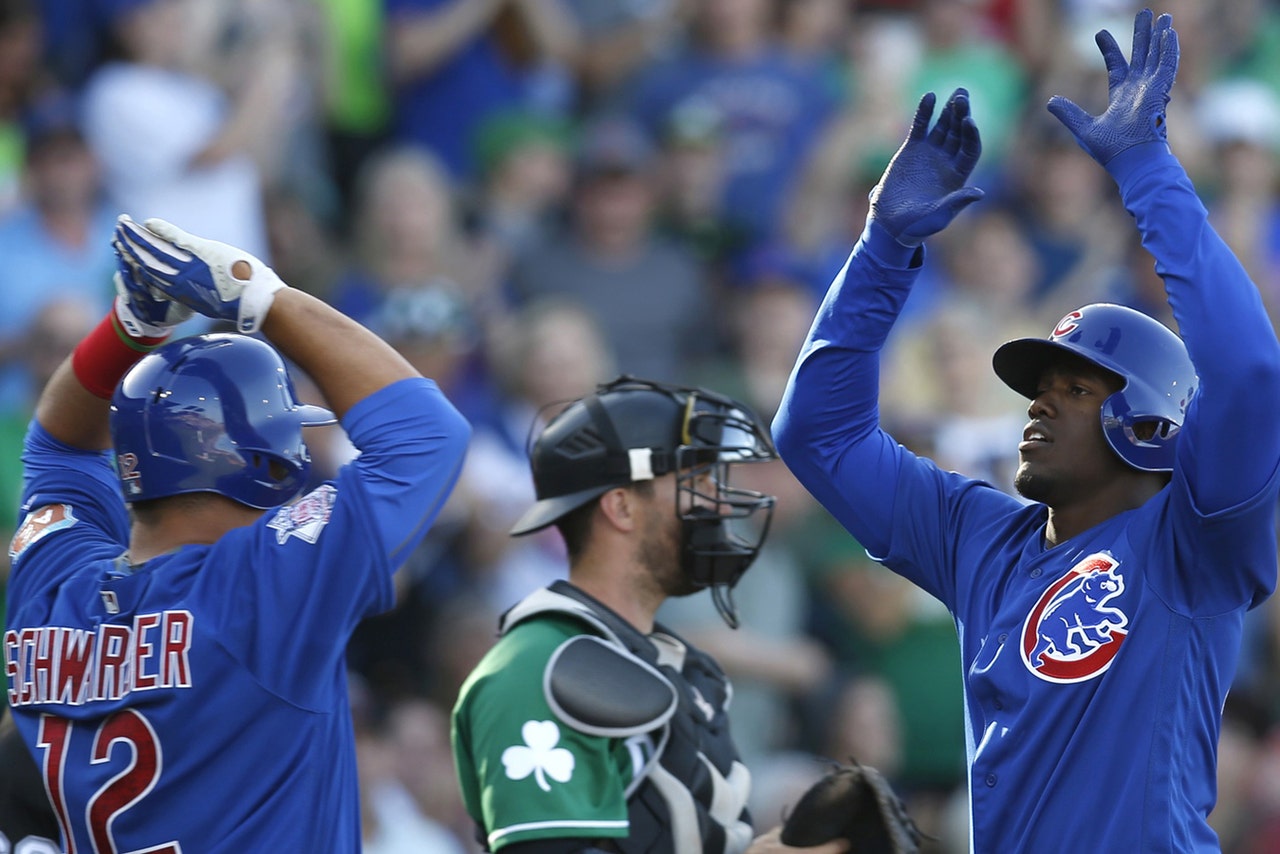 MESA, Ariz. -- Jorge Soler hit a two-run homer off Archie Bradley, and the Chicago Cubs beat the Arizona Diamondbacks 15-4 at spring training on Thursday night.
Soler capped Chicago's five-run first with a drive to right-center for his second spring homer. He also had a run-scoring double in the third.
Chicago right-hander Jason Hammel struck out six while pitching four innings of one-run ball. He allowed five hits and walked none.
"There were a lot of first-pitch hacks on heaters and they were seeing heaters," Hammel said. "I made the adjustment after the second inning and started throwing off-speed early and it worked out pretty well."
Bradley was charged with six runs in 2 1/3 innings.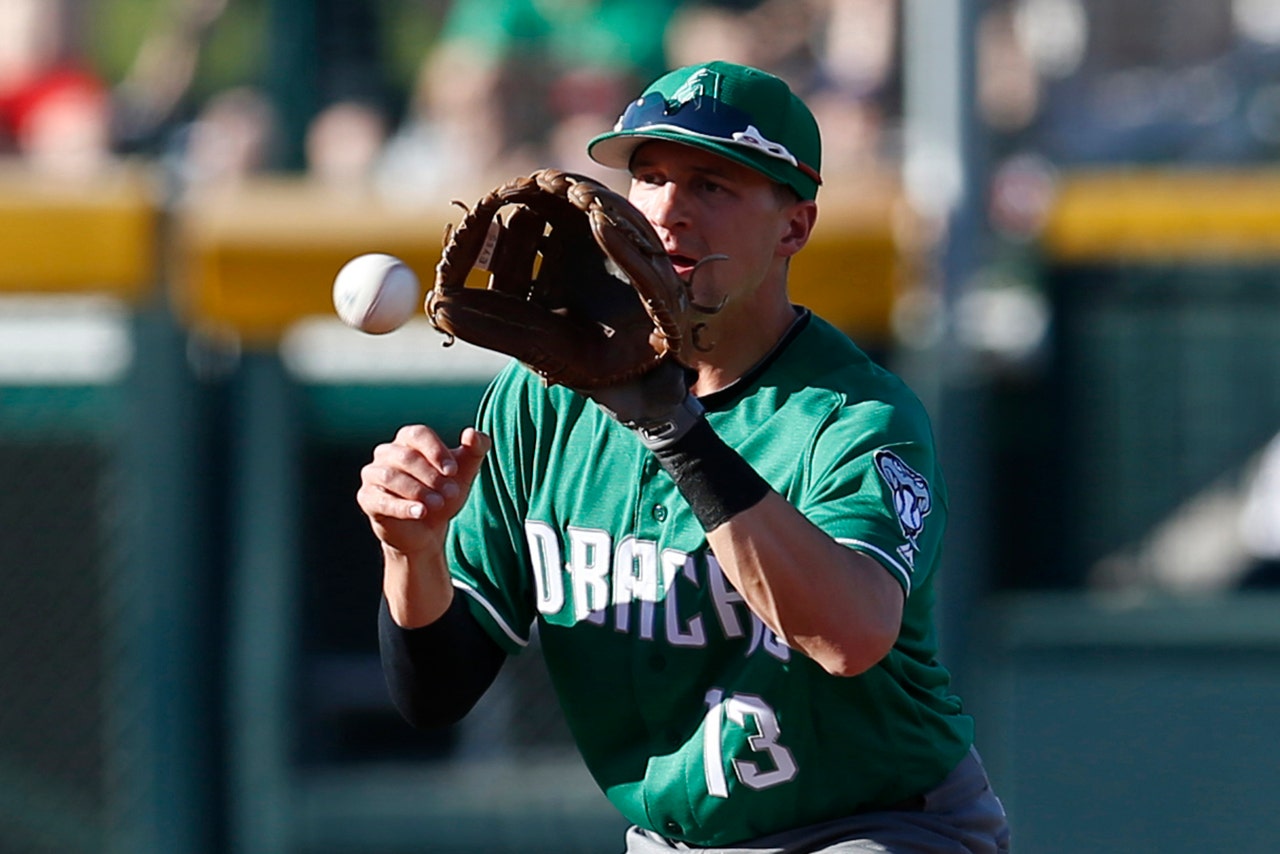 THREE TAKEAWAYS: Cubs 15, D-backs 4
* The writing was on the wall for a while, but Thursday seemingly entrenched it. Robbie Ray will be D-backs' fifth starter. Rubby De La Rosa and Ray were held out of Cactus League games so as to avoid opening week opponents the Cubs and Dodgers (Friday). Then Bradley game up six runs in 2 1/3 innings.
* Looking to cut down their strikeout total of a year ago, hitting with two strike has been a theme this spring. Jean Segura's no-doubt home run came with two strikes in the fifth inning.
* The pitching woes extended to the backend of the D-backs' bullpen as well. The Cubs scored seven earned runs in 2 1/3 inning against the combination of Brad Ziegler, Tyler Clippard and Daniel Hudson. But, hey, it was March 17, not the first week of April.
-- Chris Gabel, FOX Sports Arizona
"Obviously there is a lot to learn from this game," Bradley said. "I'm not overly upset. I'm not happy with it, nor pleased. There's things to learn and things to improve on. I'm positive and confident. I just have to bounce back."
Manager Chip Hale didn't sound too concerned.
"The velocity was good," he said. "Maybe got too predictable and they are good hitters. They made him pay. Not the greatest outing but the ball is still coming out of his hand good."
Jean Segura singled and scored in the first for Arizona, then homered in the fifth off Drew Rucinski.
"There were some good things," Hale said. "Segura's two-strike home run was nice."
Cubs: Hammel said he is starting to get a good rapport with Kyle Schwarber as his catcher.
"It's carried over from last year," Hammel said. "He is a student of the game and he is ready to learn. He made a lot of adjustments over the course of the offseason and the early part of the spring."
Diamondbacks: Bradley struck out three and walked three.
"The first inning happened quick," he said. "It's not even like in the sense that it sped up on me. Back-to-back-to-back hits and next thing you know it's 3-, 4-0. Only thing that was on my mind was try to get out of the inning as quick as I can and limit the damage."
Cubs: Utilityman Javier Baez is day to day after injuring his thumb sliding into first base on Wednesday. ... Second baseman Ben Zobrist was scratched due to an ingrown toenail and should return shortly.
Diamondbacks: Outfielder Yasmany Tomas (sore left knee) was scheduled to pinch-hit in his first appearance since the second Cactus League game, but Hale decided against it with the pace of the game. He is in the lineup Friday. ... Left-hander Matt Reynolds (ribs) was removed after recording one out as a precaution.
Cubs: Right-hander Kyle Hendricks makes his third start of the spring when the Cubs take on the White Sox on Friday. Left-hander John Danks goes for the White Sox.
Diamondbacks: Right-hander Zack Godley takes the mound at Camelback Ranch against the Dodgers on Friday. Brandon Beachy goes for Los Angeles.
---
---