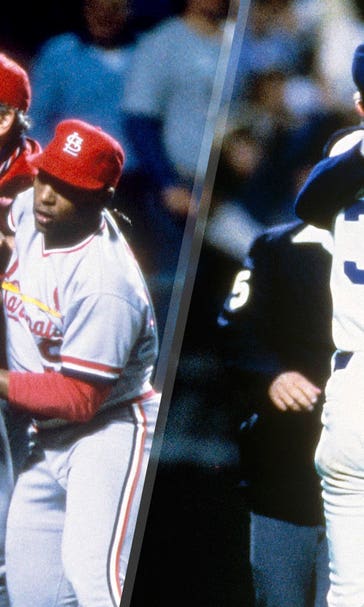 1985 World Series: The wild and crazy complete story of the Kansas City Royals' unlikely win
October 29, 2015

It was nine months after the last out of the 1985 World Series.
George Brett's Kansas City Royals had won the Series, and now he was in the middle of another baseball season. Brett walked into Dick Howser's hospital room and was shocked by a picture he saw.
His beloved manager, seeming confused and disorientated at the 1986 All-Star Game, had been flown back to Kansas City, Mo., in the middle of the night after he managed the game. Within a couple of days, Howser was diagnosed with terminal brain cancer, and surgery to remove the mass in his brain was scheduled immediately.
"I walked into his room and he had a picture of me and him," Brett said recently. "I just lost it."
Brett knew Howser well from when Howser was a coach and later manager with the Yankees. By the time Howser joined the Royals in the summer of 1981, he and Brett already had a strong bond. What surprised Brett in the hospital was understanding for the first time how special their friendship was to Howser.
During the following 11 months that Howser was sick, the 1985 World Series took on a new, larger meaning for everyone involved.
"His recollections of what that championship signified to the people in Kansas City and elsewhere meant so much to him," says his daughter, Jana Howser. "The cards and the flowers and the kindest wishes arrived every day over the course of that entire time he was sick."
Thirty years later, the 1985 World Series still has its thorns as the Royals pursue their first championship since, currently leading the New York Mets two games to none with Game 3 set for Friday night in Queens.
The St. Louis Cardinals players, who lost the '85 Series in seven games, say it was a privilege just to play in a World Series, but that championship will always be the one that got away.
For the Royals, the sweetness of their first (and so far only) championship is also a constant reminder of the all-too-short life of their kindly and humble manager, who died on June 17, 1987. He was 51.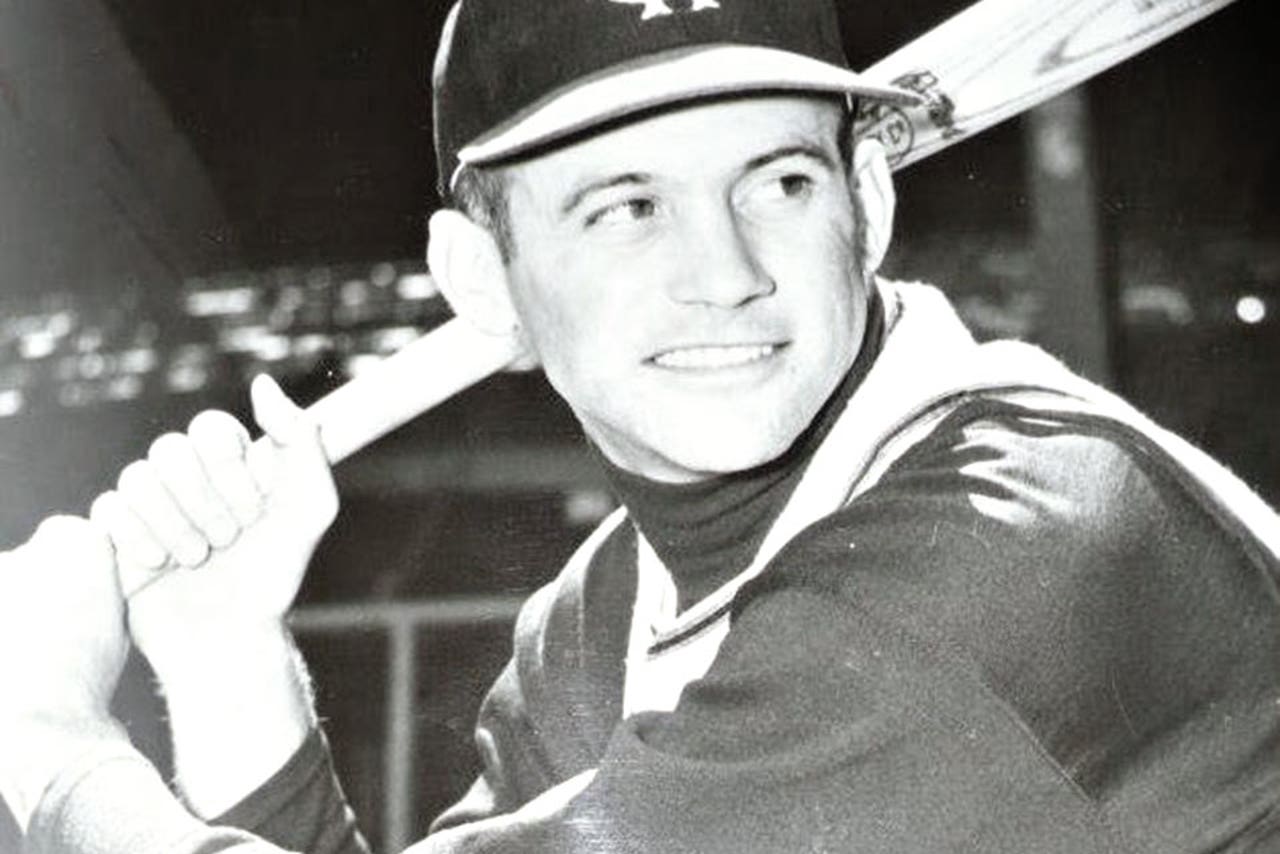 Dick Howser played for the Kansas City A's from 1961-1963, then managed the Royals to the 1985 World Series.
"Everybody always asks, 'Who was your favorite manager?' And I always say Dick Howser," Bret Saberhagen, the 1985 World Series MVP, says. "He gave me an opportunity at 19 years old as a non-roster player and he trusted me and believed in me. The unfortunate part is I wasn't able to play for him as long as I liked."
Those involved in that World Series say that what happened during the 1985 season and over the course of the seven-game affair will always supersede what shows up in the box scores.
THE BUILD-UP
Jim Sundberg (Royals catcher): Dick was the best manager I ever had. I played for 16 managers in 16 years and two of them twice. He was the best one. He was consistent. He was a man of integrity. He knew the game; he kept control of the ballclub.
Burt Reynolds (actor, Dick Howser's lifelong friend): Dick and I were dear friends from sixth grade all through high school. Dick and I went to Florida State together, too. We were together in everything. We both wanted to play college ball, but Dick always wanted more. He wanted to go on and play professional baseball and be a captain, which he was, and eventually be a manager. We used to talk about it. I used to think, dream on. But, he did all of those things. All of the guys that played with him -- I run into a lot of guys who played with him and for him in the major leagues -- and they all were crazy about him.
Brett (Royals third baseman): Dick was just a low-key guy. He never got too excited when things were going good, and he never got too down when things were going bad. (Cardinals manager) Whitey Herzog was the same way. Whitey would vent his anger at the players a lot more than Howser would, when things were going bad. Dick didn't do that. Dick had this inner confidence in himself and I think it rubbed off on the players.
Herzog (Cardinals manager): In spring training of '85, the writers voted that I was going to be the first manager fired and we were going to finish last.
Rick Horton (Cardinals pitcher): Whitey should be at the center of what the celebration of 1985 was all about, because, really, it was his genius with how he used the offense and managed the bullpen. Everything he did just turned to gold.
Herzog: I went into spring training with only one guy on my 40-man roster with a major-league save, which was Neil Allen. He makes a statement that because he was traded for Keith Hernandez he just couldn't handle the pressure. Nice guy, just couldn't handle pressure. So, I started going bullpen by committee. That's where that phrase started. I hoped to get 40 saves out of my bullpen. We ended up not blowing a lead all year when we were leading after seven innings until Don Denkinger's call in Game 6 of the World Series. That's how good they were.
Jim Sundberg: We didn't have an overpowering offense. We scored 687 runs. In the economy of runs, that's not a lot. So, we had measured effectiveness. We got the hits when we needed them. We had outstanding pitching, we had great defense, and Quiz (Dan Quisenberry) was a great closer for us.
Andy Van Slyke (Cardinals outfielder): Whitey would tell us, "I'm not going to manage you guys. You go out and play your game. I'll manage the seventh, eighth and ninth innings. Don't get me involved, just go out and run." ... But what Whitey did, he never put a stop sign on us. He just let us run, run, run.
Ozzie Smith (Cardinals shortstop): Everybody will say they played above the level they were capable of playing, but I think it was just about everybody contributing and everybody pulling in the same direction and believing that we could get it done. So, it was our pitching and our bullpen. We put a lot of pressure on defenses, too, because we could run with anybody. We put the ball in play, we didn't strike out a lot, and we could catch and throw the baseball as well.
Vince Coleman (Cardinals outfielder): We checked our egos at the door. We came in and looked each other in the eyes and said, "Who is going to be the big shooter today? Who is going to win it today?" Every day you had a hero. Everybody wanted to be that hero every day.
Dane Iorg (Royals outfielder and pinch hitter): It all boils down to pitching. The one thing the Royals had was the best pitching staff in baseball. The best hitters in the world can't hit the best pitchers. You can get lucky a little bit, but if the pitcher is throwing good, it's tough.
Saberhagen (Royals starting pitcher): That was just a year after my rookie year. I had a little bit better idea of the travel and what's expected of you at the big-league level. I got a little more velocity (on my pitches). Being 6-foot-1 and 165 pounds, I was kind of a skinny little kid, but I progressively put on weight and developed a little bit more velocity because of that. Also, knowing hitters a little better helped. Everything fell into place that year.
John Tudor (Cardinals starting pitcher): The team defense was certainly the biggest factor in that season for me. I came up as a power pitcher, but at that juncture I was probably throwing in the 87-to-89 mph range. So, control and changing speeds were certainly a factor for me.
Sundberg: The Royals were not expected to win our division, and then we won it in the last couple days of the season. We made up seven games in the course of a couple of months to win the division.
The Royals clinched the American League West on the last Saturday of the regular season, and would face the Toronto Blue Jays in the American League Championship Series -- their same opponent at that stage in 2015.
Brett: Against Toronto, we lost the first two games. Then I had the best game I ever had in my life, the third game, which we ended up winning. I played well in the league playoffs. So, obviously, I went into the World Series thinking I was swinging the bat good. I was going to get a lot of hits, score a lot of runs, drive in a lot of runs, and help our team win.
Herzog: We were confident going into the World Series. But I don't want to knock the Royals because the Royals' starting pitchers in '85 shut us down, and we didn't have Vince Coleman.
Smith: You talk about the postseason as a whole, the one thing I think we were able to overcome it for a little bit -- but we couldn't overcome it enough to win it all -- was the loss of Vince Coleman in the playoffs. We lost him to the tarp.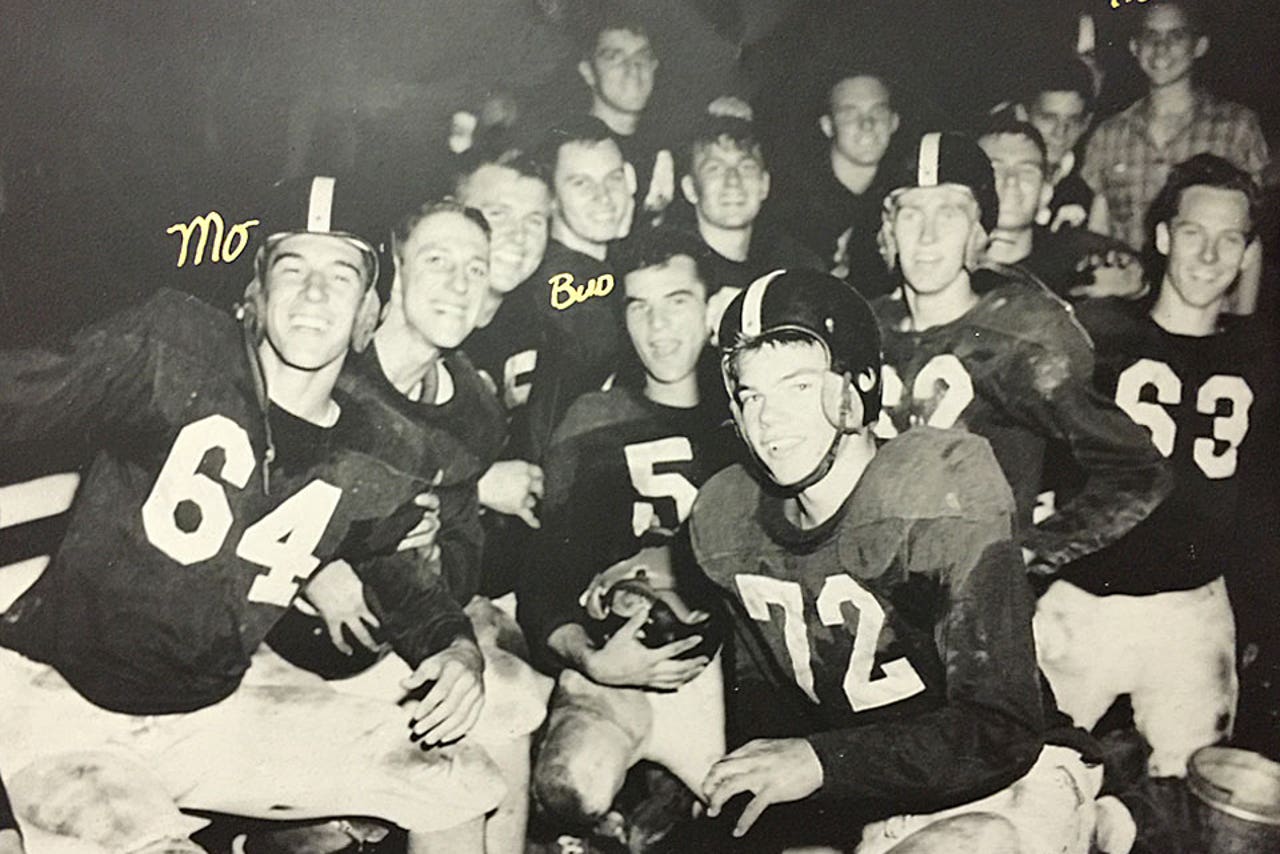 Burt Reynolds (center, No. 5) and Dick Howser (top right) were teammates on the Florida State football team.
In the National League Championship Series, the Cardinals topped the Dodgers in six games, with Ozzie Smith hitting a huge home run and taking MVP honors. But prior to Game 4 in St. Louis, Cardinal speedster Coleman was assaulted by a motorized infield tarp.
Terry Pendleton (Cardinals third baseman): I was actually standing right next to Vince (when it happened). He was like a half-step behind me. We were tossing our gloves to the batboy because we were going inside to the cage because it was starting to rain on the field. The tarp, it was so quiet, you didn't even know when it was coming out of the ground. As we turned around to toss our gloves, we turned around to start going the other way, and the tarp caught Vince's foot because he was in front of me.
Saberhagen: Vince is a good friend of mine now, and I always give him grief: "How can you steal that many bases, but you get run over by a tarp that goes one mile an hour?"
Coleman: The one question I always get asked is, "Did I see it?" And I go, "Well, if I would have saw it, I would have run from it." Then they say, "Did you hear it?" And I say, "It didn't have bells or a horn." So, obviously I didn't see it or hear it because the last thing you want is to have a tarp roll up your leg and you had no idea where it came from.
Pendleton: I'm literally on all fours trying to keep this tarp from rolling up on him. It's just pushing me back away from him. I'm trying to push on it, but I'm trying to keep my hands from going underneath it, too, because it will roll right on top of me. At the same time I'm trying to scream at the guy down there that's running the tarp.
Coleman: Once it got up to my hip, it was laying on top of me. When they say when you are in fear of your life that you don't feel a thing? Well, that is so true because I didn't feel a thing. I believe I turned white for the first time in my life.
Smith: It was devastating for everybody. We were all hoping for the best. We have a standing joke about the X-ray machine: It always comes up negative first. Then, two or three days later, you find it's broken in five places or something. It was very, very unfortunate.
Coleman: I could jog. I thought that after a day or two I'd be OK, so Whitey always kept me on the roster. I dressed out every day. I went through drills. I just couldn't sprint, hoping that I would get better. But when they took the MRI, it showed a cracked fibula. That bone wasn't going to allow me to sprint, not unless it was delayed three weeks.
Van Slyke: If Vince Coleman hadn't gotten hurt, we would have won the World Series. It would be like losing Tom Brady for the Super Bowl. That's how much of an impact Vince Coleman had on our ball club. Willie McGee was the MVP that year of the National League. He had a tremendous year, but it was Vince Coleman who sparked our ball club.
Jana Howser (Dick Howser's daughter, executive vice president of baseball relations, National College Baseball Hall of Fame): I was in the fall semester of my sophomore year of college when the Royals won the American League Championship Series. I have a twin, Jill. When they knew they were going to the World Series, Dad called and said the same thing to both of us: "Nobody can fly back and forth. If you want to come, you come and stay for the duration and that's how we are going to do it." So what that meant was, if I was going, I was going to miss some school.
Jill Howser-Reingold (Dick Howser's daughter): I was a pro surfer, and was surfing in Hawaii at the time.
Jana Howser: I flew from California and I landed in Kansas City, where every fountain was blue. There were Royals banners and logos everywhere. My dad was signed by the Kansas City A's after graduating from Florida State. So I'm flying back to the city where he started his career, and now he's managing the team and they're in the World Series.
Steve Balboni (Royals first baseman): It was exciting for the fans. We had veteran players who had been in the World Series before, but for a lot of us this was the first time.
Iorg: I was thinking about how the Cardinal players are my best friends. I played almost eight years in St. Louis and kind of grew up with the Cardinals, and with most of the players on that team. So it's ironic that I'm now playing against them in the World Series. In '85 with the Royals, I was a bench player. The media probably thought I wouldn't be too big of a story.
Smith: It's a great feeling to be playing baseball in October.
Van Slyke: Being a young guy with just a couple of years under my belt, I didn't know what to expect. For me, it was a new experience. When you're 24 or 25 years old in the World Series for the first time you're thinking, heck, we can do this all the time.
Horton: The first time I went to the World Series I knew it was a special thing. I knew there were players who played their entire career -- Hall of Famers -- who never got to a World Series.
Pendleton: I knew how special it was right away. Believe me, because I knew how tough it was for teams to get there. It didn't matter how good you were, there's a chance you weren't going to make it back the next year.
Reynolds: I was glued to the television, watching my friend.
GAMES 1-5: CARDS GET TO THE BRINK
Herzog: We win the first two in Kansas City.
In Game 1, Tudor pitched brilliantly for the Cardinals and beat Danny Jackson 3-1. In Game 2, St. Louis trailed 2-0 in the ninth, but scored four runs off Royals starter Charlie Leibrandt, with Tito Landrum, Coleman's replacement, contributing a key double.
Balboni: It started off horrible.
Jana Howser: We then drove across Missouri to St. Louis. My dad had a conversion van, and I remember driving along I-70 and stopping for ice cream. It must have been in the realm of Columbia. We're in this little place and people came up and wished us well. They were shocked that Dad was in an ice-cream shop on his way to the World Series. He always made time for people.
Sundberg: When our chartered flight landed in St. Louis, they had already draped from the airport tower a "1985 World Champions" banner. We all saw that and got a kick out of it.
Van Slyke: I can actually remember vividly how the city and the papers and the organization made the mistake of anticipating a World Series championship before it happened. As soon as we heard that, a lot of players reacted very, very negatively, because the last thing you want to do is wake up a sleeping bear. At that point, we really felt like the Royals were not playing to their capacity.
Horton: I know that the whole thing was being swept up in the city of St. Louis that went beyond just the game. This was really just a community thing. Everybody wearing red, everybody talking about it. It doesn't surprise me to know there were some people who went ahead and had those signs made. Any player in his right mind would have been angry about that. Even if it was pro-them.
Herzog: The series got changed around a little bit in the third game. It was Joaqui­n Andujar against Bret Saberhagen. Andujar had an 8-by-8 strike zone, and we had an American League umpire behind the plate. Saberhagen's strike zone was about 30-by-30 and they won the third game.
Saberhagen, who'd struggled in the ALCS, pitched a complete game in Game 3 to beat the Cardinals 6-1.
Saberhagen: I was always a control pitcher. I was never really an overpowering guy. My old saying is I can hit a gnat's butt from 60 feet and 6 inches. So, I had pretty good control. I know I didn't strike out a ton of guys that game. They were putting the ball in play, so it wasn't like I was getting tons of calls.
Herzog: Tudor came back and won the fourth game.
In Game 4, Tudor one-upped Saberhagen's outing the game before with a shutout. Landrum and McGee both hit solo homers off Royals starter Bud Black, with the final score 3-0.
Sundberg: The atmosphere in the clubhouse before Game 5 was very interesting. We had lost Game 4 so we were on the brink of elimination. At that point we had to win three in a row to win the Series. The clubhouse was very quiet.
Brett: There was no big team meeting. Everybody knew what we had to do. You just played that game like it was going to be the last game of the season. You just give it all you got.
Van Slyke: The thing that really upset us, we had a meeting after batting practice of Game 5 in Busch Stadium, and they're telling us how after the game we're going to do this and we're going to do that, and the parade is going to be so-and-so. They told us to be ready for that. I thought it was asinine. I thought it was a bad thing to do. A lot of players didn't like it.
Brett: The pressure was more on the Cardinals. They were up three games to one. If they ended up blowing the World Series, they are going to remember it for the rest of their lives. If we come back and win, it's going to be one of the greatest comebacks in World Series history.
The night before Game 5, Dick Howser woke up Jana at 11:30 with a phone call to her hotel room in St. Louis. He told her to get dressed and come downstairs to a restaurant in the hotel. Jana didn't know what to think. Howser usually wouldn't go out late after games; he liked to be at home to read and get ready for the next game. So why, the night before an elimination game, was her dad out late?
Jana Howser: I went downstairs, and I got off the elevator and I rounded a corner and I saw a sea of Garnet and Gold -- Florida State colors. Dad's friends, had organized a caravan to drive all night from Tallahassee to St. Louis to be with their longtime friend.
What happened was, they watched Howser in the news conference after Game 4, and what they saw in their friend made them concerned. They needed to be with him. So they drove all night to support him.
Jana watched her dad with his friends and thought, you would never know he was in the middle of his first World Series and one game from elimination. He was so happy.
Jackson threw a great Game 5 for the Royals against Bob Forsch. The Royals won 6-1 and the Series headed back to Kansas City for Game 6.
GAME 6: 'THE CALL'
Brett: You try and block out how many millions of people are going to be watching on television. You try and block out how important it is to this organization, and how important it is to your community. You try to block all that stuff out and once the game starts you just go out and play.
Still, as Game 6 reached the bottom of the ninth inning, the Cardinals were leading 1-0 and were just three outs away from winning their 10th World Series. Todd Worrell was pitching for the Cardinals when Jorge Orta hit a ground ball to first base.  
Tim McCarver (TV analyst working his first World Series, for ABC): I was sent down in the bottom of the eighth inning to handle the Cardinals' clubhouse celebration. So I was up on the scaffolding and they were setting up everything. I was on the top rung, like five platforms up when the Denkinger call happened.
Don Denkinger (first-base umpire in Game 6): I can remember everything about that particular call except what was the reason the ball took so long to get to first base from (first baseman) Jack Clark? I don't know, because I saw where the ball was hit. Then, we make a decision of where we are going to call the play. It was hit to the first baseman. I said, well, he's going to field it and flip it to Worrell and I'm going to have a foot race to the bag. I went immediately to the bag to get what I thought was the best position to call the play. That's where it fell apart because the ball didn't get to Todd Worrell until he got to the bag. Now, I've got to make sure he catches it. So under normal circumstances, the umpire at first base listens for the ball to hit the glove and then decides if it's there before the hitter, and you're not right up on top of first base. That would just be the routine way that was played. I watched him catch it. I looked down, the foot was on the bag and I called him safe. Now in the matter of time it took me to do that, obviously it made him safe and he wasn't. I can honestly say, and I will always say, I thought I had the play right. I thought I had it 100 percent.
Balboni: I was on deck. Worrell looked like he came off the bag.
Iorg: I was at the end of the dugout when Jorge Orta hit a ground ball. Obviously, he was out by half a step. I saw it plain as day. When the umpire called him safe, I thought, "Are you kidding me?"
Brett: I was sitting in the first-base dugout. From there, I thought he was safe. I jumped up and said, "Safe!"
Van Slyke: I was in right field watching the whole thing unfold in front of me. It was not a hard-hit ball. The pitcher and the first baseman got caught in between -- should I catch it, or should I go to the bag? Obviously, it wasn't an uncommon play in baseball, but it's a play you can see unfold very, very slowly and you can almost see the train wreck before it happens.
Balboni: The play didn't go very smoothly. It was a high flip and it looked like he came off the bag. When Denkinger called him safe, we all thought it was a good call.
Pendleton: Right away I knew the guy was out. I actually walked towards the pitching mound a little bit, because I was waiting to throw the ball around the horn after the first out. It didn't happen. I remember standing there on the field in disbelief.
Horton: Moments before that, I was almost asleep in the bullpen. Literally asleep in the bullpen, as we are getting ready to maybe win the World Series. I was leaning back with my head back up against the fence, my hat over my eyes half asleep. I'd been to the emergency room in the middle of the night the night before that. My wife had to take me. It was the worst pain I've ever felt in my life. I had a blood vessel burst in my eardrum, and didn't know it because of the cabin pressure change when we landed in Kansas City and the cold that I had. I don't know what they gave me, but it made me sleepy.
Iorg: Whitey comes running out and (second baseman) Tommy Herr goes over. The Cardinals players can't believe that call.
Balboni: They argued, obviously, but I think if he'd called him out, we would have argued that he came off the bag.
Denkinger: Whitey came up and we discussed it. He said, "I think you missed it." I said, "Whitey, I don't think I did."
Herzog: Denkinger, it was just a human mistake, he was a good umpire. After the World Series, I told Major League Baseball you ought to have instant replay in the playoffs and the World Series, because you don't have time to get it back. In the season it evens out, but not in the god-dang playoffs. Well, we finally got instant replay and when they asked me about that I said, "Well, it's 30 years too late!"
McCarver: My producer told me to get upstairs as soon as you can. They had to remove the scaffolding below me and they were doing it with me on it!
Smith: You have six umpires out there and nobody steps up and says, "I had a better angle, I saw it better than you"? That was more disappointing than the loss itself.
Brett: Sure enough, you see the replay in the locker room after the game and you go, "Oh my god, he was out."
Balboni: The funny thing is, the call went bad for them. So, we were on first base. Jack Clark didn't catch a foul ball he probably should have caught. Then I got a hit. I was ready to bunt, but Dick Howser had me swinging away. He just had a lot of confidence in me. It really made me try harder when someone believes in you. I just felt like I needed to hit the ball hard. Get a good pitch and hit the ball hard. I knew Worrell threw hard, and I knew I was going to get a fastball, so that's all I was thinking about. And Jack Clark thought the dugout was closer than it was, so that helped.
Van Slyke: Here's the thing about the pop-up that (Clark missed) you have to think about: If the call is made correctly, Jack Clark now plays back, but at that point he had to hold the runner on. The fact is, he had to go toward the rail or toward the stands and then move away from home plate, which makes the play harder.
Balboni: They pinch ran for me right away. I was just so happy that I got the hit, that we were still in it with first and second and nobody out. We tried to bunt and we weren't successful. But the wild pitch, I think, really threw it.
With Orta on second base and pinch-runner Onix Concepcion on first, Sundberg tried to bunt the runners over. But his bunt wasn't a good one, and Orta was forced out at third base. With pinch-hitter Hal McRae up, the runners did move up on a passed ball.
Van Slyke: I felt we had the right pitcher in the right situation. Todd Worrell was the best closer in baseball in September. The passed ball was obviously a big play. It was a bad play by (Cardinals catcher) Darrell Porter. He absolutely missed it.
Balboni: Then they walked Hal McRae. I think that kind of unraveled everything.
Iorg was up next.
Iorg: As I walked to the plate, I looked into the Cardinal dugout and saw (third-base coach) Hal Lanier holding up two fingers with bases loaded. I'm thinking, do not hit into a double play. I will never, ever, forget this if I hit into a double play. No way. Then I thought, "Hey, don't think negatively! Think positively. Get an approach." Todd throws really hard. He was one of my favorite guys in all of baseball. I wanted to shorten my swing because he's throwing so hard.
Sundberg: I was on second base, bases were loaded. So I was the winning run and I looked in the dugout. I thought Dick Howser might pinch run for me. I wasn't necessarily the fastest runner at that point in my career.
Brett: We probably didn't have anybody that could run, so they just decided to leave him out there.
Sundberg: So you go through, in your head, the checklist of what you need to do. No. 1 would be to see the ball well off the bat and know where it's going to go.
Iorg: He threw me a slider, down and in. I'll never forget it. I took it for a ball because I'm not going to swing at a breaking ball on the first pitch. No way. Because I can't hit it. I knew they had to throw me a fastball. So I just really had the feeling I was going to get a fastball. Next pitch, I got an inside fastball, and he jammed me and broke my bat. I didn't care. I get a base hit to right field. The perfect place to hit it.
Sundberg: As soon as it was hit, I knew it was going to drop in. So I got a good jump. The next thing was to cut the base at third well enough so you don't get too deep, and then respond to the catcher depending on the throw. Porter made the mistake of going out and playing the ball a little bit, which opened up the back side of home plate.
Van Slyke: The interesting thing about Dane Iorg's base hit? It was a good pitch. He broke his bat. When he hit the ball to me, it wasn't hard enough for me to throw Sundberg out at home. Now, if he'd hit the ball directly at me, he would have been out. The fact is, not only did I have to charge the ball hard, I also had to move to my left. If he hits that ball right at me, we go into extra innings. But having said that, I think if Porter blocks the plate he would have been out. In my opinion, it was a perfect throw.
Iorg: I hit it perfectly, just soft enough with a great arm in right field.
Brett: I was sitting in the dugout. All of a sudden we're watching Van Slyke. He's got a great arm, very accurate. There was no interleague play, but you know who the good outfielders are; you know who can throw and you've heard of his reputation. It was a do-or-die play and you knew it was going to be close at the plate.
Sundberg: (Teammate) Lonnie Smith almost beat me to the plate from the on-deck circle. I jumped up, I probably jumped as high as I had in years. I didn't even have to wait for the umpire's call because I knew it wasn't close. Immediately I thought, 'We're going to Game 7! Whoa, we're going to Game 7!' It was just fun.
Iorg: I was kind of going, uh, I'm on first base. Do I stay here? Do I go to second? This is total chaos. I got a bloody nose, a bloody eye, a bloody mouth. (Teammate) Mike Jones kind of hit me in the face, he was so excited. I was up for an interview and my nose is bleeding. So I have to get a towel to clean myself up for the interviews.
Pendleton: It all happened so fast. That entire inning happened so fast. You looked up and we'd lost.
Van Slyke: I went directly into the clubhouse. I tried to get off the field as fast as possible.
Denkinger: After the game was over, I walked into the dressing room and Peter Ueberroth, the commissioner, is at the front of our door. I said, "Peter, did I get it right?" And he shook his head. That was the first time I knew I missed the call. You get a sick, sick feeling that goes through you.
Brett: We all kind of went out on the field and celebrated. We got back into the dugout, then into the locker room, and everybody kind of looked at themselves and went, "Oh shit, we've got to play Game 7 tomorrow."
Herzog: After the call, I had a team meeting the night before the seventh game. I could tell we were really going to get beat bad, even with Tudor pitching against Saberhagen. I remember right after that meeting, (journalists) Peter Gammons and Rick Hummel came in and said, "What do you think is going to happen?" I said, "I got a feeling, the guys are really down. We're going to get beat bad. They feel like something was taken away from them."
Saberhagen: We were all just going crazy (after Game 6), but shortly after that reality kicked in: I've got Game 7 and it's the biggest game in Royals history. Let alone my short career. I just had a lot of pressure on my shoulders -- knowing that if we win we're world champions, but if we lose I've let down my teammates, the fans and the organization. I felt a lot of added pressure. That was probably the most nervous I've ever been for any game in my career.
Tudor: I don't really remember any extra anxiety going into Game 7.
Van Slyke: Obviously we didn't want a Game 7 and we didn't want to face Saberhagen. Momentum was absolutely lost. We had no momentum. Everything that could possibly go wrong went wrong. You have to also remember, we did not hit. The pitching by the Royals was exceptional. It was one of the best team performances in World Series history.
Sundberg: Probably the toughest time was the day of the seventh game away from the ballpark. Family and friends were over at our house. We had lunch and I told my wife Janet that we just need to get out of the house. We went to a park in Kansas City. It was the most tense I had felt in weeks. All of the other games don't matter. It's down to one game.
Saberhagen: One thing that really helped me out was my wife Janeane had just given birth to our baby. So I was able to go and visit them in the hospital, get my mind off baseball for a little bit.
Brett: I remember I was scared to death. I was scared to death every game I played. Game 6 was over rather late. I went to a place that I normally stopped by on the way home. I had a couple of beers and a sandwich. By the time I got home it was probably 2 a.m. I went to bed. It was probably 2:30 a.m. when I woke up from a dead sleep. I looked at the clock and I said, "Oh my god, it's 2:30." I went back to sleep. I woke up again. It was like 2:45 a.m. I went back to sleep. I woke up and it was 3. I'm going, "Oh shit. This is going to be a long night." I woke up at about 9 and this time I couldn't go back to sleep and I called John Mackovic, the head coach of the Chiefs. I said, "Hey, I need a place to sit today (at the Chiefs game)."
Denkinger: Immediately you go back to, we're only human beings and God didn't make anybody perfect. You really work hard to do a good job because you don't want to be embarrassed. Obviously, I was embarrassed, but I knew I had to work the plate the next day. The next day, I did not watch television. I did not read the paper. I went to the Chiefs game. I have a friend that had a box and I went up and watched the game. Just the first half.
Brett: So I was going to sit in the head coach's suite at the Chiefs game, just to get my mind off our game. I walked in and Whitey Herzog was sitting in there. So I sat with Whitey during the Chiefs game. About halfway through the third quarter, Whitey said, "Come on, we've got to go." So we walked across the parking lot to the Royals game. We shook hands, because I knew Whitey really well. He was a great friend and still is. He went to the Cardinals locker room, I went to the Royals locker room, and four hours later the game started.
GAME 7: 'WE HAD NO HOPE'
Horton: I remember Game 7. We lost.
Herzog: After Denkinger's call, the seventh game was terrible.
Saberhagen: I had so much adrenaline, so many butterflies and nervousness going into Game 7. Even that first inning, once I pitched, I came off the mound and I still had so much adrenaline going through my system that it was still kind of crazy. I wasn't able to completely relax. We got through the first two innings without giving up any runs. I was able to calm down, finally, by the third inning.
In the bottom of the second inning with a runner on base, Kansas City's Darryl Motley hit a long fly ball just foul down the left-field line. The very next pitch, he hit another one into the stands down the line, but this time it was fair and the Royals were ahead 2-0.
In the third inning, the Royals knocked out Tudor with a single, a double-steal and three walks. By the end of the inning, he'd been charged with five runs and cut himself while punching a dugout appliance.
Tudor: You go after it like you go after any other game. You go up there and just do the best you can. I tell people all the time, "When I go out there, you'll get my best effort. Sometimes my best effort isn't very good, but it's always going to be my best effort." I'm not going to sit here and blame having pitched a lot for not performing in Game 7. I just didn't get it done in Game 7. We take the ball when it's given to us. Unfortunately, for everybody concerned, my best effort was very short of being good that day.
I stepped down into the dugout. Kauffman Stadium used to have electric fans up on the benches in the dugouts. There were probably five or six of them that went the length of the dugout. I don't think they were still working. I went to take a shot at the fan and my foot slipped. When my foot slipped I ended up catching the edge of the fan and cutting the end of my hand. Not one of the smartest things.
Tudor was followed on the mound by Bill Campbell, who was followed by Jeff Lahti, who was followed by Horton, who was followed by Andujar. The score was already 9-0, and then things got even uglier.
Horton: Joaqui­n Andujar had his meltdown on the mound right after me. Certainly all of us were despondent.
Sundberg: I was hitting in Game 7 when it really broke down, when Andujar was pitching and he threw two or three pitches on me that were tight. They were legitimately inside, but Don Denkinger was behind the plate that night, and the Cardinals weren't over the night before.
Herzog: Joaquin said to Denkinger, "Did you call that high?" That's what pitchers do in the season. Denkinger had the red ass from the night before, excuse my language, and so he goes out there thinking Joaqui­n is trying to show him up.
Denkinger: I was going out to tell Joaquin Andujar that if he put his hands in the air again in disgust of a call, he was getting ejected. Whitey intercepted me on the way to the mound.
Herzog: So I go out there, I tell him, "Get your rear end back there behind the plate, he just asked you if you called that pitch high." He said, "He's trying to show me up." I said, "No, let's be honest, if you would have done your job last night, we wouldn't be here."
Denkinger: He said something that should never be said, that we don't tolerate, and that was, "If you'd have got the play right last night we wouldn't have to be here tonight." You know what? I didn't eject him. I told him, "If you guys would hit more than .120 we wouldn't have to be here tonight, either." That's when the profanity came out and he got himself ejected.
Herzog: Well, I'm gone. I could see him kicking me out. I go up there in my office. I'm down what felt like 12-nothing in the fifth inning and here comes Joaquin five minutes later. He got kicked out. So me and Joaqui­n were in the office.
Van Slyke: I made the last out of the 1985 baseball season. That's what I remember. We were down, it was 11-0 and there were two outs. Saberhagen threw me a fastball and I only had one thing on my mind: hit a home run. I hit it to the warning track. I didn't want to get shut out. I got off the field as fast as I could. Do you think I wanted to watch the other team celebrate?
Horton: We had no hope in that game. It was really just frustration and, in some ways, glad that the game was over.
Herzog: It was the worst night I've ever spent in my life in a baseball game, and I've lost some tough games.
Sundberg: The last four innings were probably the most fun four innings of my entire career. It felt a lot like a 10-year-old, gigglishly having fun and enjoying it.
Saberhagen: I couldn't feel the ground I was walking on.
Reynolds: I got ahold of Dick on the phone. I told him I was jumping up and down and screaming. He laughed.
Howser-Reingold: I called my dad in the locker room: "I just saw! Congratulations! You did it! We're so proud of you." And he said, "We got it done."
Brett: I remember going to the mound. Bret Saberhagen had just turned 21 years old. I went to him with two outs in the ninth inning and I said, "Look, you've only been in the big leagues one year. You've got a chance to be on a World Series-winning team. I've lost six playoffs and a World Series. This is going to be my first one. So let me be the first one on the mound to celebrate." Then, as soon as Andy Van Slyke flew out to Darryl Motley, he looked at me and I looked at him, and the party began.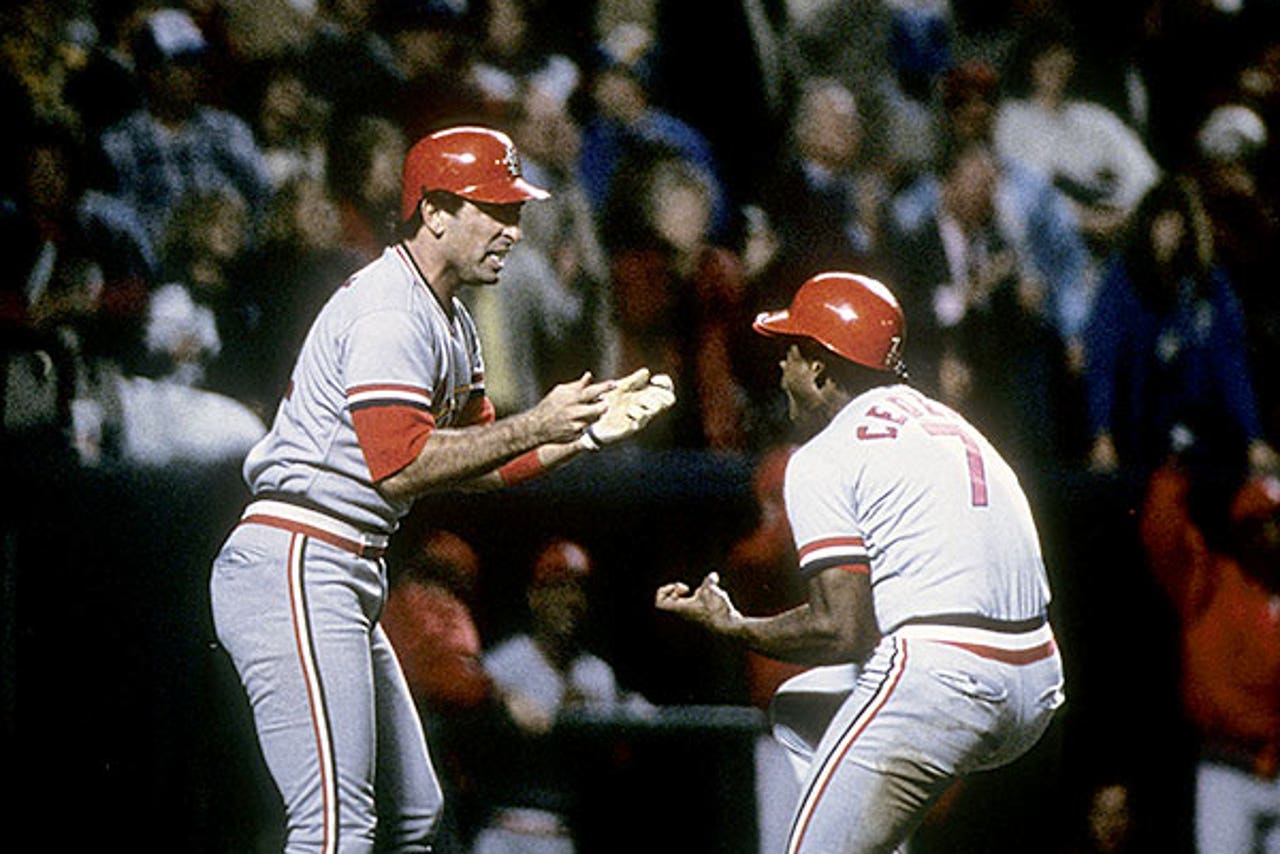 The Cardinals thoroughly enjoyed the beginning stages of the '85 Series, winning the first two games in Kansas City en route to a 3-1 lead, before it all fell apart in the end.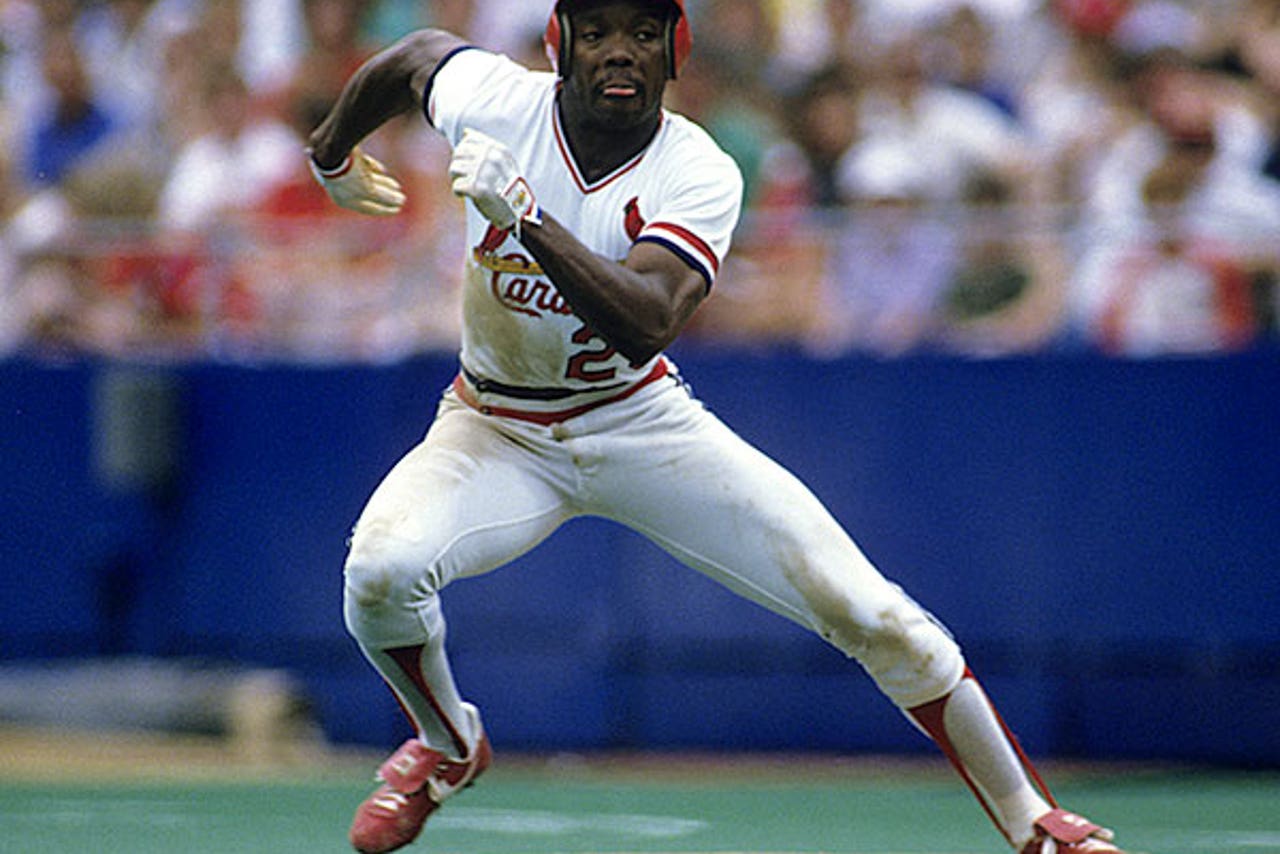 A freak injury cost the Cardinals the services of speedster Vince Coleman for the World Series.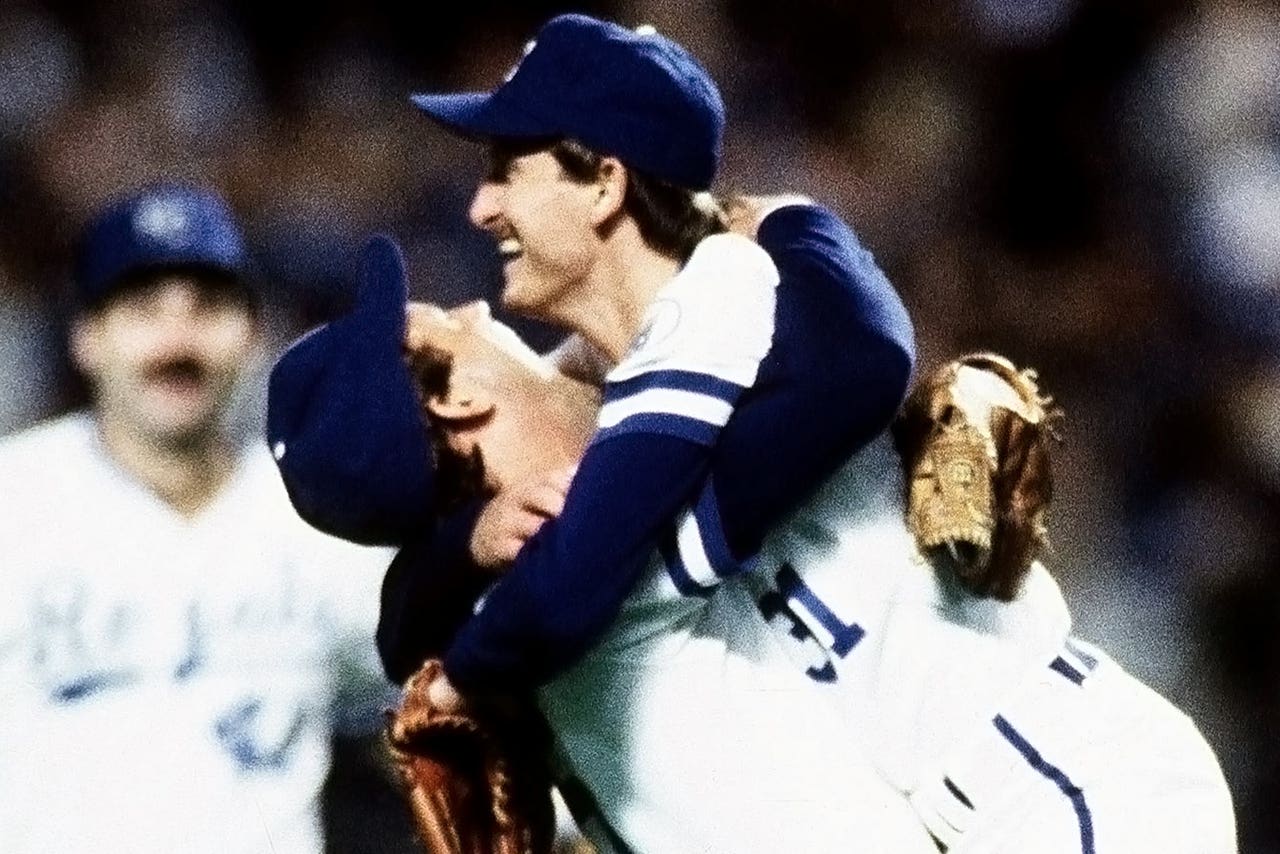 Behind the dominant Bret Saberhagen (right), the Royals blew out the Cardinals in Game 7, 11-0.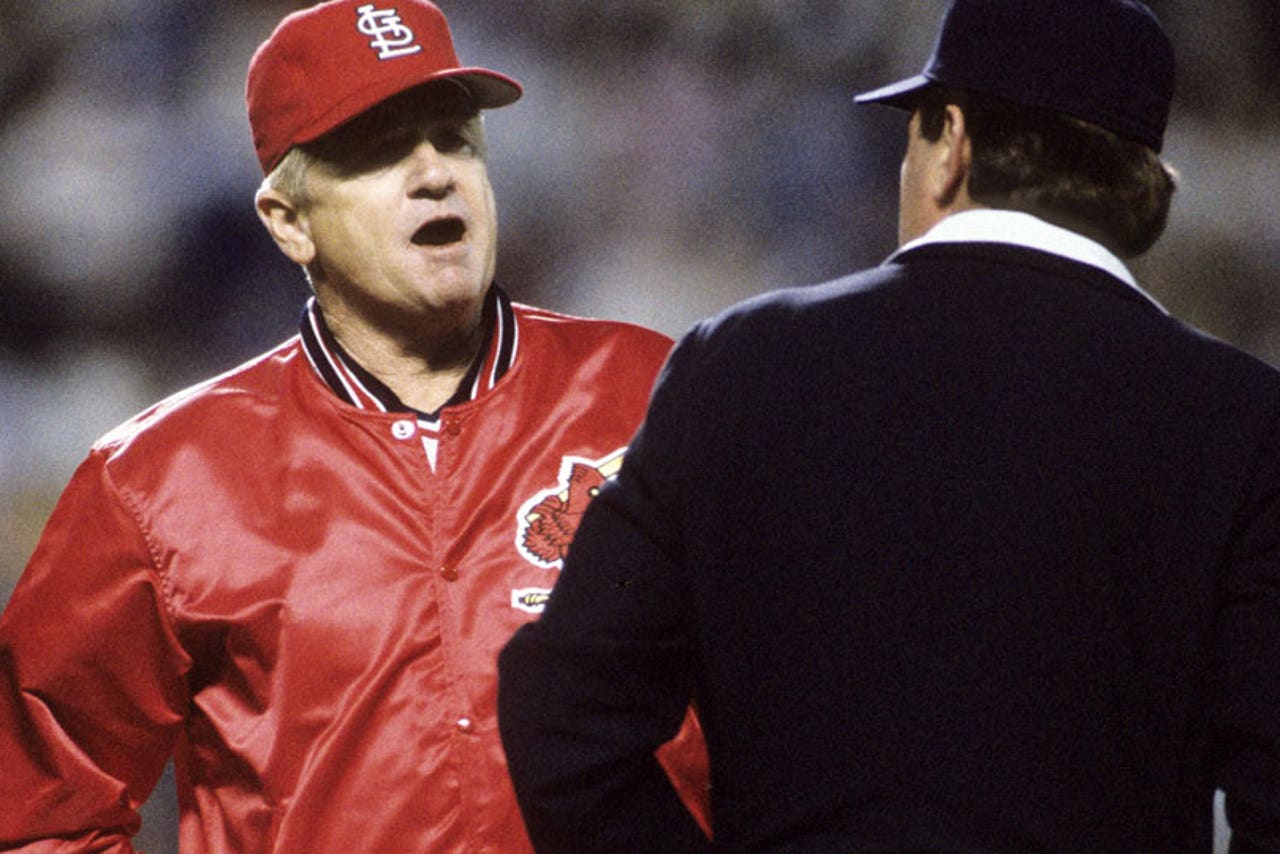 Whitey Herzog (left) argues with Don Denkinger during Game 6.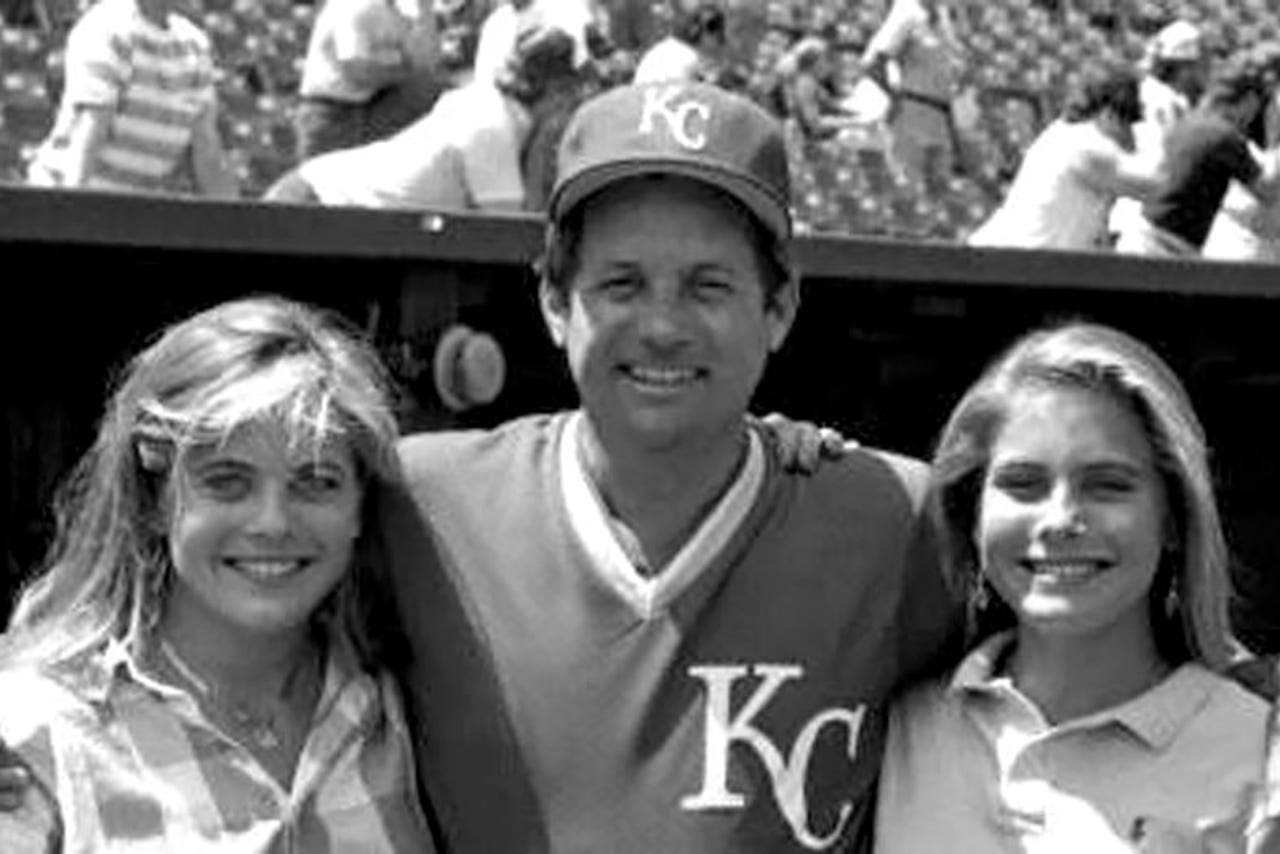 Dick Howser, with his two daughters, Jana and Jill.
AFTERMATH
As the party began, Jana Howser stayed in the stadium for awhile. She knew she'd see her dad back home and they'd have time together then. But she wanted to take everything in, because something told her to stay and watch her dad on the field that night. Something heavy. The weight of the whole experience, everything her dad had worked so hard to achieve was right in front of her.
Jana Howser: The look in my dad's eyes is something that I can close my eyes, to this day, and remember. It's very powerful because it was almost like an eclipse of his entire career and everything baseball meant to him.
A few years before the 1985 World Series, Jana and Jill's mother died in a car accident on a school morning in February. With flashbacks from losing their mother, Dick Howser's battle with brain cancer was a horrendous time for both daughters. It was a difficult time for his close friends like Reynolds and his players as well. But the World Series championship, the moment of pure joy for Dick Howser and the entire city of Kansas City, is frozen in the hearts and minds of Jana and Jill and those who knew Howser.
Thirty years later, one constant remains for both teams: the memories of the 1985 World Series have impacted their lives in powerful ways. 
Jana Howser: I'm sitting in my office right now looking at my framed seven tickets to the World Series. The reason they are there is every time I look at those it reminds me of that look on my dad's face. It was his easy kind of smile. He was so excited.
Reynolds: When Dick got sick, it was a horrible time for me because I loved him so much. I went to see him in the hospital. Like with everything else, he was so brave and handled it so well. Dick had this wonderful sense of humor, and I said to him, "You've done all these amazing things, Dick; there's nothing left." And he said, "How about living another 10 years?" I think of him all the time. Every time I see a professional baseball game I think of Dick.
Sundberg: People who play Major League Baseball want to have won a championship. So there's a sense of fulfillment in reaching a destiny that you hope was in play. Without me ever thinking about it, others think you're a champion.
Iorg: I was really excited about getting that hit in Game 6. Because if I make an out in that situation, it will haunt me for life. That probably shouldn't happen, but it does.
Brett: To say you are a world champion, is almost as good, or it's up there, as saying you are a Hall of Famer. That's what it really means.
Van Slyke: The fact is you'll never find a more exciting team than the 1985 St. Louis Cardinals. I don't care what anybody says. That year was one of the most magical baseball seasons in major-league history.
Saberhagen: It's actually what you dream of as a kid, going out there and partaking in a World Series, let alone winning a World Series. Let alone being very fortunate to pitch in Game 7 and being successful.
Denkinger: I'm reminded of it a lot. Other than recognition, there isn't anything I could do about it or change it, and I wouldn't want to change it. It happened and you just live with what you have to work with. That will always be part of my legacy, that I missed "The Call" in the 1985 World Series.
Pendleton: It actually made me a better ballplayer. It made me work harder. It made me want it more. It made me appreciate the opportunity that I had in baseball, and respect the game more. The veteran players helped me become a leader in the clubhouse, on and off the field. There were positives in all of that, even though I never won a World Series.
Coleman: You come to my house, you'll see the 1985 World Series jersey. You'll see all of the World Series pictures. I have a frame of all the tickets and the gloves. That's on my wall.
As I talk about it, I get emotional. I cry. I get chills. I go back and just meditate in my man cave where all my accolades are, and I look back at where I came from and what I've accomplished.
Smith: We were happy for the opportunity, but we would have liked to have won it. We would like to be sitting here now saying we won 12 World Series championships, second only to the Yankees. I guess it wasn't meant to be. I think it was probably more important, more deserving, for the Royals because Dick Howser passed away shortly thereafter. So he was able to experience winning a World Series, which is something I'm sure he cherished right up to the day he died. I mean, things sometimes come into perspective when people like that pass away. You look back and you say, "Hmm, I was wondering why they were so fortunate to win." Maybe that was it.
Howser-Reingold: I have pictures, the program, and the Game Day booklet still. I just knew that this was what my dad's ultimate goal in life was. This was really what he wanted to do since he started playing the sport. Even being smaller, even any of the disadvantages he had, like not even having a proper pair of cleats that he could try out with, it didn't get in the way. He had the ability to pull people together and formulate a plan and make adjustments. When I see the smile on his face in pictures, I know that's what made him happy, that his plan worked.
Jana Howser: My dad would want everyone to know what that championship meant for the entire city, in addition to the team. For the rest of his life and throughout my life, people recall that with such fondness. He was right at the center of all of that. It was his destiny to be a part of that. It certainly became destiny that they were going to win that series. A life of baseball was my dad's destiny.
In memory of Dick Howser (1936-1987), Dan Quisenberry (1953-1998), Darrell Porter (1952-2002), Bob Forsch (1950-2011), Joaqui­n Andujar (1952-2015), and Chris Striker (1969-2015; the author's brother-in-law, who passed away from brain cancer).
Special thanks to The Commissioner's Office, the Kansas City Royals, the St. Louis Cardinals, the Major League Baseball Players Association, Jill and Jana Howser, Burt Reynolds, the San Francisco Giants, the Atlanta Braves, the Texas Rangers, the Seattle Mariners, the Chicago White Sox, FOX Sports Midwest and the National Baseball Hall of Fame & Museum.
---
---