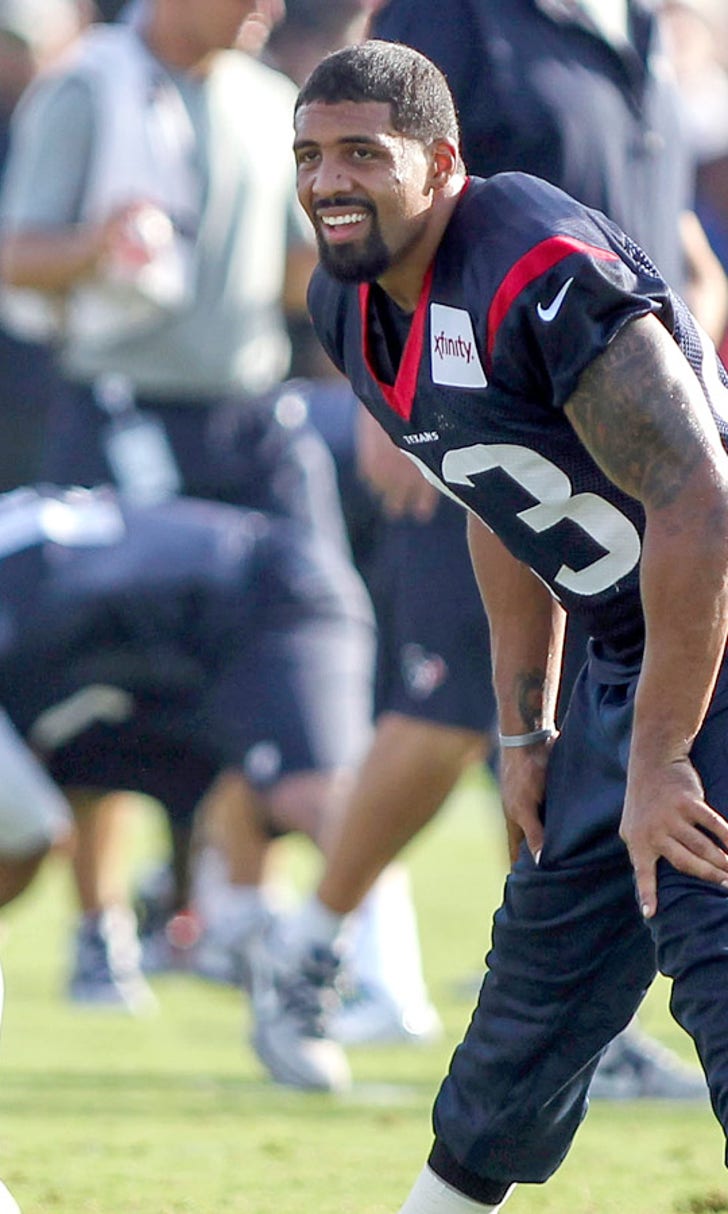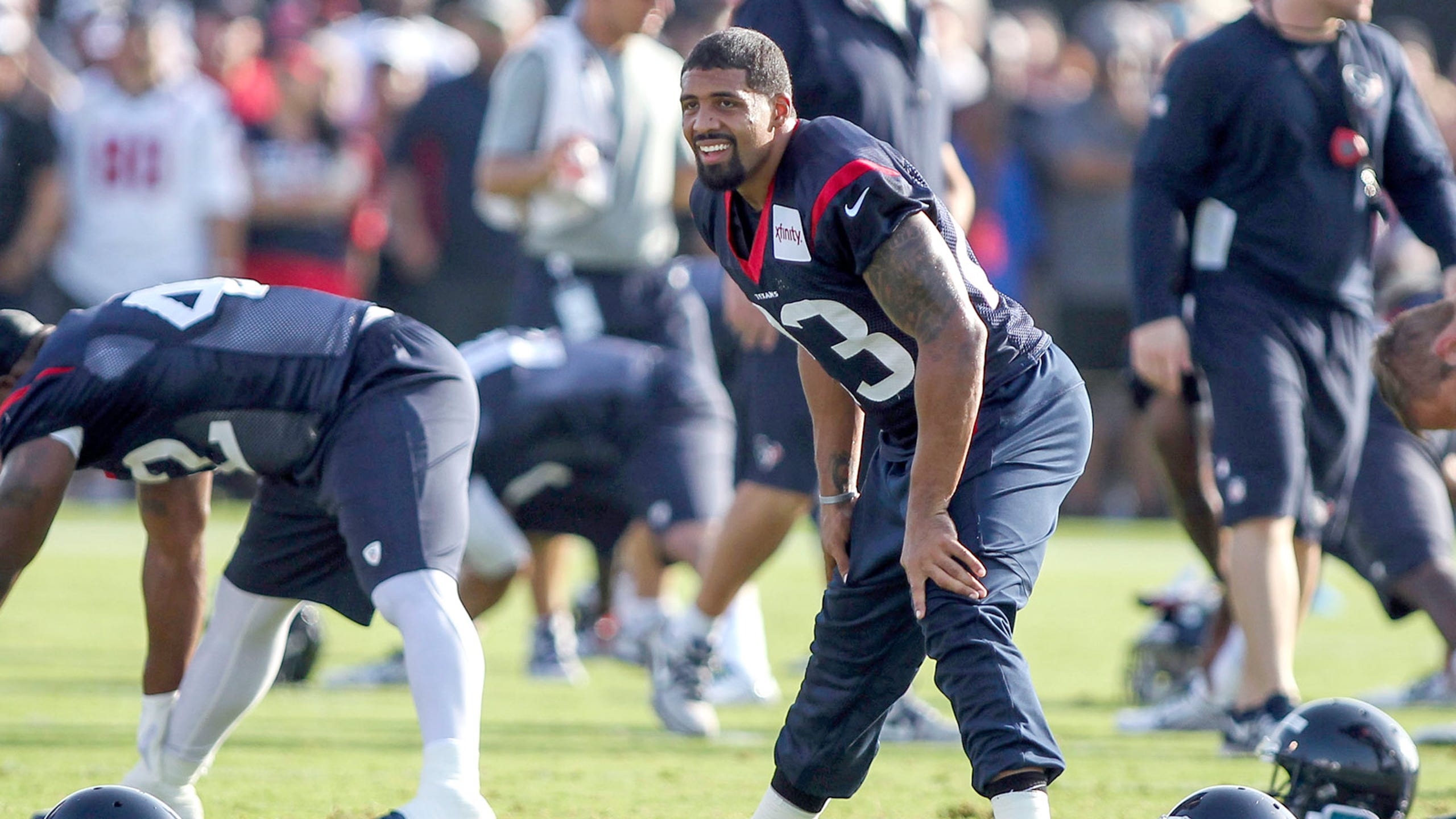 Texans RB Foster saying little in training camp
BY foxsports • August 14, 2014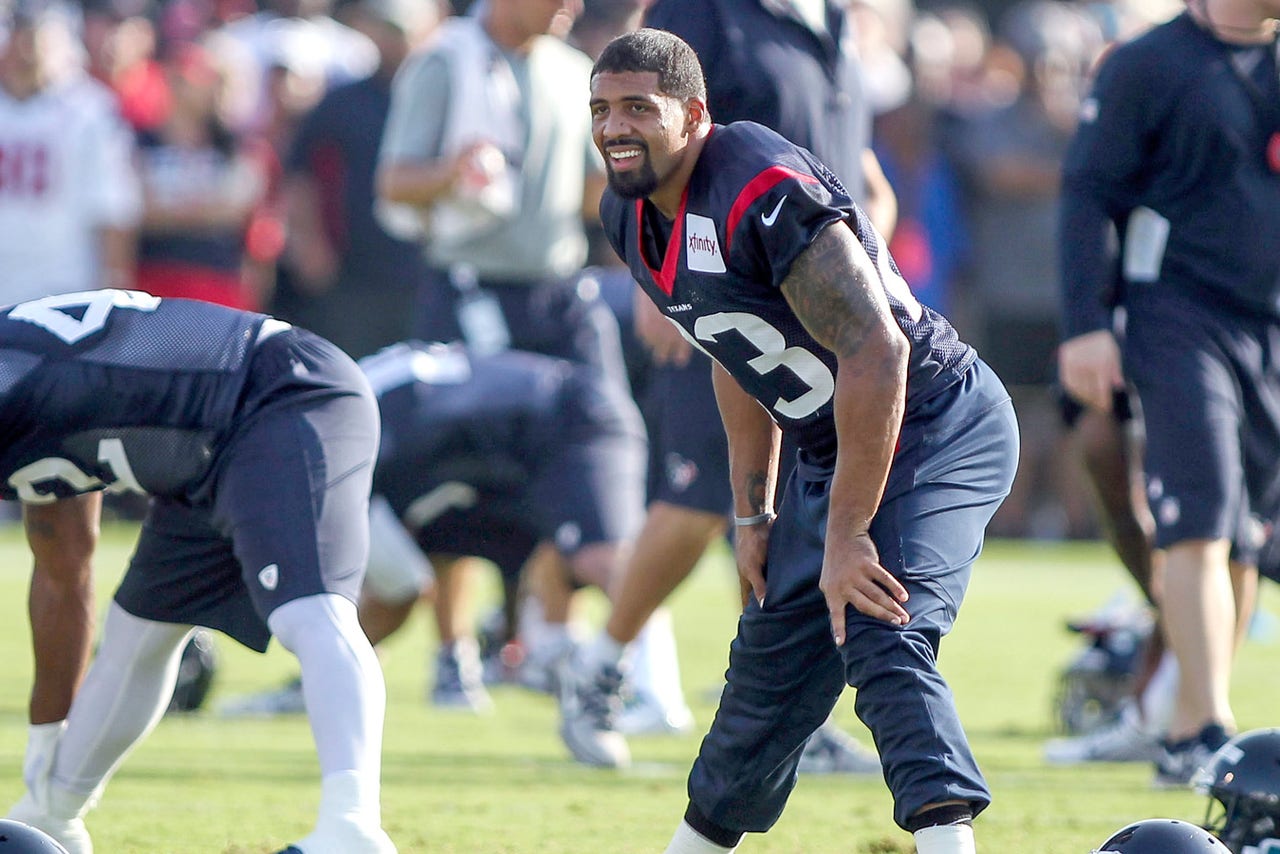 Arian Foster isn't saying much these days.
The Houston Texans star running back gave short, evasive answers to the media on Thursday, only the second time he's met with reporters at training camp.
Foster said just slightly more than he did on July 30, when he responded to every question by repeating that he just wanted to be the best teammate he could be.
Foster returned to practice on Wednesday after nursing a hamstring injury through the first two weeks of training camp.
He left early in Thursday's joint practice with the Atlanta Falcons, went to the trainer's table for some stretching and then returned to the field.
After practice, he avoided direct answers to any question, saying he was only speaking to reporters to fulfill a contractual obligation.
"I get paid to play football and that's what I'm going to continue to do and work hard at it," Foster said.
Foster has given no indication why he's turned cold to the Houston media. He was just the opposite in a recent interview with ESPN, revealing that he considered retiring after hurting his back last season and undergoing surgery.
When a reporter asked on Thursday if Foster had given any more thought to stepping away from the game, he clammed up again, saying he was working hard and will continue to do that.
Texans coach Bill O'Brien says he hasn't decided if Foster will play in Saturday's game against Atlanta. Foster wasn't revealing anything, either, although he took reps against the Atlanta defense.
"I'm just going to keep working hard and whatever happens after that is going to transpire," he said.
Also Thursday, the Texans' front office, coaches and staff honored cancer-stricken offensive lineman David Quessenberry by wearing "Texans for DQ" T-shirts.
Quessenberry was diagnosed with non-Hodgkin T-cell lymphoblastic lymphoma in June and center Chris Myers launched a T-shirt campaign with the goal of raising $100,000 for lymphoma research.
Several Falcons joined in on Thursday, wearing "Atlanta for DQ" shirts and the linemen from both teams got together after practice for a group photo.
Quessenberry, a sixth-round pick in 2013, is undergoing cancer treatments in California.
"We might be fighting the easiest fight out here on the field," Houston guard Ben Jones said. "He's a guy that's battling every day for his life and it's hard to say because I don't want to get emotional. He's one of my best friends on the team. He's like a brother and he's doing his thing and we're going to try to do it for him."
Notes: Atlanta rookie RT Jake Matthews is getting valuable experience going up against J.J. Watt this week. Atlanta selected Matthews with the sixth overall pick in the draft to help an offensive line that ranked as one of the league's worst in 2013. The joint practices are giving the 6-foot-5, 309-pound Matthews a chance to test his skills against one of the league's most dominant pass rushers. "It's no joke. He's a good really good player," Matthews said. "It's been really good to go against someone that is one of the best in the league." ... After practice, Texans chief operating officer Cal McNair and some media members doused themselves with buckets of ice as part of a national campaign to raise awareness and money for amyotrophic lateral sclerosis (ALS), also known as Lou Gehrig's disease. ... Atlanta WR Julio Jones sat out Thursday's workout and Falcons coach Mike Smith wasn't saying if Jones would play on Saturday. "We have a plan and we know what it is and that's to make sure we have our players healthy and ready to go," Smith said, "and we're not going to deviate from that."
---
---