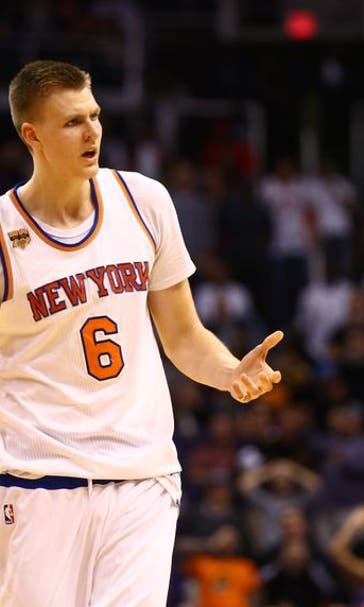 New York Knicks: Kristaps Porzingis Learning From Struggles
BY Fansided and Maxwell Ogden/FanSided via Daily Knicks • December 16, 2016
Kristaps Porzingis had a tough time going up against Golden State Warriors star Draymond Green. The New York Knicks phenom is learning from the experience.
---
98 games into his NBA career, Kristaps Porzingis is already viewed as one of the most promising players in the Association. The New York Knicks star has been nothing short of exceptional as he continues to prove that he's the future face of the organization.
On Thursday, December 15, Porzingis was reminded that, while his upside is legitimate, he still has significant room to improve.
Matched up against Draymond Green and the Golden State Warriors, Porzingis tallied just eight points and five rebounds in 35 minutes. Over the course of the previous two games, Porzingis posted a combined 60 points, 20 rebounds, and 10 blocks.
According to Marc Berman of The New York Post, Porzingis is viewing games like he had against Golden State as learning experiences—and a way to gain perspective.
"Games like this — I got to watch film and prepare for next time for defenses like this," Porzingis said. "The defenses are going to get better if I continue to score the ball. That's how Melo feels every night."
Porzingis is beginning to understand just how difficult games will be once he becomes the No. 1 scoring option.
It's easy to forget that Porzingis is a 21-year-old second-year player who has less than 100 games of NBA experience. He's made tremendous progress and gained invaluable perspective in the outings he's played, but it's those he's struggled in that help him most.
Everyone can see what it is that works, but only the player can dig deep and study which areas of his game need to be polished and improved.
Porzingis' comment about Anthony shows just how level his head is at such a young NBA age.
Porzingis understands why Anthony is still the No. 1 scoring option. Even if one wanted to argue that Porzingis is the better player, Anthony is in his 14th season in the NBA and has been consistently double-teamed and targeted throughout that tenure.
Porzingis should take over at some point in the near future, but for the time being, it's games like this that prove how delicate a player's development can be.
Thankfully, Porzingis has thick skin and a willingness to learn from both his strong performances and his mistakes.
More from Daily Knicks
This article originally appeared on
---
---