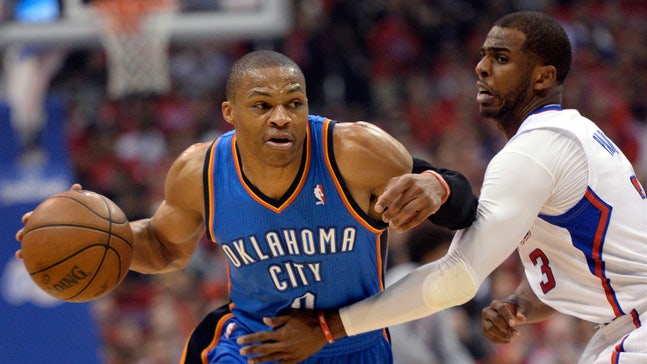 NBA Playoff Central: Second-round matchups, schedules and results
Updated
Mar. 4, 2020 10:22 p.m. ET

The conference championship field is set, and it sure looks a lot like last season.
In the East, LeBron's Heat ousted Kevin Garnett, Paul Pierce and the Nets in five games while Paul George & the Pacers finally brushed off the Wizards.
Out West, the Spurs also made quick work to advance to the conference finals, eliminating the Trail Blazers in five games, while the No. 2 seed Thunder are back in the final four after taking out the Clippers in a drama-filled six-game series.
From start to finish, get all your info on game dates, times and results right here with our playoff central page.
It all culminates with June's NBA Finals. Enjoy the ride.
MORE PLAYOFF CENTRAL: CONFERENCE FINALS | CONFERENCE QUARTERFINALS
All times Eastern.
* -- If necessary
EASTERN CONFERENCE SEMIFINALS
1. Indiana Pacers vs. 5. Washington Wizards
Pacers win series 4-2
Game 1: Wizards 102, Pacers 96
Game 2: Pacers 86, Wizards 82
Game 3: Pacers 85, Wizards 63
Game 4: Pacers 95, Wizards 92
Game 5: Wizards 102, Pacers 79
Game 6: Pacers 93, Wizards 80
2. Miami Heat vs. 6. Brooklyn Nets
Heat win series 4-1
Game 1: Heat 107, Nets 86
Game 2: Heat 94, Nets 82
Game 3: Nets 104, Heat 90
Game 4: Heat 102, Nets 96
Game 5: Heat 96, Nets 94
WESTERN CONFERENCE SEMIFINALS
1. San Antonio Spurs vs. 5. Portland Trail Blazers
Spurs win series 4-1
Game 1: Spurs 116, Trail Blazers 92
Game 2: Spurs 114, Trail Blazers 97
Game 3: Spurs 118, Trail Blazers 103
Game 4: Trail Blazers 103, Spurs 92
Game 5: Spurs 104, Trail Blazers 82
2. Oklahoma City Thunder vs. 3. Los Angeles Clippers
Thunder win series 4-2
Game 1: Clippers 122, Thunder 105
Game 2: Thunder 112, Clippers 101
Game 3: Thunder 118, Clippers 112
Game 4: Clippers 101, Thunder 99
Game 5: Thunder 105, Clippers 104
Game 6: Thunder 104, Clippers 98

---
---