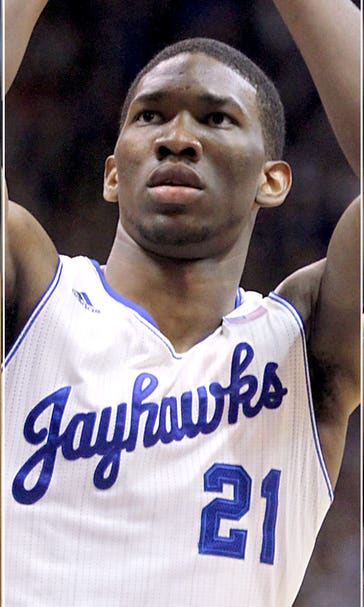 Mock around the clock: There's no time to draft like this year
June 2, 2014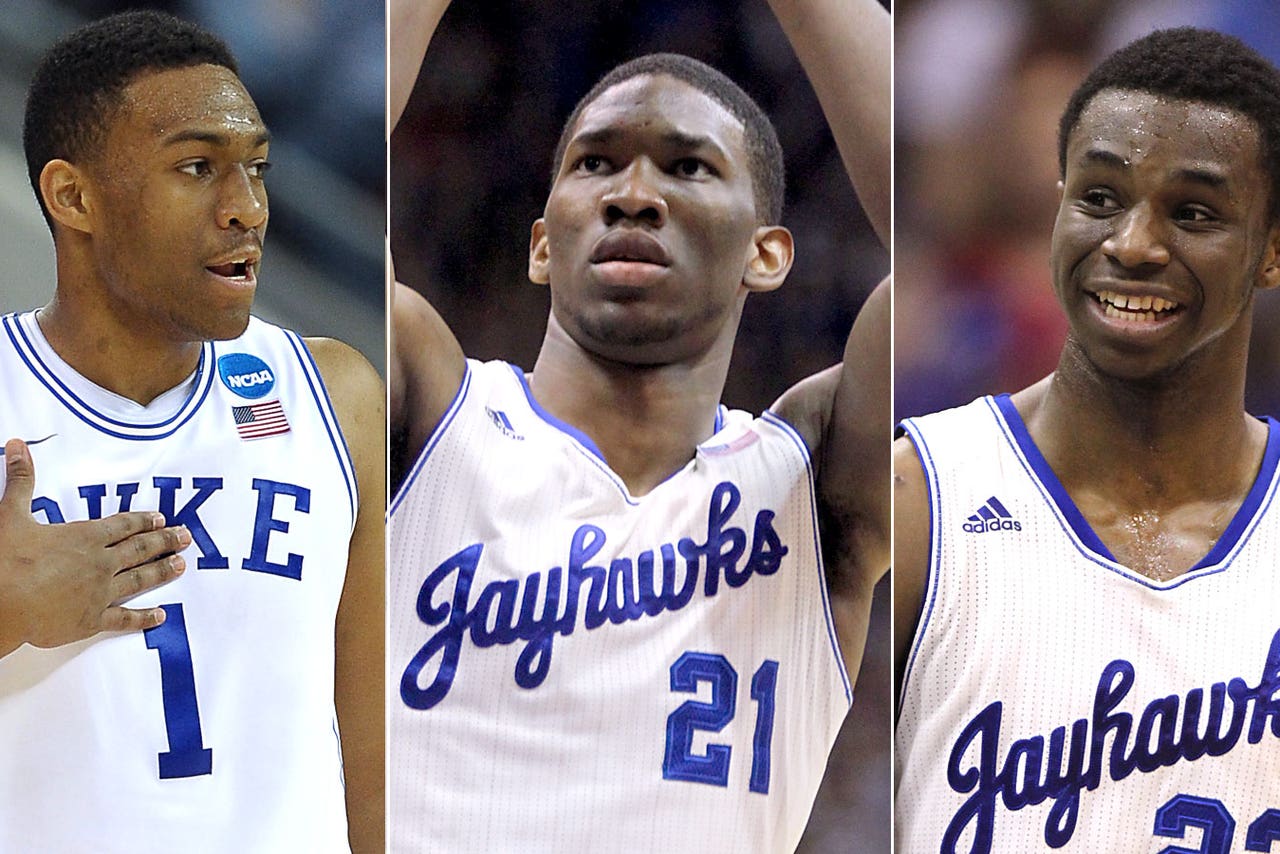 The most highly anticipated NBA Draft in more than a decade is also one with many question marks.
In 2003, the last time this much high-level talent was available for the taking, we all knew LeBron James would be the No. 1 pick and a surefire superstar. The No. 1 pick this June 26 is anyone's guess – and it's just as much of a guess as to who'll be this draft's biggest star, whether it's Andrew Wiggins or Jabari Parker, Joel Embiid or Dante Exum.
Each of this draft's big-time talents comes with at least one big-time question.
"I don't think there will be a real bust in the top 10," said one source who has either coached or coached against the majority of this draft's top talents. "But guys like Wiggins and Parker, (Aaron) Gordon and Exum, they'll be 10- to 15-year NBA guys and have a chance to be All-Stars."
As one Division I college coach told me, the interesting part about these top three picks is that who you believe should be the first pick says as much about you as it says about the players. Take Parker and you're risk-averse; you won't get fired for picking a guy who'll contribute immediately and who may be the best all-around scorer in the draft (with apologies to Doug McDermott). Take Embiid and you're a gambler; you're willing to accept the risk that his lingering back problems don't turn into a Greg Oden sequel and instead hope the comparisons to Hakeem Olajuwon prove accurate. Take Wiggins and you like to mix your risk and reward with the safety of selecting a player who at the very least is an athletic wonder.
FIRST ROUND
1. Cleveland Cavaliers: Andrew Wiggins, SG, Kansas. Wiggins entered his one-and-done season in Lawrence as the consensus No. 1 pick in this draft, though a sizable portion of NBA general managers believe it could be his higher-ceiling teammate, Embiid, who gets the nod. But combine Embiid's health questions with Wiggins' flashes of All-Star caliber, top-10-NBA-player brilliance and that tells you who ought to be No. 1. Earlier this year I asked Kansas coach Bill Self about how Wiggins' inconsistent college performance compared to our absurd expectations. He said there was no way Wiggins could have lived up to all the hype, but even Self admitted his player's ridiculous talent always left the coach wanting more. At times last season – large chunks of the season, in fact – he drifted. At other times, like in Kansas' tight December loss at Florida when Wiggins found another gear, he lived up to every bit of his explosive hype on both offense and defense. If he can somehow learn a killer mindset, watch out.
2. Milwaukee Bucks: Joel Embiid, C, Kansas. Forget about the recent clean bill of health for the big man. Back problems for a 7-footer are always worrisome. League sources have told FOX Sports 1 that while Embiid could be a bust, he also could be on the level of Olajuwon. Milwaukee's chance to land a superstar will have to come through the draft, not free agency, so why not take a chance on the young man with the highest ceiling? With the in-air precision of a kid who grew up playing volleyball, Embiid is ridiculous on defense and improving on offense. It's the type of gamble that could get a general manager fired or make him a hero.
3. Philadelphia 76ers: Jabari Parker, SF, Duke. In a way, Sixers general manager Sam Hinkie has the easiest job on draft night. His pick gets made for him. With Parker, you know what you're getting: an immediate contributor for a rebuilding squad. You can team with defending rookie of the year Michael Carter-Williams and de facto No. 1 pick Nerlens Noel, who could've been the top pick a year ago if he hadn't torn his ACL in college. With four top-11 picks in two years, Philadelphia is one of the most exciting spots in the NBA. The biggest question for Hinkie: What if Embiid slides to the third pick? Are the Sixers obligated to take him despite the fact he'd be playing alongside another elite rim protector in Noel? That would make for a fascinating frontcourt.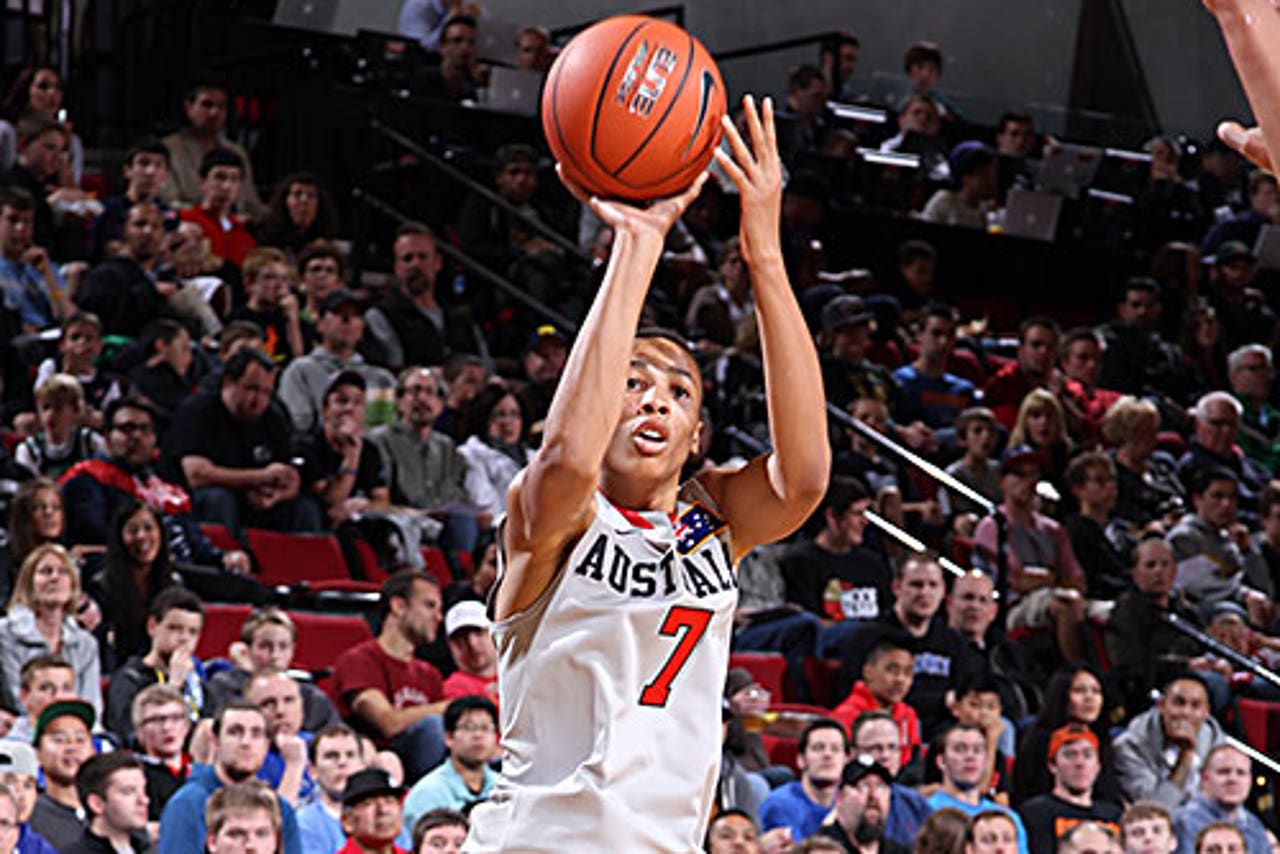 Dante Exum is unknown to many U.S. fans, but he won't stay that way for long.

4. Orlando Magic: Dante Exum, PG, Australia. One coach who faced Exum frequently in international play told me he sees Exum as an explosive, Wiggins-like player and projects him as more of a combo guard than a pure point guard. The versatile 6-foot-6 monster talent would pair well with Victor Oladipo in the backcourt. Marcus Smart could be intriguing here as well; though he would be a reach at the fourth pick, a Smart-Oladipo backcourt immediately would be the among the league's best on defense.
5. Utah Jazz: Julius Randle, PF, Kentucky. This will end up as a choice between Randle, Aaron Gordon and Noah Vonleh. Vonleh received a ton of buzz at May's NBA draft combine, and Gordon is an athletic freak, but it's hard to argue with Randle at No. 5. College coaches saw gaps in his game in his one year at Kentucky – too prone to turnovers, too much of a bully, too narrowly focused on the basket to pass out of double-teams – but he's an NBA body with NBA skills. One SEC coach told me Randle's problem is that he too often sees himself as a small forward and wants to play at 20 feet instead of in the post. "If he ever buys in – 'Let me play 10 feet and in and knock the (heck) out of people' – he could be Zach Randolph," the coach told me.
6. Boston Celtics: Aaron Gordon, PF, Arizona. One thing Boston coach Brad Stevens has brought with him from his college days is the Butler Way: appreciating players who do the little things well. There are two guys in this draft Stevens should fall in love with: Gordon and Smart. If Rajon Rondo stays with the Celtics, though, this team won't take a point guard here, and Gordon would be a perfect fit who could stuff the stat sheet on both ends of the floor. Sure, his shooting touch leaves plenty to be desired, but Gordon told me the top thing he focused on his freshman year was shooting. The player Gordon is most often compared with is Blake Griffin. One coach who has tracked Gordon's progress for years told me Gordon is further along in his development than Griffin was at the same age.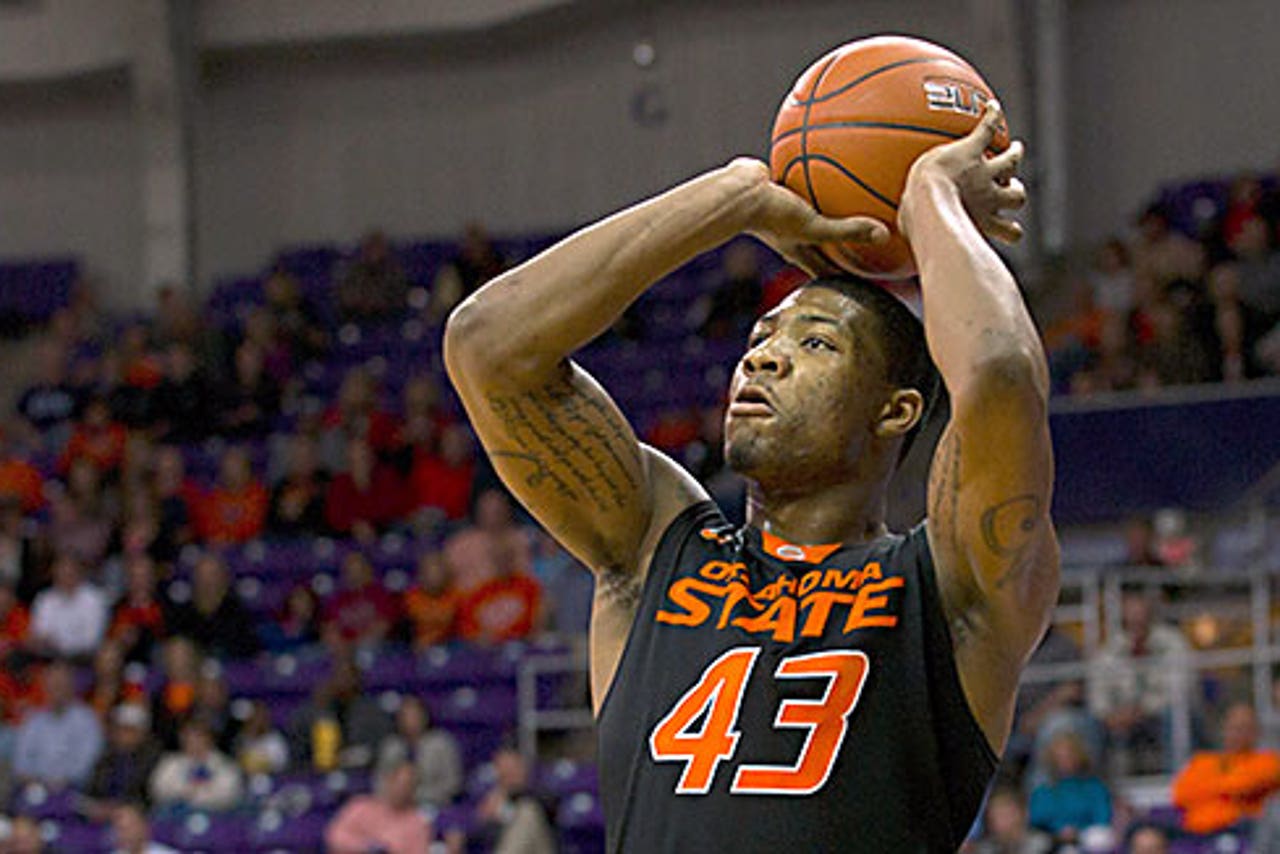 Expect Marcus Smart to be more hardnosed than headcased in the NBA.
7. L.A. Lakers: Marcus Smart, PG, Oklahoma State. As the Lakers reach the twilight of Kobe Bryant's career, this is a critical pick. Smart has one thing you can't teach: a competitive spirit unmatched by anyone in this draft. Said a college coach who has tracked him since high school: "He's NBA-ready: mentally, physically, skill-wise, competitively. He's gotta become a better perimeter shooter, but so did Chris Paul when he got in the league." Haters will argue that last season's emotional roller coaster proved he was a head case; those who've coached him tell me it was very much an aberration. Some time under the tutelage of Bryant and Steve Nash would be wonderful for Smart, and he has the mental toughness to take their teaching.
8. Sacramento Kings: Noah Vonleh, PF, Indiana. Vonleh has shot up draft boards after a buzz-worthy combine that included massive measurements for a player who projects as a power forward in the NBA. He's one of the best rebounders in this draft. Vonleh alongside DeMarcus Cousins? Yes, please. A Big Ten coach told me Vonleh has an NBA body and can do all the NBA things: shot blocking, running the floor, scoring inside, rebounding, shooting threes. If he gets stronger, this could be one of the steals of the draft.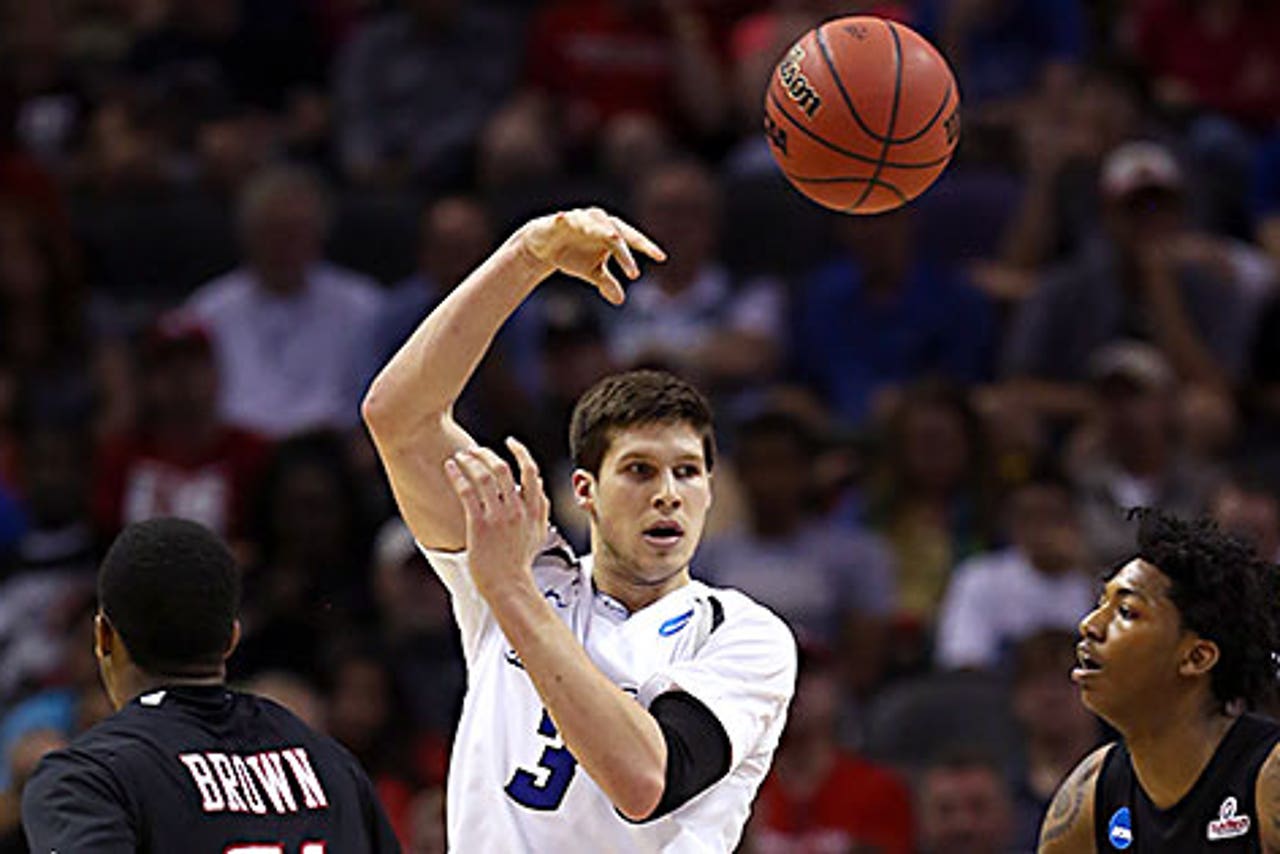 Whatever team drafts Doug McDermott can count on him to score.  
9. Charlotte Hornets (from Detroit): Doug McDermott, SF, Creighton. Charlotte is one of the worst shooting teams in the NBA. Why not add the best shooter in the draft in Dougie McBuckets? The team that takes McDermott will know what it is getting: one of the few guarantees in this draft. If you're still doubting McDermott as an NBA prospect, you haven't been paying attention. Just ask the players at the Team USA minicamp in Las Vegas last summer, where NBA stars like Kyrie Irving kept looking to find McDermott for open threes.
10. Philadelphia 76ers (from New Orleans): Nik Stauskas, SG, Michigan. The Sixers had the NBA's lowest three-point percentage and were second-worst in overall field-goal percentage, effective field-goal percentage and free-throw percentage. How about the best pure shooter on the board not named McDermott?
11. Denver Nuggets: Dario Saric, PF, Croatia. International scouting expert Jonathan Givony told me Saric could fill a similar point forward position to the one Hedo Turkoglu held on the Orlando Magic team that went to the NBA Finals several years back. If, that is, Saric remains in the draft and doesn't decide to stay in Europe.
12. Orlando Magic (from New York via Denver): James Young, SF, Kentucky. After taking a point guard with their first pick, the Magic should draft Young, an explosive driver who can flat-out shoot the ball. Could he become a poor man's Ray Allen? One coach who has known Young since eighth grade gave me that comparison.
13. Minnesota Timberwolves: Adreian Payne, PF, Michigan State. Let's assume Kevin Love won't be here at the beginning of next season. How about drafting another 6-10 guy who can shoot the three? A Big Ten coach told me Payne could be a version of LaMarcus Aldridge. It would also be interesting to see whether the Wolves draft a young point guard (Zach LaVine?) to back up and one day replace Ricky Rubio.
14. Phoenix Suns: Jusuf Nurkic, C, Bosnia and Herzegovina. A big – some would say too big at 6-11, 280 – center with a skilled touch from the field. One international scouting expert told me his potential is Nikola Pekovic – and that he's much more versatile than Pek was at age 19. The Suns have so many middle-of-the-road players that no pick would be surprising here, from LaVine as a combo guard to adding Michigan State shooting guard Gary Harris to a high-scoring lineup.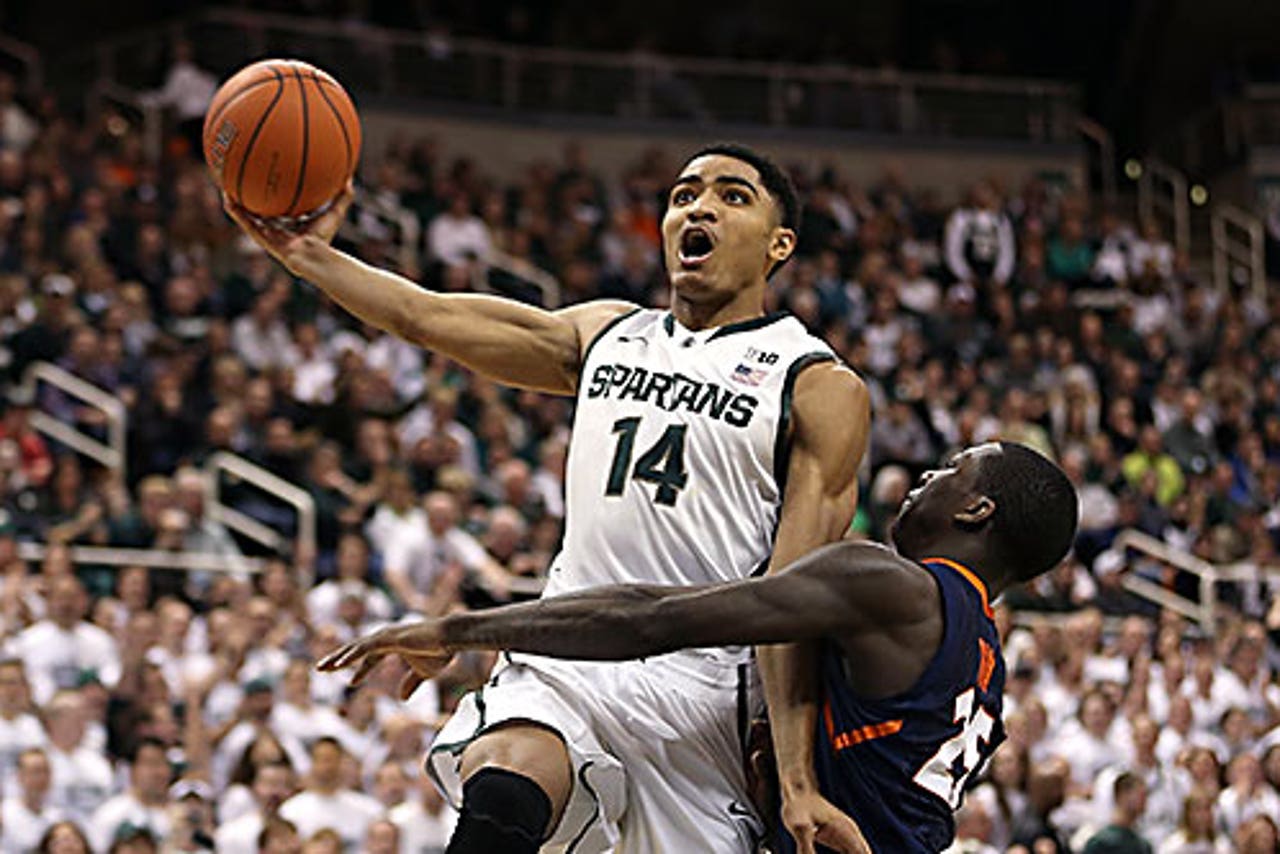 Gary Harris' tweener status could cause him troubles on draft night.
15. Atlanta Hawks: Gary Harris, SG, Michigan State. A team can always use a wing like Harris, even if some consider him a tweener in the NBA. He often underwhelmed in college games, but as one Big Ten coach told me, he can flat-out defend the perimeter. Having a stopper like Harris – especially one who is dynamic on the offensive end as well – comes in handy.
16. Chicago Bulls (from Charlotte): Cleanthony Early, SF, Wichita State. A former NBA scout told me he was as impressed by Early's performance at the combine as nearly anyone's. Though this may be too high for Early, he is one of this draft's biggest sleepers and someone who can fill a need for the Bulls as an NBA-ready, versatile, both-ends small forward. His out-of-this-world performance against Kentucky in the NCAA tournament was not an anomaly. The 23-year-old has that NBA look.
17. Boston Celtics (from Brooklyn): Shabazz Napier, PG, UConn. Too early? Yep. But a total winner who Brad Stevens would fall in love with and a natural leader who could take over this team the moment Rajon Rondo goes elsewhere? For sure. Said one college source whose team played UConn this season: "Someone will draft him and look like a genius." He's small (6-0, 175) but strong, and he can shoot, pass and rebound. A former NBA scout told me he was so smitten with Napier that, though he knows it's absurd, he'd want Napier with the first overall pick. "A superstar," he said.
18. Phoenix Suns (from Washington): T. J. Warren, SF, North Carolina State. Who needs defense? The Suns like to score. So does Warren. A match made in heaven.
19. Chicago Bulls: Zach LaVine, PG, UCLA. The bleachers at the draft combine were abuzz with talk about LaVine, a one-and-done player who didn't start at UCLA but flashed moments of brilliance in his 24 minutes per game. Consider him a project with huge upside. As a combo guard, he could be an insurance policy against Derrick Rose's health and Kirk Hinrich's free agency. He needs both bulk and experience.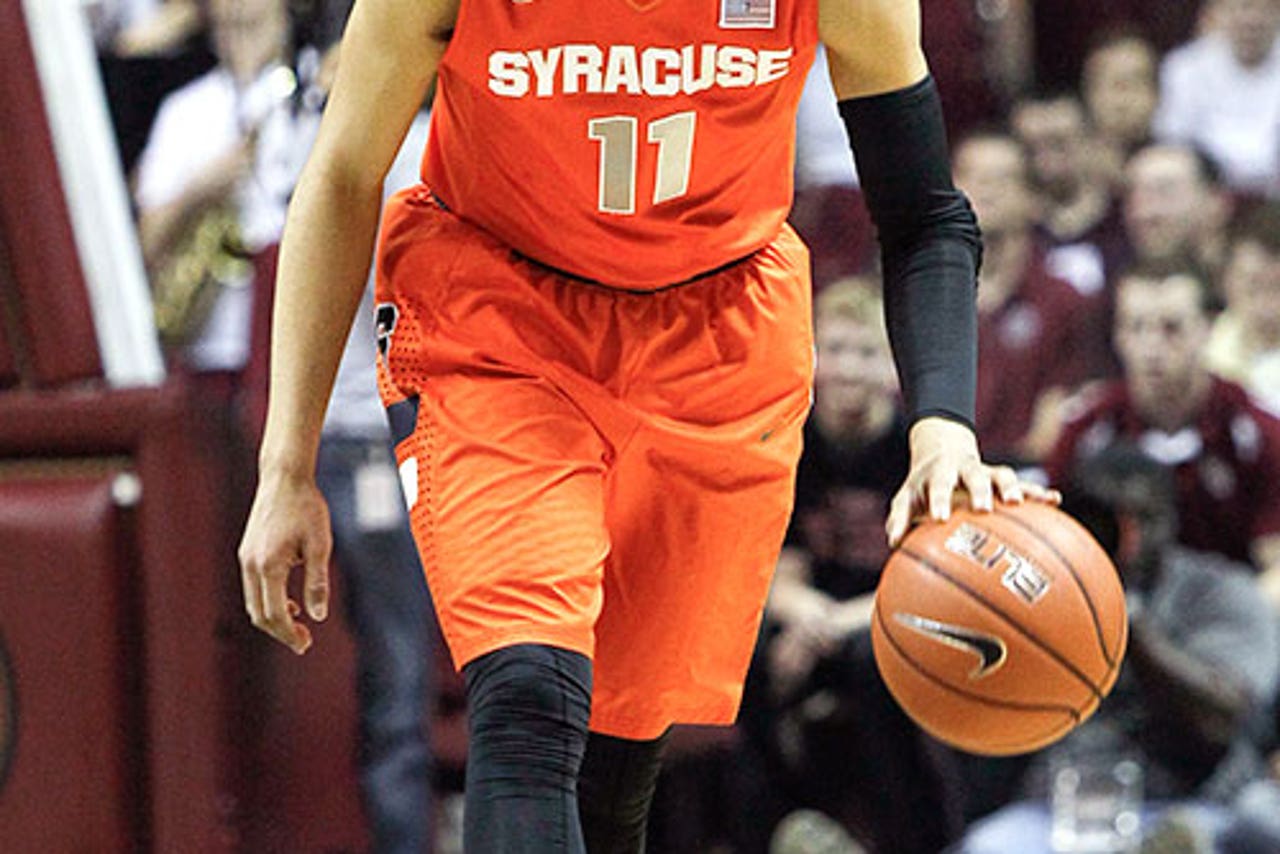 Tyler Ennis takes care of the ball and could be just what the Raptors need if Kyle Lowry leaves town.

20. Toronto Raptors: Tyler Ennis, PG, Syracuse. Two general managers told FOX Sports 1 that a team would reach too high for the young point guard. With Kyle Lowry possibly leaving as a free agent, the unflappable Ennis – the best game manager in this draft – would make sense. In his one season at Syracuse, Ennis played with the maturity of a senior (see: 3.2 assist-to-turnover ratio.)
21. Oklahoma City Thunder (from Dallas via Houston and L.A. Lakers): Rodney Hood, SG, Duke. The idea of the sharp-shooting Hood on the perimeter for this team is tantalizing.
22. Memphis Grizzlies: P.J. Hairston, SG, North Carolina. I loved what I saw from Hairston at the combine. He looked the part. He shoots the lights out.
23. Utah Jazz (from Golden State): C.J. Wilcox, SG, Washington. The Jazz are one of the NBA's worst three-point shooting teams. Wilcox, one of the best long-distance shooters in this draft, would help with that.
24. Charlotte Hornets (from Portland): Dwight Powell, PF, Stanford. Such a versatile big guy. One college coach with NBA experience told me: "He's one of those guys who'll be around the league for 10 years. Good size and skill. Maybe he'll never be a starter, but a 6-10 guy with skill is hard to find."
Elfrid Payton didn't go to a big-name school, but he could become a big name late in the first round.

25. Houston Rockets: Elfrid Payton, PG, Louisiana Lafayette. Unless you think Jeremy Lin is the answer at point guard, Payton would be a great gamble here. He jumped onto the national scene a year ago when he was a surprise selection for the USA Basketball U-19 team. He fit right in with the best of the high-major players. He's long, athletic and unselfish, a great prototype for an NBA point guard and one of the best perimeter defenders in the draft.
26. Miami Heat: Joe Harris, SG, Virginia. Will Ray Allen stay in Miami, and if so, will he continue to be effective? Harris is a remarkable three-point shooter whose college numbers would have been far better in a more offense-friendly system.
27. Phoenix Suns (from Indiana): Jerami Grant, SF, Syracuse. He's one of the best athletes in this draft but still is working on the finer points of his game. At 6-8 but without a reliable jumper, you wonder what position he plays in the NBA.
28. L.A. Clippers: DeAndre Daniels, SF, UConn. He's still too thin but has all the raw skills you want in an NBA small forward. He'll need time but could develop into something with staying power.
29. OKC Thunder: Mitch McGary, PF, Michigan. McGary would have been a lottery pick if he'd come out a year ago. Then he had an injury-riddled sophomore season. At this point in the draft, he'd be a solid gamble for any team. But he's definitely a gamble: A Big Ten coach raved to me about his size, motor and work ethic but worried about his troublesome back.
30. San Antonio Spurs: Kyle Anderson, SF, UCLA. He's one of the more intriguing players in this draft – a hugely talented, unique player who is ultimately considered an NBA question mark. A coach who watched Anderson's development through high school and college told me he needs a creative coach to succeed in the NBA. "He'd be a great Don Nelson player," the coach said. "He'd play him at point, wing, on the baseline. He's not a point guard. He can't guard a point guard. He's not a 2 or a 3 because he'd have trouble defending that position in the pros. But that's what they said about Larry Bird, too."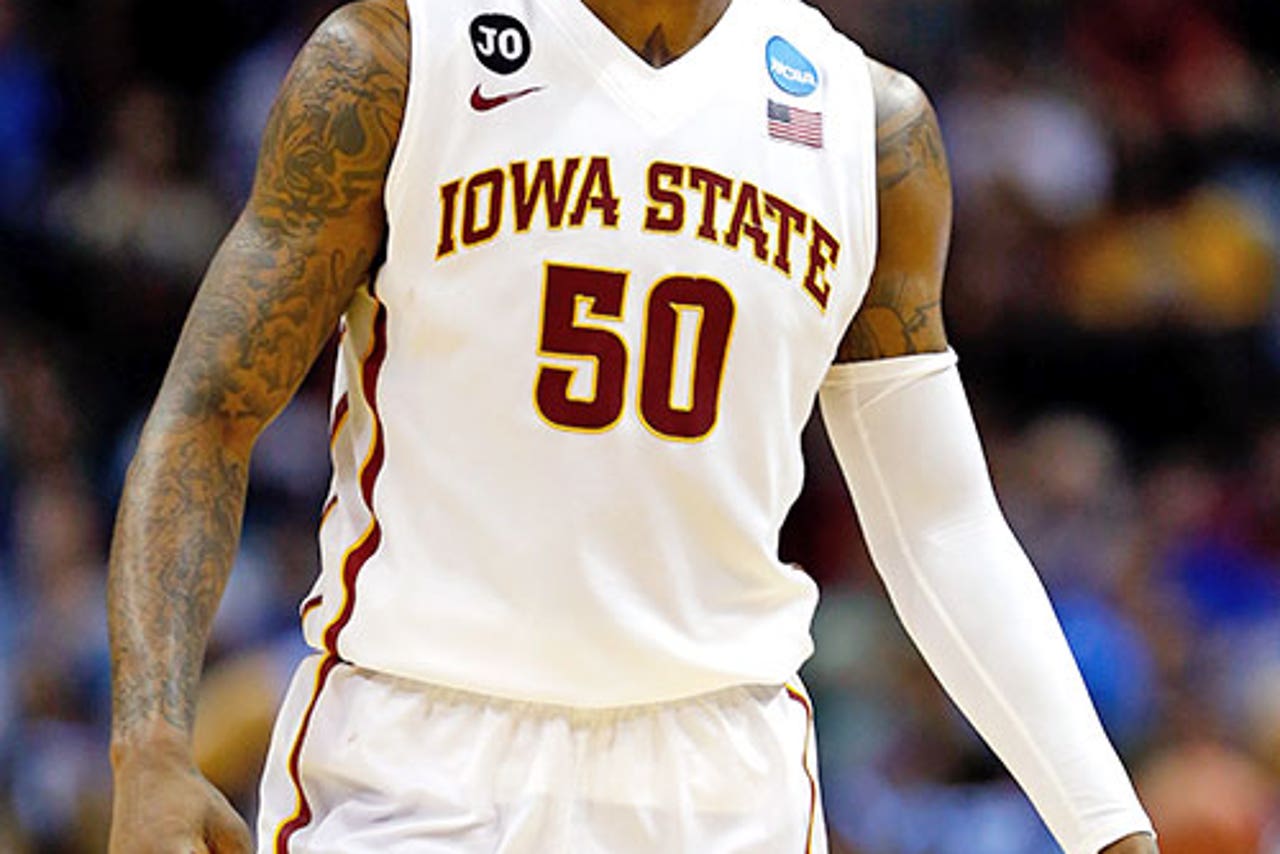 DeAndre Kane is one of a group of possible second-rounders who could make an impact.

SECOND-ROUND SLEEPERS
DeAndre Kane, PG, Iowa State. A Big 12 coach who has coached plenty of NBA players told me Kane, despite his advanced age, is a definite pro – someone ready to contribute right away. He's a perfect backup point guard from Day 1 who'd be ready to fill in as a starter. He has the size (6-4, 200) and the all-around skills to succeed at the next level.
Jordan McRae, SG, Tennessee. Said an SEC coach, who called McRae his conference's best defender: "If I were an NBA guy, I'd be foaming at the mouth to get a guy like that. He can shoot it from deep. He can run. He's athletic in transition. He can guard. He's got long arms. That's an NBA nightmare." Could be a Bruce Bowen type.
Patric Young, PF, Florida. Could he play a Udonis Haslem role in the NBA? That's what one college coach suggested. Young is built like a tight end, rebounds well and brings energy, defense, toughness and smarts.
Cory Jefferson, PF, Baylor. A Big 12 coach called him a poor man's Horace Grant. He's athletic, has an incredible motor and can shoot from the outside.
Devyn Marble, SG, Iowa. NBA guys love his versatility. Marble could play three positions in the NBA. He can shoot the three, but more than that, he's a guy who did whatever he was asked at Iowa without complaint. He's a high-character player who would be fine with coming off the bench in the NBA.
K.J. McDaniels, SF, Clemson. He's an incredible and athletic defender but a bit of a tweener.
Bryce Cotton, PG, Providence. Revealing a bit of my FOX Sports 1/Big East bias here. But what isn't to love about a tough kid who was recruited by exactly one Division 1 school out of high school and who by his senior year was a McDermott away from becoming Big East player of the year? No player in college hoops played a higher percentage of his team's minutes than Cotton.
James Michael McAdoo, PF, North Carolina. There's a split on McAdoo. Will he be an NBA bust or a solid contributor? One coach told me he has no motor at all. Another disagreed and said his problem in Chapel Hill was that he never had his role identified. A hell of an athlete, but he always underwhelmed at North Carolina.
Melvin Ejim, SF, Iowa State. At 6-6, does he have the height to play a frontcourt spot in the NBA? One Big 12 coach told me he sure has the smarts and the down-and-dirty mentality. He can do it all: shoot, rebound, defend, do all the little things well. One Big 12 source told me he is certain a player like Ejim can find his niche as an NBA role player.
Jordan Bachynski, C, Arizona State. He's 7-2 and was one of college basketball's best shot blockers. That's gotta be worth something. A college coach told me he looked as good as any of the centers who participated in the combine. (Embiid, of course, wasn't there.)
Follow Reid Forgrave on Twitter @reidforgrave or email him at ReidForgrave@gmail.com.
---
---