National Basketball Association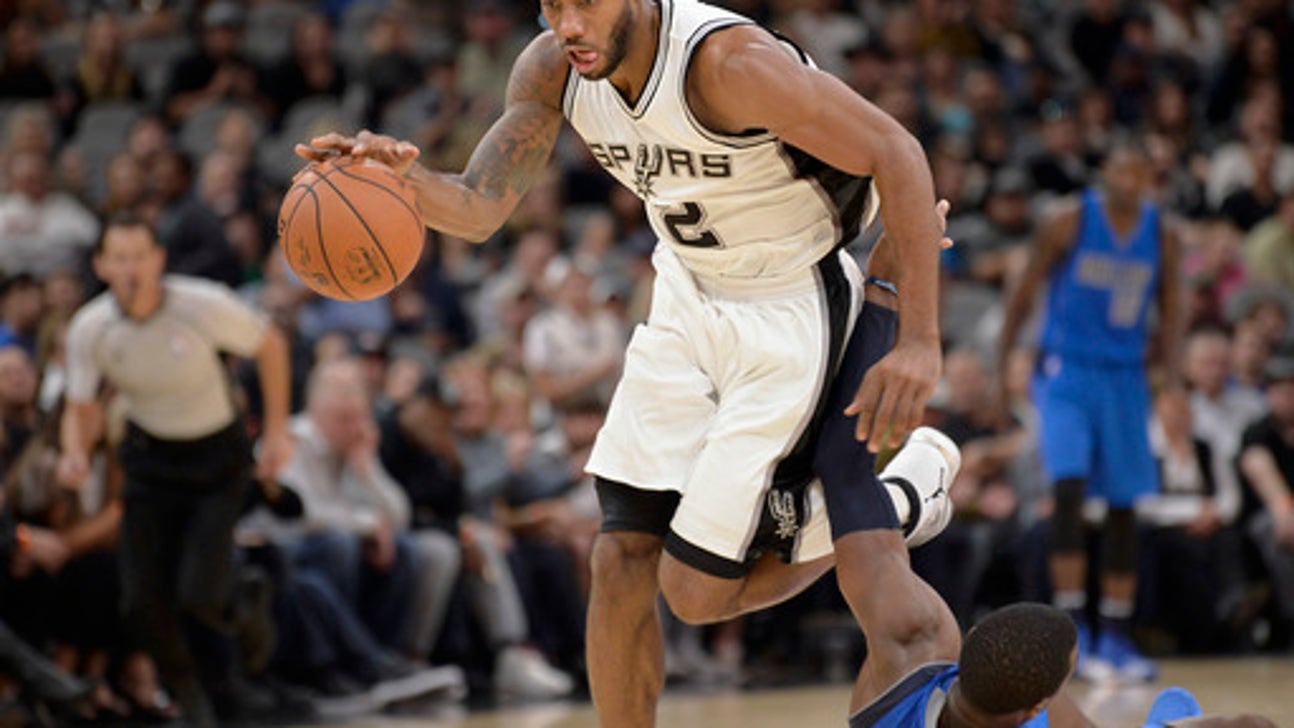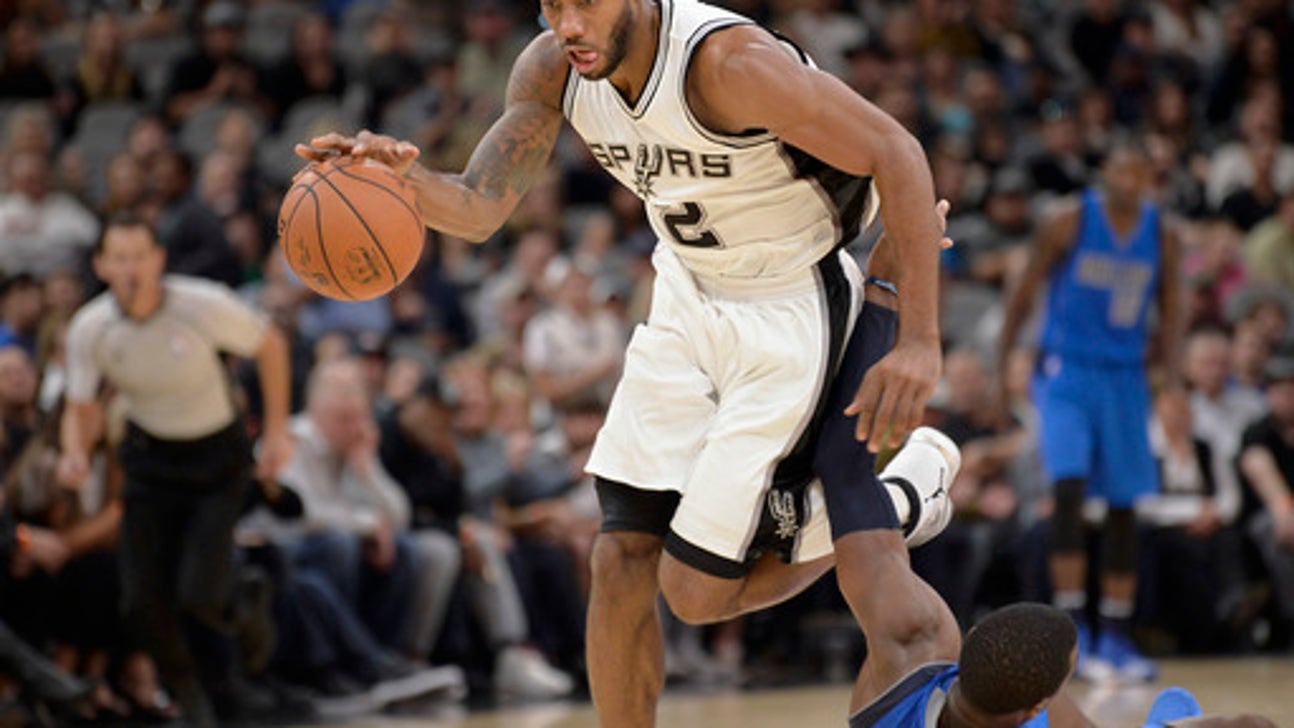 National Basketball Association
Leonard scores 24 as Spurs top struggling Mavericks 96-91
Published
Nov. 22, 2016 1:17 a.m. ET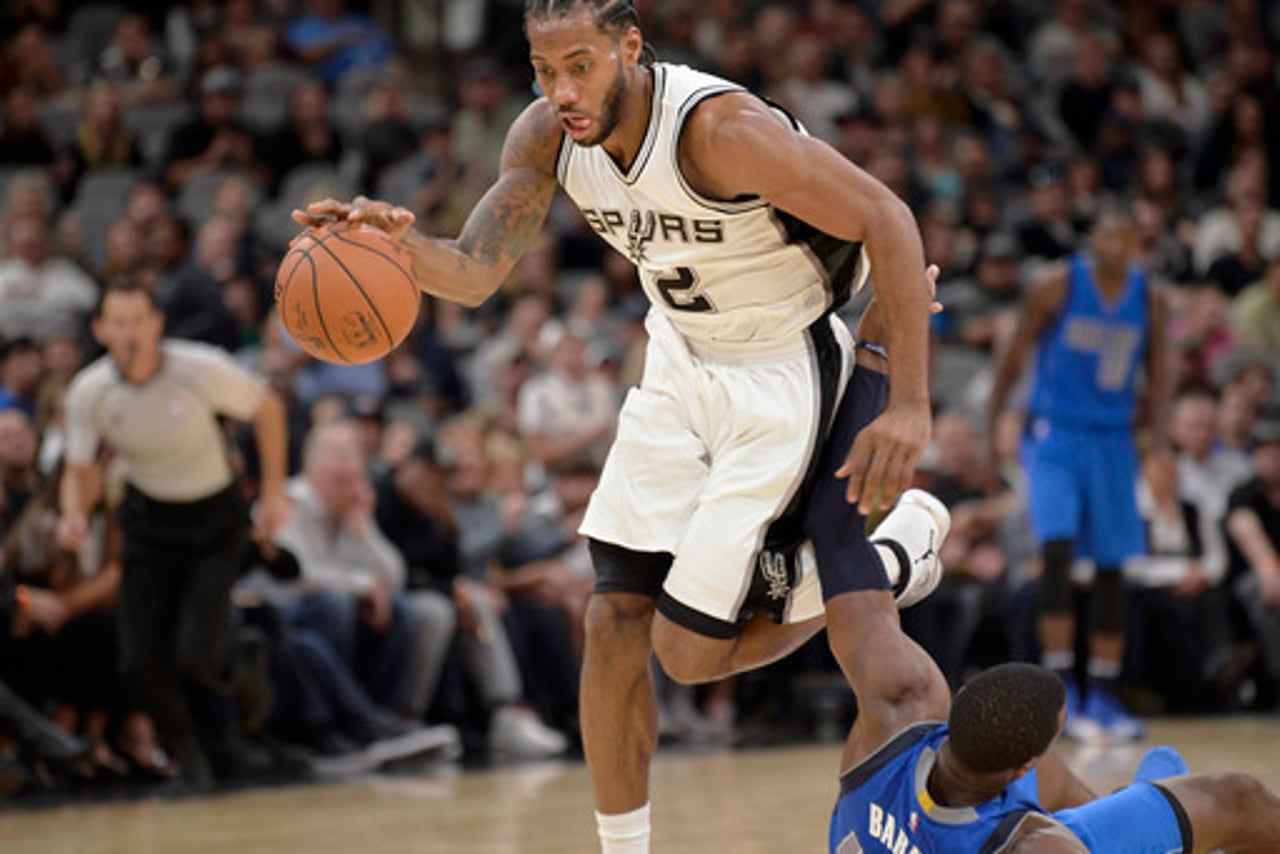 SAN ANTONIO (AP) Dallas Mavericks coach Rick Carlisle found plenty of positives in his team's performance against San Antonio. His counterpart, Gregg Popovich, could not stomach the Spurs' ''awful'' and ''pathetic'' play.
Oh, by the way, San Antonio won.
Kawhi Leonard had 24 points and nine rebounds, and the Spurs escaped with a 96-91 victory over the struggling Mavericks on Monday night for their sixth straight win.
Dallas (2-11) is off to its worst start since 1993-1994, when the Mavericks opened 1-23 in a 13-win season. But they put a scare in San Antonio, which had to keep Leonard on the floor for much of the fourth quarter.
''This was a pathetic performance on the part of the Spurs,'' Popovich said in a 30-second postgame interview. ''You know, they had some guys out, we had some guys out, but they had a lot more out than we did. I thought we showed a lack of humility, a lack of respect for the opponent, a very pathetic performance at both ends of the court. It was an awful performance. Oh, and they deserved to win the basketball game, I forgot to say that.''
Dallas almost did.
With the Mavericks trailing 92-91, Harrison Barnes missed a step-back 17-footer with 15 seconds left that Manu Ginobili rebounded before being fouled. Ginobili hit a pair of free throws to extend the lead to three, and Seth Curry missed a 3-pointer with 6 seconds remaining.
Curry matched a career high with 23 points, shooting 5 for 10 on 3s. Barnes and Wesley Matthews each had 20 points in the Mavericks' sixth consecutive loss.
''It's tough, but the guys were fighting their (rear ends) off and there's a lot of positives,'' Carlisle said. ''We've got to build on positives.''
San Antonio has won six straight against Dallas and 12 in a row at home.
The once-heated rivalry between the Texas teams has cooled considerably with the Spurs' sustained success and the Mavericks' injuries and free-agent troubles.
Dallas forward Dirk Nowitzki and starting point guard Deron Williams both missed the game with injuries. San Antonio starters LaMarcus Aldridge and Tony Parker were in uniform but neither played as Popovich opted to rest his veterans.
Spurs rookies Dejounte Murray and Davis Bertans made their first starts in place of Parker and Aldridge, respectively, and fellow rookie Bryn Forbes also saw extended playing time early.
Barnes took advantage of the inexperience, making all but one of his six attempts in scoring 10 points in the opening quarter.
Dallas shot 8 for 27 on 3s.
''I think we really did an awful lot of good things,'' Carlisle said. ''There's going to be missed shots, but it was one of our better shooting nights this season so far, so that's a positive.''
The Spurs enjoyed greater success when their veterans took the court.
''We let ourselves down in terms of bringing the energy and effort that we usually are pretty solid at,'' said Spurs reserve Patty Mills, who had 17 points. ''I don't think we were consistent throughout tonight. We win them together and we lose them together. We get better together.''
Leonard drove the lane and dropped a bounce pass between Dwight Powell and Dorian Finney-Smith that David Lee dunked ahead of a foul by Salah Mejri to pare the lead to 63-62. After Ginobili missed a 3-pointer, Lee tipped out the rebound to Mills for a 3 that gave San Antonio a 68-65 lead.
Dallas had eight turnovers in the fourth quarter, which resulted in 12 points for San Antonio.
Pau Gasol added 16 points and eight rebounds for the Spurs.
TIP-INS
Mavericks: Nowitzki (strained right Achilles), Williams (strained left calf) and G Jose Juan Barrera (strained left calf) did not travel with the team. ... The last undrafted player to score 26 points in his first or second game prior to the Mavericks' Jonathan Gibson doing so Saturday in Orlando was Spurs guard and New York playground legend Lloyd Daniels. He had 26 points on Nov. 7, 1992, at Denver. Both players hit the mark in their second game. ... Curry also had 23 points Nov. 8 in a 109-97 victory at the Los Angeles Lakers.
Spurs: Leonard has scored in double figures in 48 straight games, the longest streak of his career. He is 95 for 100 on free throws this season. ... Gasol has played 37,565 career minutes, moving him past Clyde Drexler (37,537) for 49th in NBA history. ... G Nico Laprovittola missed the game with what Popovich described as a ''tooth-extraction thingy.'' ... The Spurs have established the longest home winning streak in series history. Dallas won 11 straight matchups at home from 1986-89.
WINNING WAYS
Popovich became the second-fastest coach to 1,100 career wins, doing so in 1,588 games. Phil Jackson collected his 1,100th victory in 1,560 games with the Chicago Bulls and Los Angeles Lakers. Popovich is the seventh coach in NBA history with 1,100 wins.
INJURIES MOUNT
Mavericks players have missed 31 games due to injury this season. Devin Harris (12), Nowitzki (nine) and Williams (six) have all missed at least a half dozen. Barnes said Dallas doesn't believe a return to health will cure all that ails the team on the court.
''We just have to stay vigilant and just continue to keep fighting the way we do,'' Barnes said. ''We just can't assume once we get Player X, Player Y, Player Z, the wins will start falling in place. We've just got to keep plugging away.''
UP NEXT
Mavericks: Host the Los Angeles Clippers on Wednesday.
Spurs: At the Charlotte Hornets on Wednesday.
---
---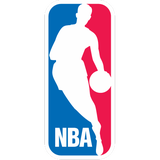 Get more from National Basketball Association
Follow your favorites to get information about games, news and more
---