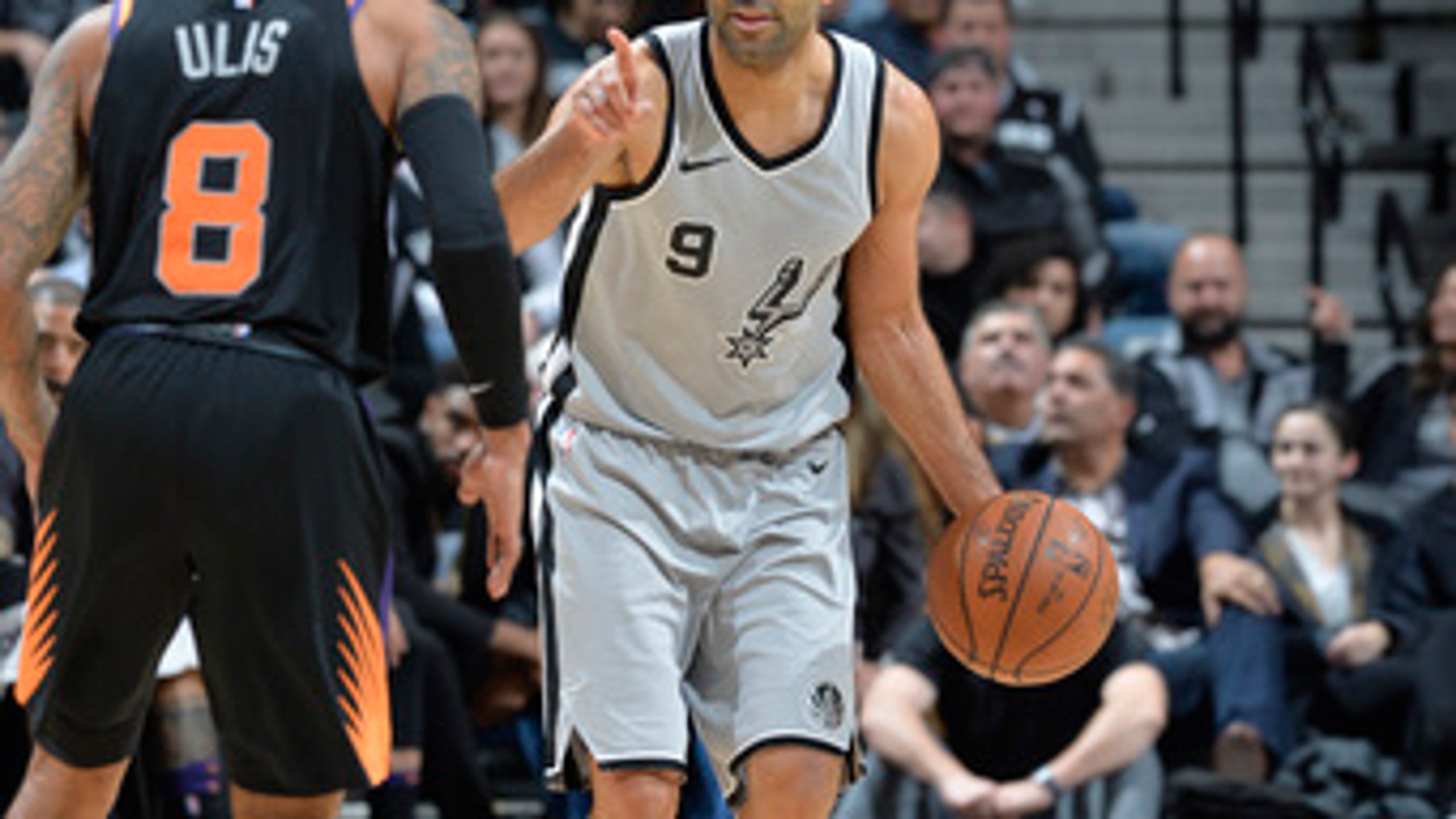 Leonard, Ginobili each have 21, lead Spurs past Suns, 103-89 (Jan 05, 2018)
BY AP • January 6, 2018
SAN ANTONIO (AP) Looking for some extra offense with two of their top scorers out, the Spurs turned to their defense.
Kawhi Leonard and Manu Ginobili each scored 21 points and San Antonio set a season high in steals in beating the Phoenix Suns 103-89 on Friday night.
Playing without starters LaMarcus Aldridge, who sat out for rest, and an injured Danny Green, the Spurs responded by scoring 29 points off 23 turnovers. San Antonio had 15 steals and six blocks, fueling a 31-13 advantage in fast-break points.
''It's their active hands,'' Phoenix coach Jay Triano said. ''They trace the ball, they chart deflections. Their hands are always in the pot. They don't let you make a pass on time and on target and they take a lot of pride in that.''
Leonard was at the forefront of the defensive effort.
The two-time NBA Defensive Player of the Year set a season high with three blocks and tied his season best with four steals.
Leonard ran down Devin Booker from behind to block a layup early in the first quarter and minutes later stepped in front of Tyson Chandler for a steal that led to a breakaway dunk.
''Kawhi is getting to look more and more like himself every game,'' Spurs coach Gregg Popovich said.
It was Leonard's eighth appearance after missing the season's first 27 games with right quadriceps tendinopathy.
Leonard had eight points during a 26-3 run after San Antonio fell behind by eight points two minutes into the second quarter.
''He's just starting to get into his groove offensively,'' Triano said. ''He's got the midrange, he can shoot the 3. He's strong, so if you've got a lighter defender, he can go past them. He's got to be the focus of your defense and then that opens him making plays for others and them being able to shoot the ball.''
Ginobili also drew the Suns' attention, scoring 15 points in a decisive third quarter.
''I totally respect what he's doing out there,'' Chandler said. ''It seems like whenever we got close he hit every big shot. He's been doing that consistently for the last 19 years.''
Ginobili joined Vince Carter as the only 40-year-old players to score 20 points off the bench. He shot 7 for 10 from the field in setting a season high for points.
''He's something else,'' Popovich said. ''Whatever he's drinking, I want some of it. I'm serious. There's got to be a fountain of youth someplace.''
Booker had 21 points and Marquese Chriss added 12 for Phoenix, which lost its ninth straight in San Antonio.
Booker finished 8 for 17 from the field after shooting 5 for 7 in the opening quarter.
''They put a bunch of different bodies on me,'' Booker said. ''I had (Bryn) Forbes on me at one point. Kawhi was guarding me a little bit. Throwing different looks. First half, I got open a few times. Second half, it was all double teams.''
TIP-INS
Suns: F T.J. Warren did not play after being listed as questionable due to an illness. Phoenix was also without F Jared Dudley (illness). ... The Suns have made a 3-pointer in 1,099 consecutive games since March 29, 2004. It's the second-longest streak in NBA history to Dallas' 1,108 straight from Feb. 27, 1999, to Dec. 12, 2012. ... The Spurs have won 12 of the last 13 in the series. Phoenix's last win in San Antonio was Feb. 27, 2013. Jermaine O'Neal had 22 points in the 105-101 victory.
Spurs: Aldridge has missed only two games this season, both for rest. ... Green missed his second straight game and seventh overall with tightness in his left groin. ... Joffrey Lauvergne exited with 2:56 left in the first half after colliding nose to forehead with Chriss, but returned to the Spurs bench midway through the third quarter. He played seven minutes in the fourth, finishing with three points and six rebounds in 15 minutes.
OFFSEASON NON-WORKOUTS
Ginobili was asked if he prepared for the season any differently considering he has had such a dynamic start to his 16th season.
''Very different this year,'' Ginobili said. ''I didn't do anything. I thought I was going to retire and I took a two-month vacation. So, if you want to look that I worked out? No. I just went to Spain for 47 days thinking I wasn't going to come back, but then mid-August and September and October, I tried to work hard because I knew it was going to be hard.''
Ginobili is averaging 8.5 points, but has been active on both ends and has been dunking like he did in his first years in the league.
BOOKER FAN
Popovich praised Booker before and after the game, calling the 21-year-old a great player.
''I thought we did a pretty good on him,'' Popovich said. ''Lost him here and there, but he's a special kid.''
UP NEXT
Suns: Host Oklahoma City on Sunday night.
Spurs: Visit Portland on Sunday night.
---
More NBA basketball: https://apnews.com/tag/NBAbasketball
---
---