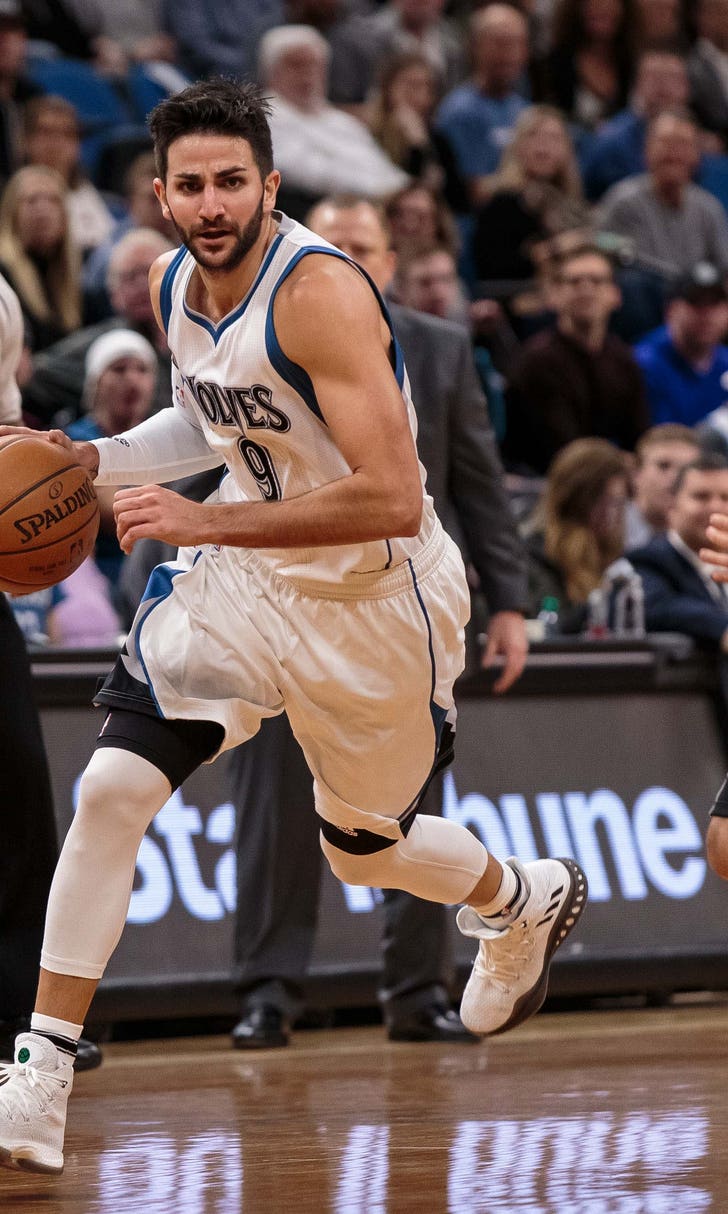 Knicks Trade Rumors: Pros And Cons Of Pursuing Ricky Rubio
BY Fansided and Maxwell Ogden/FanSided via Daily Knicks • June 30, 2017
Dec 6, 2016; Minneapolis, MN, USA; Minnesota Timberwolves guard Ricky Rubio (9) dribbles in the first quarter against the San Antonio Spurs at Target Center. Mandatory Credit: Brad Rempel-USA TODAY Sports
The Minnesota Timberwolves have reportedly made Ricky Rubio available for a trade. Should the New York Knicks pursue a trade for the polarizing point guard?
---
The New York Knicks have less than one month to determine if the current roster will suffice in 2016-17. With a record of 20-27 through 47 games, the Knicks have reason to believe a change needs to be made.
If a change is going to occur, then it's only rational to address the position at which New York has its most flexibility: point guard.
Derrick Rose and Brandon Jennings are pending free agents whose expiring contracts are valuable trade assets. Losing either would be a damaging blow, but New York's options are limited from a trade perspective.
According to Adrian Wojnarowski of The Vertical, one of the players whom the Knicks could realistically pursue is Minnesota Timberwolves point guard Ricky Rubio.
The Minnesota Timberwolves are actively shopping point guard Ricky Rubio in trade proposals, league sources told The Vertical.
Rubio has his flaws, but he also has strengths that fit what the Knicks are hoping to accomplish.
Rubio is currently averaging 7.9 points, 8.0 assists, 3.9 rebounds, and 1.8 steals in 31.7 minutes per game. Widely regarded as one of the better two-way point guards in the NBA, Rubio could help the Knicks.
If the Knicks are going to make a move for Rubio, however, they must weigh the pros and cons. What are they?
Jan 6, 2017; Washington, DC, USA; Washington Wizards guard Bradley Beal (3) shoots the ball over Minnesota Timberwolves guard Ricky Rubio (9) in the second quarter at Verizon Center. Mandatory Credit: Geoff Burke-USA TODAY Sports
Pro: Defense
The New York Knicks are one of the worst defensive teams in the NBA. In contrast to that reality, the Minnesota Timberwolves point guard Ricky Rubio is one of the best defensive players at his position.
If the Knicks are going to turn the season around, then improving the perimeter defense must be a top priority for everyone involved.
New York is currently allowing 108.1 points per game, which is tied for No. 24 in the NBA. It's also allowing 108.1 points per 100 possessions, which is No. 25 in the NBA and the true sign of how poorly it's defended.
The biggest issue on defense is the inconsistency with which the perimeter defenders keep slashers in front of them and close out on shooters.
Rubio is currently No. 3 amongst point guards in defensive RPM and ranked No. 2 at his position in 2015-16. He also ranked No. 1 in that regard in 2014-15 and No. 2 in 2013-14, which establishes the consistency with which he defends.
Of the realistically attainable trade options, there are none more intriguing from a defensive perspective than Rubio.
Jan 24, 2017; Phoenix, AZ, USA; Minnesota Timberwolves guard Ricky Rubio (9) against the Phoenix Suns at Talking Stick Resort Arena. The Timberwolves defeated the Suns 112-111. Mandatory Credit: Mark J. Rebilas-USA TODAY Sports
Con: Off-Ball Offense & Scoring Inefficiency
One could argue that Ricky Rubio is essentially a point guard version of Joakim Noah. Noah is a gifted passer, who admittedly doesn't handle the ball enough to make a true and definitive impact on offense, and a non-factor as a scorer.
Rubio is the type of player who can legitimately run an offense and effectively put his teammates in a position to score, but at what cost?
Rubio is one of the least effective scorers in the NBA. Thus far in 2016-17, he's shooting 37.5 percent from the field and 25.0 percent from 3-point range, which is in line with his career shooting percentages.
Rubio has career shooting percentages of 36.9 percent from the field and 30.9 percent from 3-point range, which is reason enough to be concerned.
Rubio and Derrick Rose would have similar flaws in off-ball situations in the sense that both are non-shooters. Rose is actively working to improve his jump shot, however, and that's reason to see the 2016-17 season through.
Rubio does more good than bad, but this flaw is one that could cost the Knicks dearly on the offensive end of the floor.
January 19, 2017; Los Angeles, CA, USA; Minnesota Timberwolves guard Ricky Rubio (9) moves the ball against Los Angeles Clippers guard Raymond Felton (2) during the first half at Staples Center. Mandatory Credit: Gary A. Vasquez-USA TODAY Sports
Pro: Facilitating
The New York Knicks are 18-14 when they record at least 20 assists and 2-13 when they fail to. Thus, it stands to reason that adding a true facilitator would fit the winning formula and help New York break free of its refusal to move the ball.
However you may feel about Ricky Rubio's all-around game, he's averaged at least 8.0 assists per game in five of his past six NBA seasons.
Rubio is a creator; the type of player who will make life easier for every teammate he plays with. It's understandable to worry about his inability to score with any measure of efficiency, but he elevates the proficiency of those around him.
A generational talent from a facilitating perspective, one can't help but be intrigued by how well Rubio would play under a head coach like Jeff Hornacek.
Hornacek would likely have Rubio push the pace and create havoc in the open court. Rubio's decision-making and court vision, as well as his creative passing ability, would inevitably test the limitations of an opposing defense.
Coupled with Rubio's proficiency as a pick and roll facilitator, the Knicks' offense would likely flourish with a legitimate facilitator.
Jan 15, 2017; Dallas, TX, USA; Minnesota Timberwolves guard Ricky Rubio (9) warms up before the game against the Dallas Mavericks at the American Airlines Center. Mandatory Credit: Jerome Miron-USA TODAY Sports
Con: Team Basketball over One Facilitator
Teams that have an elite facilitator tend to play well and compete for a spot in the NBA Playoffs. That's an alluring truth that could rationally draw Phil Jackson to acquiring Ricky Rubio, no matter how limited the value he may have placed on point guards in the past.
For as gifted a facilitator as Rubio may be, the reality of the situation is that the New York Knicks shouldn't be aiming to create a system that relies on one player to facilitate.
Team basketball trumps hero ball, and hero ball includes one player dominating the rock and attempting to create everything the offense does. Thus, Rubio's inability to play off the ball rears its ugly head once again.
If the Knicks are going to build a cohesive offensive unit that plays to the strengths of every player on the court, then relying on one facilitator may not be wise.
New York has a number of talented playmakers on the roster, albeit without a truly elite facilitator. When the Knicks have been at their best in 2016-17, the ball hasn't stuck in any one place—whether that be a scorer's hands or those of a facilitator.
If the Knicks are going to realize their potential as a team, then they must have more than just one player facilitating the offense.
Jan 21, 2017; New York, NY, USA; New York Knicks forward Kristaps Porzingis (6) drives against Phoenix Suns forward Marquese Chriss (0) during the first quarter at Madison Square Garden. Mandatory Credit: Anthony Gruppuso-USA TODAY Sports
Pro: Helping Kristaps Porzingis
The 2016-17 New York Knicks were expected to provide Kristaps Porzingis with an opportunity to play in the 2017 NBA Playoffs. Instead, New York is well below .500 and struggling to justify the consistency with which Porzingis is phased out of the offense in key moments.
During the Knicks' loss to the Dallas Mavericks on Jan. 25, Bill Simmons accurately summarized the issues with the 21-year-old phenom's surroundings.
Simply put: there aren't enough players getting Porzingis easy looks at the basket to help build his confidence.
Carmelo Anthony and Derrick Rose are tremendous scorers who have proven to possess the clutch gene. Both players can help a contender with those very strengths, but New York isn't yet a contender—or even a postseason-caliber team.
New York is right to be put the ball in the hands of the best players on the floor during crunch time, but Porzingis often goes full possessions without a single touch in the fourth quarter.
Beyond the late-game situations, the Knicks often miss opportunities to get Porzingis a quick two when he cuts to the basket or looks to operate via the pick and roll. He spends most possessions outside of the paint, but New York has to capitalize when he's attempting to score from close range.
By adding Ricky Rubio to the mix, New York would improve the pick and roll offense that it's consistently gone away from.
If Phil Jackson and Jeff Hornacek determine that Rose isn't facilitating Porzingis' develoment, then trading for a creator like Rubio could be the proper way to build towards the future.
More from Daily Knicks
This article originally appeared on
---
---