How the Utah Jazz stay ahead of the curve
July 10, 2015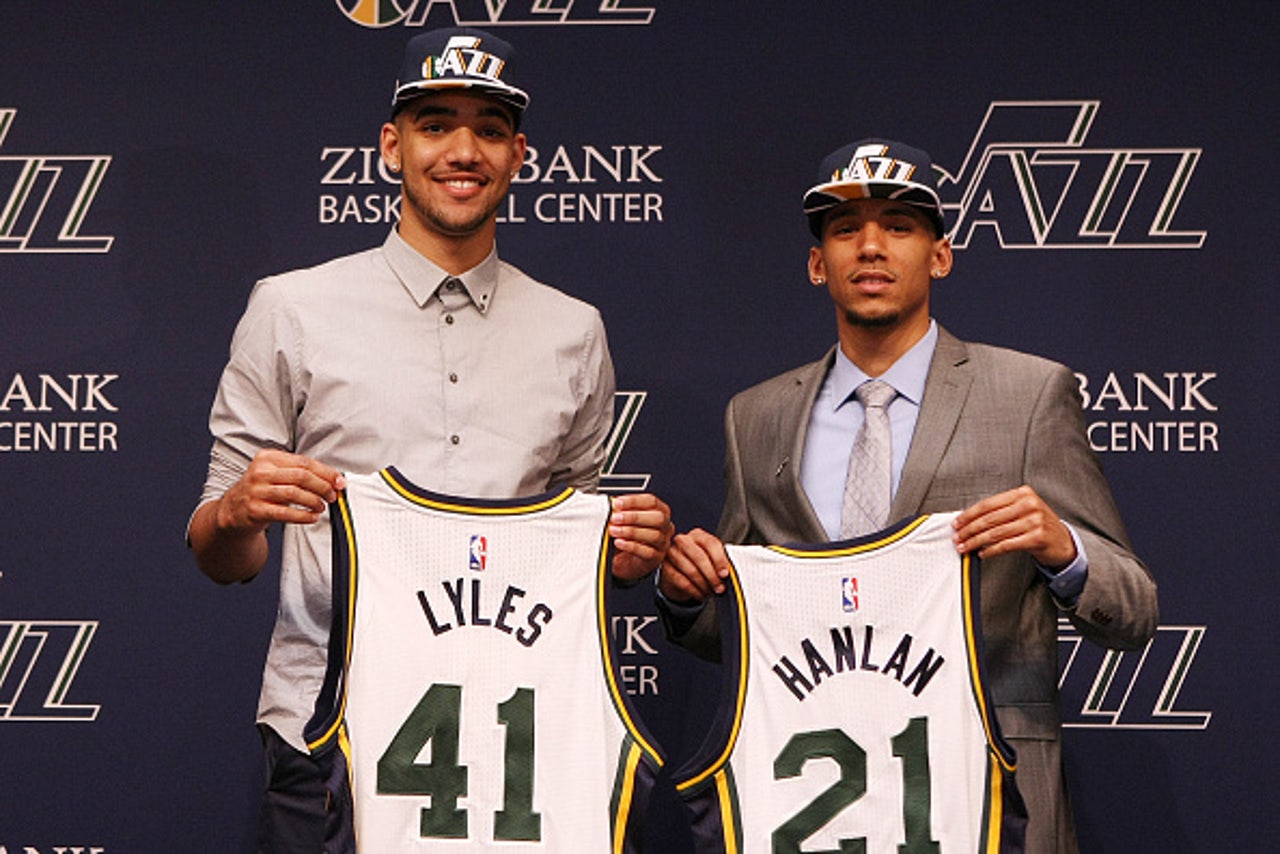 Gordon-Hayward-Derrick-Favors-Utah-Jazz-Star-Players.jpg" target="_blank">By Miles Wray
How often do you see a premier free agent thanking an assistant coach for their help in improving the player's skills? It's hard to think of the last time it happened before new Toronto Raptor DeMarre Carroll wrote a thank-you note to Atlanta and the Hawks for The Players' Tribune. Among the many people that Carroll thanks for helping facilitate the massive improvements he's seen in his game, he singles out an assistant coach who was only in Atlanta for just one of Carroll's two seasons: Quin Snyder.
Snyder was only in Atlanta for one season, of course, because he was hired away as the head coach of the Utah Jazz. All of the teaching skills that Snyder used to help launch Carroll from journeyman to centerpiece were on full display with Snyder running the show in Utah. Led by an all-under-25 starting lineup, Snyder and the Jazz were struggling along at a 19–34 record at last year's All-Star break in an unforgiving Western Conference—and then proceeded to go 19–10 the rest of the year. The team finished with the exact same 38-win mark as the Brooklyn Nets, a playoff team in the East, and were only seven games back of the West's eight seed, the New Orleans Pelicans, who pushed all-in to make the playoffs. Considering the Jazz were thought to be going through another rebuilding year—and they were—this record is phenomenal.
The team's future is phenomenal as well. When the team went on that late-season run, their starting lineup usually consisted of: Gordon Hayward (playing his age-24 season), Derrick Favors (23), Rodney Hood (22), Rudy Gobert (22), and Dante Exum (19), with Trey Burke (22) playing big minutes off the bench. Only Hayward and Favors had any meaningful NBA experience, and still the Jazz were winning games. For next year, the Jazz are returning injured swingman Alec Burks (whose age-23 season ended after just 27 games) and adding 19-year-old lottery pick Trey Lyles into the rotation.
When you list all these guys out, it becomes really clear why the Jazz have had about as limited participation in free agency as any team possibly could: after ever-so-briefly being rumored to pursue former player Paul Millsap, the team has instead re-signed Australian league veteran Joe Ingles and focused its attention on two "stashed" draft picks from years previous, Raul Neto (Brazil) and Tibor Pleiss (Germany). There really isn't room on an NBA roster to add many other players—especially with high-energy role players like Trevor Booker and Elijah Millsap (yes, Paul's brother) also under contract. If the Jazz traded away members of their young nucleus in search of veteran help, they would not only be undoing the work that Snyder has done with this specific group, but the front office would also be giving up its ability to pay rookies cost-controlled salaries before heading into restricted free agency.
And it turns out it's pretty hard to find a team that's been more fiscally responsible than the Jazz. This is a team that has no inefficient contracts on its roster, a fate that even this year's champions, the Golden State Warriors, couldn't avoid with David Lee. Plus, it's becoming very clear that the team was more proactive than just about any other in accounting for the gigantic rise in the salary cap starting in the summer of 2016. As Jazz radio man David Locke pointed out at the height of free agent frenzy:
All three of these extensions were deemed overpays at the time. But thanks to league-wide salary inflation that we're already seeing guide the game's transactions, these are something approaching bargains for players who are, at the least, reliable starters who have yet to hit their primes. As the players who are currently on rookie contracts (Gobert and Exum, among others) move closer to free agency, the Jazz will easily be able to retain their guys. And if somebody doesn't fit with the program, as was the case with Enes Kanter, the team has enough depth to quickly move on to a better solution.
What lots of people took away from the Warriors' championship is that the position of center is quickly going extinct in today's NBA. But the most important thing I thought the Warriors did was constantly find ways to improve from within. None of the Warriors' draft picks were clearly stars after their first year or two in the league, and there were times when Harrison Barnes or Steph Curry were one slump or injury away from being slapped with a "bust" label. As it turns out, the Warriors won the championship with their own draft picks filling four out of the five starting roles.
The Jazz already have a starting lineup entirely filled by their own draft picks. With the defense-last Kanter out of the picture, they already started to win games at a playoff-caliber clip. It's not a huge résumé to go off of right now, but the future is mighty bright for this team focused on self-improvement.
More from The Sports Post:
---
---