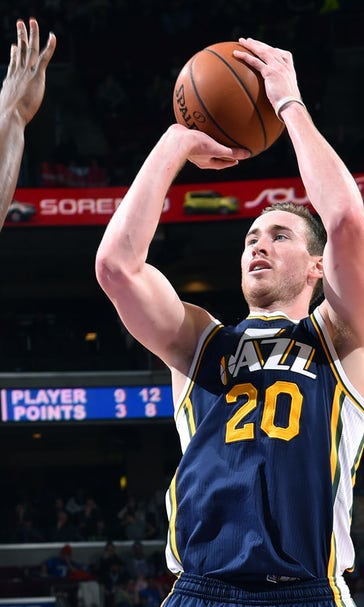 Hayward leads Jazz past 76ers
March 6, 2015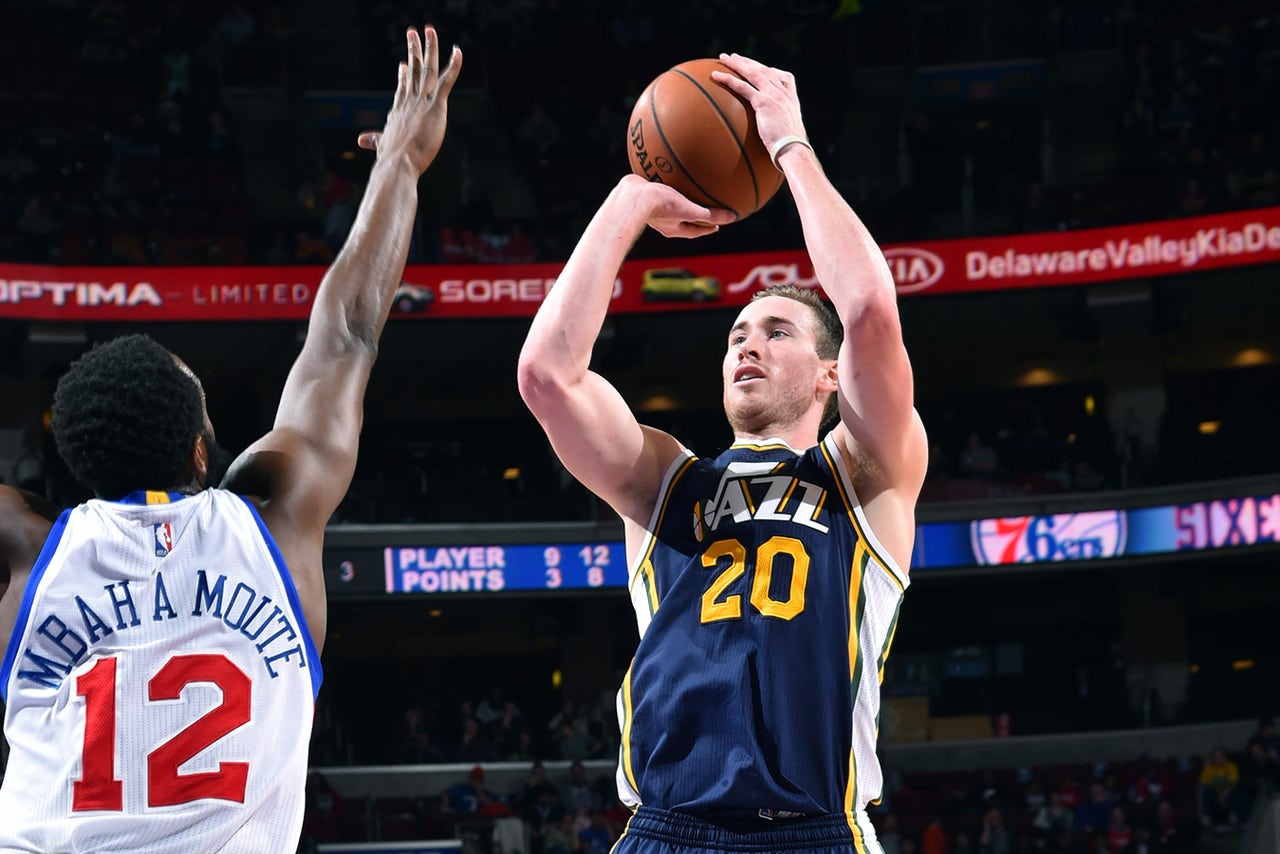 A stout defense has keyed Utah to its best stretch of the season, and it was at it again against Philadelphia on Friday night.
Gordon Hayward scored 25 points to lead the Jazz past the 76ers 89-83 after entering the game having held opponents to an NBA-low 83 points per game since the All-Star break.
They had no trouble putting the clamps on the 76ers, who entered with the NBA's worst offensive output at 90.7 points per game.
Derrick Favors had 15 points and 10 rebounds, and Rudy Gobert added nine points and 15 rebounds for Utah (25-36), which has won eight of 11.
"You can tell it hurts them when we give up a basket or someone has a breakdown," Jazz coach Quin Snyder said. "There's a real sense that they have each other's backs."
Isaiah Canaan scored 16 points to pace the 76ers, who opened a five-game homestand by dropping their fourth straight and ninth in 10 games. Thomas Robinson added 11 points and 12 rebounds, and Luc Mbah a Moute and Ish Smith scored 14 points apiece for Philadelphia.
The 76ers (13-49) hold the NBA's second-worst record with only the idle Knicks (12-48) more futile.
"As a team, I thought that there was something just a little bit flat tonight," Philadelphia coach Brett Brown said.
Brown partly credited Utah's defense.
"I think that their defense was very good," he said.
Philadelphia took a 47-41 lead early in the second half on JaKarr Sampson's 3-pointer. But the Jazz got their offense going, scoring 11 of the next 14 points to take a 52-50 lead with 5:31 left in the third period on Favors' layup while holding the 76ers in check. Utah finished the scoring in the quarter on Elijah Millsap's bank shot with one minute remaining to take its largest lead of the game to that point, 64-55, into the fourth quarter.
The 76ers shot 5 for 18 from the field in the third quarter.
Utah slowly increased its margin in the fourth quarter, with Hayward's 18-footer with 6:02 left giving the Jazz a 75-63 lead. Their advantage grew to as many as 14 points, and the Jazz had no trouble holding on.
"(We're) communicating, playing hard and everybody is buying in the way (Snyder) wants us to do," Favors said. "In practice, he preaches communication, rotation and having each other's back. Guys are doing it."
Snyder is pleased.
"They're understanding when we have breakdowns and the ability of our guys to make adjustments without me having to call timeout or jump somebody," he said. "There's an awareness."
Philadelphia shot 10 for 32 (31.3 percent) from beyond the arc.
Canaan set career highs with 31 points and eight 3-pointers in Philadelphia's 123-118 overtime loss at Oklahoma City on Wednesday in his seventh game since joining the 76ers in the trade that sent Michael Carter-Williams to Milwaukee.
TREY FOR 3
Trey Burke snapped a string of 10 straight missed 3-pointers by connecting from long range early in the third quarter.
SLEEPING IN
A winter storm in Philadelphia on Thursday prolonged the Jazz's trip from Boston to six hours, more than three times as long as it normally would take. As a result, Snyder elected not to have the team shoot on game day as per usual.
NOT HIS NIGHT
After netting 29 points Wednesday, Jason Richardson went scoreless while shooting 0 for 10 from the field, including 0 for 4 from the arc, against Utah.
TIP-INS
Jazz: Utah signed 6-8 F Jerrelle Benimon to a 10-day contract. Benimon was averaging 19.9 points and 10.6 rebounds for the Idaho Stampede in the D-League. ... The Jazz have won five straight over the 76ers, including an 88-71 home win on Dec. 27 earlier this season.
76ers: Robert Covington returned after missing two games due to a bruised right elbow. He struggled to five points, going 1 for 8 from the field and 0 for 4 from the arc. ... Former 76ers star Allen Iverson was in attendance. ... F Jerami Grant departed with back spasms in the third quarter and did not return. ... Philadelphia dropped to 8-22 at home this season.
UP NEXT
Jazz: at Brooklyn on Sunday.
76ers: host Atlanta on Saturday.
---
---