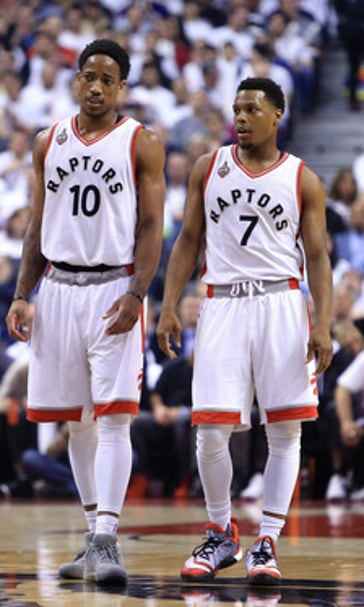 DeRozan scores 34 as Raptors beat Heat 99-91 in Game 5
May 12, 2016

TORONTO (AP) DeMar DeRozan and Kyle Lowry went from invisible to indispensable for the Toronto Raptors.
DeRozan matched a playoff high with 34 points, Lowry had 25 and the Raptors beat the Miami Heat 99-91 on Wednesday night to take a 3-2 lead in the Eastern Conference semifinals.
''We have faith in those guys, they've carried us the entire season,'' Raptors coach Dwane Casey said. ''Not one time did we doubt their ability to score.''
Bismack Biyombo had 10 points for the Raptors, who never trailed. Toronto can clinch its first conference finals berth with a win in Game 6 in Miami on Friday.
Lowry and DeRozan made six of 28 shot attempts and scored 19 total points as Toronto lost 94-87 in overtime in Game 4.
In Game 5, Toronto's All-Stars tallied 19 points in the first quarter alone. They shot 20 for 47 overall and scored 59 points, their highest total this postseason, even with DeRozan battling a bad thumb that took another hard hit in the second half.
''We just tried to go out there and be aggressive,'' DeRozan said. ''We've been aggressive these past two series and shots just weren't dropping for us. We just told ourselves we were going to continue to be aggressive and it was going to come back around.''
It was DeRozan's franchise-best 13th 20-point game in the playoffs and his sixth this postseason.
''He got to the free throw line and got in a rhythm early,'' Miami's Dwyane Wade said. ''He was locked in all night.''
Wade scored 20 for Miami. Goran Dragic and Josh Richardson each had 13.
Toronto led by 20 in the first half and by 13 to start the fourth quarter before its lead shrunk to 88-87 when Wade made a pair of free throws with 1:54 left.
''That's when I thought `OK, this is our time to make that move,''' Wade said. ''Unfortunately, from there we couldn't.''
DeRozan made a pair of free throws and, after a Miami turnover, Lowry drained a long 3-pointer to put Toronto up 93-87 with 52 seconds left.
''I missed four or five easy shots throughout the fourth quarter,'' Lowry said. ''I got an opportunity to make up for it.''
DeRozan sealed it by going 4 for 4 on his free throws in the final 21 seconds. He finished 11 for 11 at the line.
DeRozan jammed his sore right thumb while fouling Miami's Tyler Johnson with 8:19 remaining in the fourth.
''It felt like a blowtorch on my hand,'' said DeRozan, who headed to the locker room for treatment but returned four minutes later.
Said Casey: ''We didn't know if we were going to get him back. Luckily he fought through it and came back and knocked down some big free throws.''
Toronto led 28-18 after the first. Wade was the only Miami starter to make a field goal in the opening quarter as the Heat had more fouls (eight) than made baskets (six).
Biyombo had eight points in the second, electrifying the crowd by sandwiching a pair of dunks around a huge block on Wade. Toronto led 55-35 with 3:39 left but Dragic scored eight points as the Heat used a 10-0 run to cut the deficit to 55-45 at halftime.
''We've got to make sure we don't relax before halftime or the end of any quarter,'' Casey said. ''It's been our biggest nemesis.''
Miami's Luol Deng left midway through the third with a sore left wrist and did not return. The Heat said X-rays were inconclusive. Deng scored four points and missed all eight of his field goal attempts.
Heat coach Erik Spoelstra said Deng will have an MRI when the Heat return to Miami, but refused to blame injuries for the Heat's struggles. Miami is already without center Hassan Whiteside, who injured his right knee in the first half of Game 3.
''Whatever it takes,'' Spoelstra said. ''We have enough.''
Shortly after, Toronto's DeMarre Carroll injured his left wrist after being called for a charge, going down in pain before getting up and walking to the locker room. The Raptors said X-rays were negative, but Carroll was taken to hospital afterward for further tests.
SHOESTRING SAVE
DeRozan kept the swelling down on his sore thumb by wrapping a shoelace around it. The idea came from Alex McKechnie, Toronto's director of sports science. ''Thousand dollar shoelace,'' DeRozan joked at the podium afterward.
ENJOYING A NIGHT OFF
Singer Eddie Vedder and bassist Jeff Ament of Pearl Jam, whose concert was postponed by the game, watched from seats at center court. Pearl Jam, who performed in Toronto on Tuesday, will play Air Canada Centre again Thursday night.
TIP-INS
Heat: Spoelstra said Whiteside continues to rest and receive therapy on his right knee. Spoelstra would not say whether Whiteside is any closer to returning. ... Amare Stoudemire started the game but Josh McRoberts replaced him to begin the third quarter.
Raptors: DeRozan also scored 34 in a Game 5 win over Indiana in the first round.
---
---