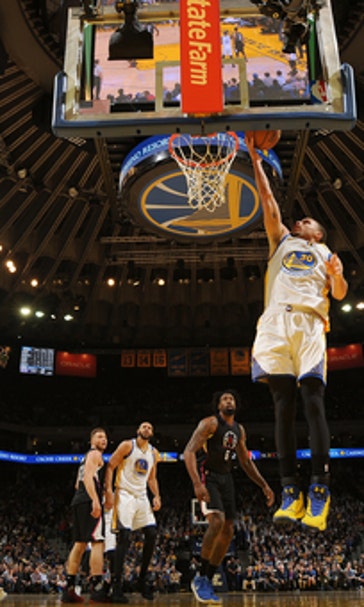 Curry flurry: MVP's huge third quarter propels Warriors (Feb 23, 2017)
February 24, 2017

OAKLAND, Calif. (AP) Well-rested on fresh legs, Stephen Curry found his 3-point touch during one phenomenal flurry in one game-breaking quarter.
Draymond Green got hit with a technical while walking away and let his usual fire fly at coach Steve Kerr in the aftermath. They laughed about it later.
Kevin Durant brought some postgame comedy - ''I got a couple of jokey jokes.'' The Golden State Warriors returned to full strength and sure look poised to play for the long haul.
Curry scored 17 of his 35 points in a 3-point barrage over the final 3:37 of the third quarter, and the two-time reigning MVP also had seven rebounds, five assists and four steals as the Warriors used a big second half to beat the Clippers 123-113 on Thursday night.
''I'm not sure what needed to happen but I know we took that quarter over, and it was pretty spectacular,'' Green said. ''It was a fun night.''
Oh, and they have put up 400 points over the past three games against Los Angeles.
Curry's four-point play with 30.7 seconds left in the third and buzzer-beating 3 to punctuate the one-sided period propelled Golden State. Curry and KD combined for eight of their team's nine 3-pointers in the third.
The Warriors scored 50 points in the quarter after trailing 61-49 at halftime. It was the NBA's first 50-point quarter since the Lakers had 51 against the Knicks on March 25, 2014.
''That's a lot of points. Is that the most we've had all season in a quarter?'' Klay Thompson said. ''Being down 12 was good for us because it really pushed our focus to be better.''
Durant scored 15 of his 25 points in the third and also contributed 15 rebounds and seven assists as the NBA-best Warriors (48-9) began the stretch run with a downright dominant second half.
Austin Rivers and Jamal Crawford scored 19 points apiece and DeAndre Jordan had 17 and 11 rebounds as the Clippers missed Chris Paul for a 14th straight game as he recovers from surgery last month for a torn ligament in his left thumb. Los Angeles had its four-game winning streak snapped.
''They amped up the pressure a little bit and then we kind of fell back a little bit, like, `All right, let's relax,' instead of just playing,'' Rivers said.
Thompson scored 18 points and had his streak of eight straight games scoring 20 or more points snapped. It matched the longest such streak of his career, also done Dec. 2-16, 2014.
Golden State welcomed back starting center Zaza Pachulia after he missed eight games with a right shoulder injury and backup big man David West, who missed 14 games with a non-displaced fracture in his left thumb
Pachulia had three blocked shots in five minutes of the first quarter and finished with a career-best four.
After the Clippers took a 144-98 beating in their last visit to Oracle Arena on Jan. 28, they controlled the game for the first two quarters. That 46-point win matched the largest margin of victory in the series.
So, how did Los Angeles feel about facing the NBA's best team immediately out of the All-Star break?
''I kind of like jumping back in, personally,'' Clippers coach Doc Rivers said of starting with the Warriors. ''I did as a player. I would rather get going.''
PAUL UPDATE
While Paul's return Friday against the Spurs was ''iffy'' in Rivers' mind, the point guard is likely to be back in the next couple of games - with Sunday's home game against Charlotte sounding like a real possibility.
Paul went through an intense workout Thursday.
''He's really close,'' Rivers said. ''He looked good the last two days but I thought he was a little hesitant.''
TIP-INS
Clippers: Los Angeles shot 13 free throws in the third. ... The Clippers have lost 11 in a row at Oracle Arena since a 105-86 victory on Dec. 25, 2011 - and their last win home or road was also a Christmas Day game, in 2014. ... Los Angeles has lost its last six when playing the second night of back-to-backs after winning the initial five this season.
Warriors: Golden State recorded its first 50-point period since 1989 and the fourth in franchise history. The nine 3s in the quarter matched a franchise record. ... Durant bruised his left pinkie when he fell in the opening quarter. X-rays were negative and he returned. ... Golden State committed 12 first-half turnovers, the total coach Steve Kerr strives for over an entire game.
UP NEXT
Clippers: Host San Antonio on Friday night.
Warriors: Host Brooklyn on Saturday.
---
---