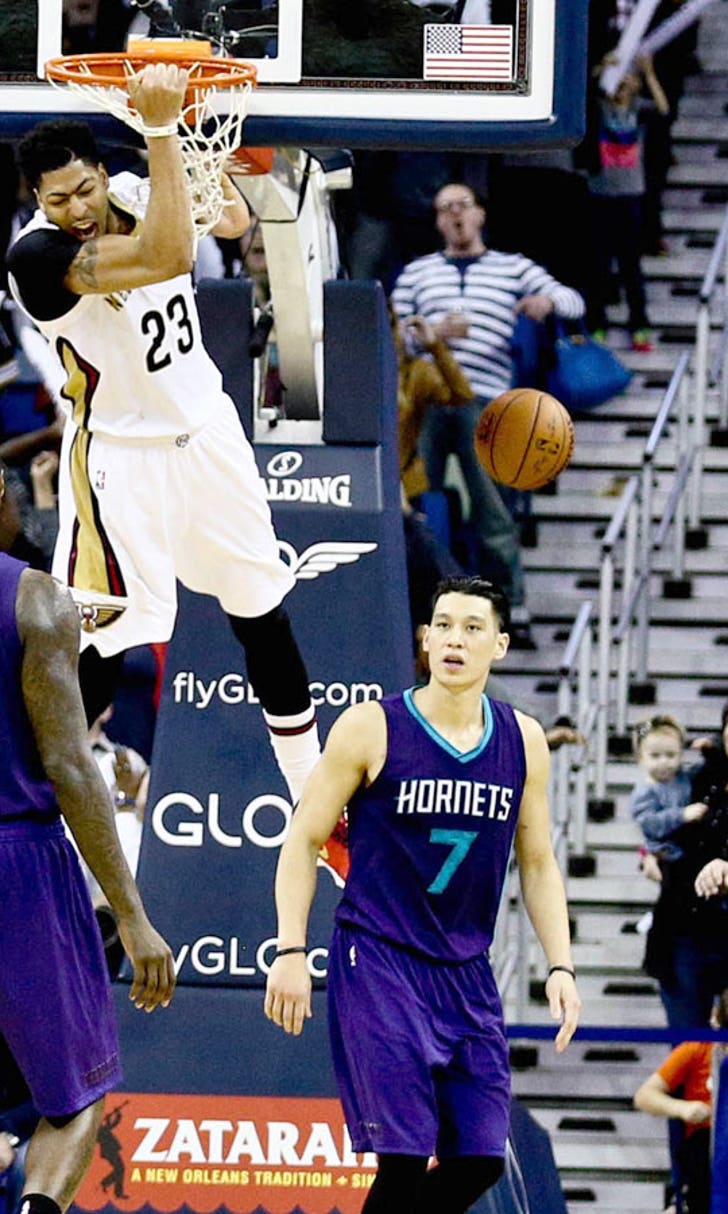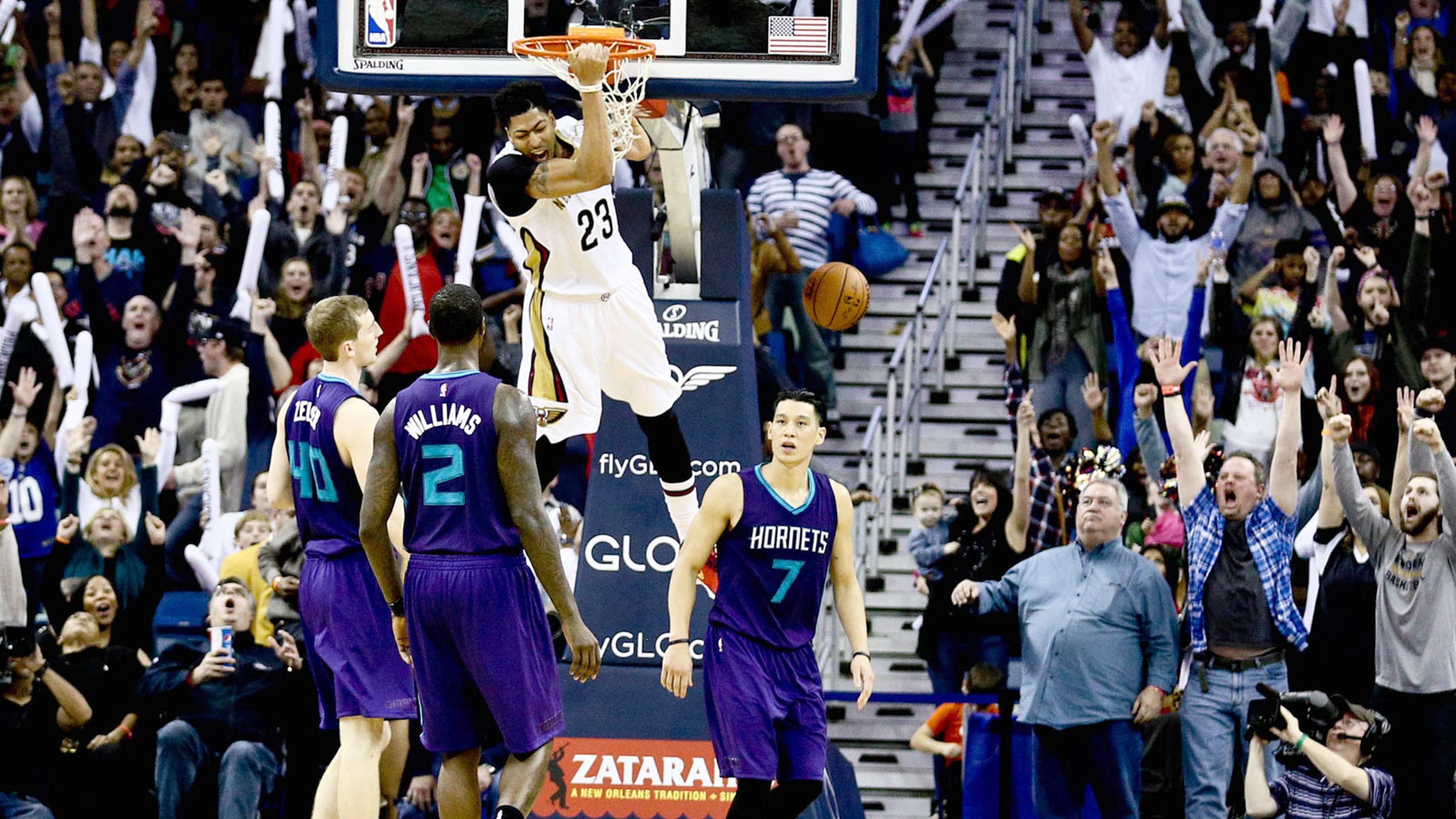 Anthony Davis beats Hornets on game-winning alley-oop dunk
BY foxsports • January 15, 2016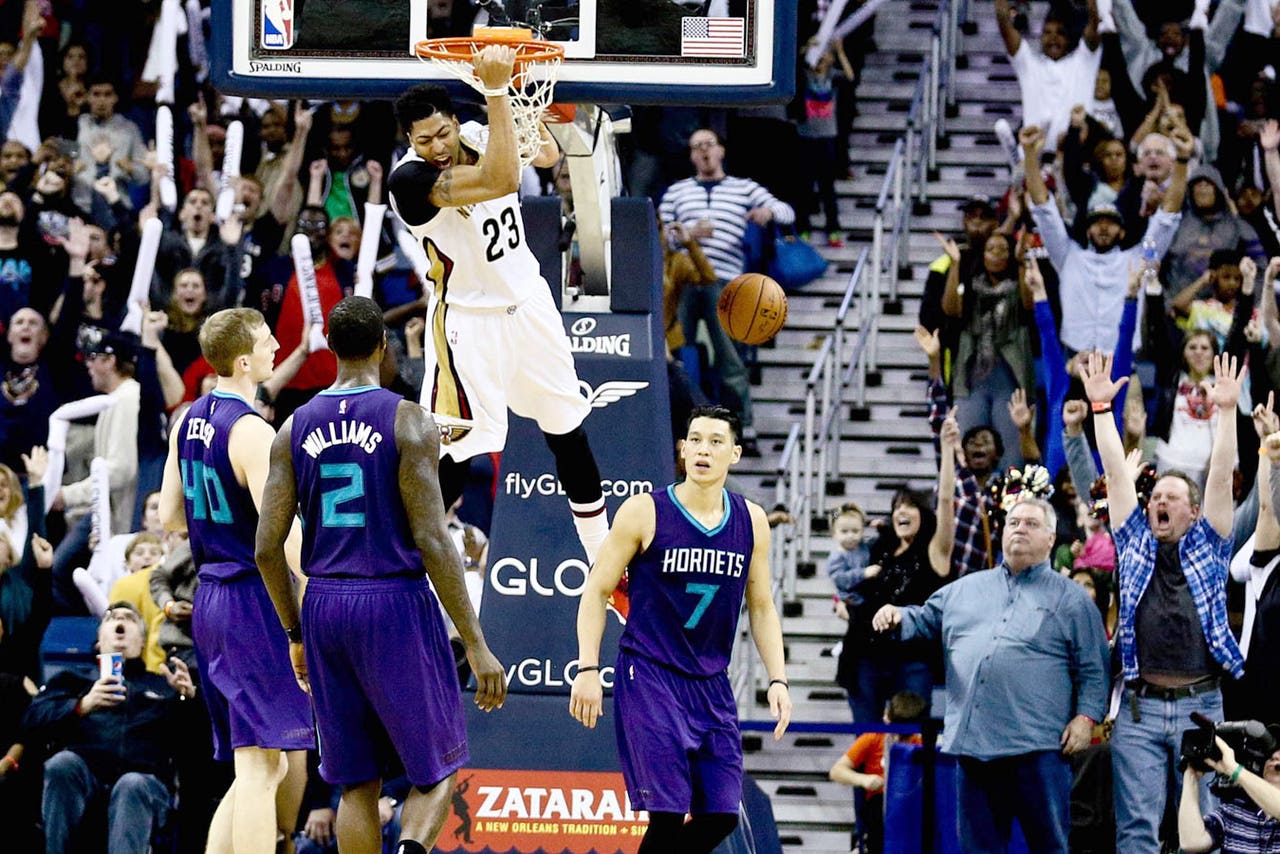 NEW ORLEANS — Ryan Anderson hit six 3-pointers and had a season-high 32 points, and Anthony Davis dunked Jrue Holiday's alley-oop lob with 2 seconds left in the New Orleans Pelicans' 109-107 victory over the Charlotte Hornets on Friday night.
Davis finished with 22 points to help New Orleans win its second straight. Holiday added 13 points and 10 assists, including a short turnaround that gave the Pelicans a 105-102 lead with 57 seconds left.
Kemba Walker scored 25 points for Charlotte, including a tying 3 with 19.2 seconds left. Nicolas Batum also had 25, with 19 points coming in the second half. But Batum's last-second 3-pointer from the left corner bounced out.
Rookie Frank Kaminsky scored 18 points for Charlotte on 7-of-9 shooting, making both of his 3-point shots.
Both teams shot well in a game that had 14 lead changes and 12 ties.
New Orleans shot 49.4 percent (43 of 87), including 12 of 27 from 3-point range. Charlotte shot 48.8 percent (42 of 86), hitting 14 of 35 3-point attempts.
Charlotte's last lead came when Batum hit a tough, 14-foot turnaround with Davis in his face to make it 102-101 with 20:4 left.
Neither team led by more than seven points until late in the first half, when New Orleans, already up six, had a four-point possession on a technical free throw, followed by Anderson's fifth 3 of the half to make it 57-47.
Kaminsky's putback in the final second of the quarter made it 57-49 at halftime.
New Orleans led by as many as 13 when Evans opened the third quarter by hitting a 3 from 31 feet, then stealing the ball from Walker to set up his breakaway dunk.
But Batum scored 15 points in the third period on an array of 3s, mid-range fades, and dribble drives to help Charlotte surge into the lead.
Batum's three-point play on a driving layup as he was fouled capped a 20-6 run the put Charlotte up 73-70, but the Pelicans settled down and went back in front in the final second of the period, when Anderson's off-balance 3 from the left wing made it 84-81.
TIP-INS
Hornets: Charlotte fell to 4-14 on the road. ... Charlotte hit seven of its first 10 3s before going 7 of 25 the rest of the way. ... Marvin Williams had 10 points.
Pelicans: New Orleans shot 52.9 percent (9 of 17) from 3-point range in the first half. ... The Pelicans made at least 10 3-pointers in a game for the 14th time this season. ... New Orleans turned the ball over just eight times, three fewer than Charlotte.
UP NEXT
Hornets: Host Milwaukee on Saturday night.
Pelicans: Visit Memphis on Monday.
---
---