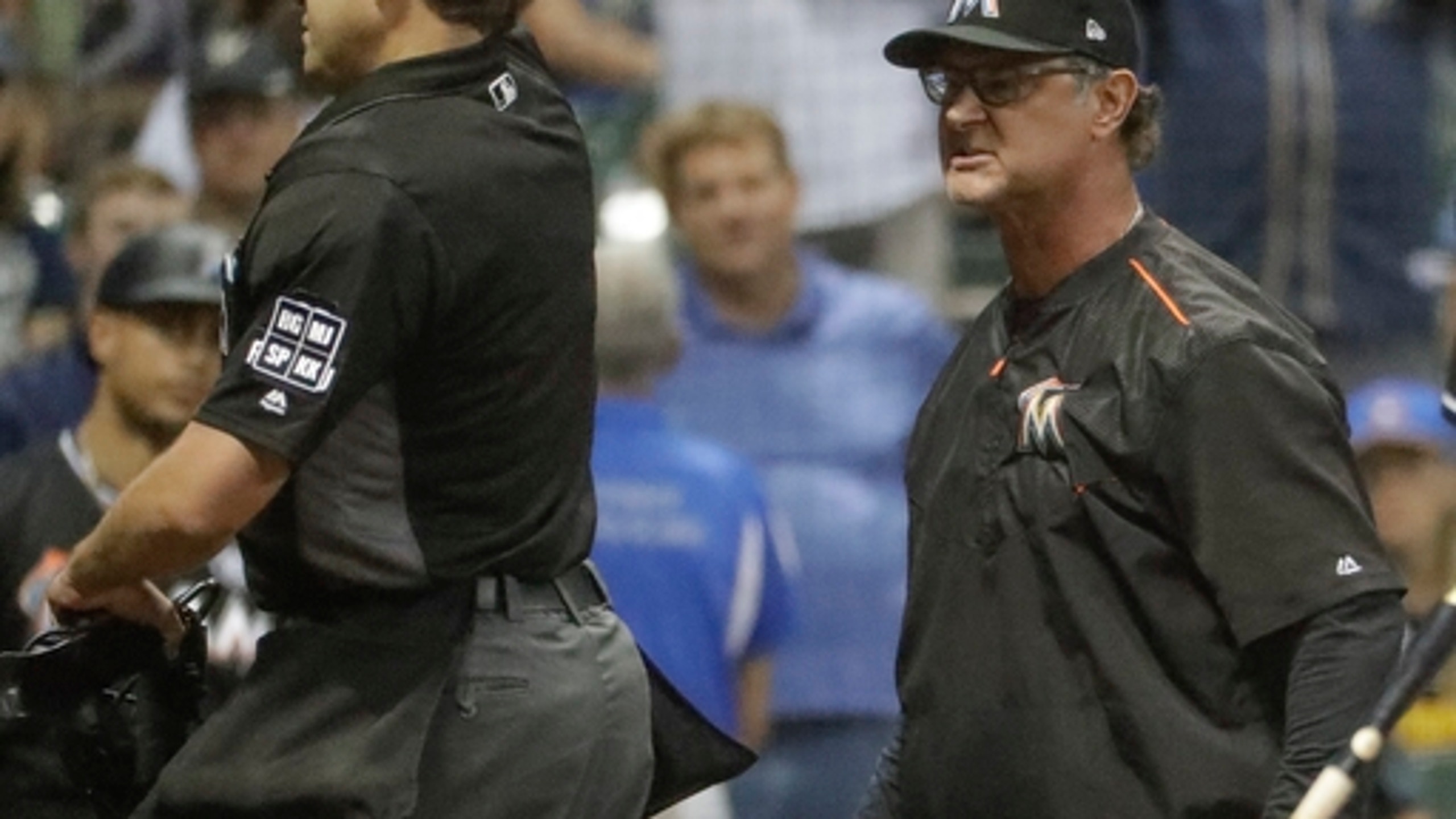 Walker's slam helps "visiting" Brewers beat Marlins 10-2 (Sep 15, 2017)
BY AP • September 16, 2017
MILWAUKEE (AP) The Milwaukee Brewers gave Miller Park a South Florida feel by adding palm trees , fake flamingos and giant blue and pink sea shells to a concourse in center field.
They stopped being so welcoming to the road-weary Miami Marlins in the eighth inning on Friday night.
Neil Walker hit a grand slam during the eight-run eighth that broke a tie, and the Brewers beat the Marlins 10-2 in the opening game of a series relocated from Miami to Milwaukee because of the aftermath of Hurricane Irma.
''It was one of our best innings of the year,'' Brewers manager Craig Counsell said about the eighth, which helped Milwaukee remain three games back of the Cubs in the NL Central.
The Marlins were technically the home team and batted in the bottom of the innings. The Brewers even played a Marlins highlight video on the scoreboard while the lineups were announced before the game, and a handful of fans wore bright orange Miami shirts in the stands.
It was a tight game heading into the eighth, when Milwaukee turned up the power.
Eric Thames went deep in his third straight game, and Walker got to Brian Ellington (0-1) for his grand slam five batters later to make it 7-2.
''On a scale of 1 to 10 that's about a negative-5,'' said Ellington, who gave up six runs.
Eight pitchers combined to hold the road-weary Marlins to six hits in what amounted to a bullpen day for playoff-hopeful Milwaukee. Jared Hughes (4-3) picked up the win after tossing a scoreless seventh inning.
Anthony Swarzak, who pitched a scoreless eighth, said hitters don't get a chance to follow a plan when there are a lot of pitching changes.
''When you are switching them up like that you are going to keep them off balance for sure,'' Swarzak said.
EJECTED
To top off Miami's tough night, manager Don Mattingly was ejected before the bottom of the eighth started by home plate umpire Ryan Additon over the accuracy of double switches in the Brewers' lineup.
''It was just confusion,'' Mattingly said.
The commotion started in the seventh when Counsell came out to make lineup changes, when crew chief Bill Miller said Additon made a mistake.
''Ryan wrote them in as a straight change - catcher into the seventh spot, pitcher into the ninth spot - then he accidentally made a mistake and signaled the scoreboard and Mattingly that there was a double switch,'' Miller said. ''So, in that situation, obviously we're not going to penalize the Brewers for a mistake that was made by the umpire.''
Miller said Mattingly was ejected an inning later after coming out for another lineup change, but still arguing about the first switch.
STREAKS
Miami's Dee Gordon also went hitless in four at-bats to end his 17-game hitting streak. ... The night ended with Miami losing its sixth straight game away from Marlins Park and its 16th out of 18 overall.
QUOTABLE
''Trying to keep it as normal as possible, it just kind of feels like we're on the road still. That's all we can do.'' - Gordon on playing a ''home'' game in Milwaukee.
TRAINER'S ROOM
Brewers: RHP Jimmy Nelson, who hurt his right shoulder last week while diving back to first base as a runner, will have exploratory surgery Tuesday. Manager Craig Counsell said it was possible that Nelson could miss time next season depending on what doctors find in surgery. Nelson, who has already been ruled out for the rest of this season, was placed on the 10-day disabled list on Friday to make room for the call-up of RHP Aaron Wilkerson from Triple-A Colorado Springs.
UP NEXT
Brewers: Emerging ace RHP Zach Davies (17-8) makes his second start this year against Miami. He allowed four runs and five hits with five strikeouts in a six-inning outing against the Marlins on July 1.
Marlins: LHP Adam Conley (6-7) returns to the mound where he had one of his most memorable starts. Conley allowed no hits but was lifted with two outs in the seventh after walking four and throwing 116 pitches in what ended up being a 6-3 win over the Brewers on April 29, 2016. Conley was also opposed by Davies that night.
---
More AP baseball: https://apnews.com/tag/MLBbaseball
---
---