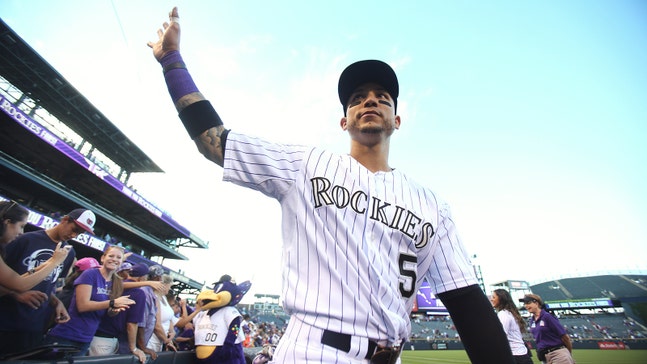 Tough to figure out what the Rockies are doing this offseason
Published
Jan. 27, 2016 9:20 p.m. ET

Before asking what the heck the Rockies are doing, let's start with some encouraging news.
Internally, the Rox are excited about their pitching. And, yes, they know that they still play at a park that is poisonous for pitchers, Coors Field.
Club officials believe their rotation is more talented than in the recent past. Their staff as a whole is healthier than in the recent past. With the exception of reliever Adam Ottavino, who could return from Tommy John surgery in the second half, the Rox are getting back all of those pitchers who were hurt last season -- don't ask for their names; listing them would be too exhausting.
It's only late January, a Rockies pitcher has yet to allow a single rocket, so what the heck, let's allow the Rox to dream. Let's indulge their fantasy that their pitching will better than people think, perhaps even good enough for them to surprise.
I still come back to my original question:
What the heck are the Rockies doing?
General manager Jeff Bridich, entering his second season, declined to respond to requests for an interview.
Well, if the Rockies think they actually might be good, then they should have entered the offseason prepared to act like it.
They should have gone for broke, pursuing free-agent outfielder Yoenis Cespedes, overpaying for a free-agent starter, trading for closer Aroldis Chapman, the works.
Of course, that's not what the Rockies did.
No, they spun their wheels with a series of modest free-agent additions -- relievers Jason Motte and Chad Qualls, first baseman Mark Reynolds, even outfielder Gerardo Parra. Halfway moves, maybe even wasteful moves, for a team caught in between.
It's not too late for the Rockies to ramp up -- the timing, in fact, might be perfect, considering the prices for the remaining free agents are likely to be lower than anticipated.
The Rockies continue to monitor the open market, according to major-league sources. They even could grab both right-hander Yovani Gallardo and shortstop Ian Desmond without sacrificing their No. 4 overall pick in the draft, which is protected.
Money does not appear to be an issue; the team's payroll already is expected to exceed $100 million (the number will drop if shortstop Jose Reyes is suspended and loses a prorated portion of his $22 million salary after being charged with domestic abuse in Hawaii).
Yet, for as much as the Rox are spending, they are unlikely to accomplish much in a division that, on paper, includes at least three superior clubs -- the Dodgers, Giants and Diamondbacks.
Truth be told, the Rox would be unlikely to accomplish much even if they signed Gallardo and Desmond, losing their second and third draft picks in the process. So, their best strategy would be the one they seemed ready to adopt when they traded shortstop Troy Tulowitzki to the Blue Jays July 28:
A tear-down.
Left-hander Jorge De La Rosa, gone. Outfielders Carlos Gonzalez and Charlie Blackmon, gone. Third baseman Nolan Arenado, available at the very least.
The Rockies' farm system already is strong. The team holds three of the top 50 or so picks. Trading veterans for prospects further would boost the talent pool, positioning the franchise for a better future.
But that's not what the Rockies are doing, either.
The logical step after trading Tulo last summer would have been to trade CarGo this winter. Actually, the Rockies also could have made an intermediate move -- dumping Reyes, who at the time of the Tulo deal was owed about $54.37 million, including a $4 million buyout on his 2018 option.
The Rox could not have known that Reyes would be charged with domestic abuse. They should have known that he no longer could play shortstop. And they had at least one club interested in him -- the Yankees.
The teams talked about different ways to make a Reyes trade work, according to major-league sources. The Yankees, who wanted Reyes to play second base, would have required the Rockies to pay a significant portion of his remaining salary. But the two sides never got close to a deal, sources said.
CarGo, meanwhile, also remains with the club, and sources indicate that he has little chance of getting moved before spring training camps open. Parra has said he is excited to play with CarGo, a fellow Venezuelan. CarGo's presence almost certainly helped lure Parra to the Rockies, along with three years and $27.5 million.
The Rox also feature two other left-handed hitting outfielders, Blackmon and Corey Dickerson. The latter is more likely to be dealt, sources say. But the Rockies have said that they could keep all four outfielders, perhaps with the intention of moving CarGo to first base.
Such a move would save wear and tear on CarGo's body, but perhaps diminish his future trade value. Moving Dickerson to first would be another possibility, but neither he nor CarGo has ever played the position.
A trade remains the most logical resolution. And frankly, the Rockies would be smart to trade two outfielders. Their top two outfield prospects, David Dahl and Raimel Tapia, also are left-handed hitters, and getting closer to the majors.
In fairness, the Rockies need not rush -- Opening Day is still more than two months away. And if the team's pitching indeed proves better than expected, Bridich's patience could prove a virtue.
The Rockies' goal, particularly after five straight losing seasons, should be to win games. If they start well, terrific; they could add players before the Aug. 1 nonwaiver trading deadline. If not, they could always subtract.
Still, what are the odds that this club is actually on the right track?
Jonathan Gray, the Rockies' top young pitcher, had an 8.27 ERA in 20 2/3 innings at Coors last season, a 2.70 ERA in 20 innings on the road. Small samples, to be sure. But telling samples, too, consistent with the past performances of numerous pitchers in Colorado.
Maybe the Rockies never will solve the mystery of winning at Coors. They almost certainly will not solve it without a coherent plan.
---
---