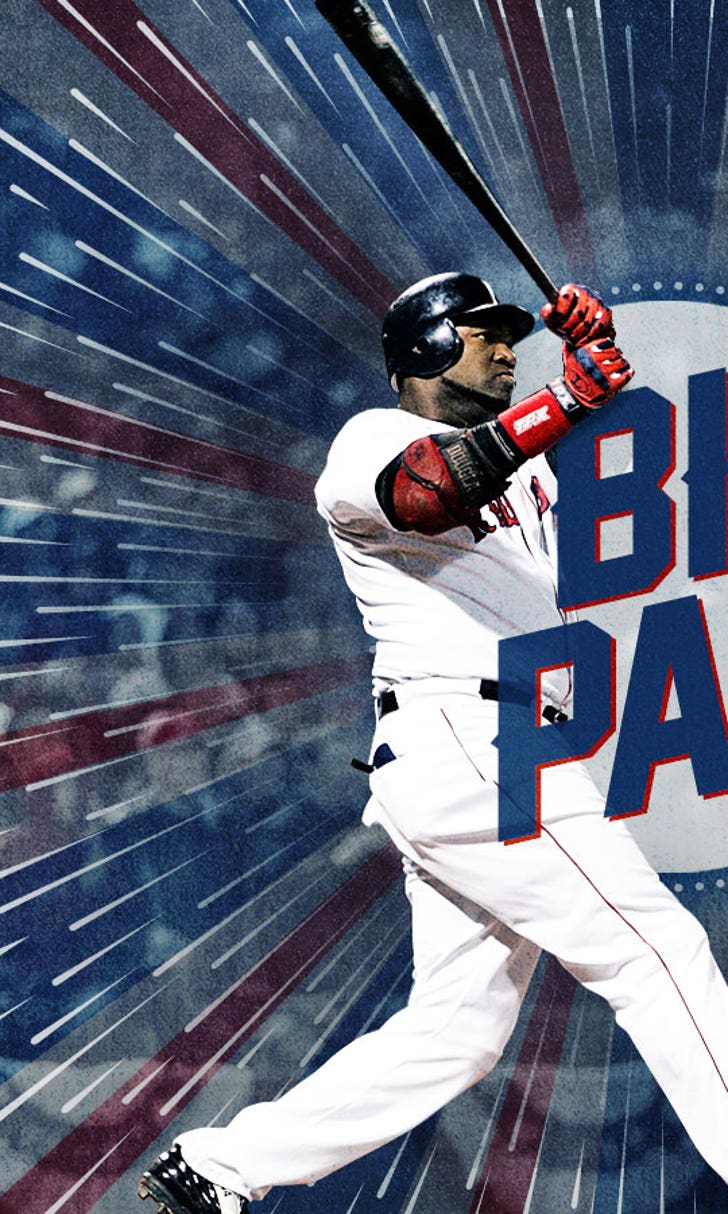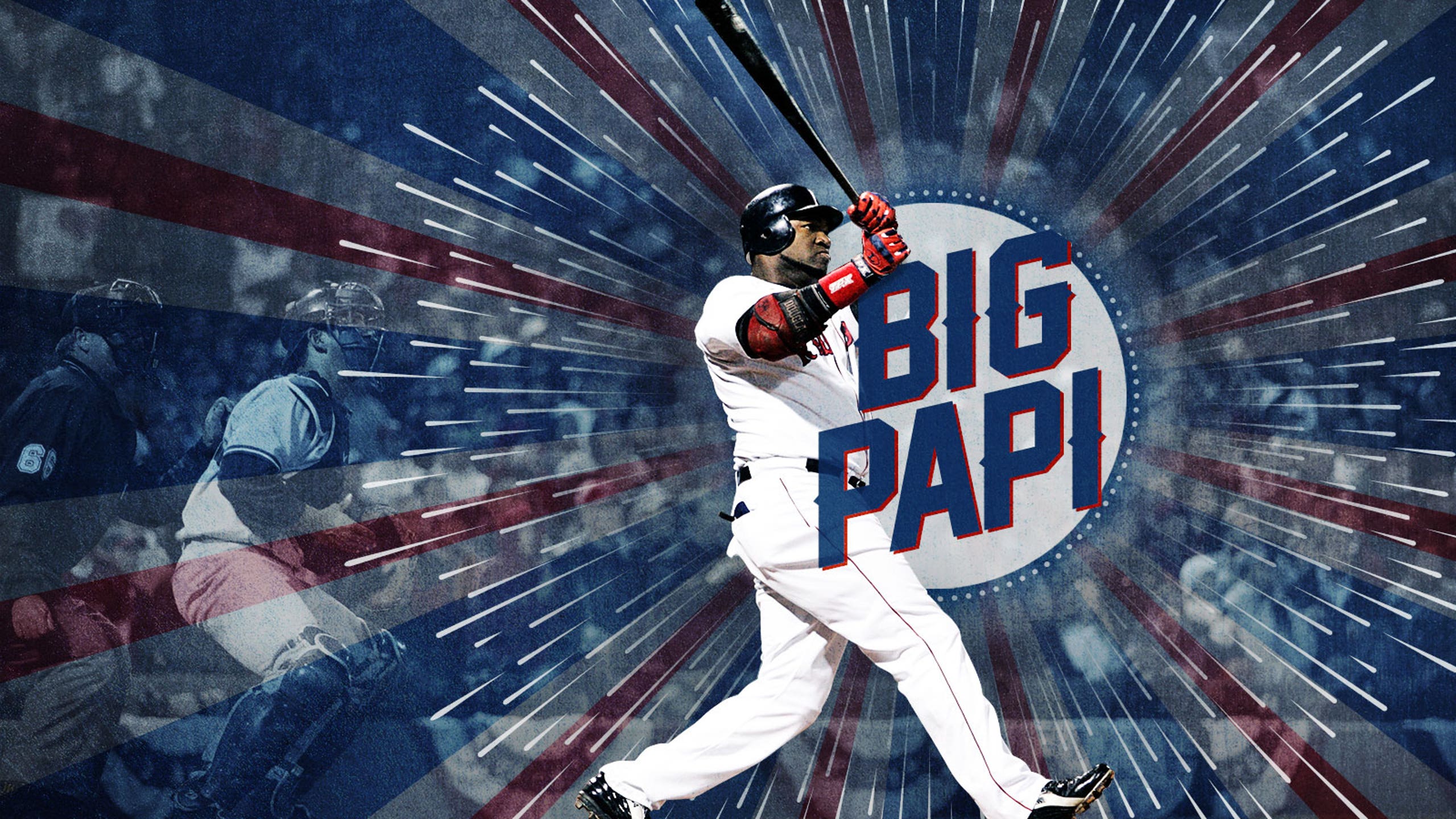 The night the legend of David Ortiz took off
BY Sam Gardner • October 6, 2016
It's nearly 1:30 a.m. on a chilly Sunday night in mid-October, and David Ortiz steps to the plate at Fenway Park with the weight of a desperate city on his shoulders.
One year and one day earlier, Ortiz and the Boston Red Sox had fallen to the New York Yankees in Game 7 of the 2003 ALCS, an iconic extra-inning walk-off home run from Aaron Boone closing out an epic series and ending the Sox's hopes of making their first World Series appearance since 1986.
Now Boston was back, on the same ALCS stage against the same despised rival, looking for a reversal of fortune — one that fans, players and coaches hoped might ultimately deliver the franchise its first title in 86 years. However, to this point, the taste left behind in '03 has only grown more bitter as the Yankees hold a dominant 3-0 series lead, putting the Red Sox on the brink of yet another devastating elimination.
But because Boston has Ortiz, it has hope — however slim it might be.
One batter earlier, before Ortiz walked up for his sixth plate appearance of the evening, Manny Ramirez had led off the 12th inning with a single, muscling a Paul Quantrill pitch over the head of Derek Jeter and into left field. Earlier in the game, Ortiz had delivered a single of his own, driving in two runs to give Boston a 3-2 lead in the fifth. The score now was knotted at 4-4.

Prior to this moment, arguably the biggest of his career, Ortiz had faced the sinkerballer Quantrill nine times, with a pair of singles and three walks to show for it. The night before, during a stunning 19-8 home loss, Ortiz faced Quantrill and struck out swinging on four pitches.
As the crowd grows louder, Quantrill looks in to catcher Jorge Posada and shakes him off twice before delivering his first pitch. It's a ball, close but a touch low. Pitch two is a high strike on the inside corner. Quantrill's third pitch is a fastball in the dirt, backhanded by Posada to keep Ramirez at bay on first.
As Quantrill collects himself, Ortiz steps out of the box. He spits in the dirt and rubs his hands together then settles back in, confident, like a man who knows what's coming next.
"When you see him, ask him, 'What did you throw Papi back then to get him out?'" Ortiz told Sports Illustrated's Tom Verducci last month when asked about Quantrill and Game 4 of the 2004 ALCS. "Front-door sinker. Because he's got a good one. It starts at you, and then boom, comes back."
Some might argue there's a little revisionist history at play as Ortiz recalls the moment now, but he didn't look surprised as Quantrill's offering came in, belt-high on the inside corner. And from the instant the ball leapt off Ortiz's bat, Quantrill, Ortiz, the Red Sox and every Boston fan on earth knew it was gone.
And while nobody could have known it as Ortiz rounded the bases and his team turned its focus toward Game 5 and the uphill battle ahead, that home run would soon be remembered as the blast that made Ortiz a legend.
"For David, that moment showed who he really is and what he was capable of doing," former Red Sox first base coach Lynn Jones told FOX Sports in a recent phone interview. "He had other great moments, but to that point, that was the pinnacle. At that moment, that defined who he was."
*****
*****
Thursday at Progressive Field, David Ortiz will kick off the ninth and final postseason run of his career — his eighth in 14 seasons with the Red Sox — when Boston visits the Cleveland Indians for Game 1 of the ALDS.
For many who have enjoyed watching Ortiz play over the last two decades, this terminal October run is being seen as something of a victory lap — one last opportunity for Ortiz, a sure-fire Hall of Famer, to perform where he's seemingly most in his element. A fourth World Series ring for the man they call Big Papi would only stand to make his swan song sweeter.
But there was a time in the not-too-distant past when the Red Sox were perceived to be the cursed also-ran in the American League — a team that, for the better part of a century, couldn't shake the scourge of Babe Ruth — while Ortiz was tagged as a promising, but not spectacular, left-handed power hitter in search of the right opportunity.
Prior to his arrival in Boston — a signing the Red Sox made largely as a favor to fellow Dominican Pedro Martinez — Ortiz's career had been mostly unremarkable, though he'd shown, at various times, that he had the potential to be great.
Signed at age 16 by the Seattle Mariners, Ortiz originally went by the name David Arias, and after two years of rookie league play, he made his A-ball debut with the Wisconsin Timber Rattlers. At the time, Jones was managing the Kane County Cougars, a division rival in the Midwest League, and regularly had the chance to see a young Ortiz up close.
"I remember him being a very good player then," Jones said of Ortiz, who hit .322 with 18 homers and 93 RBI in 129 games that season. "He was bigger than everybody else, and it was just one of those things where he caught your eye. You knew he was special, and that was back in '96."
The Mariners, however, did not see the same promise Jones did, and at the end of the '96 season, Ortiz was tabbed as the player to be named later who finalized an August deal that brought former big league third baseman Dave Hollins to Seattle. The following spring, Ortiz turned up in high-A, playing for the Fort Myers Miracle of the Florida State League.
"He was humble, charismatic, warm, genuine, gracious, intelligent, caring and you could feel his presence when he walked into a room — and not just because of his size," said former Red Sox outfielder Gabe Kapler, who spent the '97 season playing in the same division as Ortiz, as a member of the Lakeland Tigers. "There was an aura around him independent of his success, and I know that to be true because he had that same presence then. 
"The same dude that I met then," Kapler continued, "showed the same character, the same grace and the same professionalism until the last day I played with him, and since."
In 1997, Ortiz made quick work of the Twins' minor league system, mashing his way out of high-A and through double-A and triple-A in short order. That September, Ortiz made his big league debut at the age of 21. Ortiz then spent most of the 1998 season in the majors before a demotion to triple-A for the majority of '99, but by 2000, he'd solidified his place on the big-league roster.
With a consistent role to rely on, Ortiz thrived, hitting .265 with 48 home runs in 344 games between 2000-02, and in 2002, the Twins reached the ALCS, where Ortiz's .313 average ranked second on the team. But that offseason, the Twins released Ortiz rather than head to arbitration, a decision the franchise might never live down.
Regardless, it was the right move for Ortiz, and after focusing on shortening his swing under Tom Kelly and Ron Gardenhire in Minnesota, Ortiz was instructed to hack away in Boston under then-manager Grady Little. And while Ortiz was initially not an everyday player, it didn't take long to force Little's hand.
"We had a kind of father-son situation there," former Red Sox hitting coach Ron Jackson said of Ortiz. "Anything that he had problems with, he'd come to me, we'd talk about it. So I built that relationship first, that came first, and I give him all the praise from there, because he worked so hard. 
"He was upset at first because he wasn't playing," Jackson continued. "But I told him, 'Hey, you're going to get the last laugh around here. Just keep working.'"
In his first season in Boston, Ortiz hit 31 homers, drove in 101 runs and finished a surprising fifth in the AL MVP race, ahead of Ramirez and Sox shortstop Nomar Garciaparra, who finished sixth and seventh, respectively. But it wasn't until 2004, when new Red Sox manager Terry Francona made Ortiz the team's full-time designated hitter that Ortiz truly began to reach his potential.
"He told David before the '04 season — because David kind of platooned a lot; he wasn't the everyday DH in '03 — 'Hey, you're my DH, man, so take it and go,'" former Red Sox bench coach Brad Mills said of Francona, now the manager in Cleveland. "And for David to know that somebody had all that confidence in him, it kind of helped him realize, 'It's my time now.'"
And while Francona hadn't been with the team for Ortiz's debut season in Boston — he was Ken Macha's bench coach in Oakland at the time — he said the decision to slot Ortiz at DH was an easy one.
"When some people go to Boston, or maybe a New York, they sometimes don't thrive in those surroundings, that environment," Francona said. "But David, it seemed like it brought out the best in him. He didn't shrink from it, he blossomed. And when you're that good — I don't think people realized how smart of a hitter he was — and that big and strong and have that quick a bat and are that intelligent, that's a pretty good combination for success."
From the start that season, Ortiz swung a hot stick, hitting three home runs in his team's first seven games, including a walk-off shot against Toronto. Ortiz then went through the types of ebbs and flows you'd expect of a young player — he was still just 28 at the time — but he came alive at the plate that June and July, hitting .345 with 16 homers and 49 RBIs during that span.
That ability to leave every at-bat in the past, Mills said, is part of what has always made Ortiz one of the game's most dangerous hitters.
"He's got that bad short-term memory where he understands that there's always another game," said Mills, now Francona's bench coach with the Indians. "He's going to do his work, he's going to go through his routine, and he knows, 'What I did yesterday might not have been too good, but there's always tomorrow, and I'm going to get a chance to be good again.' 
"And it's the same when he has a great game," Mills continued. "'I realize that's over with, and I'm going to come out and do the best I can to be good the next day too.' He doesn't lament the bad days or get high on the good days, and he's able to go out and contribute to the best of his ability all the time. It's an attribute, for a professional athlete, that's absolutely outstanding to have."
That summer, as he racked up 41 homers and 139 RBIs, Ortiz made the first of his 10 career All-Star teams. He also finished fourth in MVP voting and won the first of his six Silver Slugger awards as Boston won 98 games, the most by a Red Sox team since 1978. 
Ortiz then followed the regular season up with an incredible performance in the ALDS, hitting a team-high .545 during a three-game sweep of the Angels that included a walk-off homer to end Game 3. 
But the true test of Ortiz's value would come in the ALCS rematch against the Yankees. Yet while Ortiz fared well against Boston's arch-rival early, going 6-for-12 at the plate in Games 1 through 3, the team was flailing, And after that humiliating Game 3 loss put the Sox in a 3-0 hole, it appeared no one — not even Ortiz — could save Boston from another offseason spent wondering what could have been.
"We were probably the only people on earth that didn't think we were out of it," Francona said of the 3-0 deficit, one that 24 previous teams in baseball history had failed to overcome. "But we knew we could be competitive just going one game at a time, and our guys did a really good job of that. 
"That's all we were thinking about: If we win, we get to play again," Francona continued. "We never once talked about winning four in a row. We just said, 'Let's play good this inning, let's win tonight, and then we'll play tomorrow.'"
*****
*****
Arguably the most outspoken Red Sox player in the 24 hours between Boston's Game 3 humiliation and the start of Game 4 was veteran first baseman and outfielder Kevin Millar, who famously warned the Yankees not to let Boston make it to Game 5. 
But while the Red Sox were certainly confident in their ability to win four straight — they'd won four consecutive games on eight different occasions during the regular season, including a six-game streak in April that started with a three-game sweep of the same Yankees and a 10-game run that started in late August — the optimism that they could actually do it was cautious at best.
"I don't think he really, truly, in his heart thought we were going to come back four in a row, but you also know you wouldn't be here if you didn't feel like you could," Jackson said of Millar. "And this team, with the guys we had, we felt like we could do it. We'd done it during the year, so I couldn't see why we couldn't do it in a championship series."
At the midway point of Game 4, however, it appeared New York was destined to put Boston away again, as Alex Rodriguez's third-inning, two-run homer represented the only runs on the board. In fact, when the Red Sox came up in the bottom of the fifth, Yankees starter Orlando Hernandez had only allowed one hit, despite struggling with his control.
But after a pair of walks and a pair of groundouts put runners on the corners with two outs, shortstop Orlando Cabrera ripped a single to right to cut the lead to 2-1. Another walk then loaded the bases for Ortiz — a player coaches say was the exact person Boston needed at the plate at that time.
"He's a guy who just lives for the moment, and I think that his ability to focus during key times in the game puts him at the top of the scale," Jones said. "He's been doing that for a number of years now, but during that series, I think everybody was looking to him to be the guy. 
"We had Manny, we had other key players, and we had other guys who got big hits all over the board, right down to Mark Bellhorn, Kevin Millar, Bill Mueller," Jones continued. "But when it came right down to it, it was David Ortiz, and I think all the players, I think all the coaches, jumped on his back."
True to form, Ortiz laced a single into right-center, driving in Cabrera and Johnny Damon to give Boston a 3-2 advantage.
"I think that was one of the things that was so impressive about Big Papi, how he always seemed to get a good pitch," former Red Sox third base coach Dale Sveum said. "He never chased out of the zone in those situations and was very patient, and a lot of times he would take his walk knowing he had people behind him. 
"You never saw David say, 'OK, I have to do this' on every pitch and swing out of the zone," added Sveum, now the hitting coach for the Kansas City Royals. "These types of players — like the Derek Jeters, other guys — they trusted their hands and they trusted themselves and always got great pitches to hit."
But the joy was short-lived, as the Yankees tacked on two more of their own in the top of the sixth to retake the lead at 4-3. And that's where the score stood when Boston came up in the bottom of the ninth, the season hanging in the balance with Mariano Rivera on the mound.
"I literally can't think of anybody I've covered in 20-plus years doing network sports at FOX that was, first of all, more gifted, but also more automatic in what is anything but an automatic world than Mariano Rivera," said broadcaster Joe Buck, who called the 2004 ALCS. "Sports is so unpredictable, but he became so predictable. And what's predictable is he's going to throw cutters and he's going to get the third out before the other team ties or takes the lead.
"It doesn't matter what the stage is — you can talk about a game in mid-April or mid-October and he's still like an assassin, and he didn't miss," Buck continued. "So he rolls out there and you're like, 'OK, well, goodnight. That's it.' But that wasn't it."
Rivera, the league's all-time saves leader, had already come on in the bottom of the eighth, shutting down the heart of the Red Sox order, including a strikeout of Ortiz. So when Rivera issued an uncharacteristic walk to Millar to start the bottom of the ninth, Francona saw it as an opportunity to quite literally steal a run and brought in Dave Roberts to pinch run.
"My biggest fear was that he was going to get picked off," the first-base coach Jones said of Roberts, who saw Rivera throw over three times before delivering his first pitch to the next better, Bill Mueller. "He was so far out there and when I would walk over to the base after every pickoff, I'm going, 'Man, you're out there awfully far.' But you know what, he'd inch a little bit further."
When Rivera finally did go to the plate, Roberts, now the manager of the Los Angeles Dodgers, took off for second — to the surprise of few — and barely beat Posada's throw to the bag.
"That was a pretty bold move by Tito to have him steal, because if he gets thrown out, everybody gets questioned," Jones said. "As the first-base coach, I don't have anything to do with it, but I'm in close proximity, so the grenade goes off and gets everybody. So it's me, and then it's, 'Dave, why didn't you get a better jump?' And then there's Tito, and there's Brad Mills — 'You're the bench coach, how come you didn't talk him out of it?' 
"But the stars seemed to align," Jones continued. "Nobody thinks about 'what if?' after the fact because it's history, it's a done deal. But boy, the ramifications had he gotten thrown out would have been astronomical. It would have been, 'Here we go again, Boston is a loser — and to who else? The Yankees.'"
Two pitches later, Mueller — who hit .353 for his career against Rivera, including a walk-off homer earlier in the 2004 season — smoked a single up the middle to drive in Roberts from second and tie the game. Five batters later, Ortiz stepped to the plate with two outs and the bases loaded.
This is a story of Ortiz's heroics, but there were none to be found in the ninth, as he popped out harmlessly to second to end the inning and send the game to extras.
"This guy was coming through so many times in the clutch with game-winning hits that it was like, if he did come up in the ninth with the game-winning run on base and he didn't (drive it in), you almost felt like he was in a slump," Sveum said. "We were so used to him coming through every time."
That wouldn't be a problem when Ortiz came up again in the 12th, though.
Earlier, in the top of the 11th, Boston's bullpen had escaped a bases-loaded jam, and in the bottom of the 11th, Damon used a walk and a steal to get into scoring position with two outs. A 6-3 Cabrera groundout ended the threat, but Curt Leskanic hushed the Yankees' bats in the top of the 12th, setting the stage for the meat of the Boston lineup to send the Red Sox home winners.
The crowd was a bundle of nerves as Ortiz stepped into the batter's box with Ramirez on first, and there was a feeling permeating through Fenway Park that, if anything was going to happen to save Boston's season, it had to happen then.
"I've coached guys like Frank Thomas and Albert Belle and Robin Ventura — I could go on and on and on — but this guy is the biggest clutch hitter I've ever been around," Jackson said of Ortiz. "I've never seen anything like it. For some people, it's in their DNA. In big moments, some people relax and some people get excited, and there's something in him that helped him relax."
The story has been well-documented from there, and if there were a time for Ortiz to get something to hit, that 2-1 count would be it. Fortunately for Boston, Quantrill obliged, and Ortiz parked one over the 380 sign in right. And as Ortiz rounded the bases and met a mob of his teammates at home plate, it almost seemed like the city had forgotten that its team was still down 3-1.
"He never seemed to disappoint," Jones said of the game-winner. "And that was the thing that you relish about a bigtime ballplayer. You can't get any bigger or better than that, other than a Bill Mazeroski home run or Joe Carter's home run in the World Series. It just doesn't get any bigger, and from an importance standpoint between the rivalries, that was it. That's the pinnacle."
"Obviously, in anybody's mind, the series was over (before Game 4)," Sveum added. "But when he hit that home run, I think it lifted everybody's spirits to where everybody said, 'OK, this could happen when you have somebody that special that's doing these kinds of things.'"
*****
*****
The record will show that the Red Sox proceeded to do the unimaginable over the nights that followed Ortiz's walkoff blast, winning three consecutive games — the final two at Yankee Stadium — to steal the ALCS in seven and finally advance to the World Series once again.
But while Ortiz's game-ending homer from Game 4 stands out as the defining moment of that series — and perhaps of Ortiz's illustrious career — it may have been remembered merely as a welcome rest stop on the road to Boston's inevitable elimination had it not been for what he did next.
In Game 5 at Fenway, Ortiz put Boston on the board in the bottom of the first with an RBI single off Mike Mussina, and scored later in the inning to give the Sox a 2-0 lead. Then with the Yankees up 4-2 in the bottom of the eighth, Ortiz led off with a solo homer off Tom Gordon. The Sox proceeded to tie the score during the rally that followed, as Rivera blew a save for the second straight game.
Like Game 4, Game 5 dragged late into the night — it had started at 5:10 p.m., didn't end until 10:59, making it the longest in MLB postseason history at the time — and again, it was Ortiz who played the role of hero. After striking out in the 10th and walking in the 12th, Ortiz stepped to the plate in the bottom of the 14th with two outs and runners on first and second.
Ortiz quickly found himself in a 1-2 hole against Yankees right-hander Esteban Loaiza, but after fouling off five two-strike offerings — including one that briefly appeared it might sneak around Pesky's Pole — and working the count to 2-2, Ortiz blooped the 10th pitch he saw from Loaiza into center field for a walkoff RBI single.
"You mentally circle him on your score sheet and in your scorebook," Buck said of Ortiz. "Obviously the American League game is a lot different than the National League, but you're never more than eight hitters away from that guy coming up again, and I guarantee you if I'm thinking that way in the broadcast booth, fans are thinking that way in the seats and Joe Torre is thinking that way in the Yankee dugout and the guy on the mound is thinking that way when he's looking at the lineup. 
"It's like, 'OK, this is the guy who can change the game,'" Buck continued. "And that was the series, to me, with all that was on the line, that solidified him as a clutch performer. 
"And that's what it is, it's a performance," he added. "You step to the center of the stage, you're out there alone, the spotlight is on you — and, by the way, you're not out there playing the clarinet or something. You have somebody else who is the best at what he does also trying to do his job in the center of the stage too. So that's baseball, and that's been the magic element of it since the early 20th century. It's some guy on the mound with a ball and some guy at the plate with a bat, and let's see who wins. And that's when Ortiz became the guy that nobody wanted to see, except in Boston."
By that point in the series, momentum had taken over. Ortiz went 0-for-4 in Game 6, but Boston won 4-2 on the strength of Mark Bellhorn's fourth-inning, three-run homer and Curt Schilling's inspired performance on the mound, bloody sock and all. 
"To put (the comeback) on David's shoulders is really taking a lot away from the atmosphere that team had and how they came together," said Mills, who later managed the Houston Astros from 2010-12. "We could sit here and say, 'Yes, David was a huge contributor,' but everybody on that ball club did such a good job and nobody had to rely on just one guy. Everybody chipped in, and I think when you're doing that, it takes a lot of pressure off a lot of guys and allows their skills to come out."
It also appeared the prospect of a Red Sox comeback was beginning to weigh on the New York players, as well.
"I'd been in situations like that before," said Jones, an outfielder on the 1985 Kansas City Royals team that overcame a 3-1 series deficit to beat the St. Louis Cardinals in the World Series. "I saw certain looks and the way people had body language change with each loss after you'd been up 3-0. It's a big deal. 
"You could look in the dugout with each loss and go, 'Oh boy, you're not looking the same,' whereas our guys were about as loose as you could get," Jones continued. "We had nothing to lose, and it showed." 
Then, prior to Game 7 at Yankee Stadium, the Red Sox got what seemed like a sign from above while watching a movie in the clubhouse in the hours before first pitch.
"A bunch of players were there, and it was like 1:00 — we were there early," Jones recalled. "And the guys were just trying to relax and chill out, and they put on 'Miracle on Ice.' So everybody is sitting around watching 'Miracle on Ice' and (former Red Sox GM) Theo Epstein is there, and Theo, toward the end of the movie, he looks at his cell phone and he goes, 'Look at this —.' It was a text from (then-Team USA goalie) Jim Craig. 
"It was very chilling," Jones continued, "Like, 'Wow, are you kidding me? We're sitting here watching this movie and Jim Craig calls Theo?' He ended up talking with Derek Lowe and wishing him good luck, and all I could think that this is unbelievable. It doesn't get any better than that."
After the call, Lowe went out and pitched six innings of one-hit ball, and Boston used a barrage of home runs — including one more from Ortiz, one from Bellhorn and two from Damon, who had six RBIs — to win 10-3 and advance, improbably, to the World Series. There, Ortiz set the tone, driving in three runs with a first-inning, Game 1 homer, and the Red Sox swept the Cardinals in four games.
"It was the validation of this guy as postseason hero," Buck said of Ortiz's run, which saw him hit four home runs and drive in 13 runs between Game 4 of the ALCS and Game 1 of the World Series. "That's why Reggie Jackson's name, Mr. October, means something. Nobody wants to be Mr. May, and David Ortiz is as much Mr. October as Reggie Jackson to me, if not more so." 
Now, 12 years later, Boston has added two more World Series trophies to its collection, and while the team has undergone a massive transformation since the first in 2004, the lone constant has always been Ortiz. 
As he enters the final postseason of his career — one that, appropriately, starts with a series against his old manager and bench coach — Ortiz boasts a .295 average, .409 on-base percentage, 17 home runs and 60 RBIs in 82 career playoff games. And as the lights get brighter, Ortiz seemingly always gets better, as evidenced by his .455 average in 44 World Series at-bats, including an outrageous 11-of-16 showing in 2013 that earned him Series MVP honors.
"It's got to start with a level of God-given talent," Buck said of the ability to be clutch. "I'm not going to go to the Clutch School and learn how to be clutch. You have to be good. And then you have to be filled with ego, and that's not a negative thing.
"I think ego can be a really good thing," he continued. "You know, give me a surgeon that's got skill and an even bigger ego when my body is opened up and they're making decisions on the fly as to what's going to save my life. Give me the guy who says, 'I know what's right and this is how we're going to do it.' And it's the same with a guy, on a much smaller scale, at the plate, in the batter's box, with a bat in his hands — 'I'm better than that guy on the mound and I'm not nervous.'
"It reminds me of the difference between the great golfer and the not-so-great golfer," Buck concluded. "You get a bad lie, a lie in a divot, and certain guys will say, 'Oh my God, look at this lie, I'm screwed.' And then the other guy, the great golfer, the Jack Nicklauses of the world, the Tom Watsons, will say, 'Watch this.' And that's clutch to me. 'Give me the opportunity for greatness.' And while some people, I'm sure, are thinking, 'I sure hope I don't fail,' David Ortiz walks to the plate, slaps his hands together and says, 'Watch this, world.'"
Still, the question must be asked whether Boston or Ortiz would have been blessed with any of their recent success — much less all of it — if not for that Game 4 walkoff 4,372 days ago. 
"I think you could make that point," Buck said of the long-term impact of Boston's 2004 championship. "I think the release valve was hit, the pressure was gone, and they proved they could do it.
"I am friends with a lot of die-hard fans who told me that, even up three games to nothing in St. Louis with a ball hit back to Keith Foulke — until he underhanded it to first and Doug Mientkiewicz squeezed it for the out, they still felt something was going to go wrong, and they weren't going to win," Buck continued. "So there's no way that doesn't permeate down into the clubhouse or into the dugout. That's not realistic.
"They feel it like the Cubs feel it now," he added. "I don't care how many games they won in the regular season. Those at-bats now, they're going to be different than any at-bat they've taken. And you go from, 'Can they win?' to, 'They should win,' to, 'If they don't win it was a waste or they failed,' and it's a lot on the mind of someone who is trying to perform physically in front of that kind of an audience."
Ultimately, there's no way of knowing for sure whether 2007 and 2013 would have gone the way of the Sox if not for 2004 — or whether the disappointment of the 2008 ALCS or the five recent seasons outside the playoffs could have been avoided without it. Similarly, there's no way of telling what that series and that hit meant for Ortiz's personal development or his transformation into the face of the franchise — one that he's guided through the highest of highs and the lowest of lows over the last decade-plus.
But there's a case to be made that that lone home run — more so than the 133 that preceded it or the 424 that have followed — was the one that put the Seattle and Minnesota eras to rest for good and cemented Papi's hero status in Boston. And as Ortiz embarks on his final games, one can't help but hope that one of the greatest hitters to ever wear a Red Sox jersey has a little bit more magic left.
"That 2004 run kind of started everything for him," Mills said, reflecting on Ortiz's career. "That team — and the players that David has been around his entire career in Boston — was just a great group for him. He developed a winning attitude and he developed his knowledge of how to win to go along with that talent that he's always had."
"There's no question," Sveum added, "that that home run changed the history of the Boston Red Sox and started David's legacy."
You can follow Sam Gardner on Twitter or email him at samgardnerfox@gmail.com.
---
---