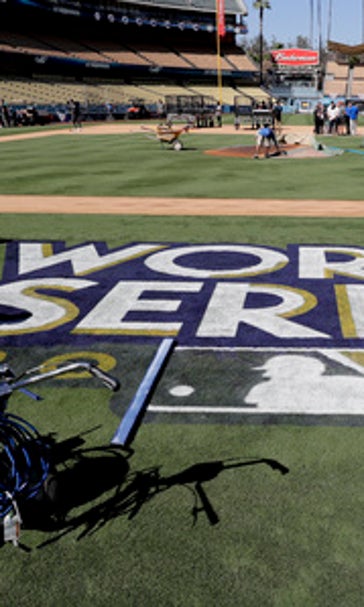 The Latest: Marisnick won't be on Astros' roster
October 23, 2017

LOS ANGELES (AP) The Latest on the World Series (all times local):
---
6:30 p.m.
Outfielder Jake Marisnick won't be on Houston's World Series roster. He broke his right thumb midway through last month, cutting short a season in which the 26-year-old hit 16 home runs in 106 games.
Manager A.J. Hinch says Marisnick's thumb is healed and he's been throwing. However, Marisnick will be an injury fill-in because there's not enough time for him to get ready and for the team to feel comfortable using him, especially in a National League-style game.
---
6:15 p.m.
Astros manager A.J. Hinch and Dodgers counterpart Dave Roberts go back to their days on rival Pac-12 baseball teams. Hinch played at Stanford and Roberts was at UCLA.
Hinch jokes that the two men are ''mortal enemies'' during the World Series, in which each is making their managerial debuts. They became close in San Diego, where Hinch was assistant general manager for the Padres and Roberts was a coach.
Back in July, Hinch says he and Roberts shared breakfast and talked about facing off in the World Series. Hinch says he's proud and happy that their discussion became reality.
---
5:45 p.m.
Dodgers manager Dave Roberts says Corey Seager is taking aggressive groundballs during the team's workout in preparation for Game 1 of the World Series.
He says that unless something ''really unforeseen happens'' he expects Seager to be on the World Series roster, which is due several hours ahead of first pitch.
Seager hurt his back on a slide in Game 3 of the NL Division Series and was left off the NL Championship Series roster while he recovered.
---
5:40 p.m.
Clayton Kershaw donated to relief efforts in the wake of Hurricane Harvey in Texas, where he and wife Ellen are from.
The Dodgers ace says he wanted to contribute because of his roots and he knows people who were affected by the devastating storm. His wife attended Texas A&M and has family in Sugar Land. Kershaw says the Astros' success has been ''a great story'' after what the state has endured.
---
5:05 p.m.
Puerto Rico native Kike Hernandez loves the hot forecast heading into the World Series.
Temperatures are expected to hit triple digits for the second straight day on Tuesday, when Game 1 begins.
Hernandez says he doesn't think there's a single player who likes competing in cold weather. He says the heat will benefit the hitters because the higher temperatures make the ball carry better.
---
5 p.m.
Dodgers ace Clayton Kershaw enjoys a close relationship with former LA great Sandy Koufax. Kershaw is friendly with former Astros ace Nolan Ryan, who's been seated in a prime position during Houston's run to the World Series.
Kershaw says he hopes he gets to say hello to Ryan after the Dodgers win.
---
4:45 p.m.
Dodgers shortstop Corey Seager hurt his back on a slide in Game 3 of the NL Division Series and was left off the team's NL Championship Series roster.
He says he hasn't tried to slide since, but only because he hasn't thought about it. He participated in the Dodgers' workout in Los Angeles on Monday and is expected to be added to the World Series roster.
Seager says his injury was ''a fluke thing'' and he simply landed wrong.
---
3:15 p.m.
Gerry Davis will work the World Series for the sixth time, tying Joe West for the most times among active umpires.
Davis will be crew chief for the third time, the commissioner's office said Monday. A 34-year big league veteran, Davis has worked a record 136 postseason games. He also umpired in the World Series in 1996, 1999, 2004, 2009 and 2012.
Phil Cuzzi will be behind the plate for Tuesday night's opener between the Los Angeles Dodgers and Houston Astros. Paul Nauert will be at first, Davis at second, Laz Diaz at third, Bill Miller in left and Dan Iassogna in right.
Mark Wegner will be the replay umpire in New York for the first two games, then move to left field for Game 3 in Houston. Cuzzi replaces him as replay umpire for the remaining games.
Tripp Gibson, who worked the AL wild-card game, will be replay assistant for the World Series.
---
More AP baseball: https://apnews.com/tag/MLBbaseball
---
---