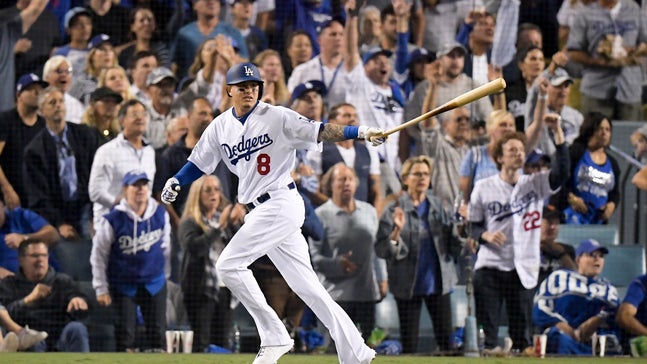 Teams, agents wonder whether slow market will repeat
Updated
Mar. 4, 2020 1:50 p.m. ET
CARLSBAD, Calif. (AP) — Agent John Boggs stood in the lobby at the hotel hosting the general managers' meetings and talked about last winter, when dozens of free agents remained unsigned after spring training began, causing prices to plummet as opening day approached.
"It's the greatest thing for the owners because they've got a lot of players that are wanting to play and have a lot of game left in them, and all of a sudden are just sitting there dying to get an opportunity again, and so it's a gigantic Macy's basement sale," he said. "I hope it is an aberration because I think there's a lot of good players that are being deprived of getting an opportunity to continue their careers."
As the offseason starts, teams and agents aren't sure whether the market will revert to its previous pace or whether clubs will try to wait out players again.
Miami's efforts to trade Giancarlo Stanton and Shohei Ohtani's decision to leave Japan for the major leagues created roadblocks after the 2017 season.
"I think the lesson to be drawn is don't hold your vacation off until late January, because everybody seemed to be pretty busy last year," Texas Rangers president of baseball operations Jon Daniels said.
This year's free-agent class is a far stronger group, led by outfielders Bryce Harper, A.J. Pollock and Michael Brantley, infielders Manny Machado and Josh Donaldson, starting pitchers Dallas Keuchel, Patrick Corbin, Hyun-Jin Ryu and Nathan Eovaldi, and closers Craig Kimbrel and Zach Britton.
"The good ones will get their money," Philadelphia GM Matt Klentak said. "They'll sign. They'll end up in good places. And whether that's here in November or whether it's in December, January, February or even March, I don't know."
Washington GM Mike Rizzo said the Nationals attempted to reach a deal with Harper before he became a free agent.
"We utilized our exclusivity to negotiate with him late in the season through when he became eligible to sign with a team," Rizzo said. "There is a reality that we would love to sign him but we may not."
Some teams have delayed their offseason planning because of front-office changes. Los Angeles Dodgers GM Farhan Zaidi was hired just Tuesday as San Francisco's president of baseball operations and Baltimore has not replaced Dan Duquette as its top baseball decision-maker.
Brodie Van Wagenen, who had been an agent at CAA Baseball, replaced Sandy Alderson as the New York Mets' general manager. About two weeks before the start of spring training last winter, Van Wagenen suggested players considering boycotting spring training because of the slow market.
"Hard to say about whether there will be any carry-over effect to this year," he said. "I think there was an element last year where the trade market was slowed, as well, which also pushed the free-agent market back."
Teams now project their rosters well into the future, and players who could be free agents after the 2019 World Series could be dealt this offseason for a bigger return than they would get ahead of next summer's trade deadline, especially if they don't agree to long-term deals. Among the possibilities are Arizona first baseman Paul Goldschmidt, Colorado third baseman Nolan Arenado, San Francisco left-hander Madison Bumgarner and Mets right-hander Zack Wheeler.
Arizona general manager Mike Hazen said a multiyear deal with Goldschmidt would take creativity, and a trade had to be considered.
"He's the consummate teammate, Diamondback. What he's done for the organization both on and off the field is everything you want in a player," Hazen said. "I met with Paul. I think there's an understanding of where the organization is at present. But I think it would pretty tough."
CC Sabathia became the first free agent to reach a deal since the market opened Saturday, agreeing to an $8 million, one-year contract with the New York Yankees. The 38-year-old left-hander accepted a $2 million cut to return to the Bronx for an 11th season in a deal subject to a successful physical.
New York is being more aggressive this offseason after falling below the luxury tax threshold for the first time in 2018.
"Last year we had to be really careful about every step we took in terms of financial commitments, so it took longer because we were having to have that luxury-tax issue in the back of our minds," general manager Brian Cashman said.
The Los Angeles Dodgers dropped below the threshold for the first time since 2012 and won their second straight NL pennant — but lost the World Series for the second consecutive year. The only teams projected over this year were the World Series champion Boston Red Sox, who had the highest payroll for the first time in the free-agent era, and Washington.
Alan Nero, who negotiated first baseman Carlos Santana's $60 million, three-year deal with the Phillies last fall, said agents have to be realistic with their clients.
"I think you have to understand we're in a changing market and you're not going to get a 10-year deal," he said. "It's a matter of managing expectations."
---
---