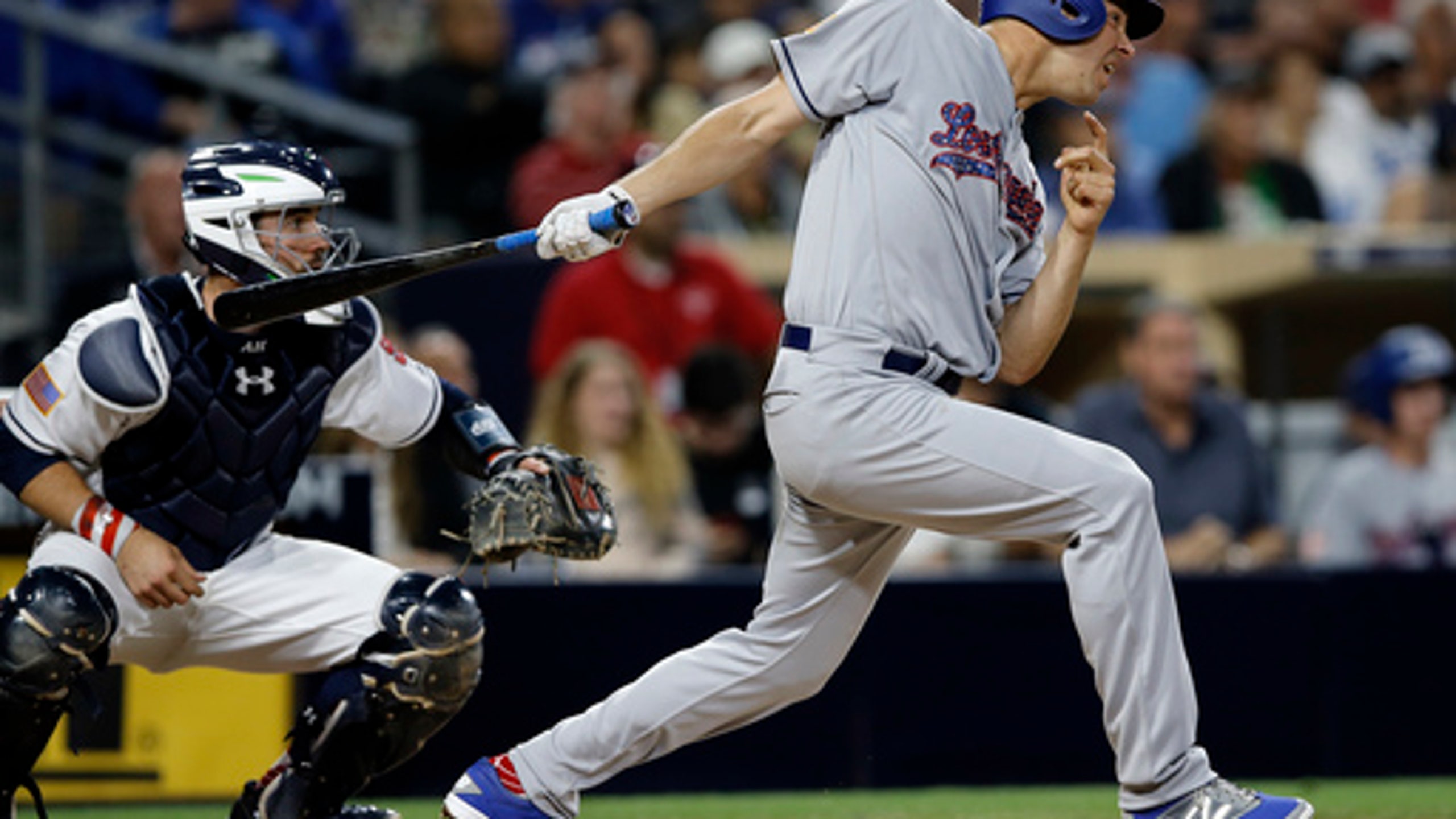 Taylor's grand slam highlights Dodgers' 8-0 win over Padres (Jul 01, 2017)
BY AP • July 2, 2017
SAN DIEGO (AP) The Los Angeles Dodgers have worn out Petco Park - and the San Diego Padres - in the first two games of a weekend series.
Chris Taylor hit a grand slam to highlight the Dodgers' 8-0 romp Saturday night, while Corey Seager and Justin Turner had consecutive homers.
Even left-hander Rich Hill had two hits to go along with his 11 strikeouts, which tied his career high.
Bench coach Bob Geren managed the Dodgers in place of Dave Roberts, suspended one game by Major League Baseball for his role in an altercation with Padres manager Andy Green the night before. Roberts was also fined, as were Green and Dodgers pitcher Alex Wood.
''There are a lot of guys in here with really good swings,'' Turner said. ''We take good at-bats and we swing at good pitches. Usually the chances of doing some damage are pretty good.''
Taylor's slam came off Craig Stammen with two outs in the seventh inning. It was his third slam of the season and the fourth of his career.
''Coincidence? I don't know,'' Taylor said about his slams this year. ''I don't think I do anything different with the bases loaded. I try not to do too much and put a ball in play and hopefully something will happen. I've run into a couple.''
It was L.A.'s second slam in as many nights against the Padres. Austin Barnes had a grand slam and a three-run shot in a 10-4 victory Friday.
The Dodgers had 14 hits.
Seager and Turner homered opening the fifth off Dillon Overton, who was picked up on waivers from Seattle on June 19. It was Seager's 13th and Turner's seventh.
Logan Forsythe tied his career high with four-hits for the second straight night, including an RBI infield single in the first. Seager added three hits.
The Dodgers have outscored the Padres 63-18 in eight games this season.
Hill (5-4) threw seven innings of four-hit ball while walking one. He matched his strikeout high set Sept. 6, 2006, against Pittsburgh while with the Chicago Cubs and equaled June 7, 2007, against Atlanta.
''We've strung together a couple outings now that the mechanics seem to be in sync pretty well and the ball's coming out of my hand the way I want it to,'' Hill said.
Hill had his first career multihit game as well as his first hit of the season and his first since June 19, 2009, at Philadelphia while with Baltimore.
Turner said watching Hill hit is ''sheer entertainment. You can't take your eyes off him. Guys in the dugout are over there laughing. He's crouched down, he's moving up in the box, he's trying to bunt, trying to slash. It looks like a big Little Leaguer up there having fun. Good for him tonight. He helped himself out and obviously he threw the ball great.''
Green said the Padres have to do better against pitchers like Hill.
''You analyze our offense, and one of our biggest struggles is curveballs,'' Green said. ''You're talking about a premier, if not the premier, left-handed curveball in the game. It's a tough matchup for us, but we've got to do a better job of competing. I don't feel like we did that. ... We've got to find a way to make him work harder than the three-pitch punchouts he was getting. We've got to do better than that.''
Overton (0-1) allowed four runs and nine hits in 4 2/3 innings. He struck out three and walked two.
''It wasn't the outcome we were exactly expecting, but all in all, I felt like I did a pretty good job against a lineup like that,'' he said. ''It's a really good lineup. Minus a couple pitches in the fifth inning, for the most part it was OK. I minimized damage and tried to hold my own, and give my team a chance to win.''
UP NEXT
Dodgers: RHP Kenta Maeda (6-3, 4.15 ERA) is scheduled to start Sunday's series finale. He's 2-2 with a 3.38 ERA in six career starts against San Diego, including a no-decision on May 5.
Padres: RHP Jhoulys Chacin (6-7, 4.76) is 4-2 with a 1.83 ERA in eight starts at Petco Park this season.
---
More AP baseball: https://apnews.com/tag/MLBbaseball
---
---