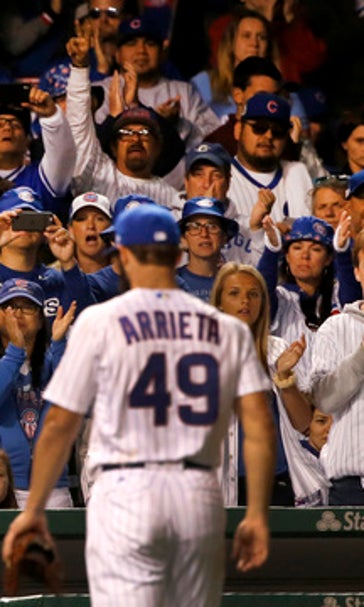 Streaking Cubs pull away from Marlins for 10-2 win (Jun 06, 2017)
June 7, 2017

CHICAGO (AP) Jake Arrieta got into a groove, Anthony Rizzo hit a big home run and Kris Bryant showed off his all-around game.
Yup, it looked a lot like last year.
Arrieta pitched two-hit ball into the seventh inning, Rizzo drove in four runs and the surging Chicago Cubs beat the Miami Marlins 10-2 on Tuesday night for their season-high fifth straight win.
Jason Heyward had three hits and two RBIs as Chicago remained perfect since returning home after a winless six-game road trip. Bryant reached base four times, scored two runs and robbed Giancarlo Stanton of a hit with a diving stop on a grounder to third in the third.
After an uneven start to the season, the Cubs are showing signs of the all-around play they had on their way to the World Series title last year.
''The feeling's a little bit different in the dugout all of a sudden, since we've been back home,'' manager Joe Maddon said. ''The guys are starting to feel a little bit more. It's a little bit more reminiscent of the last two years.''
Arrieta (6-4) allowed two runs, struck out five and walked three in just his second win in the past month. The 2015 NL Cy Young Award winner retired 16 in a row over one stretch.
''I was relying pretty much exclusively on the sinker because it was really good tonight,'' Arrieta said, ''and just pitching to the conditions.''
J.T. Realmuto and JT Riddle each drove in a run for Miami, which had won seven of eight before it stumbled on consecutive windy nights in Chicago.
Jeff Locke (0-1) cruised into the fifth inning with a 1-0 lead and retired the first two batters before everything fell apart for the Marlins in a hurry.
Jon Jay kept the inning alive with a walk, helped by two close calls with two strikes. Bryant then walked before Rizzo drove a 1-0 pitch to the first row of the bleachers in right for his 13th homer. Willson Contreras reached on an error on shortstop Riddle, and Heyward followed with a stinging RBI double for a 4-1 lead.
''Kept the line moving there,'' Rizzo said. ''Drove the ball all over the place and guys were squaring the ball up, it was really nice.''
Rizzo is 11 for 29 with five homers and 12 RBIs in his career against Locke.
''He sees the ball real well off me, since we were about 19 years old,'' Locke said.
Chicago broke it open with six more in the seventh, highlighted by two-run doubles for Javier Baez and Jay.
Locke was long gone by then, having allowed four runs, three earned, and four hits in 4 2/3 innings. The left-hander struck out three and walked four in his second appearance after missing the start of his first season with Miami with left shoulder tendinitis.
''I thought he was really good,'' manager Don Mattingly said. ''I think it was just the fourth out that you're asking him to get in the fifth was the big one. Once he punches out Jay there for the third out, we just weren't able to get the fourth one.''
Arrieta was pulled after Realmuto's leadoff triple in the seventh. The right-hander improved to 3-0 with a 3.04 ERA in four home starts this season.
OH BABY
The Cubs activated closer Wade Davis from the paternity list and optioned RHP Dylan Floro to Triple-A Iowa. Davis and his wife, Katelyn, welcomed their second child on Monday, a boy named Ty.
TRAINER'S ROOM
Cubs: CF Albert Almora Jr. bruised his right forearm when he ran into the wall while chasing a drive in batting practice. But he stayed in the lineup and went 1 for 4 with a walk.
Marlins: 1B Justin Bour was placed on the 10-day DL with a bone bruise on his left ankle. He got hurt running the bases Saturday. C Tomas Telis was recalled from Triple-A New Orleans to take his spot on the roster. ... RHP Edinson Volquez (right ankle) threw a bullpen session and is on track to start Thursday against Pittsburgh. ''He's feeling better,'' Mattingly said. ''He gets another couple of days. We're comfortable he'll be close to 100 percent.'' Volquez got hurt in the first inning Saturday against Arizona, but stayed in and pitched the sixth no-hitter in Marlins history.
UP NEXT
RHPs Jose Urena of the Marlins and John Lackey of the Cubs pitch in the series finale Wednesday night. Urena (3-2, 3.80 ERA) is 2-0 in his last three starts despite an 8.16 ERA in that stretch. Lackey (4-5, 4.90 ERA) is looking for his first win since May 16 against Cincinnati.
---
More AP baseball: https://apnews.com/tag/MLBbaseball
---
Jay Cohen can be reached at http://www.twitter.com/jcohenap
---
---