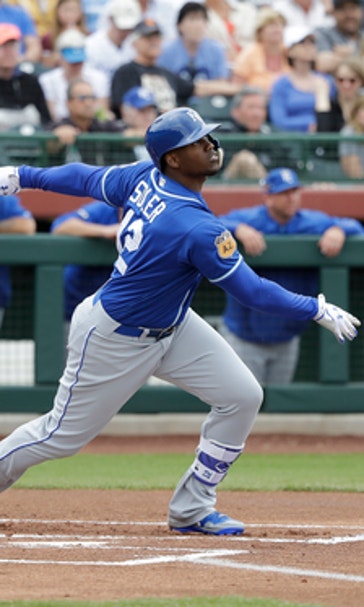 Royals, key players looking for bounce-back season in 2017
BY AP • March 28, 2017
KANSAS CITY, Mo. (AP) The Kansas City Royals and Alex Gordon were both flying high a year ago, the team coming off its first World Series title in three decades and the star outfielder having signed a new long-term contract.
Both fell back to earth in disappointing fashion.
The Royals stumbled through a dismal July that left them in no man's land, too far out of contention to make a serious run at the division title yet not far enough out that they began selling off. And the result was an 81-81 record and third-place finish in the AL Central that left nobody content.
Gordon was already struggling in late May when he broke his wrist in a collision with third baseman Mike Moustakas, who wound up missing the rest of the year with a torn ACL. Gordon eventually returned, but hit just .220 with 17 homers and 40 RBIs. Now, team and player are hoping for big bounce-back years.
''You have to learn to deal with failure,'' Gordon said. ''Be a man about it. Look yourself in the mirror and keep working hard.''
Many view this season as the Royals' last, best chance to chase a division crown, at least for the next few years. Moustakas, first baseman Eric Hosmer, shortstop Alcides Escobar and several others so instrumental in dragging a moribund franchise to the pinnacle of baseball are due to hit free agency next offseason, which means their window to contend may last just one more year.
Or even a few more months, if they're out of contention by the trading deadline.
The Royals have made some moves this offseason to address that looming possibility, trading All-Star closer Wade Davis for outfielder Jorge Soler (currently out with a strained oblique), and shipping speedy outfielder Jarrod Dyson to Seattle for pitcher Nate Karns. Davis and Dyson also were due to hit free agency, and Kansas City got in return two players who will likely contribute for the foreseeable future.
''We don't buy into the assumption that our window is going to close on our team,'' general manager Dayton Moore said. ''Rosters do change. You've got to learn to manage change effectively.''
What no one envisioned was the car crash that killed young pitcher Yordano Ventura in the Dominican Republic. The Royals saw Ventura as a piece of their starting rotation for years to come, and his death just prior to spring training shook the organization to the core.
But that core has been to a pair of World Series, and remains one of the most tight-knit in baseball. And that's why expectations are again bright as opening day approaches.
''These guys really enjoy playing with each other. They cherish every game they play together,'' Royals manager Ned Yost said. ''Do I expect us to bounce back? Yeah, absolutely.''
THE ROTATION: Inconsistent starting pitching was the biggest downfall of the Royals last season, and as a result, the rotation looks vastly different this year. Danny Duffy will serve as an anchor, followed by veteran Ian Kennedy and Jason Vargas. Newcomers Jason Hammel and Karns will round it out.
THE BULLPEN: Davis has been one of the game's best closers the past few years, but Kelvin Herrera showed late last season that he can handle the job. The bigger question is who will get the ball to him in the ninth? Joakim Soria needs to bounce back after a frustrating season, while youngster Matt Strahm has the makings of the next strong-armed superstar.
POWER SURGE: Kansas City has relied on defense and small ball to win the past few years, but look for an uptick in homers this season. Soler has flashed some big potential to drive the ball, and new DH Brandon Moss comes with a reputation for hitting it out - and striking out.
ROOKIE WATCH: Infielder Raul Mondesi Jr. got a taste of the big leagues last year and was soundly overmatched. But nobody has been better in spring training,
and the shortstop - or second baseman - of the future will be counted on to help this season, even if not right away.
CRUCIAL STRETCH: The Royals begin the season on April 3 with a six-game road trip to Minnesota and Houston, and getting off to a good start is crucial. But the key stretch could be in mid-July, when the Rangers, Tigers and White Sox visit Kansas City. If the Royals are still in contention after that point, they may go all-in at the trade deadline in pursuit of a third World Series title.
---
More AP baseball: https://apnews.com/tag/MLBbaseball
---
---