Roberto Perez proving to be quite a catch for Indians
BY Ken Rosenthal • November 15, 2016
CLEVELAND – The Indians, after getting rejected by Jonathan Lucroy, might have found their Yadier Molina.
A stretch? Perhaps. But Roberto Perez on Tuesday became the first catcher to hit two home runs in a World Series game since Gary Carter in 1986, and also caught a shutout in the Indians' 6-0 victory over the Cubs in Game 1.
Drum roll, please, for the complete list of catchers who have hit two homers in a Series game:
Yogi Berra in 1956. Gene Tenace in 1972. Johnny Bench in 1976. Carter. And now Perez.
Not bad for a 33rd-round pick and the 1,011th player taken overall in 2008. Not bad for a guy who batted .183 during the regular season in 184 plate appearances.
Perez's three homers in the postseason match his total from the regular season. And really, his offense is the least of it.
"He should be a star catcher," Indians reliever Andrew Miller said. "He's going in that direction. He's that good behind the plate defensively." 
Miller then echoed an old line that Tony La Russa once used about Molina, saying, "He doesn't ever have to get a hit to validate his spot in the lineup."
On Monday, the day before the Series began, Perez noted that, like Molina, he might be a late bloomer offensively.
His regular-season numbers do not suggest as much. Nor does his .222 batting average and .593 OPS in the postseason. But look closer.
Perez hit a home run in Game 1 of the Division Series against the Red Sox. An RBI double in Game 4 of the ALCS against the Blue Jays. And then the two homers Tuesday night, which produced four of the Indians' six runs.
Surely the small sample size police are lurking, and not without reason. But again, look closer. Perez's recent performance is an extension of his improvement the final 5½ weeks of the regular season.
"Remember, he went a long time without playing," Indians shortstop Francisco Lindor said. "He just needed time. If you take away the first 70 to 100 at-bats, he had a good offensive year."
Lindor had it exactly right.
He might have remained nothing more than a backup if Yan Gomes had not suffered a separated right shoulder on July 17, even though Gomes at the time was batting only .165.
He surely would have not have gotten the same opportunity if Lucroy had joined the Indians at the non-waiver deadline. But Lucroy invoked his no-trade clause to Cleveland due to playing-time concerns in 2017, concerns that had everything to do with Gomes and nothing to do with Perez.
The Indians control Gomes at below-market salaries through '21. Catcher Francisco Mejia, who was set to go to the Brewers for Lucroy along with three other prospects, also remains in the organization.
Who knows how this will all play out? At the moment, as the Indians try to win their first World Series since 1948, who cares?
The Indians, with Perez playing every inning at catcher, are 8-1 in the playoffs with four shutouts, tying the major-league record for shutouts in one postseason.
Miller raved about Perez's pitch-framing, game-calling and preparation. So did Indians starter Corey Kluber, who struck out nine and walked none in six scoreless innings.
The three Indians pitchers -- Kluber, Miller and Cody Allen -- had a combined 36 called strikes, tying the team's third-highest total for a nine-inning game this season, according to Inside Edge. The average number of called strikes for one team per game is 24.5.
Asked about Perez's game-calling, Kluber said, "It's almost like he knew what they were looking for." Asked about Perez's pitch-framing, manager Terry Francona replied, "His hands are so soft, and I think he's confident to boot."
Backup catcher Chris Gimenez went further.
"He is phenomenal," Gimenez said. "Blocking, receiving -- he's elite, in my opinion. His game-calling has gone through the roof just from the beginning of this year. And he is literally an elite pitch framer. Even Miller today was like, 'It's so nice having him back there. He makes those 50-50 balls look so good, in the umpire's eye, that's a strike.'"
Perez said that he had never had a night like this offensively, said that it meant a lot, knowing that he has come such a long way. He spent almost six years in the minors before making his major-league debut on July 10, 2014. And until three weeks ago, the entire sport viewed him almost solely as a backup. His entire major-league experience consists of only 138 starts at catcher.
Another Molina? Obviously, it's too soon for such pronouncements. But Perez's defense is good enough to start the comparison. And if his offense follows . . .
It's crazy to say this, crazy to even think it. But in the end, the Indians did not need Jonathan Lucroy.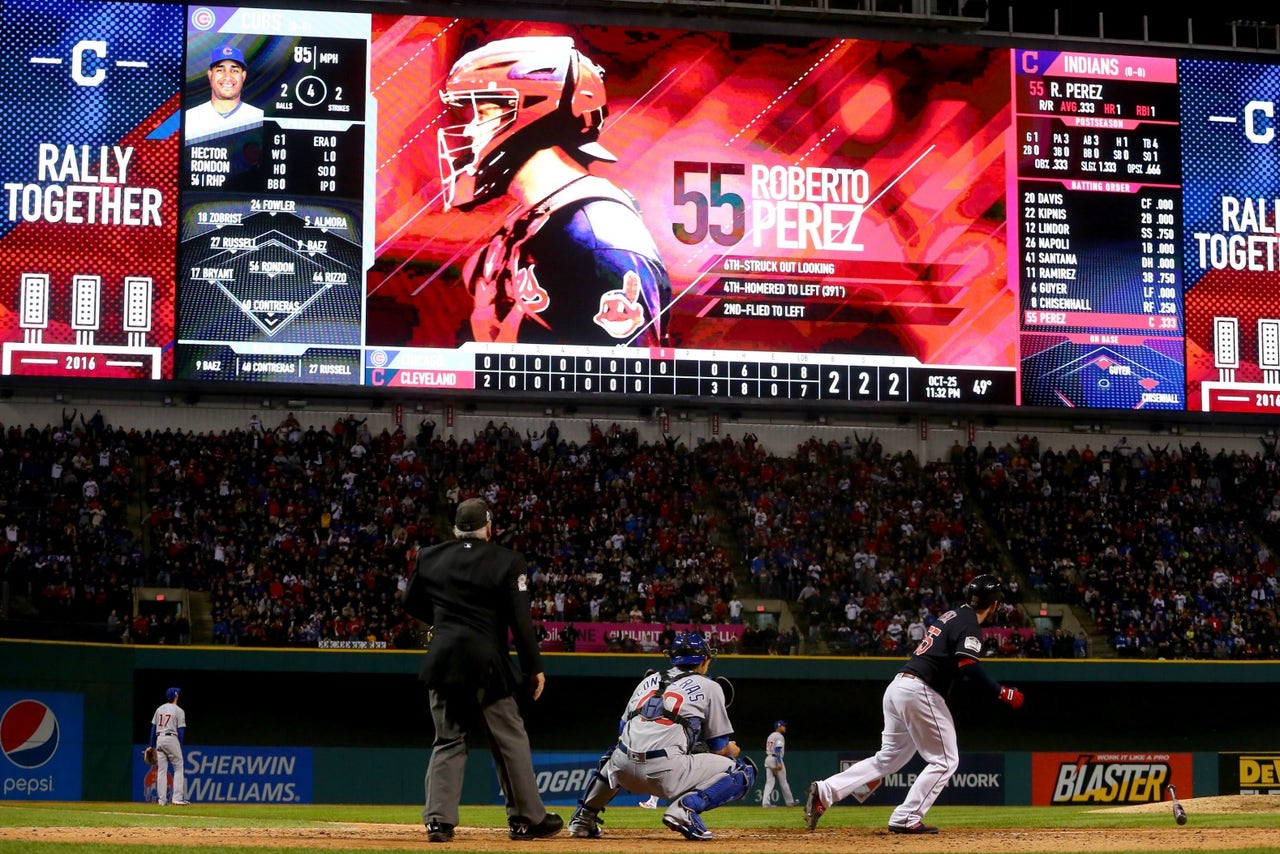 ---
---