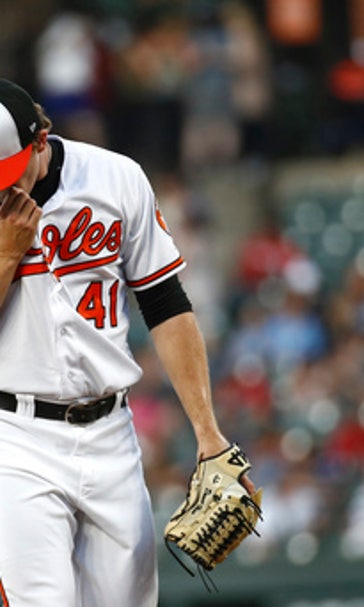 Red Sox back Rodriguez with 2 HRs in 6-4 win over Orioles
June 13, 2018
BALTIMORE (AP) It was the closest thing to a perfect scenario for the Red Sox: Eduardo Rodriguez on the mound against the lowly Baltimore Orioles.
Home runs by Rafael Devers and Andrew Benintendi helped Rodriguez win his fifth straight start, and Boston extended Baltimore's losing streak to six games with a 6-4 victory Tuesday night.
Rodriguez (8-1) gave up two runs and eight hits over 5 2/3 innings to increase a career-best run of success that began on May 20 against the Orioles. Rodriguez is 3-0 this season against Baltimore, the team that gave the left-hander his first professional contract in 2010 and traded him to Boston in 2014.
''Eduardo was good. The next step for him is to go deeper into the game and keep that pitch count down,'' manager Alex Cora said.
It took Rodriguez 109 pitches to get 17 outs, but he left with a 6-2 lead.
''I'm throwing the ball good and I want to keep on doing it,'' Rodriguez said. ''The more wins you get, the closer you get to the playoffs.''
No team in the big leagues has more wins than Boston (46). The Red Sox are 12-1 in Rodriguez's starts, including 5-0 on the road, and 8-1 overall against Baltimore.
Devers hit a two-run drive in the second inning and Benintendi connected in the third for a 3-1 lead. A bases-loaded walk and a run-scoring balk made it 5-2 in the fourth, and Boston coasted from there.
Joey Rickard homered for the Orioles, who own the worst record in the big leagues (19-47) and have endured six losing streaks of at least five games.
Before Mark Trumbo doubled in two runs in the ninth, Baltimore was 1 for 11 with runners in scoring position. And despite that hit, the Orioles are 3 for 48 in that situation during their current skid.
Rookie pitcher David Hess (2-3) stumbled in his sixth big league start, allowing five runs, five hits and a career-high four walks in 3 1/3 innings.
''At the end of the day, if I execute some pitches a little bit better I think the results are different,'' Hess said. ''But that's a good lineup. You've got to be at your best going out there and tonight I wasn't.''
Baltimore reliever Zach Britton made his season debut, six months after undergoing surgery for a ruptured right Achilles tendon. The lefty pitched a scoreless seventh inning.
''It almost felt like my debut, like an out-of-body experience,'' Britton said. ''It was weird.''
TAKE A SEAT
Red Sox: OF Mookie Betts was held out of the starting lineup, one day after ending a 14-game stay on the disabled list with an abdominal strain. Cora said he didn't want to push Betts so soon after his return, but intends to start him in Wednesday's series finale.
Orioles: Struggling 1B Chris Davis (.150 batting average, 86 Ks) was benched and likely will also be held out of the starting lineup Wednesday, manager Buck Showalter said.
WELCOME, KID
The Orioles agreed to terms with first-round pick Grayson Rodriguez, a right-hander from Central Heights High School in Texas. Selected 11th overall, Rodriguez was introduced to the crowd in the fourth inning.
TRAINER'S ROOM
Red Sox: Relief pitcher Carson Smith, who hurt his shoulder last month when he threw his glove in the dugout after giving up a home run to Oakland's Khris Davis, will have surgery Wednesday and could be lost for the season, Cora said. ... There is no timetable for the return of 2B Dustin Pedroia (knee), a four-time All-Star who was placed on the disabled list June 2. The team will wait until the inflammation subsides before taking the next step.
Orioles: RHP Andrew Cashner was placed on the DL with back spasms. He's expected to miss only one start. ... SS Manny Machado returned to the lineup after sitting out with an illness Monday.
UP NEXT
Red Sox: Chris Sale (5-4, 2.83 ERA) tries to end a run of three straight losing starts on Wednesday.
Orioles: Baltimore takes another stab at becoming the final major league team to win 20 games in 2018. Yefry Ramirez will be recalled from Triple-A Norfolk to replace Cashner as the starter.
---
More AP baseball: https://apnews.com/tag/MLBbaseball
---
---