Philadelphia Phillies
Philadelphia Phillies
Phillies send out Lively arm for series finale vs. Braves (Jun 08, 2017)
Published
Jun. 8, 2017 2:13 a.m. ET

ATLANTA -- Philadelphia Phillies rookie right-hander Ben Lively will be trying to build off his impressive major league debut as he faces the Atlanta Braves on Thursday night in the finale of the teams' four-game series at SunTrust Park.
In contrast, veteran knuckleballer R.A. Dickey -- Lively's senior by 17 years -- will be trying to recapture some of what made him a Cy Young Award winner five seasons ago as he takes the mound for the Braves.
Lively (1-0, 1.29 ERA) gave the Phillies a big lift on Saturday, allowing four hits and a run in seven innings at Philadelphia in a victory over the San Francisco Giants. The 25-year-old also had a hit to make it a memorable first game.
"The thing that impressed me the most is he showed no fear," Phillies manager Pete Mackanin said. "From the first pitch on, he pitched like he belonged here."
Lively became the first Philadelphia rookie to pitch seven innings and allow four or fewer hits and one or fewer runs in his debut since Gavin Floyd on Sept. 3, 2004.
More important for the Phillies, who had lost 26 of their previous 33 games, was that Lively became the first Philadelphia starter to post a victory since April 27.
Lively did it without a strikeout.
"They were swinging, putting the ball on the ground, and if they were going to keep doing that, I'll keep rolling with it," said Lively, who walked three and threw 98 pitches.
Dickey, who signed a one-year deal for $7.5 million as a free agent, has struggled to control his knuckleball while going 3-4 and posting a 5.10 ERA in 11 starts.
The winner of the National League Cy Young Award in 2012 has more walks (34) than strikeouts (32) in 65 1/3 innings, walking at least three in a game seven times. Dickey hasn't won since May 2.
"I'm somewhat embarrassed about the way I've been throwing this year," he said. "I'm traditionally a slow starter, but I've never walked this many guys in my life. ... I can take the little bleeder hits and all of that, but I can't walk this many guys."
Dickey is 5-5 with a 3.12 ERA in 13 career starts against the Phillies.
"You're going to have stretches of bad luck, and I have had some bad luck, but I've made some of my own bad luck, too," Dickey said. "That has got to change."
The Braves can gain a split of the four-game series after snapping the Phillies' four-game winning streak with a 14-1 romp on Wednesday.
Atlanta scored four times in the seventh inning and six times in the eighth, with Philadelphia infielder Andres Blanco taking the mound and giving up the final two runs on a homer by Matt Adams.
The 14 runs mark the Braves' most since a 15-13 victory over the Phillies in 11 innings on May 2, 2012.
The Phillies had taken the first five games against the Braves this season, including a three-game sweep in Philadelphia in April. They won 11-4 on Monday and 3-1 on Tuesday in Atlanta.
---
---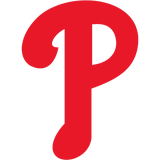 Get more from Philadelphia Phillies
Follow your favorites to get information about games, news and more
---