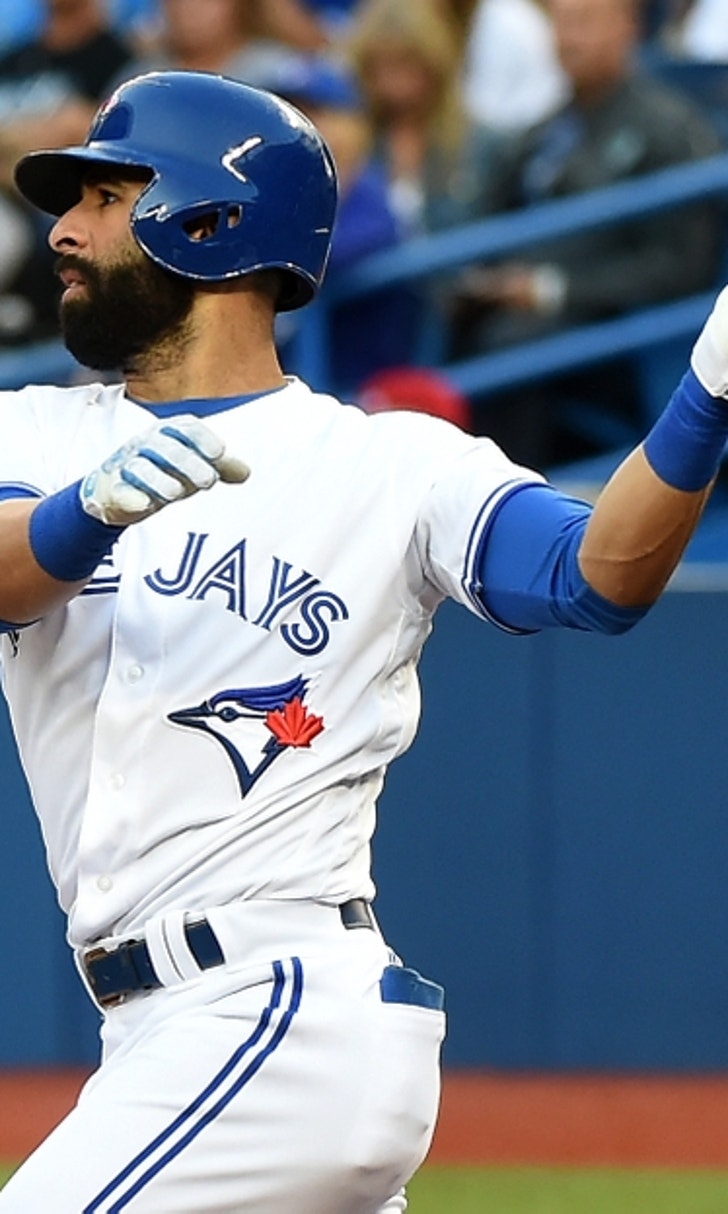 Phillies Rumors: Is Free Agent Jose Bautista A Short-Term Option?
BY Fansided and Gary Brinson/FanSided via That Balls Outta Here • December 15, 2016
Oct 19, 2016; Toronto, Ontario, CAN; Toronto Blue Jays right fielder Jose Bautista (19) hits a double during the ninth inning against the Cleveland Indians in game five of the 2016 ALCS playoff baseball series at Rogers Centre. Mandatory Credit: Nick Turchiaro-USA TODAY Sports
Jose Bautista, even after coming off a down year, is a star. As his market continues to dwindle, the Phillies make more and more sense as a fit.
More from That Balls Outta Here
As much as we want to deny it, not see it, whatever, the Phillies still need another bat. Not guys like Edwin Encarnacion, Mark Trumbo, Mike Napoli, Chris Carter, and Mark Reynolds (all are 1B).
And unless they're really desperate for a platoon/backup 1B/3B/OF player – free agents like Brandon Moss (1B/OF), Luis Valbuena (INF), and Trevor Plouffe (3B/1B/ OF) – could probably be ruled out as well (especially with the Richie Shaffer claim).
I've touched on the possibility of one-year corner outfield options for the team, and Matt Klentak has said he wouldn't rule out any short-term deals that do not block prospects, so here's one wild idea for the Phillies: sign free-agent outfielder Jose Bautista.
Here's why it works:
Jun 15, 2016; Philadelphia, PA, USA; Toronto Blue Jays right fielder Jose Bautista (19) stretches before his at bat against the Philadelphia Phillies at Citizens Bank Park. Mandatory Credit: Eric Hartline-USA TODAY Sports
Jose Bautista is coming of a down year by his standards, but he's still one helluva upgrade for the Phillies.
Jose Bautista had the worst season of his Blue Jays career in 2016. He missed 30 games due to turf toe (that happened against the Phillies), and later landed on the 15-day-DL with a knee sprain. The injuries held Bautista to just 116 games in 2016, but he also played with a neck and quad injury throughout the season as well.
He finished with 22 HR and 69 RBI, slashing .234/.369/.452 (.817 OPS, 117 OPS+), ending the season with a very un-Bautista like 1.0 WAR.
The Real Bautista
Live Feed mlb free agency
Let's take a step back. From 2009-2015, Bautista posted staggering numbers. On a 162 game average, Bautista averaged 42 HR and 107 RBI, with a .265/.386/.540 (.926 OPS, 150 OPS+) slash line. He also averaged a 5.1 WAR/season during that stretch.
Even with his difficulties this past season, his OPS and OPS+ would've been the highest on the Phillies. His 22 HR would've been good for third on the club (behind Franco and Howard), his 69 RBI would've put him behind Maikel Franco for the team lead (88), and his .369 OBP would've placed him right behind Cesar Hernandez's team leading .371 OBP.
Take it for what you will, but over his last 45 games of the season Bautista did slash .255/.381/.467 (.848 OPS) with 9 HR and 26 RBI. In a smaller sample, he hit .269/.437/.537 (.974 OPS) over his last 20 games.
He's never been a great defender, but playing alongside gold glove finalist Odubel Herrera should help ease the burden. Even at his age though, Bautista still is a fundamentally sound defender with a .987 fielding percentage as a left fielder (where he'd presumably play).
Unless something drastic occurs (and he's well-known for his body treatment), Bautista is a safe bet to return to his old-self at the plate.
Oct 26, 2015; Philadelphia, PA, USA; Philadelphia Phillies president Andy MacPhail introduces new general manager Matt Klentak during a press conference at Citizens Bank Park. Mandatory Credit: Bill Streicher-USA TODAY Sports
The market hasn't been kind to sluggers, but the Phillies are in a position to be very kind to Jose Bautista.
The qualifying offer system, carried with the position players on the market with similar stances, have hurt sluggers like Bautista. Yoenis Cespedes, 31, was the big winner of the offseason with his four-year, $110 million deal, but he was the top of the class, and the Mets didn't lose a pick to retain him.
Ian Desmond ($70 million, Rockies) and Dexter Fowler ($82 million, Cardinals) received five-year deals, both will be 31 heading into the 2017 season, and both cost their new clubs first round picks. That surely means Jose Bautista is still likely to get at least a two or three-year deal this offseason, right? But from who? And at what price?
Want your voice heard? Join the That Balls Outta Here team!
Reports suggest that Bautista has little-to-no market at the moment, for teams planning on contending (realistic fits) are weary of giving a lengthy deal to a 36-year-old at the expense of a first round pick (added in with the salary risks). So while Bautista would prefer a ready contender, that just might not be in the cards.
Of the ten teams with protected first rounders – there's only one team that has the need, money, and farm depth to coup the loss of a second round pick right now – the Phillies. And maybe Bautista would provide enough production to help the team become contenders. Heck, maybe they're not as far away as people may think.
So, is there a deal that works for both sides? Considering the Phils have just $91.5 million committed for 2017 – and an even lower $29.4 million committed for 2018, with a similar free agent market for hitters – yes, there is a deal that works for both sides.
Not anything too crazy, but a two-year deal, for around $44 million with a team option for a third season ($18-$22 million, $2-$4 million buyout), is something I think both sides could walk away happy with.
Jun 29, 2016; Phoenix, AZ, USA; Philadelphia Phillies second baseman Cesar Hernandez against the Arizona Diamondbacks at Chase Field. Mandatory Credit: Mark J. Rebilas-USA TODAY Sports
Signing Jose Bautista would mean the Phillies forfeit their second round pick. But there's a way to replenish that loss.
While the preference in any Cesar Hernandez trade would be a big-league contributor, signing a player like Jose Bautista could create a different opportunity for the Phillies.
It would be much easier for the Phillies to get prospects in return for Hernandez, there's much less risk involved for other clubs. And if signing Bautista meant the loss of a second round pick, than Cesar Hernandez can presumably make up for that loss with a trade return, and Howie Kendrick could than shift over to second base.
He's Not Blocking Anyone
Now it's also time to debunk the myth that signing Bautista would block an upcoming prospect, because he wouldn't be. Unless they consider Tyler Goeddel or Aaron Altherr more than a platoon player/extra outfielder, than the Phils wouldn't be holding anyone up.
Roman Quinn can still start until Nick Williams is ready, in which he'd than shift to a fourth outfielder role. Giving both Herrera and Williams breaks against lefties whenever, and replacing Bautista one or two times a week for rest, not to mention potentially becoming a valuable pinch hitter/runner and late game defensive sub.
Top prospects such as Dylan Cozens, Mickey Moniak, and Cornelius Randolph are all at least a year or two away. Cozens needs more polishing in his still very raw game, while Moniak and Randolph are still in the early stages of their developments.
When you factor in the Phillies financial situation (very good), it makes any short-term contract tradable. And a player like Jose Bautista wouldn't be hard to trade if the Phils felt they needed the roster spot. So no, he wouldn't be blocking anyone, and you could even argue this would be putting the kids (Quinn, Williams) in the best situation to provide value upon arrival.
Mar 13, 2016; Tampa, FL, USA; Philadelphia Phillies right fielder Nick Williams (79) hits a RBI doubles during the second inning against the New York Yankees at George M. Steinbrenner Field. Mandatory Credit: Kim Klement-USA TODAY Sports
The Phillies offense would look a whole lot deeper with the six-time all-star in the middle of it.
If Nick Williams is ready sooner than expected this season, the addition of him along with veterans Bautista and Kendrick could make the Phils offense pretty darn exciting.
At say, middle May, if the plan is on the right track, the Phillies lineup could look something like this:
Add in a bench of Roman Quinn, Cameron Rupp, Andres Blanco – and two of Altherr, Goeddel, Shaffer, or Daniel Nava – and the Phils could have something cooking.
Apr 28, 2016; Washington, DC, USA; Philadelphia Phillies manager Pete Mackanin (45) in the dugout during the first inning against the Washington Nationals at Nationals Park. Mandatory Credit: Brad Mills-USA TODAY Sports
Is this a plan the Phillies could follow heading into the 2017 season?
With this mold (signing Bautista, trading Hernandez), the Phillies will have potentially drastically improved their offense, replenished the lost of the second round pick, created playing time for Nick Williams, carved a role out for Roman Quinn (while saving some wear-and-tear on his body), and opened the door for top prospect J.P. Crawford.
As mentioned, the Phils financial situation enables to move on from a potential signing like Bautista, or an actual acquisition like Kendrick, whenever they feel fit. But for the time being, there's a good chance Bautista (and Kendrick) would improve the offense now, while helping the development of the current young nucleus of players as well.
Bautista's market is definitely something to keep an eye on, if it continues the path its on, Pete Mackanin could get his veteran middle-of-the-order bat for the Phillies after all.
---
---