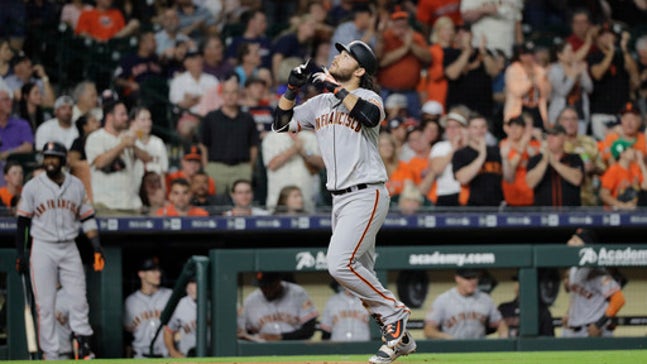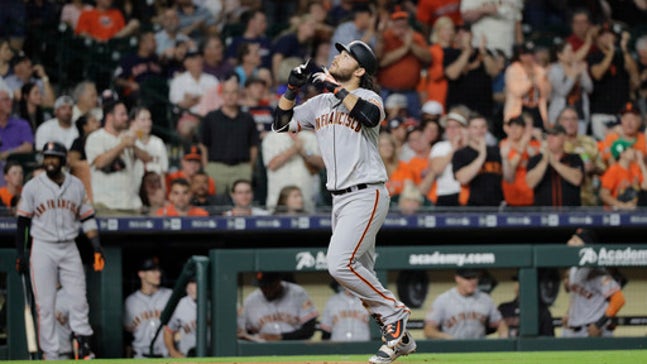 Oh brother: Cole's good game blemished by HR from Crawford
Updated
Mar. 4, 2020 3:29 p.m. ET
HOUSTON (AP) Gerrit Cole's only major miscue against San Francisco came on a pitch to Brandon Crawford that will give his brother-in-law some bragging rights at family gatherings for years to come.
Cole struck out eight over six innings to lead the Houston Astros to an 11-2 victory over the Giants on Tuesday.
Both runs off Cole (5-1) scored on a fifth-inning home run by Crawford, whose sister Amy is married to Cole.
Cole said he probably was due for one after Starling Marte robbed Crawford of a homer against him in the deepest part of the ballpark in Pittsburgh when he played for the Pirates.
''He was already kind of in the red there, minus-1,'' Cole said. ''So it was fitting that he took a good pitch, put a good swing on it and got the home run. So obviously not thrilled about it, but I'm not terribly disappointed either.''
Crawford entered 4 for 18 off the right-hander. He singled in the second inning to extend his hitting streak to nine games, then got his first extra-base hit against his in-law with the home run that cut the lead to 5-2.
''The single, I kind of looked over at him just to see if he'd smile and think that bloop single was funny at all. He didn't,'' Crawford said. ''The homer, I didn't look at him at all.''
The shortstop doesn't plan to bring it up with Cole when the families meet up in the offseason.
''We'll talk about baseball plenty, but we don't really talk about our at-bats,'' Crawford said.
Cole recalled that Crawford signed a bat he broke on a single off him in his debut in 2013 and sent it over. So after Tuesday's game Cole returned the favor with a gift that was a nod to Giants broadcasters Duane Kuiper and Jon Miller.
''I signed the pair of cleats that I pitched in tonight and I wrote Kuiper's Call, `Outta Here' on the one and then Jonny Miller's `Adios Pelota' on the other and I sent it over,'' Cole said. ''Try to have a little fun.''
The rest of the game was all Astros, with Tony Kemp leading the way with two hits and a career-high five RBIs in the first meeting between these teams since 2015. Alex Bregman and Jose Altuve added two RBIs apiece as Houston won for the fifth time in six games.
''We score double digits and don't hit a home run, I think we'll take that every night,'' manager A.J. Hinch said. ''It was a really good night of offense by a lot of different people in the lineup.''
Cole improved to 3-0 in his last five starts, allowing two hits to Giants who aren't part of his family and walking three. He leads the American League with 101 strikeouts.
Houston jumped on left-hander Andrew Suarez (1-4), who was making his sixth major league start, for five runs and seven hits in four innings. Evan Gattis and Max Stassi hit consecutive doubles to start Houston's third and make it 1-0. Stassi scored on a single by George Springer and Bregman followed with a double for a 3-0 lead.
Kemp hit a two-run single in the fourth.
Houston tacked on four runs in the sixth inning, with two coming on a single by Altuve, and added two more in the seventh on a single by Kemp, who was called up Triple-A Fresno on Wednesday.
TRAINER'S ROOM
Giants: LHP Madison Bumgarner, on the DL since spring training with a broken pinkie on his throwing hand, threw 30 pitches on Tuesday in his first action against hitters since he was injured. Manager Bruce Bochy said Bumgarner could begin a rehabilitation assignment at Triple-A Sacramento on Saturday. ... Reliever Mark Melancon, who has missed all season with a strained right elbow, threw six pitches in the first game of a rehabilitation assignment with Sacramento on Monday. Bochy said he could pitch again as soon as Wednesday since he threw so few pitches on Monday. ... Reliever Jose Valdez was placed on the 10-day DL retroactive to Saturday with inflammation in his right elbow and left-hander Josh Osich was recalled from Sacramento to take his spot on the roster.
PLAY FOR SANTA FE
The Astros wore T-shirts during batting practice on Tuesday to honor the victims of last week's Texas school shooting that left 10 people dead. The shirts have ''We Play For Santa Fe'' on them and are in the school's colors. The green shirts feature the school's name in gold letters and the Astros logo in white with a gold star. The Astros wanted to do something to show their support for those affected by the shooting in Santa Fe, which is about 30 miles (48 kilometers) from their ballpark in downtown Houston.
''We offer support and our intention with these shirts on how to keep the conversation alive on how to hopefully avoid the next one,'' Hinch said.
UP NEXT
Houston RHP Justin Verlander (5-2) opposes San Francisco RHP Jeff Samardzija (1-2) in the conclusion of this two-game series on Wednesday. Verlander lowered his ERA to an MLB-leading 1.05 by allowing five hits in a shutout of the Angels in his last start. Samardzija threw a season-high 6 2/3 innings in his last start, the Giants' 12-inning loss to Colorado.
---
More AP baseball: https://apnews.com/tag/MLBbaseball
---
---