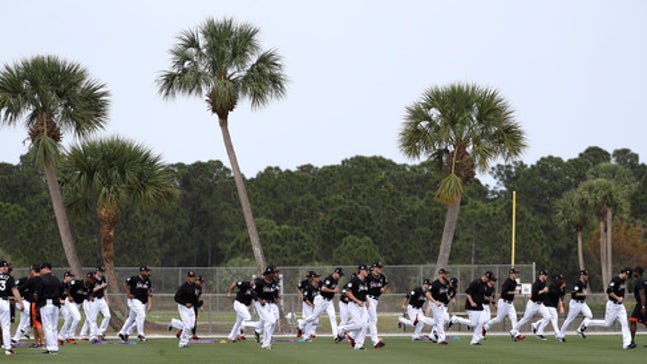 New stage of grieving for Miami Marlins as camp opens
Updated
Mar. 4, 2020 4:32 p.m. ET

JUPITER, Fla. (AP) Even before the first workout of spring training began, Miami Marlins closer A.J. Ramos felt Jose Fernandez's absence - and presence.
Ramos lingered a little too long in the clubhouse and had to scramble to join his teammates for the start of stretching. He barely avoided a fine.
''I was almost late,'' Ramos said. ''Right off the bat, Jose would have yelling at me. I could hear his voice.''
The Marlins entered a new stage of grieving Tuesday when pitchers and catchers reported for spring training. Miami has five new pitchers, a more robust payroll than usual and high hopes of ending a 13-year postseason drought, but much of the conversation before and after the workout focused on the tragic void the team will feel all season.
Miami's charismatic ace and two companions died in a boat crash a week before the end of the 2016 season. The winter allowed for only partial healing.
''I don't think you ever fully heal from losing someone like that,'' Ramos said. ''You just cope with it.''
The Marlins wore patches bearing his No. 16 on the front of their uniforms in memory of Fernandez, as they will do all season. Plans are being formulated to honor him on opening day and at the All-Star Game, which will be at Marlins Park.
''One of the last things we talked about,'' team president David Samson said, eyes glistening, ''was him starting the All-Star Game on July 11 in Miami.''
Manager Don Mattingly and his players spoke of honoring Fernandez going forward by playing the way he did.
''The picture I like to think about is Jose the little kid,'' Mattingly said. ''The way he played was with that joy you have when you started playing. That's really special. You'd like your guys to have that feeling.''
Fernandez's locker at Marlins Park will remain vacant, Samson said, as the team strives to balance paying respect with the need to move on.
Among those trying to move on Tuesday was Jeffrey Loria, who sat in a golf cart watching the start of spring training for perhaps the last time as an owner. He's negotiating to sell the team, lending uncertainty to the franchise's outlook this year.
Loria declined to talk to reporters, and players had little to say about a possible sale.
''It has no impact on how we play,'' outfielder Christian Yelich said. ''We don't get any of the money if it's sold.''
Position players aren't required to be in camp until Friday, but Yelich was one of the early arrivals. Others included Giancarlo Stanton and Dee Gordon, who stood at his locker, looked down the row at Fernandez's stall and slowly shook his head.
''It's weird,'' Gordon said. ''We'll get through it, but it's weird. I was looking for him in the weight room, and he wasn't there. It was a little quieter in there.''
The Marlins were also mindful of Fernandez's family. Samson spoke by phone with Fernandez's girlfriend, who is expecting to give birth soon to their daughter.
Gone were the raw emotions of last September's final games - the group embraces, prayerful pauses on the field and tears shed in mourning, even during a home-run trot.
But there were more hugs than usual in the clubhouse on this Valentine's Day. Players spoke of their lasting bond forged by the tragedy of Fernandez's death.
''Everybody knows what we went through at the end of last year,'' Yelich said. ''It's tough for everybody to come back to camp and realize he's not going to be here. But we got through it together then, and we'll do the same now.''
---
---