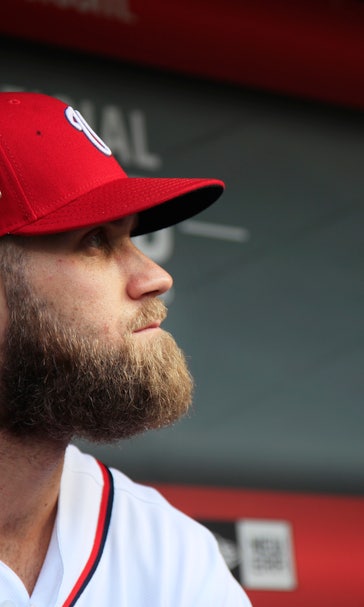 Nats failed to get over the hump; what happens with Harper?
October 1, 2018
WASHINGTON (AP) — Not only did the 2018 Washington Nationals fail to get over the hump — despite those infamous camels — they didn't even make the postseason, let alone finally win a playoff series for the first time.
"It's not something you want to go through," Bryce Harper said. "You have all the hopes and aspirations to be one of the best teams in baseball in spring training. We did what we could to possibly get there, but we didn't do enough."
Now the big question looming over the earlier-than-expected offseason becomes whether Harper will leave as a free agent.
"Nobody knows if I'm going to be back or nobody knows if I am going to be in a different uniform," the 2012 NL Rookie of the Year and 2015 NL MVP said. "If something happens, I am not afraid of change."
Plenty of roster shuffling is expected for a club that finished 82-80 for second place in the NL East under rookie manager Dave Martinez after winning two consecutive division titles with the discarded Dusty Baker.
Nothing will matter quite as much as what happens with Harper, who is not only one of the on-field leaders of the Nationals, he is one of the most prominent players in the entire sport.
That's why the slugging outfielder, who posted team highs of 34 homers, 100 RBIs, 103 runs (tied) and 130 walks, should get a contract worth hundreds of millions of dollars, perhaps even surpassing the record for the largest deal in baseball history.
"With these type of deals you're talking about, you're not betting on the baseball player, you're betting on the person," general manager Mike Rizzo said. "And he's a person we'd like to have with us."
A resolution to that, however it goes, would help Rizzo determine what resources he has to use toward all of the other issues that need addressing.
"I consider this year an anomaly," Rizzo said.
A look at what else to know about the Nationals as thoughts turn to 2019:
INJURIES TO BLAME?
Both Rizzo and Martinez — along with some of their players — pointed to injuries as a contributing factor in the disappointing season. 1B Ryan Zimmerman, 2B Daniel Murphy, OF Adam Eaton and C Matt Wieters each played in fewer than 100 games. Key backup Howie Kendrick played in only 40. RHP Stephen Strasburg missed about a third of the season. 3B Anthony Rendon was sideline for a few weeks early on. Closer Sean Doolittle and other members of the bullpen sat out stretches, too. "We were always missing pieces," Martinez said. "As we (cleared) one hurdle, something happened."
MARTINEZ'S FUTURE
There have been questions about whether Martinez will keep his job. Rizzo has been supportive, although the GM seemed to be in Baker's corner, too. "We haven't considered anything else. We think he's got a firm grasp on the clubhouse. He's doing a good job in the dugout," Rizzo said. "I think he's getting better each and every day, each and every game." As for what Martinez thinks he might do differently next season? "We're going to spend a lot more time on just the fundamentals of baseball and doing the little things," he said. "Because little things, to me, can become really big things."
SCHERZER AND STRASBURG
Max Scherzer's 300 strikeouts, 2.53 ERA, 220 2/3 innings and various other stats showed once again how valuable the righty is. Beyond him and Strasburg, though, there's not much there in the rotation. Washington could add at least two, maybe three, starters.
SOTO AND ROBLES
The most promising news of 2018 was the discovery of 19-year-old outfielder Juan Soto, the NL Rookie of the Month in June, July and September who finished with a .292 average, 22 homers, 70 RBIs and 79 walks. Only two other teenagers (Harper was one) ever hit 20 HRs in a season. Another young outfielder, 21-year-old Victor Robles, also appears to be a keeper.
SO MANY NEEDS
The Nationals must find starters at second base and catcher. They need bullpen help. They need new bench pieces.
---
---