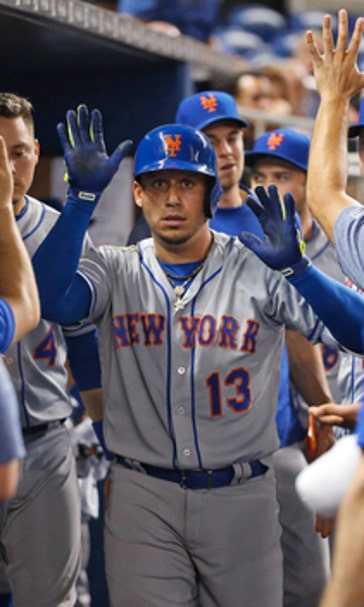 Mets beat Marlins 8-6 for 7th straight win
April 10, 2018
MIAMI (AP) Despite a fever and sickly batting average that were probably related, New York Mets slugger Yoenis Cespedes had no interest in taking a day off.
And the Mets were glad to have him at the plate with the game on the line Tuesday night.
Cespedes hit a two-run double to break a tie in the ninth inning, giving the Mets the best 10-game start in franchise history when they beat Miami 8-6.
The Mets (9-1) earned their seventh consecutive victory, their longest winning streak in two years.
Cespedes kept the streak going by snapping a 1-for-21 slump that included 13 strikeouts. It's probably no coincidence he has been fighting a bad cold since last weekend.
''He has been feeling terrible and still playing,'' manager Mickey Callaway said. ''I'm trying to sit him. `Hey Ces, do you need a day? Do you need a day?' He didn't want one. He won us the game today. For him to battle through what he's going through is pretty good.''
Asdrubal Cabrera hit a pair of solo homers for the Mets, who blew a three-run lead and then came from behind. They've won four consecutive series to open a season for only the second time ever, and the first time since 2006.
It was another dismal night for Miami (3-8) and new CEO Derek Jeter. The Marlins were blown out 20-1 Saturday at Philadelphia, the worst defeat in franchise history, but manager Don Mattingly said the latest loss was worse.
''These kind of sting,'' Mattingly said. ''These are the games you want to put in the win column.''
To compound the misery, for the second night in a row Miami drew the smallest crowd in the seven-season history of Marlins Park. Attendance was 6,516.
Miami's Justin Bour hit his first two home runs of the season, each with a man on.
The score was 6-all in the ninth when Amed Rosario reached on a throwing error by third baseman Brian Anderson. Brad Ziegler (0-2) walked Michael Conforto, and Cespedes bounced a one-out double down the line just past Anderson.
Even with the hit, Cespedes still felt crummy after the game.
''I'm not going to say I feel good, because I'm not OK,'' he said through an interpreter. ''No fever anymore, but I feel something in my throat and I'm congested in my nose, so I can't breathe well.''
Why did he play?
''The only way I can get out of this slump is to take at-bats and go out and do what I do, which is hit,'' he said.
The double hiked his average to .190.
Hansel Robles (2-0) pitched a scoreless eighth. Jeurys Familia followed with a perfect ninth for his sixth save, most in the majors.
The Mets' Jacob deGrom couldn't hold a 3-0 lead, and Bour's two-run homer put Miami ahead. Bour hit another two-run homer off Jacob Rhame in the seventh to break a 4-all tie.
Solo homers by Wilmer Flores and Cabrera in the eighth off Kyle Barraclough made it 6-all.
DeGrom was a little unlucky in the fifth, when he allowed four runs. Pinch-hitter Yadiel Rivera and Miguel Rojas reached on scratch singles sandwiched around a single by Derek Dietrich. After Starlin Castro hit a sacrifice fly, Bour drove an 0-2 fastball over the wall the opposite way.
DeGrom pitched six innings and then watched his teammates score four runs in the last two innings.
''This is a fun team to be around,'' he said. ''These guys grind out every at bat and find a way. They did a great job of picking me up.''
TRAINER'S ROOM
Marlins: RHP Dan Straily (forearm) said he felt good after throwing a bullpen session, and he hopes he'll need only two rehab starts before joining the rotation. ... C J.T. Realmuto (back) had six at-bats as a DH in an extended spring game.
NOTES
RHP Corey Oswalt's stay with the Mets was brief. Before the game they recalled him from Triple-A Las Vegas and optioned OF Brandon Nimmo to Las Vegas. Oswalt's family flew in from San Diego hoping to see him make his major league debut, but he didn't pitch and was optioned back to Vegas after the game. ... Because of rain in the area, the roof at Marlins Park was closed for the first time this season.
UP NEXT
Mets RHP Zack Wheeler, who is being recalled from Triple-A Las Vegas, will make his first big league start of the season in the series finale Wednesday against LHP Jarlin Garcia (0-0, 1.80), who will make his first career start.
---
More AP baseball: https://apnews.com/tag/MLBbaseball
---
---