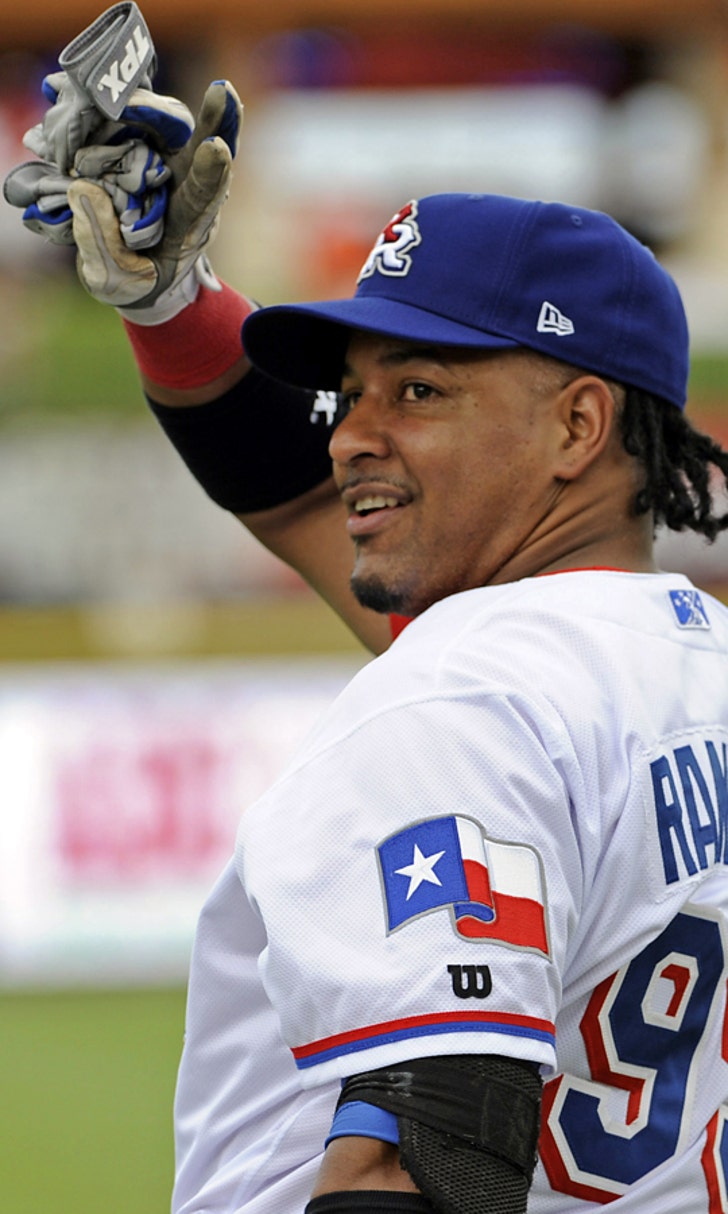 Manny acknowledges mistakes, chases one last chance
BY Ken Rosenthal • March 12, 2014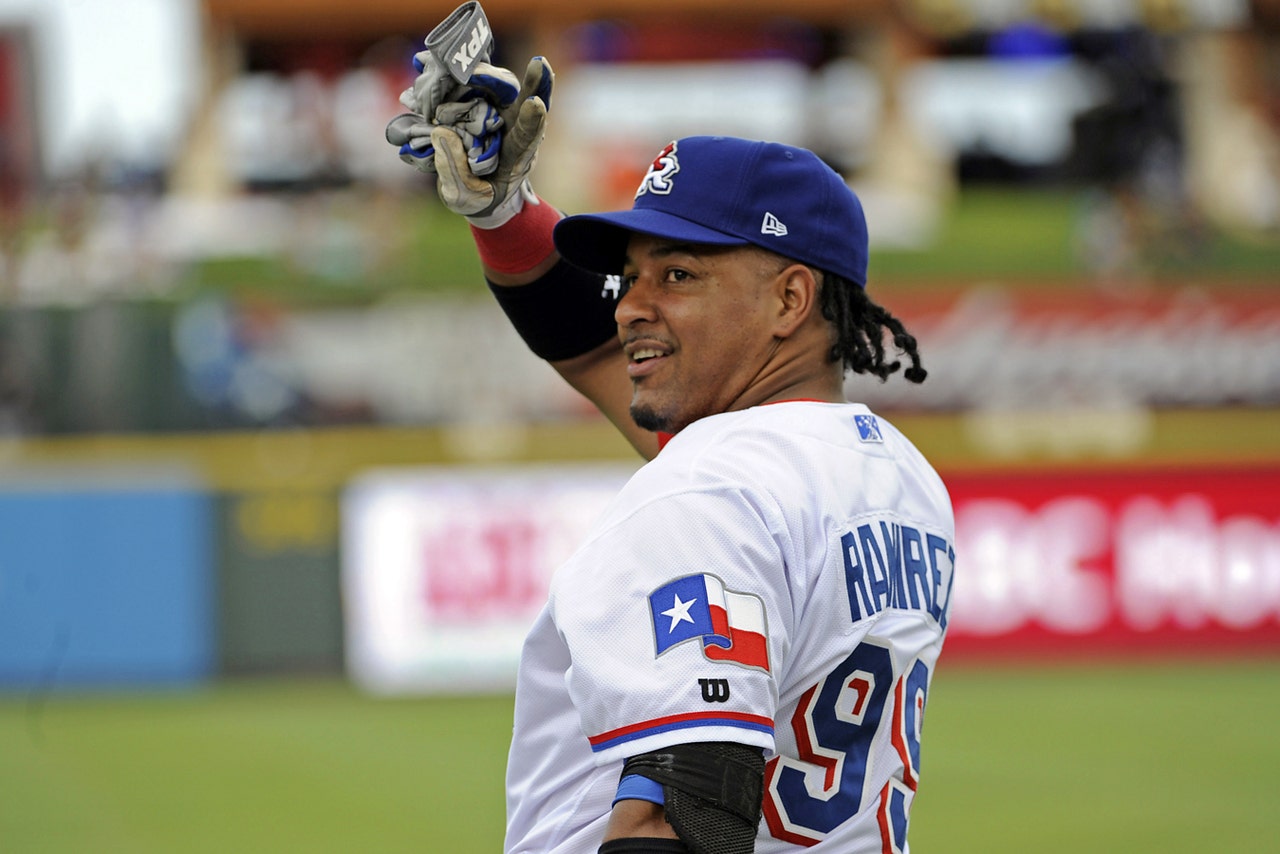 The way Manny Ramirez tells it, he fell down and got back up. Now, as he approaches his 42nd birthday, he wants to play in the major leagues again.
Ramirez, in an exclusive telephone interview from Miami on Wednesday with FOX Sports, admitted that he made mistakes using performance-enhancing drugs. But he said he learned from those mistakes, and wants to share those lessons with younger players.
Yes, this was Manny Ramirez talking, talking in a way that he never has before.
"When you make a mistake in life, no matter what you do, you're going to pay the price," Ramirez said. "That's what happened to all of the players that did it. I'm not going to judge people. Everybody is human. Everybody makes mistakes. ...
"You're going to feel guilty about what you did. But you did it. You move on. And you learn from it."
What would he tell young players about PEDs?
"Not just young players," Ramirez said. "I use myself as an example to my son who is in college, playing baseball: 'Look what daddy went through because daddy didn't do things right.' When you do things right, you don't have to look back. You always look forward.
"Sometimes, we get caught up in the moment. We start hanging out with the wrong people. But you know, everything in life happens for a reason, so you can appreciate what you are.
"Now I appreciate it more and I'm so hungry to get back, just to get that feeling that I used to have before. I appreciate my family more, my kids, everything that God gave me."
Ramirez has acknowledged testing positive for the female fertility drug human chorionic gonadotropin (hCG) in 2009 while with the Dodgers and for artificial testosterone in 2011 with the Rays.
He received a 50-game suspension in '09 and was on the verge of a 100-game suspension in '11, but he referred to his discipline as "the best thing happened to me."
"I appreciate what I have more," he said. "And I know I've got to take care of it. Before I do something, I've got to think twice: 'If I do this, this is going to come out.'
"Before you did things and you didn't worry about the consequences. Now you've got the knowledge and experience. You know you've got to do the right thing."
Ramirez, who turns 42 on May 30, is free to return to the majors; he retired in 2011 to avoid his second suspension, but his penalty later was reduced to 50 games and baseball now considers it served.
The question is whether Ramirez has anything left. He has not appeared in a major-league game since April 2011, failing to escape Triple-A with the Athletics in '12 and Rangers in '13.
In both minor-league stints, Ramirez flashed little of his old power; his combined on-base/slugging percentage of .698 was nearly 300 points below his 19-year major-league OPS of .996.
Ramirez, though, said he adopted a different training regimen this winter, working out at a CrossFit center in Fort Lauderdale, Fla., from 8 a.m. to 9 a.m. and then driving to Miami to hit with former major leaguer Miguel Tejada for the rest of the morning.
He started hitting earlier. He resumed lifting weights, something he did not do a year ago before beginning his season in Taiwan. And he hired a new agent, former major-league shortstop Alex Gonzalez, who said that Ramirez is drawing interest from teams that know he is willing to accept a minor-league deal.
What kind of player does Ramirez think he could still be?
"I could be like Raul Ibanez," Ramirez said, referring to the respected Los Angeles Angels designated hitter who is just three days younger than him and coming off a 29-homer season with the Mariners.
"I look at him, he's such a great person in the clubhouse and a role model ... and he still can play, don't get me wrong. I remember Raul when he was in Seattle. He used to hit .300, hit 30 home runs. Now he might not hit you 35 like he used to, but he can hit you 20 or 25 and help young guys in the clubhouse. That's how I look at myself right now."
But can Ramirez still hit?
"Let me ask you a question," Ramirez said. "I'm 41 years old and you're asking me if I could still hit the way I used to hit. Nobody is going to hit like when they were 25, 27 or 30 when they're 41 years old. I don't care how good you are. It's not going to happen. But you can contribute in other ways."
Ramirez mentioned not just Ibanez as an example of a positive influence, but also the Indians' Jason Giambi, 43. Rangers general manager Jon Daniels, who signed Ramirez to a minor-league contract last July 3 and released him on Aug. 14, said that Ramirez indeed was a good teammate at Triple-A.
"I do think he's at a point where he truly is playing for the love of the game," Daniels said. "He went to (Triple-A) Round Rock --€" no issues. We had an organizational policy on hair €-- no issues.
"He was one of the first guys there each day. He helped some of the younger guys in the cage. The coaching staff spoke really highly of him."
Ramirez said he changed as a person three years ago after facing a misdemeanor domestic-violence charge for allegedly slapping his wife, Juliana, during an argument and spending the night in Broward County Jail.
The state of Florida later dropped the charge after Juliana failed to cooperate with investigators. But Ramirez said the incident prompted him to become a Christian.
"When I came out of jail, the court, they didn't let me see my kids," said Ramirez, who is the father of three sons. "I was sleeping in another house. One day I woke up and looked myself in the mirror. And I said to myself, something needed to change. I needed to change.
"I started going to church, going to Bible study, getting into the Lord. I started reading more and listening to the Lord talking to me. It was awesome. I don't regret it. The Bible says, 'What happens if a man accomplished everything in the word and loses his soul?' "
Ramirez also views his use of PEDs without regret, saying his transgressions led him to a better place.
"In your life, you're going to mature," Ramirez said. "Sometimes you've got to fall and get up to know who you really are. That's what happened to me. I fell. I got up. Now I know what I really want in life."
Ramirez talks about becoming a hitting coach after he retires, starting in the minors and working his way up. But for now, he just wants to keep playing baseball.
"Why not?" Ramirez said. "That's the thing that I love the most. Why not keep doing what I love?"
---
---