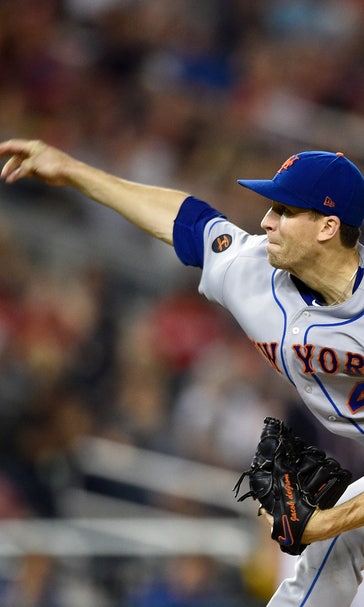 LEADING OFF: deGrom seeks 1 last quality start; Sale for Sox
September 26, 2018
A look at what's happening around the majors on today:
ONE MORE TIME
Jacob deGrom will make the final start of what has been a remarkably consistent season that has him a favorite for the NL Cy Young Award. It also is the last chance for deGrom (9-9) to have a winning record and reach double digits in victories. The Mets right-hander's win total likely would have made him an underdog for the Cy Young in previous decades, but voters are increasingly looking beyond win-loss record to numbers that are more within a pitcher's control. And nobody has controlled opposing hitters like deGrom, who has a record 23 consecutive quality starts, 28 starts in a row allowing three runs or fewer and a 1.77 ERA. He is to face the NL East champion Braves and Sean Newcomb (12-9, 4.04 ERA), who will make his last start before the playoffs.
SHORT-TERM SALE
Red sox ace Chris Sale gets one more chance to work his way back into form after missing a month with a shoulder injury. The left-hander (12-4, 2.00 ERA) threw 73 pitches in 3 1/3 innings in his last start, the longest outing of his three since returning from the disabled list. He'll start the nightcap of a doubleheader against the Baltimore Orioles after Tuesday's rainout in Boston. The Red Sox have clinched the AL East and home-field advantage throughout the postseason.
AMERICAN DEBUT
Felix Hernandez will make the 403rd start of his big league career and his first as an American citizen. The 32-year-old from Venezuela became a naturalized citizen during a ceremony in Seattle on Monday. On the mound, it's been a disappointing season for the 2010 AL Cy Young Award winner, who had a long run as one of baseball's best pitchers. He was briefly demoted to the bullpen last month, and his 5.46 ERA is nearly a full run higher than his career-worst. He faces the playoff-bound Oakland Athletics and resurgent veteran Edwin Jackson (6-3, 3.18 ERA).
---
---