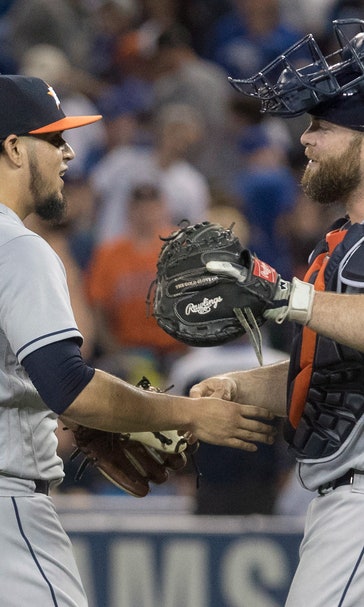 LEADING OFF: Astros, Cubs can clinch; Wright makes comeback
September 25, 2018
A look at what's happening around the majors today:
ON THE CUSP
Houston can clinch its second consecutive AL West title — and a best-of-five playoff matchup against Cleveland — with a win at Toronto and an Oakland loss in Seattle. Rookie right-hander Josh James (1-0, 2.81 ERA) makes his third career start for the defending World Series champions, already assured a postseason spot. Alex Bregman and the Astros, with the top road record in baseball at 53-22, are 99-57 overall and a major league-best 17-4 in September. "Everybody is really excited about us closing in on 100 wins and closing in on a division title," Bregman said, "but there's only one thing on our mind and that's winning the World Series again." The second-place A's locked up at least a wild card Monday night.
PARTY CITY
Looking to wrap up a franchise-record fourth straight trip to the playoffs, the Cubs can punch their ticket with a win over Pittsburgh at Wrigley Field and a loss by either Colorado or St. Louis. Mike Montgomery (5-5, 3.75 ERA) pitches for Chicago, which leads the NL Central by 1½ games over Milwaukee. Montgomery has won all three career starts versus the Pirates and has a 2.30 ERA in nine outings against them.
THE WRIGHT STUFF
The Mets plan to reinstate captain David Wright from the 60-day disabled list when they host NL East champion Atlanta at Citi Field. Wright has been sidelined since May 2016 by back, neck and shoulder injuries that required surgery. Maybe he'll even get in the game — manager Mickey Callaway has said he'd like to give Wright a couple of pinch-hit opportunities ahead of his farewell game Saturday, when the seven-time All-Star is scheduled to start at third base against Miami in what he expects to be his final big league appearance.
CENTRAL CASTING
Milwaukee sends Gio Gonzalez (9-11, 4.28 ERA) to the mound and St. Louis counters with rookie Austin Gomber (6-1, 3.63) in the second game of their big series at Busch Stadium. The Brewers won the opener to take a three-game lead in the wild-card race over the Cardinals, who are a half-game ahead of Colorado for the second spot. Gonzalez is 2-0 with a 1.65 ERA in three starts since he was acquired in a trade with Washington on Aug. 31. Gomber is coming off a solid start at Atlanta, allowing one run in five innings for an 8-1 victory.
NOW HIRING
San Francisco is searching for a new general manager after Bobby Evans was fired Monday. The team said Evans will be reassigned, with responsibilities to be determined. The Giants (72-85) are finishing up their second consecutive losing season. "At this point, we needed to take a fresh approach to baseball operations," CEO Larry Baer said. "We're looking for someone that sort of is the 'next gen' general manager, if you will."
---
---