Colorado Rockies
Colorado Rockies
Larry Walker: The Colorado Star's Case for Cooperstown
Updated
Mar. 4, 2020 2:43 p.m. ET

Fansided, Tim Engquist/FanSided via Rox Pile
The offseason has its own kind of excitement. The biggest headlines are always from trades and free agent signings. Manny Randhawa recently compiled a team of the best free agent signings in the past 40 years. All-time Colorado Rockies great Larry Walker was included on the list as the best signing in right field. Walker brings me to the other subject of great discussion during the offseason … Hall of Fame voting.
Obviously, I am biased, but Larry Walker deserves to be in the Hall of Fame. Walker is currently in his seventh year on the ballot, after receiving 15.5% of votes last year (up from 11.8% in 2015). He rests well above the minimum vote percentage to stay on the ballot year to year (5%) but well below the amount needed for induction (75%). With recent modifications, he has only 10 years on the ballot as long as he stays above that 5% threshold.
First off, Walker's statistics and accolades speak for themselves. He played 17 MLB seasons, 10 for Colorado after coming up with the Montreal Expos and playing north of the border for six years. He finished his career playing a season and a half in St. Louis. He played in almost 2,000 career games aggregating 2,160 hits, 383 home runs and 1,311 RBI. He added 230 stolen bases to the mix as well.
Walker's career batting average was .313 but posted seasons where he hit a ridiculous .363, .350 and .379! He won the National League batting title in all of these years (1998, 1999 and 2001). His career on base percentage was .400 and his slugging percentage stands at .565. This gave him a career OPS of .965 and an OPS+ of 141. To go along with his batting titles, he won the National League MVP award in 1997 when he hit 49 home runs, drove in 130 and slashed .366/.452/.720, an OPS of 1.172. He earned seven Gold Gloves and was selected for five All-Star games over his career.
More from Rox Pile
A way to make a little more sense out of Walker's HOF claim is to compare him to the other players on the ballot this year, as well as players who are already inducted.
On this year's ballot, there are 34 players. Walker's career WAR of 72.6 ranks him sixth, trailing Barry Bonds, Roger Clemens, Mike Mussina, Curt Schilling and Jeff Bagwell. All five of these players would almost certainly be bound for Cooperstown without some steroid allegations and other off the field problems. Walker had no such issues.
Even more impressive is the WAR7 ranking, or the cumulative WAR of a player over their best seven seasons. Walker's value of 44.6 is fifth-best on the ballot this year, trailing Bonds, Clemens, Schilling and Bagwell. Walker's career OPS of .965 is third-best of all players on the ballot as well. Clearly, Walker should be much better than 15th, which is where 15.5% of votes ranked him last year.
The other comparison for Walker is how he compares to players already inducted into the Hall of Fame. The average career WAR for players in the Hall of Fame is 69. Walker is well above that at 72. His WAR7 is also above HOF average with 44.6 compared to 43. Even when compared to only Hall of Fame right fielders, Walker's WAR is 11th, just in the top half of all 24 right fielders.
Mandatory Credit: Tom Szczerbowski-USA TODAY Sports
So why is Walker not getting the love he seems to deserve from the Hall of Fame voters? The answer seems to always be Coors, and it's not different here. It is hard to get quite as much love for great offensive stats when you are playing in the Mile High City. It is unfair, especially considering Walker's OPS+ of 141 ranks him 35th all time, tied with Chipper Jones and David Ortiz. His OPS+ also ranks 5th of all the players on the ballot this year, which is adjusted for ballpark considerations.
The other problem for Walker is he struggled to stay healthy so his "counting stats" are lower than many of the voters want. The best response to that is by pointing out his WAR and WAR7 values, making him more valuable than most people on the ballot regardless of how long people were playing. His career average, HR, RBI, SB, OPS and doubles career totals also rank him in the top 40% of all current Hall of Famers. So despite playing in the steroid era where offensive numbers skyrocketed in baseball history, Walker's numbers more than deserve induction.
Offense is the easiest stat to track in baseball so it gets the most attention in Hall of Fame voting … and arguments for which players should be included. If offense is the only thing considered, then Walker deserves more votes as shown above with these comparisons.
But he was so much more than just a hitter, as he was an outstanding right fielder who earned seven Gold Gloves. He also was a strong baserunner who could help his team in many different ways. The true 5-tool player that Walker was goes underappreciated, and provides even greater support for his claim.
Larry Walker deserves to be in the Hall of Fame.
---
---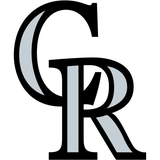 Get more from Colorado Rockies
Follow your favorites to get information about games, news and more
---