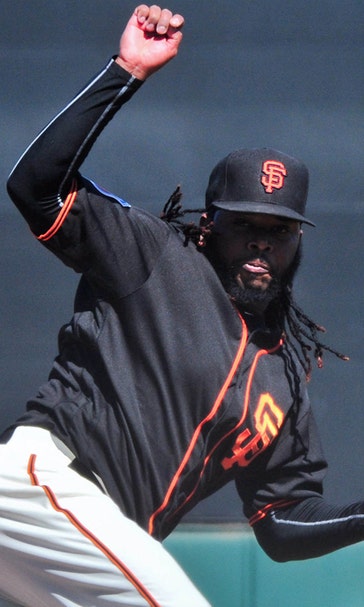 Johnny Cueto treated for bruise after being hit in head by comebacker
March 15, 2016

San Francisco Giants pitcher Johnny Cueto was taken back to the team's spring training complex to be checked out after being hit in the head by a line drive during Monday's game against the Oakland A's.
Johnny Cueto is "doing fine" today, will follow up with #SFGiants staff after being hit on forehead with line drive, per agent Bryce Dixon.

— Jon Morosi (@jonmorosi) March 15, 2016
Cueto took a liner to his forehead off the bat of A's outfielder Billy Burns on the first pitch of the game, but remained in the game after being examined by trainers.
The right-hander pitched three innings and left the ballpark immediately after his outing, with the team originally saying he would be taken to the local hospital to be examined for a concussion.
But the team clarified the statement later, revealing that Cueto had been brought back to Scottsdale and treated for a bruise.
Cueto, 30, is in his first season of a six-year, $130 million deal he signed with the Giants this offseason.
---
---