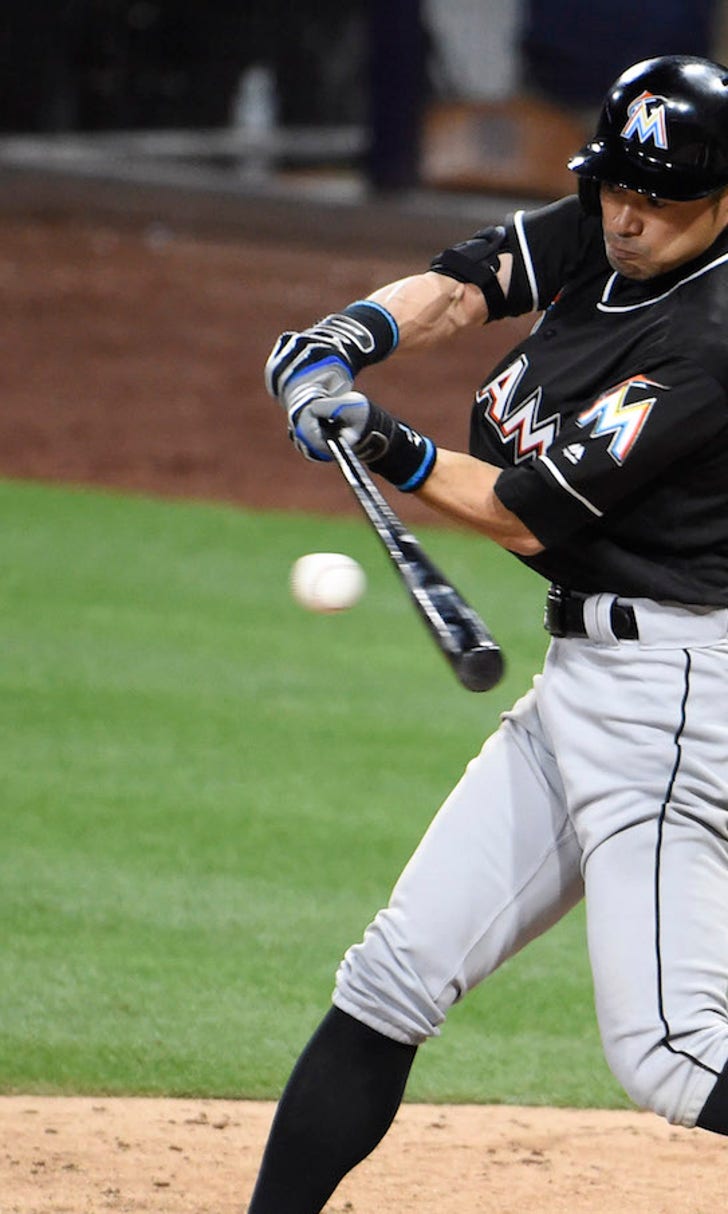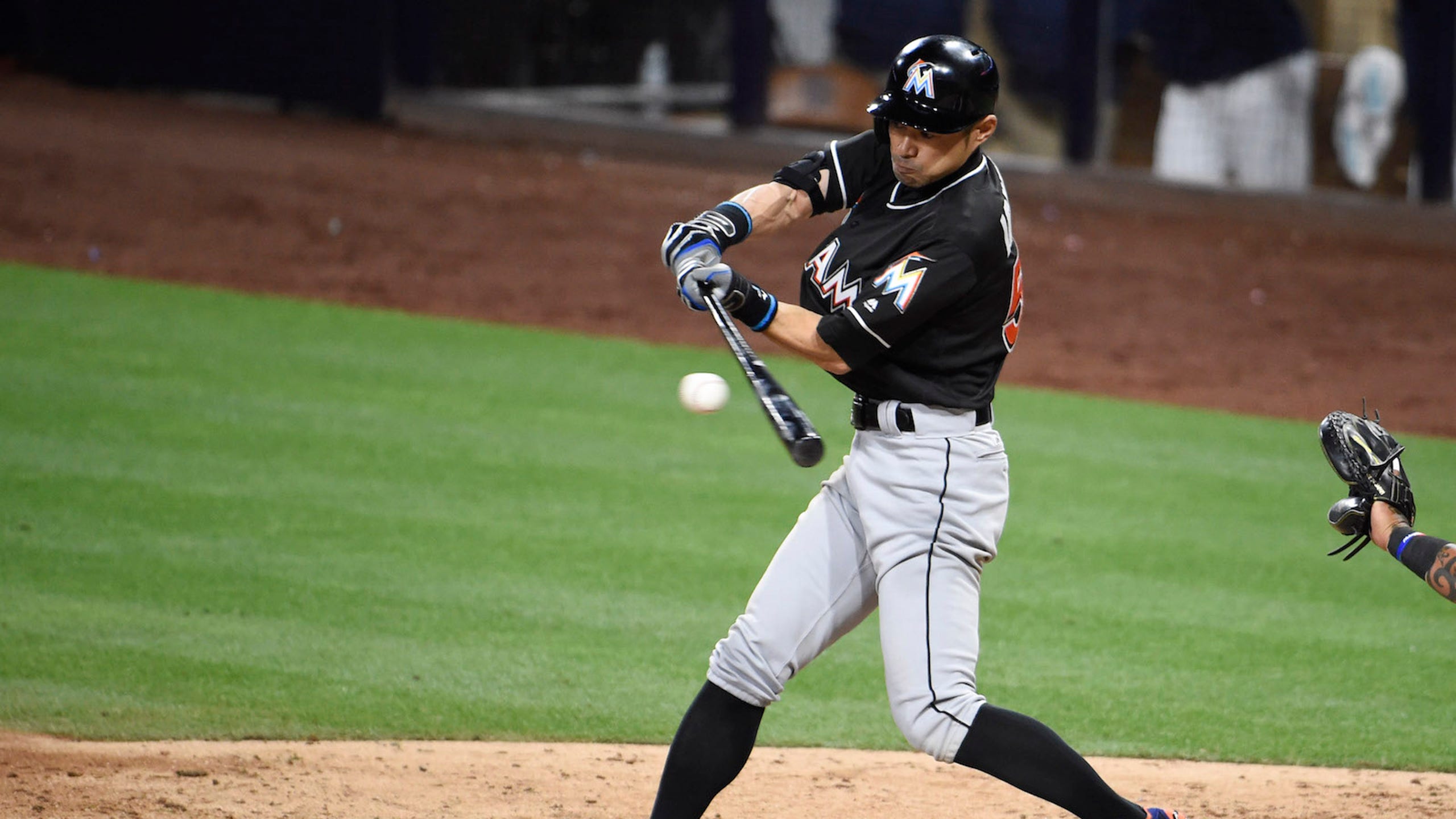 Get off your hands and vote Ichiro for the All-Star Game
BY foxsports • June 14, 2016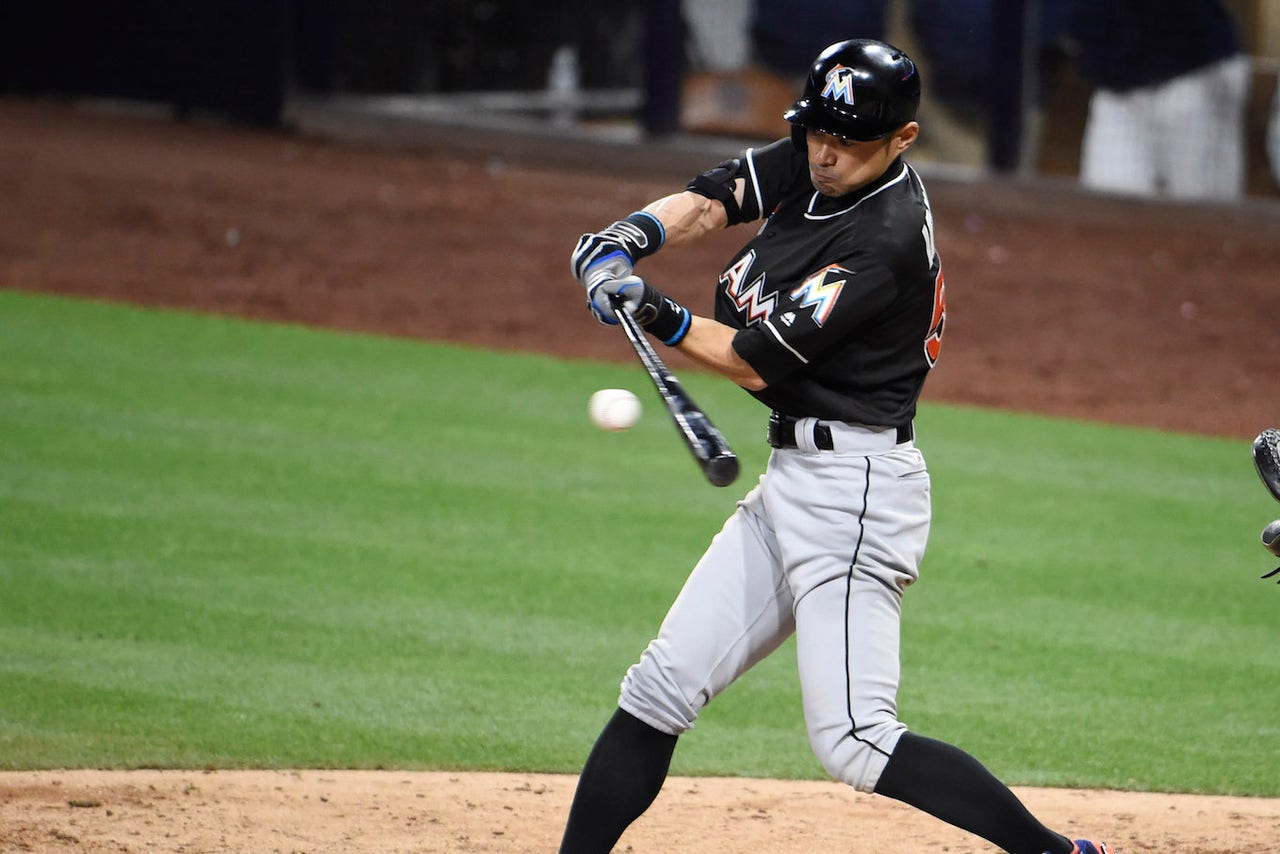 The most recent fan balloting for the National League All-Star team has a slew of Chicago Cubs players leading, with one Miami Marlins outfielder languishing near the bottom of the list.
Given the way the Cubs (43-19) have dominated thus far the and (most of) those players' individual merits, the results would be acceptable if that Marlin was Ichiro Suzuki -- not Giancarlo Stanton.
As of June 14, Stanton, who has struck out in over 40 percent of his at-bats, has the lowest batting average (.192) among 171 qualified MLB positional players.
Nevertheless, Stanton's popularity and the truism that Chicks Dig the Long Ball have propelled Stanton to 13th among NL outfielders with nearly 250,000 votes as of the last count, while Ichiro's tally is somewhere below the top-15 threshold for publication. Of course the purpose of this petition is not to dump on Stanton but to GET ICHIRO ONTO THE NL ALL-STAR TEAM.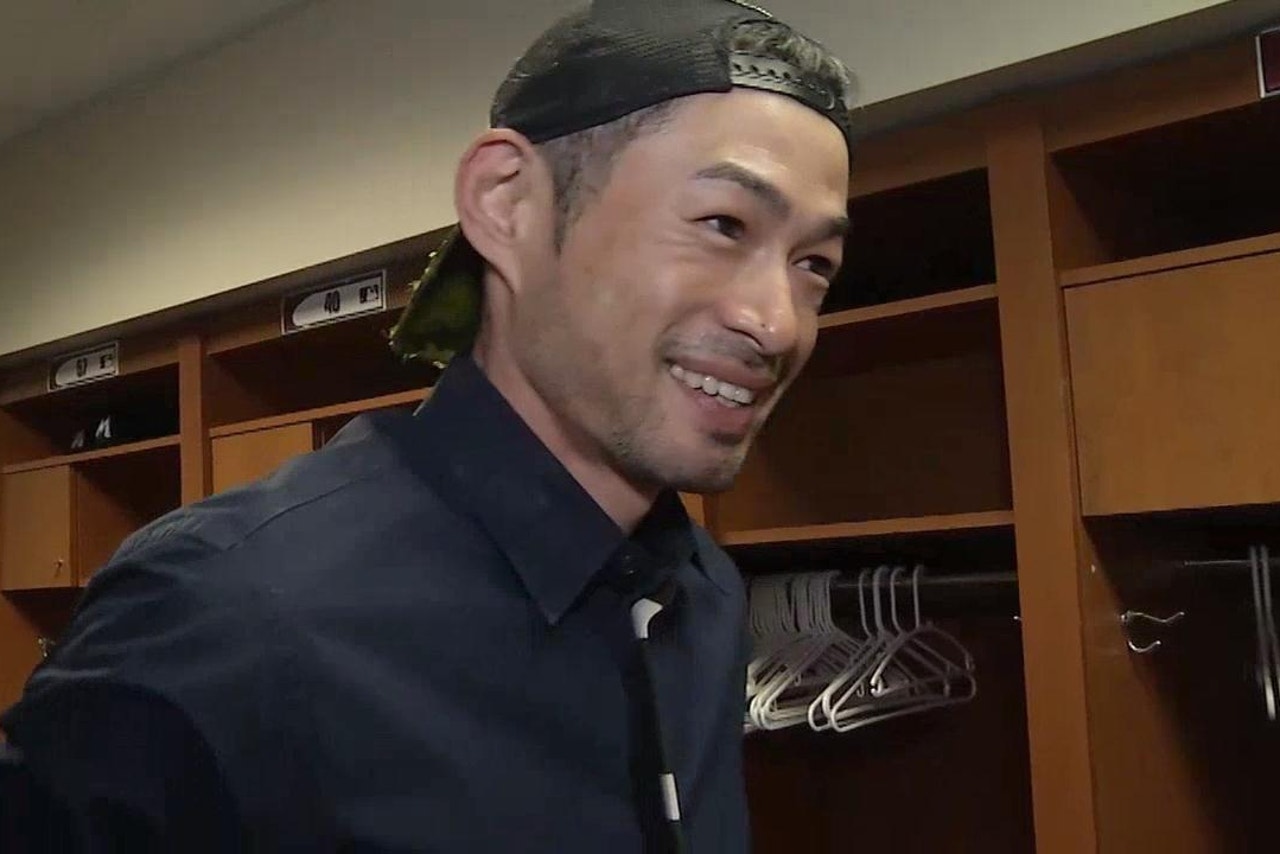 Voting for the 42-year-old Suzuki would not be tantamount to NHL fans' gag-gone-right that put John Scott in the All-Star Game in January. Ichiro is a bona fide future Hall of Fame player.
Nor would an Ichiro All-Star appearance qualify as a purely sentimental gesture like NBA fans made in February with Kobe Bryant, who posted a career-worst shooting percentage (.358) during his 2015-16 farewell tour. Bryant's appearance added a bit of spice to the NBA's glorified scrimmage, but it would be unwise to vote Ichiro solely for spectacle, considering MLB's All-Star Game still determines which league gets home-field advantage for the World Series.
No, Voting for Ichiro would be ... okay, partly sentimental but at least 51-percent deserved.
Do you know who has the highest batting average on the Marlins right now? Yes, it's Ichiro, who is batting .350 with a .414 on-base percentage. The marks are even more impressive because he's doing it as a part-timer.
Just last night Ichiro gave Stanton a breather and in six plate appearances he recorded three hits and two walks, scoring three runs with one RBI. As you can see from these highlights, the possible baseball cyborg is still a plus base-runner and a capable outfielder.
MLB All-Star contests have been fairly low-scoring affairs over the past decade, and the pitcher-friendly Petco Park isn't a likely forum to change that trend this year.
It would serve the National League well to have a guy who can leg out an infield chopper, draw a walk, bunt, maybe steal a base. We're talking small ball, people.
Oh, you want homers? Well how about the only guy to ever hit an inside-the-park home run in an All-Star Game. His name is Ichiro Suzuki!
I'm not suggesting anything farcical like we saw last year when Kansas City Royals fans stuffed ballots for their hometown players and nearly got Omar Infante and the entire starting Royals roster plus Mike Trout into the game.
Ichiro is batting .350 for heaven's sake and he's also a proven All-Star asset with that coveted sixth tool: He's sneakily hilarious and inspirational. Perhaps you've heard about his famous pregame All-Star pump-up speeches from his days as a perennial AL All-Star? Here's Yahoo!'s Jeff Passan explaining why David Ortiz was convinced that Ichiro was the AL All-Star team's secret weapon from 2001-2010.
Now here's why your vote and my vote -- I'm not just the Ichiro ASG Club president -- matters: Marlins fans are not known collectively for ... how do I say this, their passion? And we can't count on Mets manager Terry Collins and the players to select Ichiro as a reserve.
Plus, the Marlins will have at least one obligatory representative in ace pitcher Jose Fernandez, so that rules out another avenue.
That means Operation Ichiro: All-Star Protocol is in your hands.
Ichiro's MLB career has been a gift. Perhaps we're all guilty of forgetting how phenomenal the man was in the prime of his career. It had escaped my memory too before I decided to dig in and examine his numerous career accomplishments.
But there's still time. You can vote a maximum of 35 times and up to 5 times in any 24-hour period. Voting is open until June 30, 2016, at 11:59 p.m. ET. (Let's not leave this dangling until the All-Star Final Vote that decides the last man on each roster among five candidates, okay?)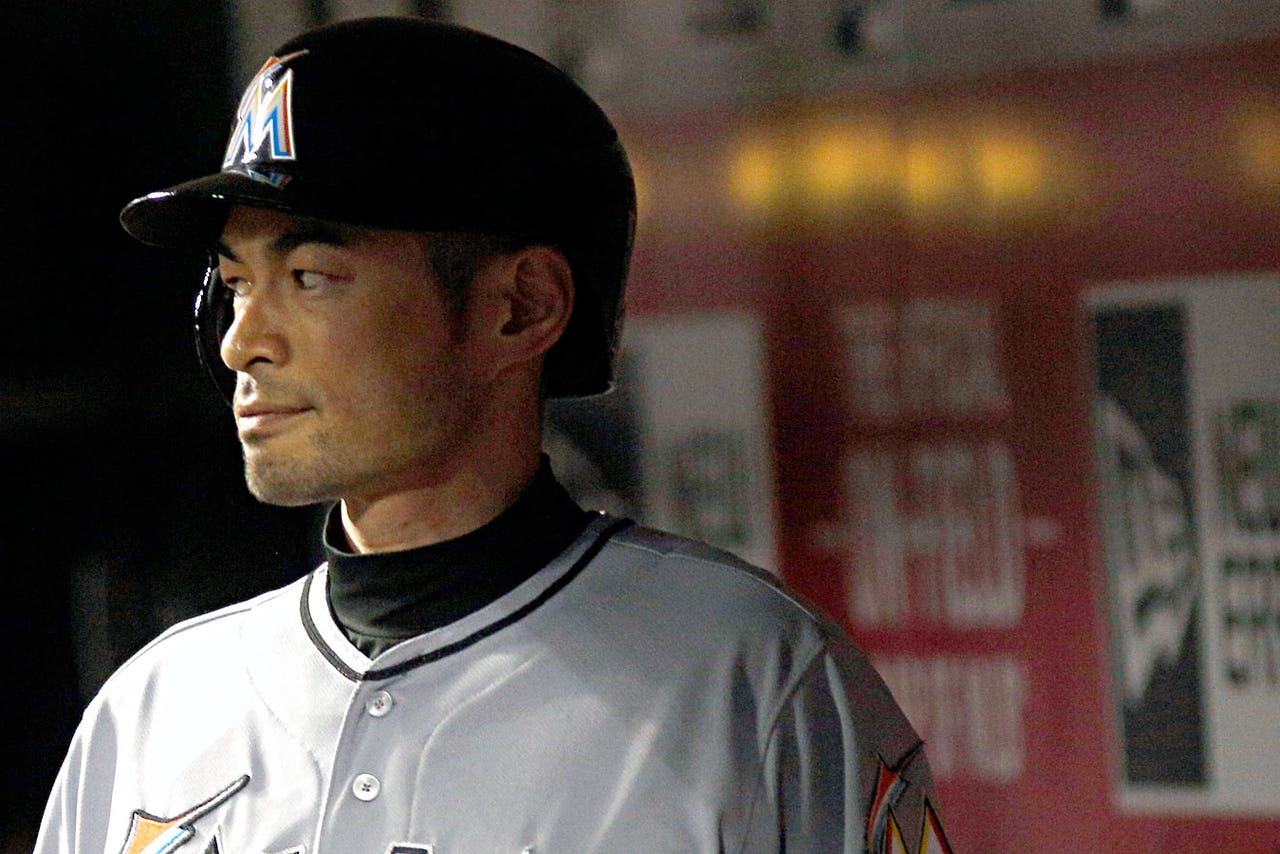 Ichiro would need a major surge to get past the Cubs' Jorge Soler (476,053 votes) and Jason Heyward (703,911) to surpass Mets left fielder Yoenis Cespedes (1,097,593) for a starting spot, but damn it, let's try, and perhaps make a statement in advance of the All-Star Final Vote.
I do not purport to know Ichiro's intentions, but as he draws closer to the 3,000 MLB hit milestone (he's now just 23 hits shy) and appears poised to turn that odometer this season, there's more than a good chance he may decide to hang 'em up for good.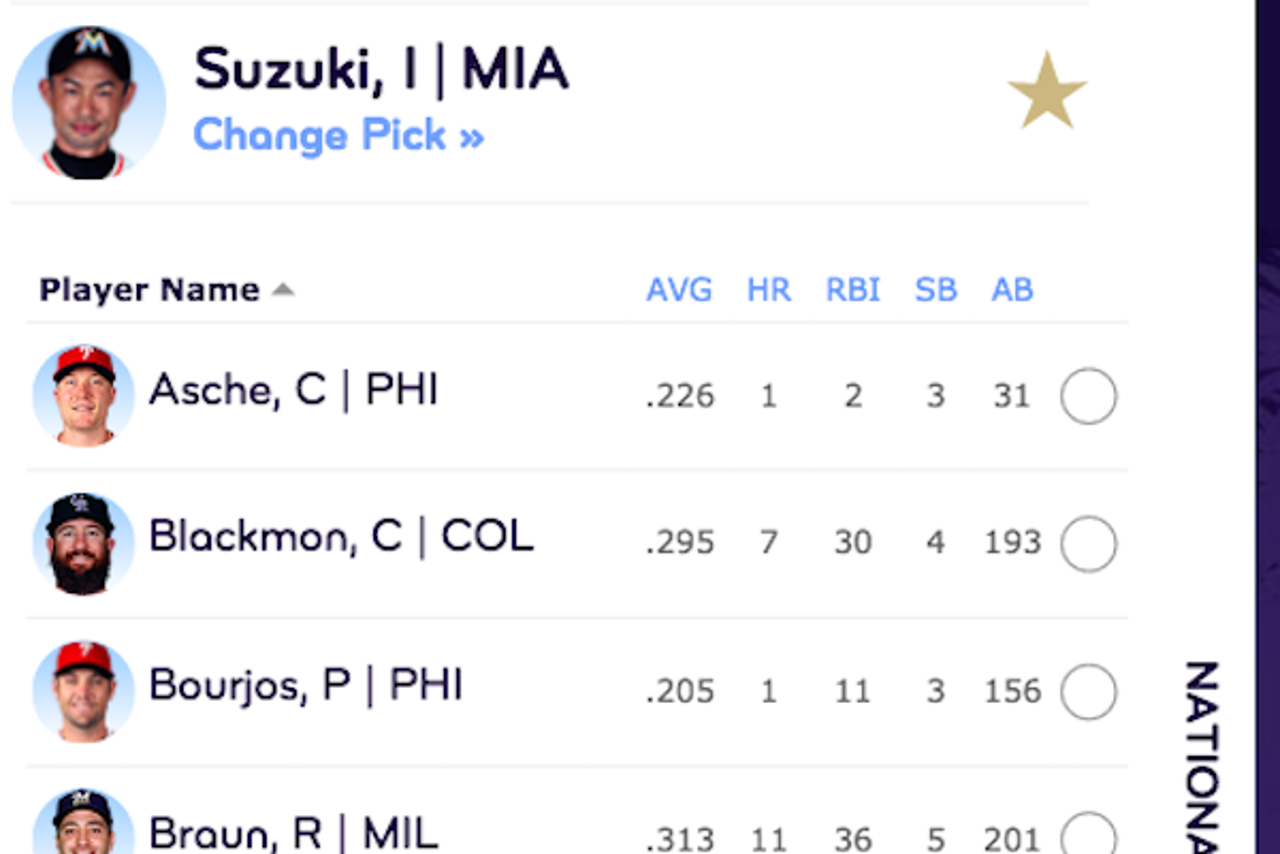 I am not suggesting that we vote Ichiro into the game and shuttle him around the diamond like Will Ferrell or even let Ichiro pitch, though he probably would love that.
Ichiro is a baseball treasure and more importantly, he has the experience and credentials to wear the uniform. Go vote here (you have to write him in!). As always, he will be ready.
---
---