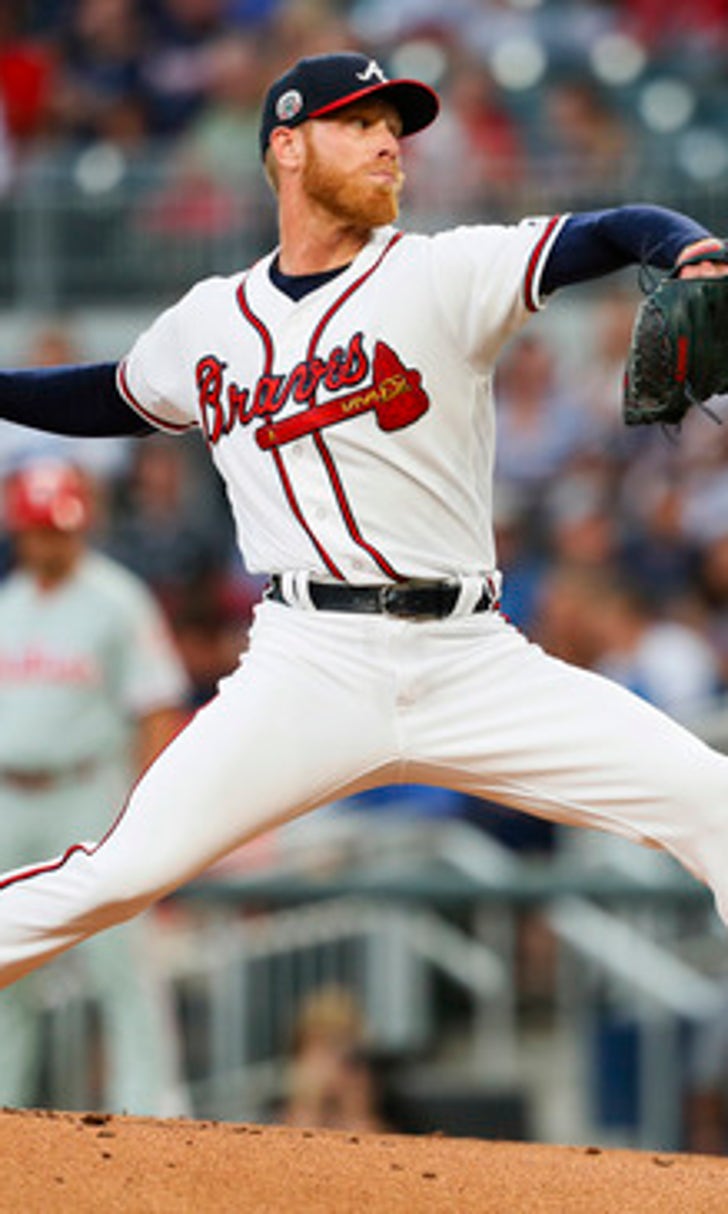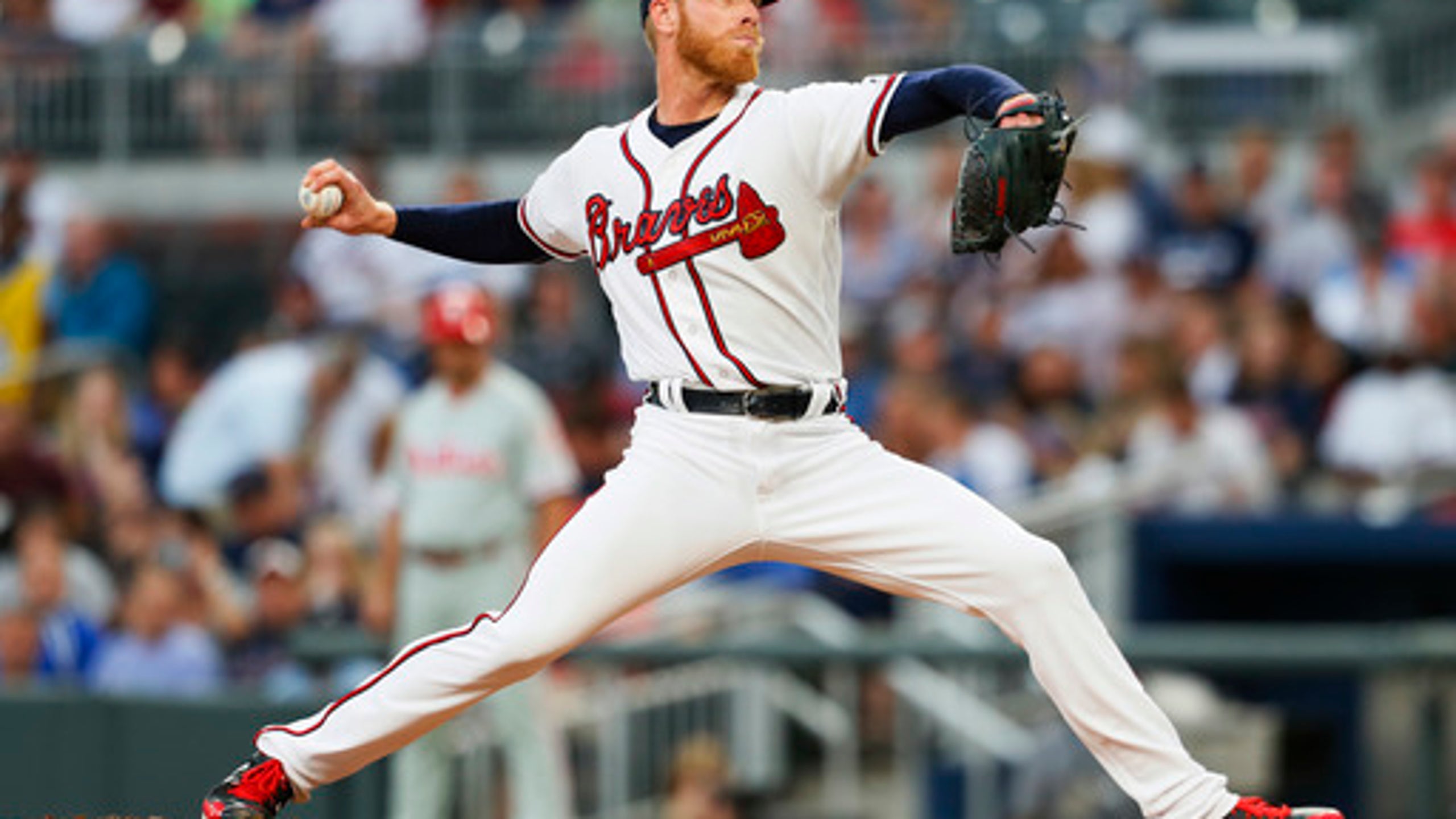 Foltynewicz sharp as Braves pound Phillies 14-1 (Jun 07, 2017)
BY AP • June 7, 2017
ATLANTA (AP) Mike Foltynewicz began the year as Atlanta's No. 5 starter. He'll rank much higher following his second straight dominant start.
Foltynewicz allowed only four hits in seven scoreless innings, Nick Markakis drove in five runs and the Braves crushed Philadelphia 14-1 on Wednesday night to end the Phillies' four-game winning streak.
Markakis had two-run doubles in the seventh and eighth as the Braves scored a combined 10 runs in the two innings. Dansby Swanson hit a three-run homer.
Foltynewicz (4-5) has thrown a combined 14 scoreless innings in his last two starts. He threw seven shutout innings, allowing only two hits, in a no-decision at Cincinnati on Friday.
Foltynewicz said he felt ''very confident'' on the mound as he relied on his fastball.
''My fastball had some life early in the game and it was one of those situations where I had a little bit of luck on my side,'' he said. ''There were a lot of hard-hit balls at people. The defense played great.''
Foltynewicz contributed to the defense .
The right-hander escaped trouble in the seventh after Tommy Joseph's infield single and Maikel Franco's walk. Michael Saunders hit a liner back to the mound which Foltynewicz snagged before throwing to second base for the double play.
''It almost took my glove off,'' Foltynewicz said.
Braves manager Brian Snitker said Foltynewicz is ''making strides'' toward consistency.
''I felt like when he cocked his arm he had a pretty good idea where the ball is going,'' Snitker said.
The Braves, who lost the first two games of the four-game series, beat the Phillies for the first time in six tries this season.
Jerad Eickhoff (0-7) remained winless through 12 starts. It's the longest stretch of starts without a win for a Phillies pitcher since Cliff Lee's 13-game streak in 2012.
Eickhoff allowed four runs, three earned, in five innings. He said he was ''rolling along'' before giving up the three-run homer to Swanson in the fifth on ''one bad pitch.''
''I can take this,'' Eickhoff said. ''I can handle (the losses). I feel that this was a building block.''
Pinch-hitter Daniel Nava's single in the ninth drove in Odubel Herrera, who reached on his second double. Herrera has 11 extra-base hits, including nine doubles, in his last five games.
TRAINER'S ROOM:
Braves 3B Adonis Garcia was placed on the 10-day DL with a sprained left ring finger. He hurt his hand on a swing in Tuesday night's game, only five days since returning from a DL stint with left Achilles tendinitis. OF Lane Adams was recalled from Triple-A Gwinnett. The injury leaves rookie Ruiz to handle the starts at third base.
BLANCO'S PITCHING DEBUT
After the Braves stretched the lead to 12-0 in the eighth, Phillies manager Pete Mackanin brought in utility infielder Andres Blanco for his debut as a pitcher. Blanco gave up a two-run homer to Matt Adams .
''I had to save my bullpen,'' Mackanin said. ''I didn't want to use another pitcher. We talked to (Blanco) and he said he'd try it.''
RECALLS COMING
Right-hander Matt Wisler and rookie left-hander Sean Newcomb, one of the Braves' top prospects, will be recalled to pitch in Saturday's doubleheader against the New York Mets. The pitching order has not been announced.
ROSTER MOVE
Phillies left-hander Joely Rodriguez, who walked two batters and gave up a hit while recording two outs, will be designated for assignment on Thursday. Rodriguez is 1-2 with a 6.33 ERA in 26 games. The team did not announce a corresponding move.
NESHEK IN, NERIS OUT
Mackanin said Pat Neshek has replaced Hector Neris as closer while Neris works on his splitter. Neris was pulled after giving up two hits in the ninth inning of Tuesday night's 3-1 win. Neshek recorded the final two outs for his first save of the season.
ON DECK
Phillies: Rookie RHP Ben Lively will make his second start in Thursday night's final game of the four-game series. Lively allowed only four hits and one run in seven innings in Saturday's 5-3 win over the Giants. It was his major league debut.
Braves: R.A. Dickey (3-4) will try to end his string of six straight starts without a win. His ERA has climbed from 3.94 to 5.10 since his last win on May 2.
---
More AP baseball: https://apnews.com/tag/MLBbaseball
---
---