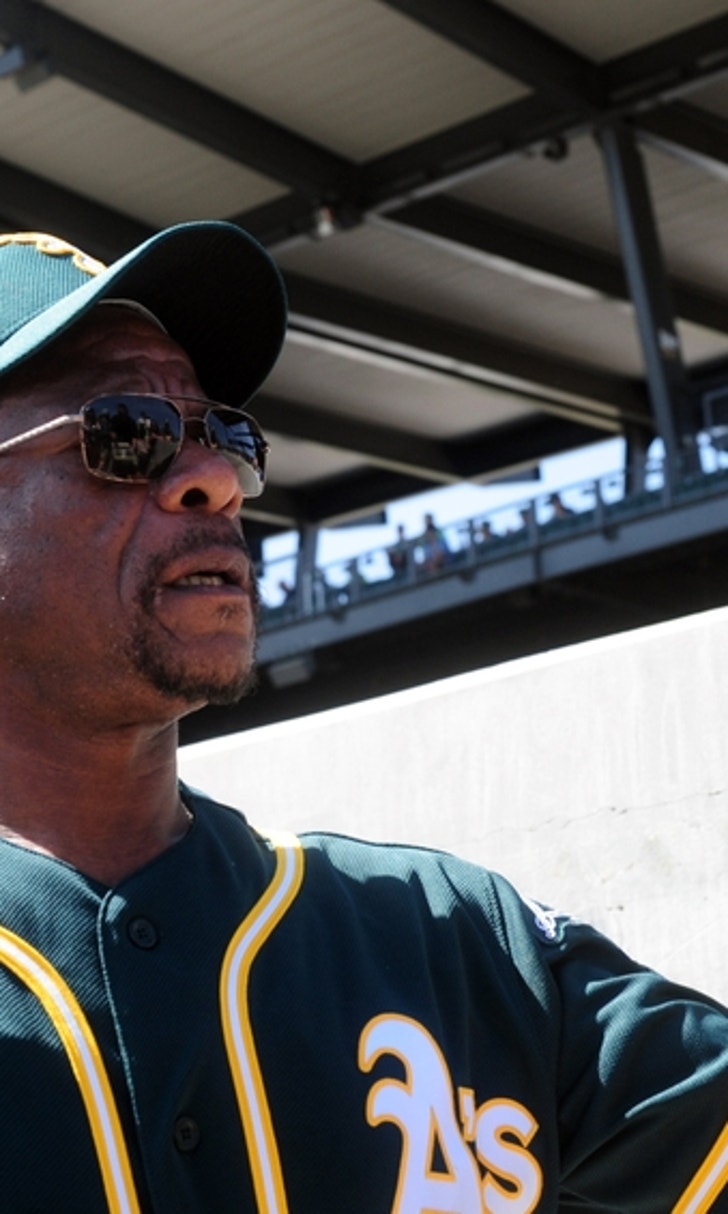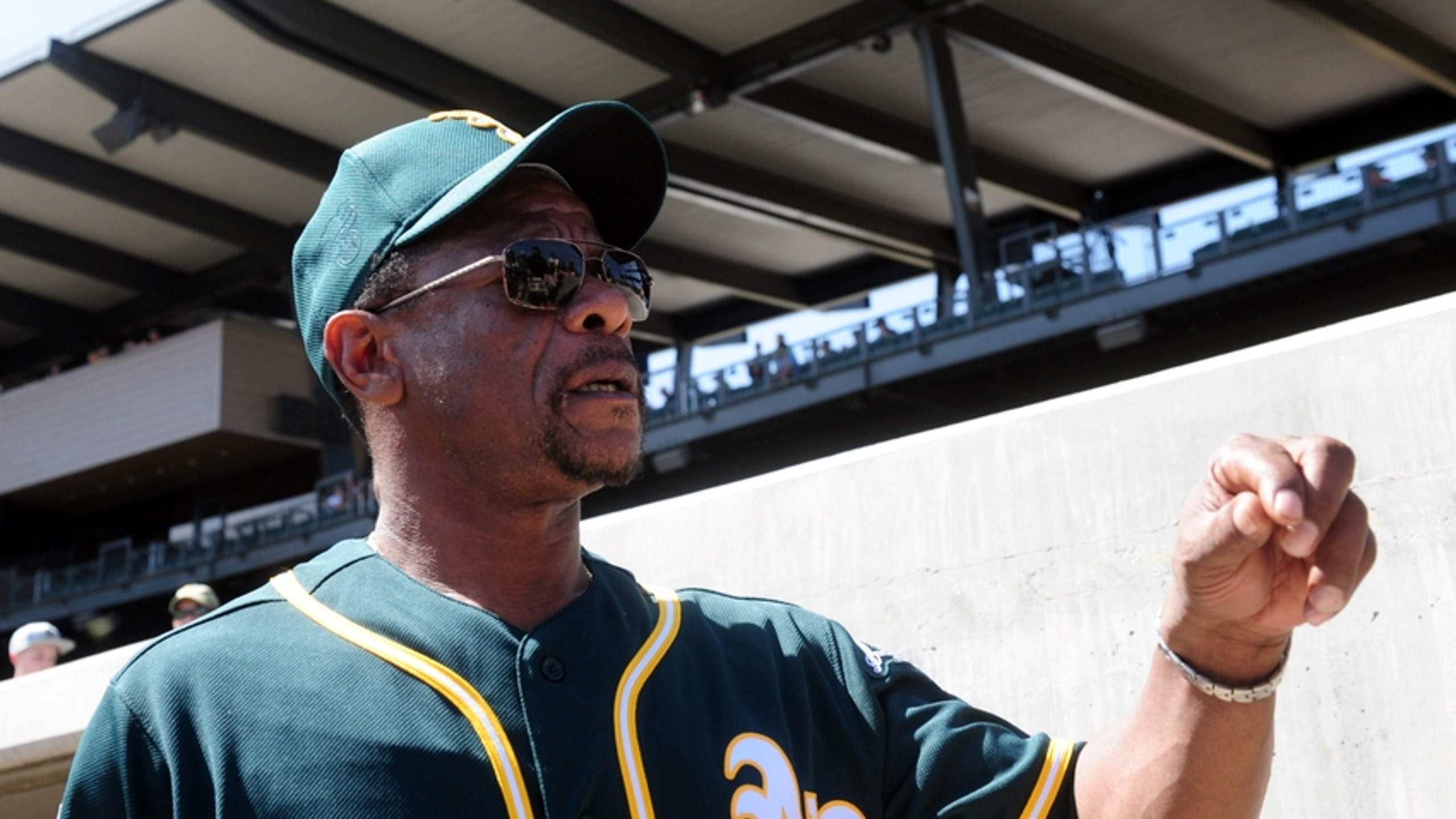 Five of Rickey Henderson's finest on-field moments
BY Fansided and Jennifer Rainwater/FanSided via White Cleat Beat • December 24, 2016
Mar 15, 2016; Salt River Pima-Maricopa, AZ, USA; Oakland Athletics special instructor Rickey Henderson talks with fans prior to the game against the Colorado Rockies at Salt River Fields at Talking Stick. Mandatory Credit: Matt Kartozian-USA TODAY Sports
"Today I am the greatest of all-time." – Rickey Henderson
As so many of his teammates, friends and Oakland natives, including 2007 NL MVP Jimmy Rollins, whose father grew up in Oakland living down the street from Henderson, said in the latest documentary on Hall of Famer Rickey Henderson, "Rickey was Rickey." And there is no better way to put it.
In fact, Henderson, who has always spoken in third person, likely has said the very same words himself.
The MLB Network documentary, The School of Rickey, that aired Tuesday night, highlighted the Hall of Famer's edgy Oakland attitude, his swagger (before swagger was even a word) and his role in the beginning of the new school of baseball where players can be both athletes, entertainers and hey, show off a bit when they've done something great.
More from White Cleat Beat
He would make a show of rounding the bases, popping his non-existent collar after a home run and when it came to steals, MLB had never seen anything like him and probably never will again.
Rickey was a controversial figure, many didn't like his "new school" actions but really, at least according to his former teammates Dennis Eckersley and Dave Stewart, and former manager Tony La Russa, it wasn't showboating – it was just "Rickey being Rickey."
Henderson was a hometown, local kid who made it to the big leagues and played four separate stints for the Oakland A's. He inspired pride in Oakland and the people of the East Bay. You'll never hear a bad word spoken about him, at least not there.
Even on May 1, 1991 when he broke Lou Brock's all-time stolen base record and stated that he was now "the greatest of all-time." It was once again just "Rickey being Rickey."
He wasn't trying to show anyone up but that line was met with criticism as Nolan Ryan threw a no-hitter later that night, and was of course in his "old school" style, taking it quietly in stride.
Yet, Rickey didn't mean any harm, he'd finally accomplished a goal not unlike his hero – Muhammad Ali.
Growing up a product of the Bay Area and of "The Town," a name that many of its residents affectionately refer to Oakland as, it seemed it would be appropriate to highlight a handful of Henderson's finest moments on the field over his storied 25-year career.
These moments were touched upon in the new documentary but its main highlights were focused elsewhere.
In the spirit of the documentary that chronicled how Henderson so honestly and openly represented himself and where he came from, as well as how he changed the game of baseball with his attitude and style alone, he also left a lasting impression on the game with his on the field heroics.
Here are five of the greatest on-field moments in the career of one of baseball's most historic and elite players.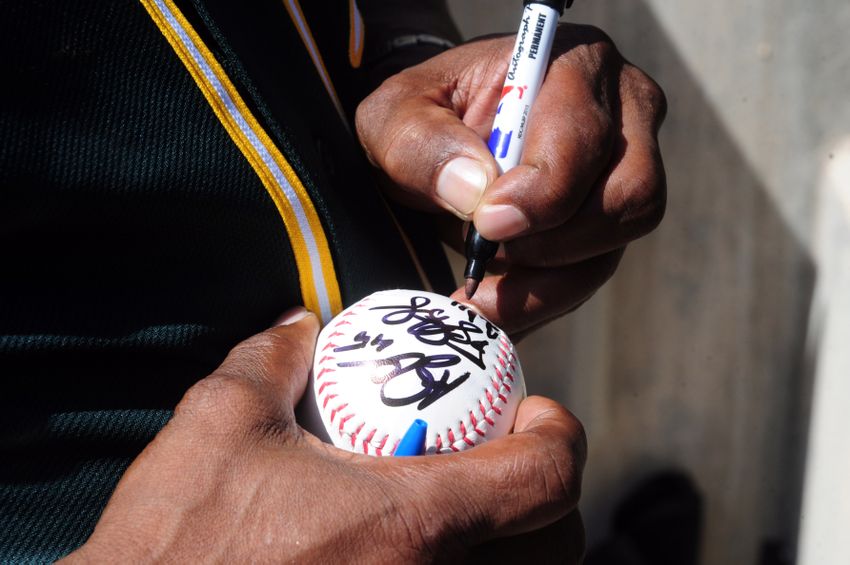 The beginning of a career of breaking records
Henderson was drafted in the fourth round of the 1976 amatuer draft by his hometown team, the A's. By 1979 he was in already in the big leagues.
He didn't win the A.L. Rookie of the Year in 1979. That honor went to both John Castino of the Minnesota Twins and Alfred Griffin of the Toronto Blue Jays.
Still, Henderson did steal 33 bases while batting .274. He only hit one home run that year but drove in 26 runs in just 89 games with Oakland.
However, in his sophomore season Henderson began his path to becoming the legend he is today.
Making his first of ten all-star appearances, Henderson batted .303 with a .420 on-base percentage.
He showed more power, hitting nine home runs and led the league in stolen bases with 100.
Here is where Rickey began his history of breaking records, something that continued throughout his entire career.
His 100 stolen bases made him just the third player in baseball history to steal 100 bases in a single season along with Maury Willis who stole 104 in 1962 and Brock who stole 118 in 1974.
Yet, there are even more record breaking moments in what was just Henderson's second season in the majors. His 100 stolen bases broke the Athletics' franchise record that had been set back in 1910 by Eddie Collins, who finished the season with a mere 81.
He also set an American League record, besting the record set by Ty Cobb in 1915. Cobb stole 96 bases in 1915 and no one in the A.L. had come close to that number since.
Henderson finished tenth in the MVP voting in 1980 and likely should of finished higher on that list, however, the 1980 season was the year that Rickey began breaking records and started down the path of becoming a legend.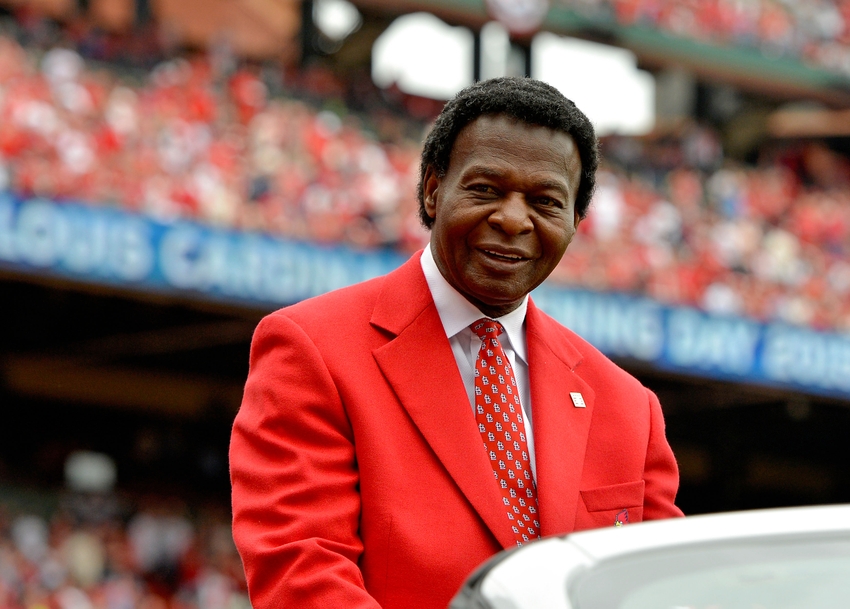 The Single-Season Record
It had only been eight years since Lou Brock set the single-season stolen base record with his 118 steals. Henderson was in just his fourth year in the big leagues.
Since having his first 100 stolen base season in 1980, Henderson Henderson had had only one season under his belt. It has been the 1981 season which was of course, a season shortened by a players' strike.
The strike began on June 12 and continued until an agreement was made on July 31, play did not resume until August 9 with the All-Star game.
Regularly scheduled games started right after. The 1981 season was shortened by 73 games (approximately 38% of the season had been lost). Still Henderson had dominated the game stealing 56 bases and finishing second in the MVP voting to Milwaukee Brewer and former-Athletic Rollie Fingers.
On August 27, 1982, the Athletics were in Milwaukee playing the Brewers. Just a couple days earlier, back in Oakland, Henderson had been tied with Brock at 118 stolen bases. He had wanted to break the record at home.
Everyone was there hoping to see his 119 steal of the season including Brock, Rickey's mother and half of Oakland.
Henderson opened up the game against manager Sparky Anderson and the Detroit Tigers getting steals 117 and 118 in the first inning.
After flying out in his next two at-bats, Henderson came up in the eighth inning. Unfortunately, there was a runner already on base, a player named Fred "Chicken" Stanley.
It was Rickey's likely last at-bat of the game and manager Billy Martin in no uncertain terms told "Chicken," one of the team's slowest runners to get himself out.
Anderson was not too happy about this but Stanley did finally manage to get out and clear a path for Henderson to have the opportunity to steal.
According to the aforementioned documentary, when Henderson went sliding headfirst into second base, he was safe and everyone in the ballpark knew it.
That is everyone except the second base umpire who called him out, thus ending Henderson's chances of breaking Brock's record at home.
Some say that the umpire knew that Henderson was safe, but, similarly to the thoughts of the Tiger's manager, didn't appreciate Martin instructing Stanley to get himself out.
Of course with Martin as manager a yelling match ensued between the three men – the two managers and the umpire but ultimately the crowd, Brock and Rickey's mom all went home disappointed.
Two days later in Milwaukee, Henderson easily broke the single season home run record. He finished the 1982 season with 130 steals, a record no one has come close to since.
The Battle of the BayThe 1989 World Series was the biggest thing to happen to Northern California, probably ever. The San Francisco Giants and the Oakland Athletics were facing off on the game's biggest stage and the energy in the Bay Area was electric.Of course, the Bay Area was rocked even harder just prior to Game 3, when a 6.9 earthquake hit outside of San Francisco. Buildings and freeways were leveled and people lost their lives.The entire thing was surreal and it had happened in the middle of what had been dubbed, "The Battle of the Bay."Live Feed world seriesHow the Cubs Joined the San Francisco Giants in the Champions League Golden Gate SportsA Mariners Wish List That Would Make 2017 One Big Holiday SoDo MojoNew York Mets: Yoenis Cespedes Promises Future Championship Call to the PenWorld Series 2017: Odds for all 30 teams FanSidedIs Major League Baseball headed for a lockout? FanSidedSan Francisco Giants: Four from 2010 Team on Hall Of Fame Ballot Around the FoghornThe odds of that happening were astronomical and as someone who lived through it to be able to tell you about it today, there aren't many words that can truly describe both the joy and then devastation felt throughout the entire Bay Area.Everything changed in an instant.The World Series continued after an 11-day respite. The A's who had already been up two games to nothing over the Giants, took Game 3 at the Giants' Candlestick Park.The following day, on a 2-0 pitch Henderson homered to lead-off the game for the visiting A's.The A's went on to win the game and sweep the series against their cross bay rivals.This homer is a testament to why Henderson is considered the best leadoff hitter of all-time.He had a rare combination of speed and power along with the ability to see the ball. He rarely struck out.Getting either a walk, a home run or a hit from your leadoff hitter is just about the best gift any team could get.Pitchers had to pitch to him to try to get him out because putting him on base meant he would steal second but pitching to him was also dangerous because if you threw him strikes that could just as easily come back to bite you.Next: The All-Time RecordThe All-Time Stolen Base RecordHenderson opened the 1991 season with 936 stolen bases. Yet his progress towards breaking Brock's all-time record of 938 steals was slowed due to a calf strain he suffered in April.Rickey would return to the Athletics, after his stint on the disabled list, on April 27. The very next day Henderson tied Brock's record in a game against the then-California Angels.It seemed Henderson's path to being Major League Baseball's all-time stolen base king would now be easy, but it wasn't as simple as everyone assumed it would be.Live Feed Lou BrockSt. Louis Cardinals: Events To Look Out For This Offseason Redbird RantsSt. Louis Cardinals History: Lou Brock Gets 3000th Hit Call to the PenChicago Cubs: The infamous Lou Brock trade Cubbies CribSt. Louis Cardinals: MLB reveals Franchise Four at All-Star Game Redbird RantsThree days later in a game against the New York Yankees, on May 1, 1991, Henderson leadoff the game with a walk but was called out trying to steal second base on a throw by Yankees' catcher  Matt Nokes.In his second time at the plate Henderson struck out to end the second inning.During his third at-bat in the fourth inning of the ballgame, Henderson reached first base on an error and was advanced to second on a single by fellow outfielder Dave Henderson.This time Rickey took off for third base and Nokes bounced his throw to third baseman Randy Velarde.Henderson was called safe.He'd stolen his 939th base in just 12 seasons, a feat that took Brock 17 seasons to accomplish. He was on that day as he would later say in his speech, "the greatest of all-time."Next: 3,000 HitsThe 3,000 Hits ClubOn the final day of the season in 2001, just over a decade after breaking the all-time stolen base record, Henderson became the 25th player in Major League Baseball history to collect the 3,000th hit of his career.This accomplishment is what so many players strive for. Everyone who plays the game wants a chance to join the 3,000 hits club.Just a year before Henderson made his entrance into the club, Cal Ripken Jr. had become the club's 24th member.Live Feed derek jeterYankees to retire Derek Jeter No. 2 jersey on Mother's Day FanSidedWhat was the New York Giants Rating in FanSided's Fandom 250? GMEN HQYankees Legend Derek Jeter Headed to Monument Park in 2017 Yanks Go YardYankees News: Derek Jeter to Have His Number Retired in 2017 Empire Writes BackYankees Gleyber Torres Drawing the Inevtiable Jeter Comparisons Yanks Go YardYankees Phenom Blake Rutherford is Coming: Be Prepared Yanks Go YardSince 2001, only five other players have gotten the 3,000th hit of their careers, Rafael Palmeiro in 2005, Craig Biggio in 2007, Derek Jeter in 2011, Alex Rodriguez in 2015 and most recently Ichiro Suzuki in 2016.By the time Henderson was in his second stint with the San Diego Padres and collected his 3,000th hit on the season's final day, he was 41 years old.His skills and body were on the decline but he did manage to play in 92 games in what was his 23rd season in the Major Leagues.He also managed to steal 31 bases that season. Obviously, a number that must have must have seemed quite small to Henderson.Yet, it is also a number that some major leaguers never reach in a single season throughout their entire careers.Getting into the 3,000 hit club was not the last big accomplishment nor record set in the great story that was Henderson's career, but it was a great on-field moment that needed to recognized.Next: 25 years of Rickey Henderson May 19, 2016; Oakland, CA, USA; The traditional Hall of Fame Race at the end of the sixth inning, featuring runners in the costumes of former A's legends Dennis Eckersley (L), Rickey Henderson (C) and Rollie Fingers (R), during the baseball game between the New York Yankees and Oakland Athletics at Oakland Coliseum. Mandatory Credit: Kenny Karst-USA TODAY Sports Twenty-five years laterTwenty five years after Rickey Henderson first stepped foot on a Major League field for the first time as a member of his hometown Oakland Athletics, he'd played with nine different teams, during which he'd played four separate stints with the Athletics.Those teams included the New York Yankees, the Toronto Blue Jays (with whom he collected his second World Championship ring in 1993), the San Diego Padres, the Anaheim Angels, the New York Mets, the Boston Red Sox, the Seattle Mariners and the Los Angeles Dodgers.He retired after 25 seasons at the age of 44 years old. By that time, Henderson had amassed a total of 3,055 hits, 510 doubles, 66 triples, 297 home runs and 1,115 RBI.More from White Cleat BeatA's and international free agent Ruiz agree to minor league deal23h agoA's should look to Rajai Davis to fill hole in centerfield5d agoA's begin trying to revive unhappy fan-base with Fan Fest changes6d agoA's being in the running for Edwin Encarnacion makes sense1 w agoA's announce 26 non-roster invitees to 2017 spring training1 w agoHe still leads all of baseball to this day in runs scored with 2,295 and stolen bases. His final total of bags swiped? 1,406.It is a number that will likely never be touched or even come close to by another player again.Of course, along with that stolen base total came another all-time MLB record.Henderson had been caught stealing more times than anyone in history, but if he hadn't tried and been caught, he wouldn't have tried enough to hold what is seen as an untouchable record.Rickey Henderson had one of the longest and most storied careers in baseball both on and off the field.He had style, the likes of which had never been seen in the majors before, and he had the substance to back up that swagger. Still, Henderson was always just, "Rickey being Rickey."This article originally appeared on
---
---