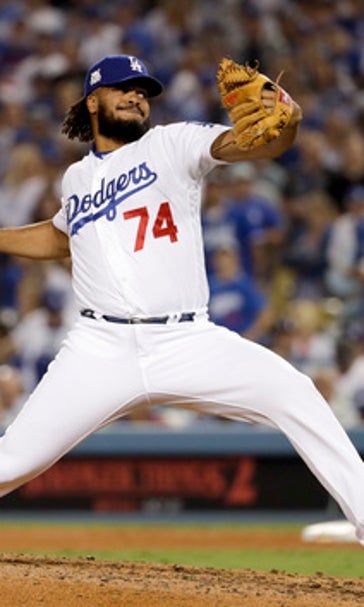 Dodgers' dominant bullpen is baffling foes in NL playoffs
October 16, 2017

LOS ANGELES (AP) A year ago, Dodgers manager Dave Roberts was attempting to get through the late innings of tight playoff games with long appearances by closer Kenley Jansen, a hodgepodge of veteran relievers and one desperate bailout from ace Clayton Kershaw.
One October later, Los Angeles' bullpen is downright dominant as the team steamrolls toward the World Series.
After excelling in the unbeaten Dodgers' three-game NL Division Series sweep of Arizona, those relievers have retired 24 of 25 batters without allowing a hit or a run in the NL Championship Series against the Chicago Cubs.
The bullpen hasn't allowed a hit in its last 8 2/3 innings of work overall, giving the Dodgers extraordinary faith in their relievers heading into Wrigley Field for Game 3 on Tuesday night.
''They're just executing pitches, and they're ready when called upon, and they're competing,'' Roberts said after his bullpen threw four hitless innings in Los Angeles' 4-1 victory in Game 2 Sunday night. ''It's a close-knit group down there. ... Those guys know exactly what they want to do, and they're going out there and executing.''
The Dodgers' domination has come from everywhere in the bullpen - not just Jansen, who remains among the top closers in baseball. Jansen has three saves, a victory and 10 strikeouts in six innings, appearing in all five games and allowing just one unearned run.
Jansen is still getting multiple-inning saves for Roberts. This year, it's out of desire rather than utter necessity.
''We've got a really good bullpen in the postseason,'' Jansen said. ''I'm not just trying to be a hero, but whatever the team needs me to do, and whatever Doc (Roberts) wants me to do, I'm going to be ready to put myself in that position to win ballgames.''
The Dodgers won 104 games in the regular season with a deep lineup and a talent-packed rotation, but their bullpen has been outstanding all year long, easily leading the NL with a 3.38 ERA.
In October, the relievers have been even better - particularly against the Cubs, who are still waiting for their first hit against the group.
After starter Rich Hill was pulled for a pinch hitter in the fifth inning of Game 2, first-year Dodgers right-hander Brandon Morrow faced six Cubs and retired them all, needing only 18 pitches.
The Cubs got their only baserunner of the series against the bullpen when Jansen hit Anthony Rizzo on the hand in the ninth inning of Game 2. The closer calmly got two more outs to set the stage for Justin Turner's walk-off homer.
''I've never had a bad feeling with our bullpen before, but I think at the same time we're realizing that it's one of our strengths of our team,'' Kershaw said after the bullpen backed him with four perfect innings in the Dodgers' Game 1 victory over Chicago on Saturday. ''You still want to go as deep as you can in the game, but I guess handing the ball off to those guys makes it a little easier.''
Last year, the Dodgers didn't have the same array of bullpen talent. They relied heavily on Jansen, Kershaw and Roberts' creativity, with some nights working out better than others.
Roberts was praised for his innovative use of his pitching staff last season, but he has said he doesn't want to use Kershaw as a reliever this October, preferring to keep his recently injured ace on a regular schedule.
So far, he hasn't even been tempted.
Last season's bullpen got problematic postseason appearances from Grant Dayton, who is out for the season with an elbow injury, and Joe Blanton, now with Washington. Pedro Baez, the hardworking right-hander who has been a target of Dodgers fans' ire for years, was left off the NLCS roster.
Ross Stripling also had trouble last October, but he is still in the Dodgers' bullpen, although he has yet to pitch in this postseason. Josh Fields is back and better than last season, while the imposing Morrow has appeared in all five games this month, yielding only one run to Arizona.
The Dodgers added two key relievers in midseason trades, picking up eighth-inning setup man Tony Watson and left-hander Tony Cingrani. Both settled in quickly with the Dodgers, and they've combined to yield only two runs in seven postseason appearances.
And this month, the bullpen got Kenta Maeda, the Japanese right-hander who went 13-6 with a 4.22 ERA in 25 starts this season.
With no spot for him in the postseason rotation, Maeda willingly took a role as the bullpen's specialist against right-handed batters. He has been dominant, retiring all nine batters he has faced in three innings of work.
''Kenta just accepted how deep our roster is,'' Jansen said. ''He could easily be a starter for us in the postseason, but he understood it's going to take little things for us to win. It's going to help us tremendously down the road.''
---
More AP baseball: https://apnews.com/tag/MLBbaseball
---
---