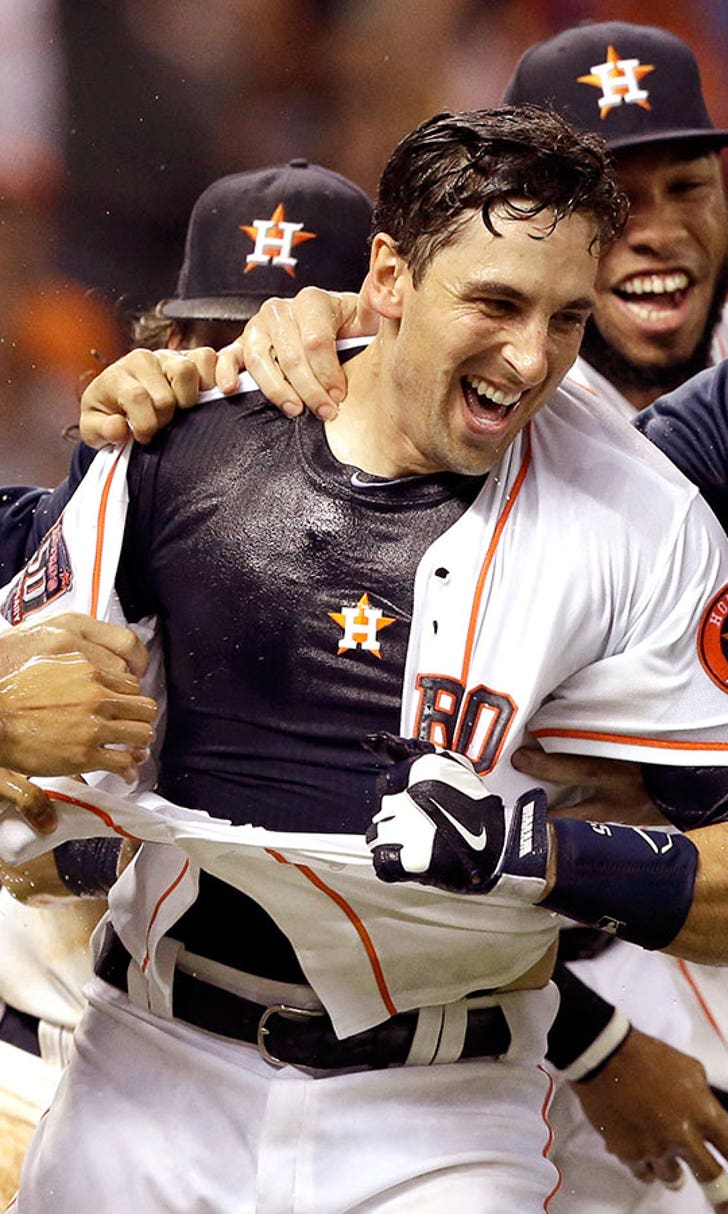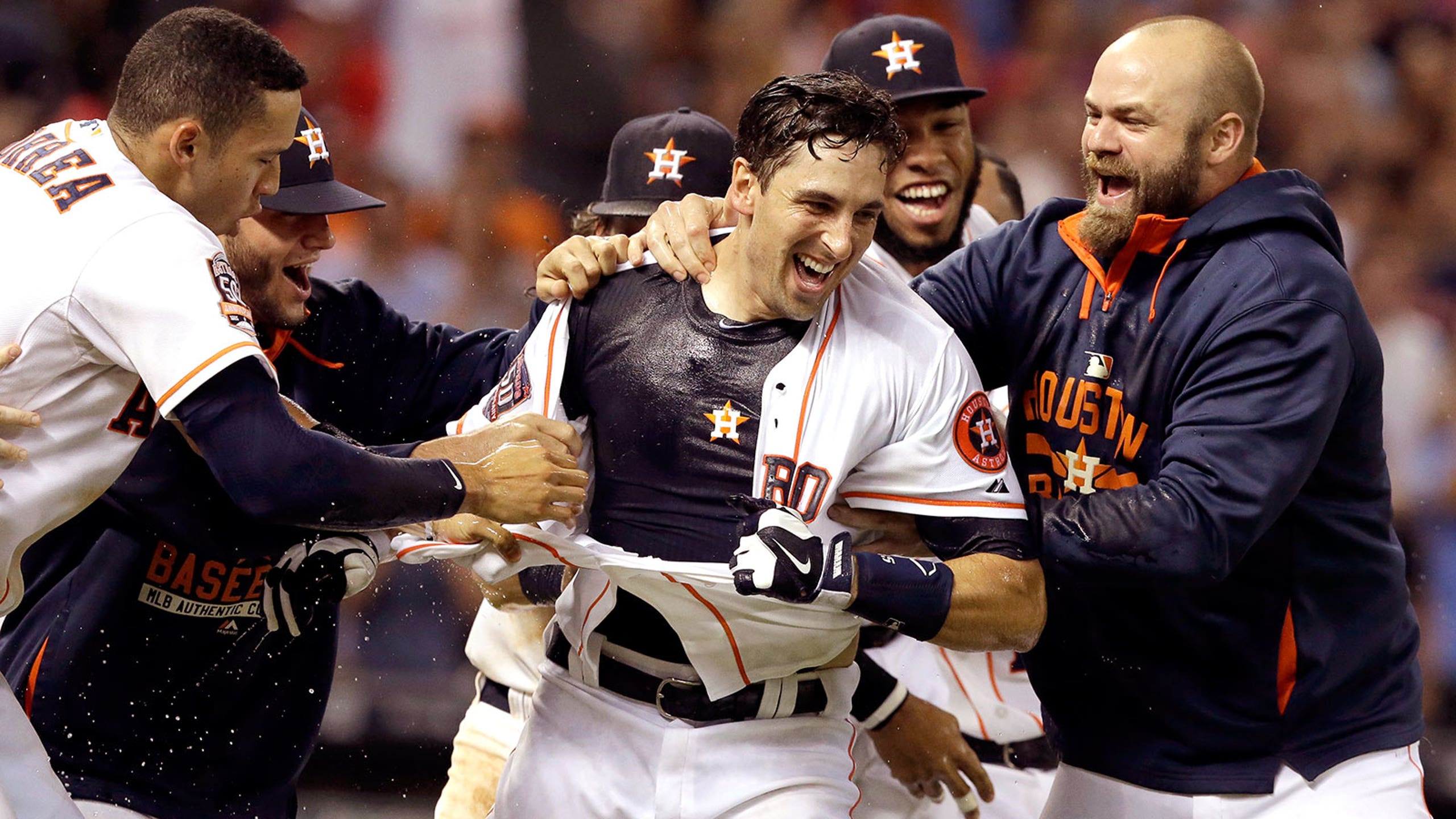 Castro's 9th-inning homer gives Astros 3-0 win over Angels
BY foxsports • July 30, 2015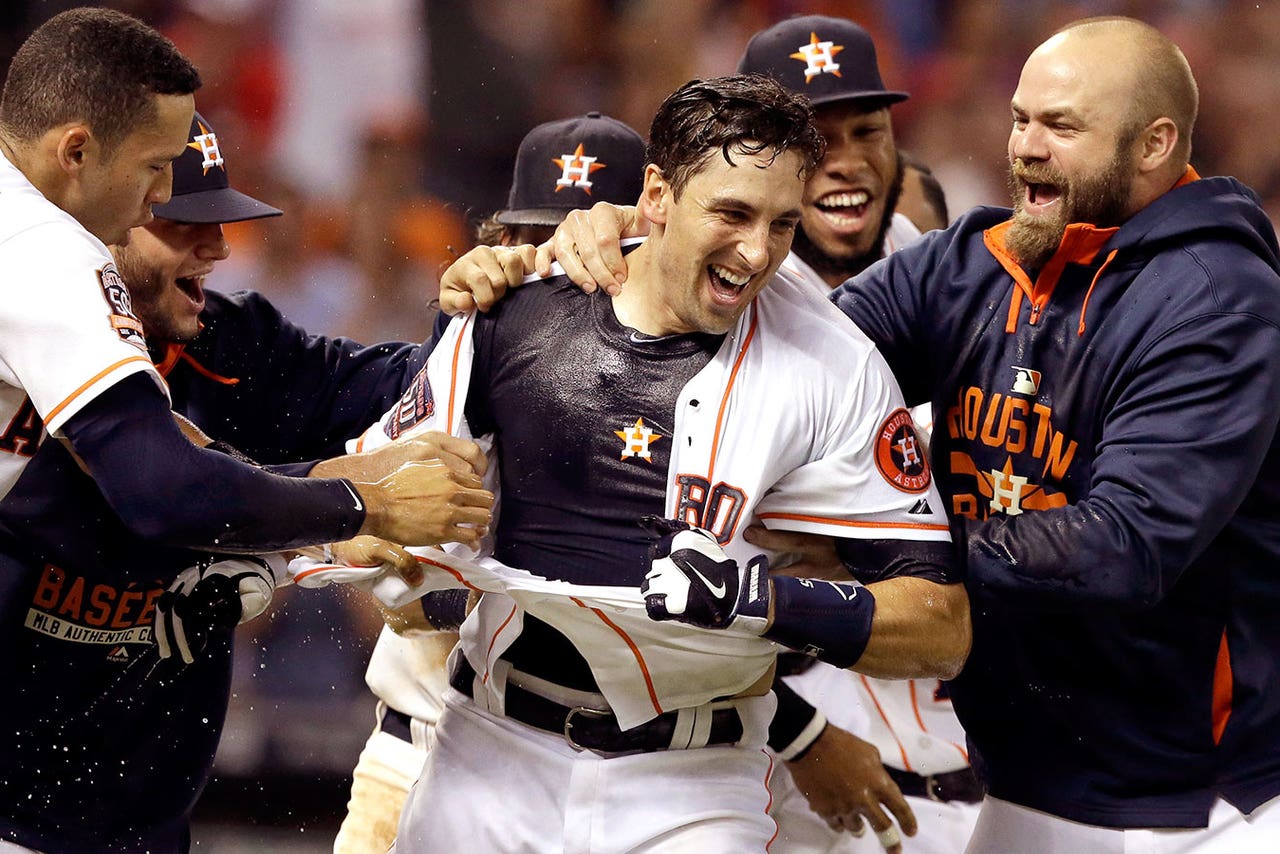 HOUSTON
Few expected the Houston Astros to be contenders entering this season.
Perhaps fewer still can doubt that they have become exactly that.
Jason Castro hit a three-run homer with two outs in the ninth inning to give the Astros a 3-0 victory and a three-game sweep of the Los Angeles Angels on Thursday night.
The win moves first-place Houston two games ahead of the Angels in the AL West.
"We've continued to fight on and prove that we deserve to be here," Castro said.
It was 0-0 to start the bottom of the ninth inning. Jed Lowrie drew a walk off Jose Alvarez (2-2) with one out before a two-out single by Marwin Gonzalez. Castro then launched his two-out shot off Fernando Salas into the seats in right field to give Houston the win.
"This has been a fun run so far to get to this point," manager A.J. Hinch said. "You can downplay it only so much but the resiliency in this team and the methodical continuation of how we approach our games every day is really fun to be a part of."
Luke Gregerson (4-1) pitched a scoreless ninth to complete the three-hitter and get the win.
Scott Kazmir allowed three hits and struck out five in 7 2/3 innings in the first start for the Astros in his hometown and his second since a trade from the Oakland Athletics. He's been dazzling in his first two starts for the Astros, throwing 14 2/3 scoreless innings and allowing just six hits.
Kazmir allowed one earned run this month to give him a major league-leading 0.26 ERA in July.
"This month, being able to use all my pitches and being able to have a feel for them in any count, that's been the key," Kazmir said.
Angels starter Matt Shoemaker was equally as good, scattering three hits over seven innings with seven strikeouts.
Los Angeles center fielder Mike Trout was 0 for 3 in his return after missing two games with an injured left wrist.
The Angels have dropped five of their past six.
"We had a tough week," manager Mike Scioscia said. "We didn't do a lot of the things we've been doing ... we need to regroup and start to build momentum again."
Kole Calhoun gave Los Angeles its first hit since the second inning with a single with one out in the sixth, but Kazmir retired the next five hitters. Johnny Giavotella singled to start the eighth and became the first Angel to reach second on a fly out. Shane Victorino drew a walk before Giavotella took third on a wild pitch.
Kazmir escaped the jam and ended his night by striking out Calhoun.
As he walked off the field, Kazmir, who grew up less than 30 miles from the ballpark in Cypress, Texas, tipped his cap to acknowledge a rousing standing ovation.
"Felt the love for sure," he said. "So what more can I say, just excited to be here."
Pat Neshek took over and struck out Trout to end the threat.
Shoemaker retired the last 11 batters he faced after a single by Colby Rasmus with one out in the fourth inning.
Erick Aybar singled to lead off the second inning before Kazmir retired the next 10 hitters. The next base runner came when Chris Iannetta walked with one out in the fifth, but the Angels couldn't string any hits together after that.
Luis Valbuena got the first start of his career at first base on Thursday night with Lowrie taking over at third in his return from the disabled list. Valbuena, who hasn't played first base since elementary school, got some advice from Albert Pujols on playing the position. Pujols told him just to relax and "play your game."
Lowrie hasn't played since April 27 because of a torn ligament in his right thumb. He was playing third base for the first time since 2011 because Carlos Correa took over at shortstop while he was injured.
WATT A DAY
Houston Texans defensive end J.J. Watt took batting practice early Thursday afternoon at Minute Maid Park before visiting with Hinch and most of the team.
"Watt, he does everything," Hinch said. "He's sort of the Superman of Houston. He's a terrific guy that has a great perspective."
The 6-foot-4 Correa enjoyed meeting him and joked about his size and strength.
"People like him are why we play baseball," Correa said. "We get hit by a baseball not by J.J. Watt."
UP NEXT
Angels: Hector Santiago faces fellow lefty Clayton Kershaw in the opener of a three-game interleague series with the Dodgers. Santiago is 3-0 with a 1.70 ERA in his past six starts.
Astros: Scott Feldman opposes Rubby De La Rosa when the Astros begin a three-game interleague series with Arizona. Feldman will be making his third start since returning from the DL.
---
---