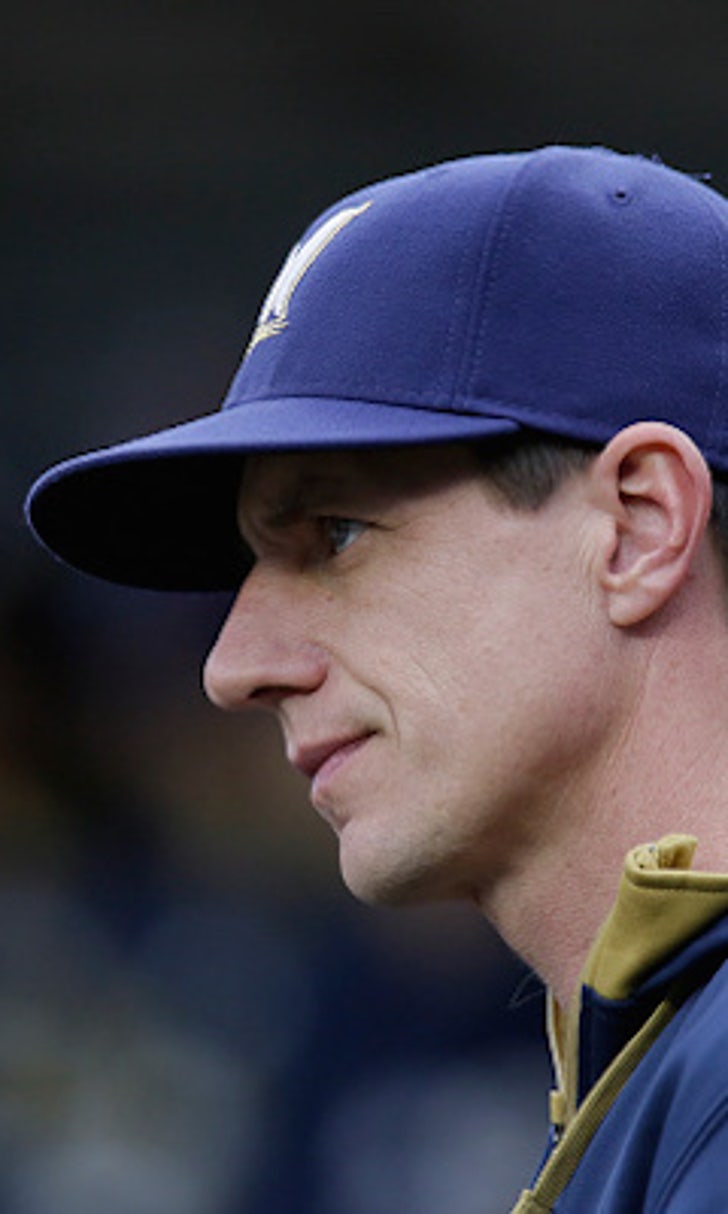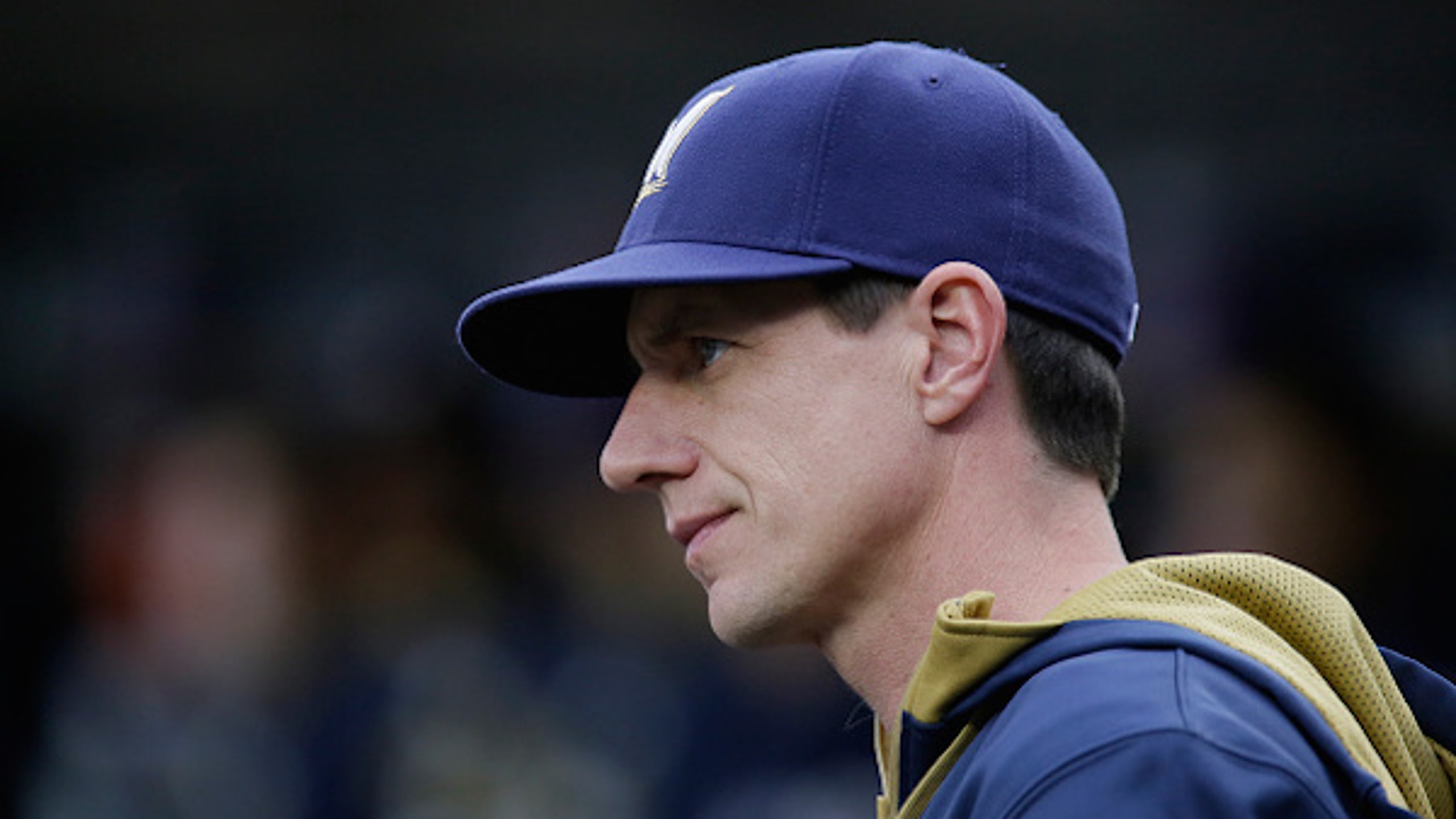 Brewers: Sorting out the mess in Milwaukee
BY foxsports • June 18, 2015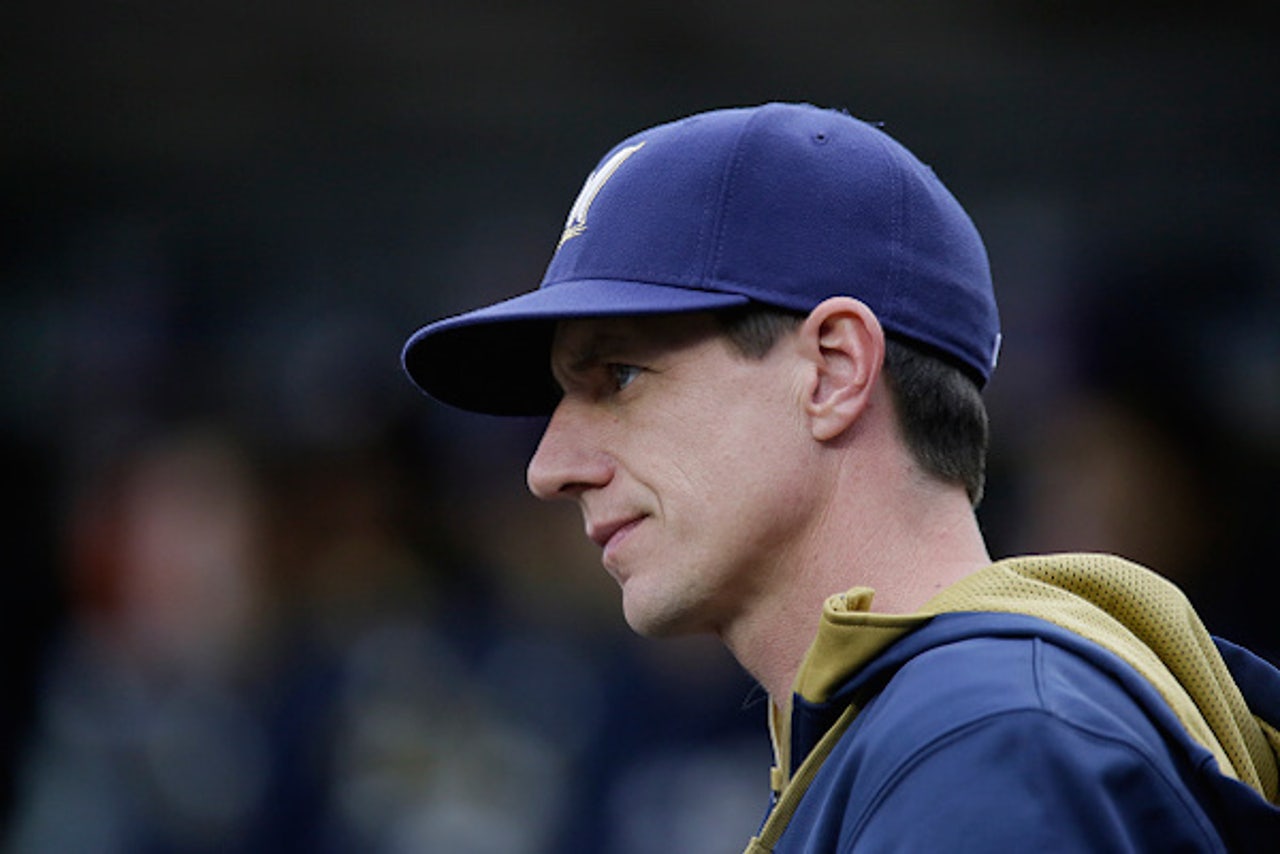 By Shaun Ranft
The Milwaukee Brewers have never won a World Series. They've made the postseason just twice in my lifetime and since 1989 have only experienced seven winning seasons — going from 1993–2006 without one. Their most recent successful seasons — 2008 and 2011 — were made possible by "trading the farm" in order to win. Their post-2011 fall is chronicled here.
They almost got a chance to play for baseball's ultimate prize in 2011 but ran into a white-hot St. Louis Cardinals team who went on to win it all. They've struggled since, however; Prince Fielder was lost to free agency, Ryan Braun fell from grace, and starting pitching became scarce.
And while they were quite far from being terrible between 2012–14, mediocrity hindered opportunities to secure top draft picks. It's never easy to sell a rebuild to fans, but from fair-weather supporters to diehards alike, one has to realize the necessity of it.
Since buying the ball club in 2005, owner Mark Attanasio has been very dedicated to producing a competitive team on a yearly basis, and in 2012it was reported the Brewers had doubled in value since his takeover. But sometimes ownership has to take a couple steps back to assess the situation. At 24–43 (the second-worst record in baseball), it's obvious this is not a competitive team. Not this year, and most likely not next year. Their tremendous start last year had everyone believing until August and September came around.
In the span of two months they plummeted to third, missing the playoffs entirely. After signing Matt Garza in the winter of 2014, still having Kyle Lohse after acquiring him the previous season, picking up Aramis Ramirez's option for 2015, and genuinely addressing first baseman issues for the first time since Fielder's departure in a trade for Adam Lind, all were hopeful for a positive and complete 2015 campaign.
It's been anything but. Trading long-time starter Yovani Gallardo before the season began made perfect sense for Milwaukee from a financial standpoint, but with Marco Estrada being dealt in the offseason for Lind that left a very thin rotation of Lohse, Garza, Wily Peralta, Mike Fiers, and Jimmy Nelson—one that already sees Peralta out injured while Garza (and Lohse in particular) struggle to find better form.
Before the regular season even began Melvin made a curious decision in picking up manager Ron Roenicke's option for 2016, only to fire him 25 games into this season. Why didn't they just do so after the 2014 season concluded? Instead they'll be paying him through this year and the next.
In a move that struck me as one to appease fans, Melvin went with former player Craig Counsell as his next hire. Counsell grew up in Whitefish Bay, Wisc., and was a special assistant to Melvin since retiring in 2011. If anything it appeared Counsell was being groomed for Melvin's job, but here we are. I had no issue with the hire; he's been around this team for years and if you're going to appoint someone to lead this proverbial sinking ship it might as well be somebody who the majority of fans like and players respect. Back to the point: they aren't going to win a lot of games this season, and if you follow closely you shouldn't want them to.
I'm not suggesting a full-scale, Houston-like rebuild, but moves need to be made — even if that means trading your more valuable players. The organization has already made it known veterans such as Lohse, Garza, and Ramirez will be available leading up to the trade deadline, so let's break those players down and assess their value along with others Milwaukee might consider moving in the next year or two.
To be clear, just because certain names appear on the following list doesn't mean I believe they should be moved.
Kyle Lohse
It's been an extremely trying season for the 36-year-old, and it's unclear how much value he has left at this point. His numbers from the 2013 and 2014 seasons were serviceable; ERA/FIP of 3.45/4.02, WAR of 2.1 in both years, and a walk rate of only 5 percent. 2015 has painted a very different picture; ERA/FIP of 6.27/4.91, HR/9 of 1.8, and a .291 batting average against. There will always be clubs looking for rotation help at the deadline, but it's difficult to see Milwaukee getting much in return other than a slight salary dump.
Lohse is making $11 million this season and has some deferred money coming his way over the next three years.
Matt Garza
Garza has age on his side (31) and had a solid 2014 season, but is making a guaranteed $12.5 million per year from now through 2017. In 27 starts last season he registered numbers of 3.64/3.54 with a respectable BAA of .228, but like Lohse has run into issues in 2015. Numbers have jumped to 4.80/4.72, his strikeout rate has decreased, his walk rate has increased, and the opposition is now hitting .262 off of him. His HR/9 rate has even escalated from 0.66 to 1.32.
However, his last 18 innings of work will have helped his value, as Garza has only allowed two earned runs while walking two and striking out 11. Garza is showing promise while Lohse continues to struggle, and although the latter surrendered two runs his previous time out, he also scattered 10 hits. At the moment Lohse isn't fooling anyone.
Aramis Ramirez
The 37-year-old third baseman is likely calling it a career upon 2015's conclusion, but how much does he have left in the tank? Milwaukee picked up his option for $14 million, which in hindsight appears to have been a misstep. Despite a three-double night last Friday night against Washington, he's slashing just .218/.258/.397 with 11 doubles and 7 home runs in 190 plate appearances.
If his approach at the plate begins to improve, I wouldn't count out an American League team in contention to roll the dice. His body may be breaking down, but there's always the DH.
Francisco Rodriguez
If Milwaukee can move Rodriguez at the deadline for someone young and decent, they should. At 33 years old and signed through 2016 for $9 million — including a team option for $6 million in 2018 — the veteran closer is having a very good season. His ERA/FIP of 1.13/2.35 is the best it's been since 2006, while his strikeout rate of 29.9 percent hasn't been higher since 2007 (31.1 percent).
For clubs looking for late-inning relief help near the deadline, Rodriguez at his age, price, and current levels of production is ideal. He may not net much in return, but there's nothing wrong with taking calls.
Broxton the polar opposite to Rodriguez currently. He's expensive and has been quite bad; ERA/FIP of 5.92/4.21, HR/9 of 1.85, and a BAA of .289. Broxton has very little value at the moment and at this juncture, would only provide Milwaukee with a little bit of salary relief. If they can move him, they shouldn't think twice.
Parra, 28, is a tricky case. The outfielder was awarded a salary of $6.24 million in the offseason and is eligible for free agency in 2016, but he's been filling in for the injured Khris Davis quite admirably. Parra is a significant upgrade in the outfield for his defense alone, but has also been solid at the plate this year with a line of .278/.313/.439 with 13 doubles, 2 triples, and 4 home runs. Davis on the other hand is hitting .250/.337/.446 with 10 doubles, two triples, and five home runs and has improved his discipline, but how he'll return from knee surgery later this season remains a mystery.
Davis is one year younger and the significantly cheaper option of the two, making just $520,000 this season while not being eligible for free agency until 2020. It's clear which player would make more sense to move.
Here's where we get to the more valuable/untouchable players on the roster. Gomez has been one of Milwaukee's more valuable players since 2013. He's 29 and under contract through 2016 for the affordable cost of only $17 million ($8 million this season, $9 million next). Gomez is averaging a line of .279/.334/.472 with 73 doubles, 15 triples, 52 home runs, and 80 stolen bases from 2013 to the present.
He had a WAR of 8.5 in 2013 followed by 4.8 last season. At his age and price there are very few more valuable players in terms of bang for the buck. If the front office decides to reload this year, Gomez is a near-perfect candidate. For what it's worth Jon Heyman of CBS Sports has Gomez No. 4 on his list of potential trade bait this season. If the Brewers fail to move him this year or next, they will lose him to free agency. There's no doubting that.
Ryan Braun
Another name on this list, which is surprising for a couple of reasons (at least for how high on the list he is), is outfielder Ryan Braun at No. 10. We're all aware of his PED past, not to mention the thumb injury that has bothered him since last season. Following the positive test result from 2011, Braun slashed .319/.391/.595 with 36 doubles and 41 home runs in 2012. Before serving his suspension in 2013, he slashed .298/.372/.498 with 14 doubles and 9 home runs over 253 plate appearances.
A full 2014 season wasn't kind to him as nerve damage in his thumb saw those numbers slip to .266/.324/.453 with 30 doubles and 19 home runs. Following offseason surgery and only experiencing minor setbacks thus far, Braun is hitting .262/.331/.491 this campaign. More importantly his power seems to be back as he currently sits on 13 home runs.
That said, a five-year contract extension which will net him $96 million through 2020 kicks in next season, and for a 31-year-old whose numbers have declined, that's going to be a lot for most teams to take on — not to mention potential PR nightmares. As Heyman reports, "one GM said teams would be 'scared to death of the PR and the contract.'"
That said, you're likely to have a job as an athlete regardless of many off-field actions, as long as you produce.
The 29-year-old catcher is said to be off the negotiating table, but it's not every day a catcher comes along that can hit as well as play excellent defense. Despite his sputtering start this year — .206/.250/.268 — Lucroy has hit .277/.333/.425 with 96 doubles and 44 home runs since 2012. A couple freak injuries in that time span have limited the number of games he's played, though. Lucroy is signed through 2016, is set to make only $4 million next year, and is making just $3 million this season. The contract includes a team option in 2017 for $5.25 million, and the earliest he can become a free agent is 2017.
Milwaukee will undoubtedly receive calls on the valuable backstop; we'll see how firm they are in regards to holding on to him.
***
Of course, it's unlikely all of these players will be moving on from Milwaukee in the next season or two, plus there's always going to be players you need to keep—whether that's because of financial reasons or due to the fact that they're unlikely to gut the entire system. Three such players that jump to mind are 25-year-old shortstop Jean Segura — who is experiencing a nice bounce-back to his personally tragic and professionally underwhelming 2014, as well as a couple of promising young starters in Wily Peralta and Jimmy Nelson (26).
While a complete overhaul is unnecessary and something most fan bases are unlikely to invest in, the Milwaukee Brewers are long overdue for a retooling. They're not winning now, and are unlikely to win many games over the next couple seasons. Several players hold significant value; it's just up to the front office to decide who they'll want along for the next promising ride.
And if you're worried about fans in Milwaukee losing interest, here's one last note: despite being last place in the NL Central while holding baseball's second-worst record, their attendance remains 10th in the league. Not too shabby for an organization that hasn't fielded a truly competitive team since 2011.
Statistics courtesy of Baseball Reference, ESPN, and Fangraphs.
More from The Sports Post:
---
---