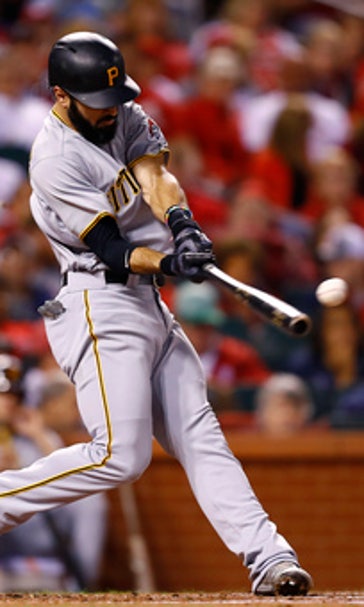 Braves' Rodriguez to have shoulder surgery, may miss season
February 13, 2017

ATLANTA (AP) Braves general manager John Coppolella said Monday he isn't sure whether it is realistic to hope for a return this season of infielder Sean Rodriguez, who will have shoulder surgery.
Rodriguez, who agreed to an $11.5 million, two-year contract with Atlanta in November, hurt his shoulder when a vehicle he was driving was rammed by a stolen police car in Miami on Jan. 28. His wife Giselle and two of their children were hospitalized with injuries she said on her Twitter account were not life-threatening.
Rodriguez's shoulder injury was not immediately disclosed. Coppolella told The Associated Press that Rodriguez's surgery hasn't been finalized.
''He's going to be out indefinitely,'' Coppolella said. ''We hope he comes back as soon as possible. We're not sure yet if it's realistic that will be for the 2017 season. We don't have enough information.''
The team prepared for the possibility Rodriguez could miss the full season when it acquired second baseman Brandon Phillips from Cincinnati on Sunday.
The versatile Rodriguez had been expected to compete with Jace Peterson for the starting job. Now Phillips moves in as the starter and Peterson could fill a utility role.
Phillips, a 35-year-old second baseman, has a $14 million salary this season, of which $2.25 million is deferred without interest. He can become a free agent after the season.
Having Phillips for one season gives second base prospect Ozzie Albies another season in the minors. Albies and rookie shortstop Dansby Swanson are the Braves' projected long-term middle infield starters.
''We see Brandon as somebody who is going to help us this year,'' Coppolella said. ''We're always cognizant of our prospects. That's why we've made mostly short-term deals but we're excited about what Brandon brings to us in 2017.''
Rodriguez hit .270 with 18 homers and 56 RBIs - all career highs - for Pittsburgh last year.
The driver of the stolen police car was killed in the accident that injured Rodriguez and his family members. Giselle said on her Twitter account she suffered a broken femur and tibia.
Coppolella described the accident as horrific.
''More important than when he gets back to playing with the Braves is the health and well-being of his family,'' Coppolella said. ''That's first and foremost in our thoughts.''
Braves pitchers and catchers report for spring training on Wednesday. Coppolella said Rodriguez is not expected in camp by any specific date.
''We want him to get healthy and get right and take care of his family,'' Coppolella said.
---
---