Athletics' Yonder Alonso dreams of taking place among All-Stars in hometown of Miami
BY Ken Rosenthal • June 16, 2017
I told Yonder Alonso that I had only one problem with writing a story about him -- that whatever I put together would not be nearly as good as his "Letter to My Younger Self" that he penned for "The Players' Tribune" on April 24.

In that article, the Oakland A's first baseman detailed his family's escape from Cuba to Miami when he was 10 and all of the financial hardships that followed. Many of the details were quite moving, and one in particular stood out:

Alonso, while on a baseball scholarship at the University of Miami, sometimes would find his father waiting at the team plane, late at night at the end of a road trip. His father, Luis, would need his assistance cleaning a warehouse -- emptying trash, scrubbing toilets, you name it -- in the family's endless quest to make ends meet. The jobs sometimes took all night.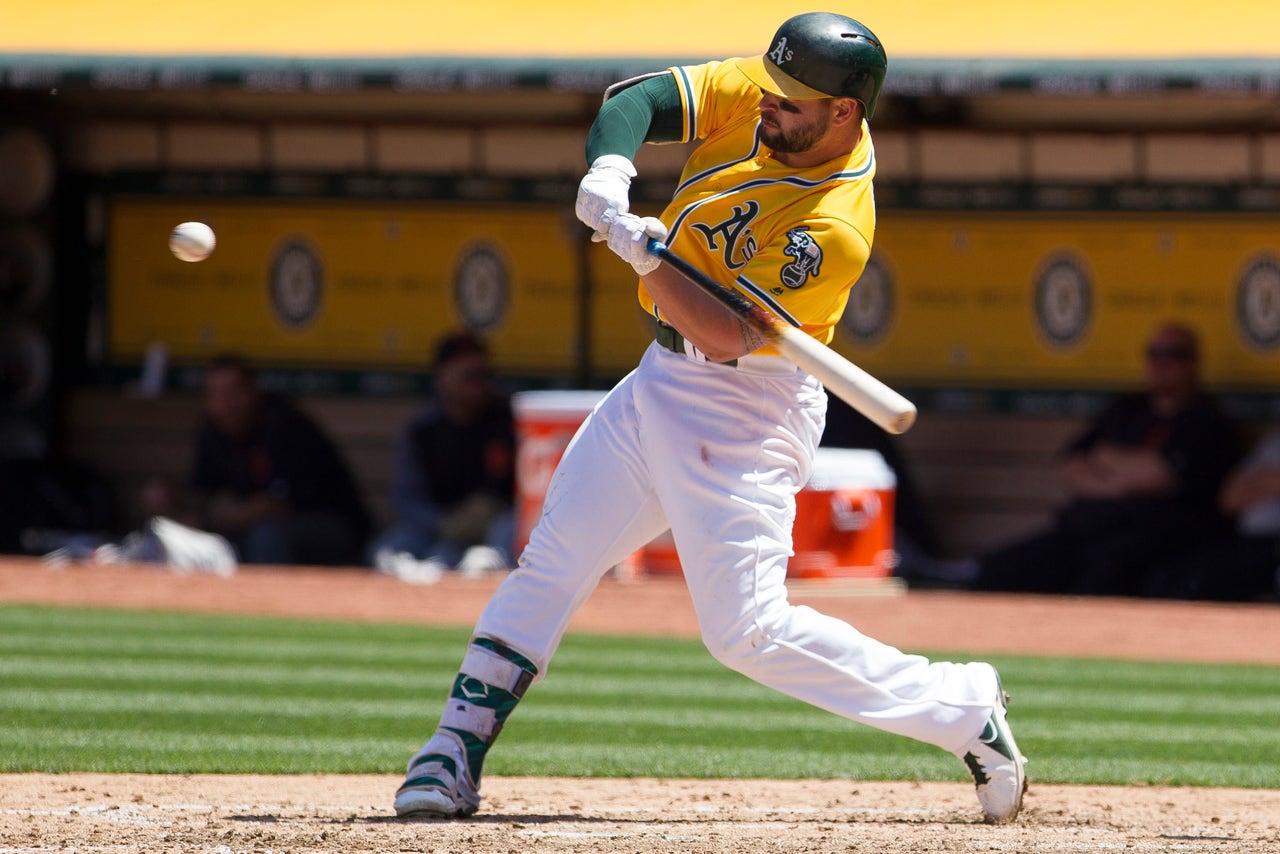 Andrew Villa-USA TODAY Sports

Yet, as compelling as Alonso's first-person account was, his story is still unfolding. In fact, there is a chapter in development that would be the topper to the entire tale, a chapter that Alonso says would be "like something out of a fantasy movie."

The All-Star Game is in his hometown of Miami on July 11. And in the latest round of fan balloting, Alonso was the leader among American League first baseman, slightly ahead of the Tigers' Miguel Cabrera.

MORE: Yonder Alonso hopes to stay with the A's for the long term

The election of an Oakland Athletics player alone would be major news -- before Josh Donaldson in 2014, the A's last elected starter was Jason Giambi in 2000. But the election of Alonso, who was not even certain to be offered a contract by the team last off-season, would be . . . well, let him tell it.

"I'd probably be crying the whole time I'm there," Alonso says. "There would be a lot of tears.

"You're talking to a guy who used to sneak his way into the Orange Bowl with his friends for the Miami Hurricane games. And now that's (the site) for the stadium for the Marlins.

"You're talking to a guy who lived half a mile away from there. All his friends are literally half a block from there. I used to clean offices three miles from there. I went to school a couple of blocks away. It would be full circle, completely – and I mean full circle.

"I know I would be representing my team and obviously I'd be representing my last name. But I can tell you this, man. The people who watch baseball in Miami that are Cuban . . . those people are making the All-Star Game with me, if I am to make the All-Star Game. That, for me, is even more important than myself making the All-Star Game. If I can have a little bit of happiness for those people, that's really all that matters."

Alonso, batting .306 with 17 homers and 1.043 OPS, will be the logical choice to represent the Athletics even if he does not win the fan balloting. Amazing, considering that his previous career-high for homers was nine, and that his .721 OPS entering the season was well below-average for a first baseman.

But again, it's best to allow Alonso to explain.

https://www.youtube.com/watch?v=UugsWkJTvVY

Changes had to be made

"It's pretty simple," Alonso says. "I was heading in a direction where I saw my career on the downfall. I think in August and September of last year I realized that if I don't make some adjustments, I will be heading into a backup role, not get the at-bats that I want.

"I'm 30 years old. I'm in my prime. I pretty much was very truthful honest with myself. I realized that if you're going to play first base, you've got to make sure you're doing everything to make yourself valuable.

"I needed to work on my hitting."

He took a week off after the season ended, then got busy with tee work. He watched video of himself, determining his flaws, how pitchers attacked him. And he watched video of hitters he wanted to emulate, hitters who had the kind of leg kick that he planned to incorporate into his swing.

But Alonso didn't stop there.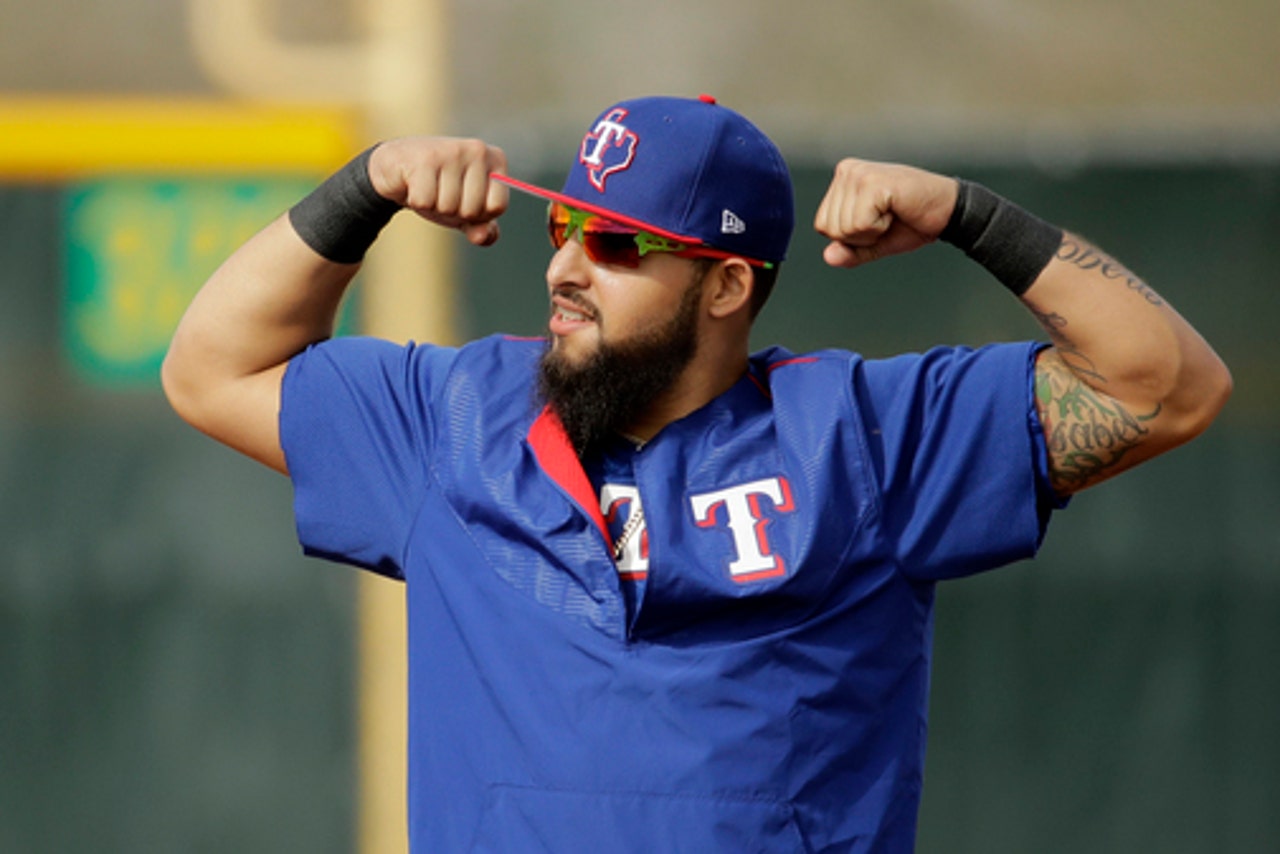 Rougned Odor proved an unlikely resource.

He spoke with Danny Valencia, his former teammate with the A's and at Miami. He spoke with his brother-in-law Manny Machado. He spoke with Joey Votto, Eric Hosmer, Carlos Beltran, Rougned Odor . . .

Rougned Odor?

About the only thing the 6-foot-1, 220-pound Alonso has in common with the 5-11, 195-pound Odor is that they bat left-handed.

"I know him from playing against Texas last year," Alonso says. "I really enjoyed the little fight he had in him. He swings the bat like a big boy. I was like, 'How can you generate so much power in that little body?'"

"The first thing he said to me was, 'Use a leg kick and a heavy bat.' Then after that we started getting very deep into things. And the next thing you know I was like, 'This guy knows what's up.' He's a young guy, but he's fully detailed on what's happening at the plate."

Alonso says that Valencia actually was the first to tell him that he needed to make changes. The two, who have known each other since high school, were reunited with the A's in Dec. 2015 when Alonso arrived from the Padres in a deal for left-hander Drew Pomeranz.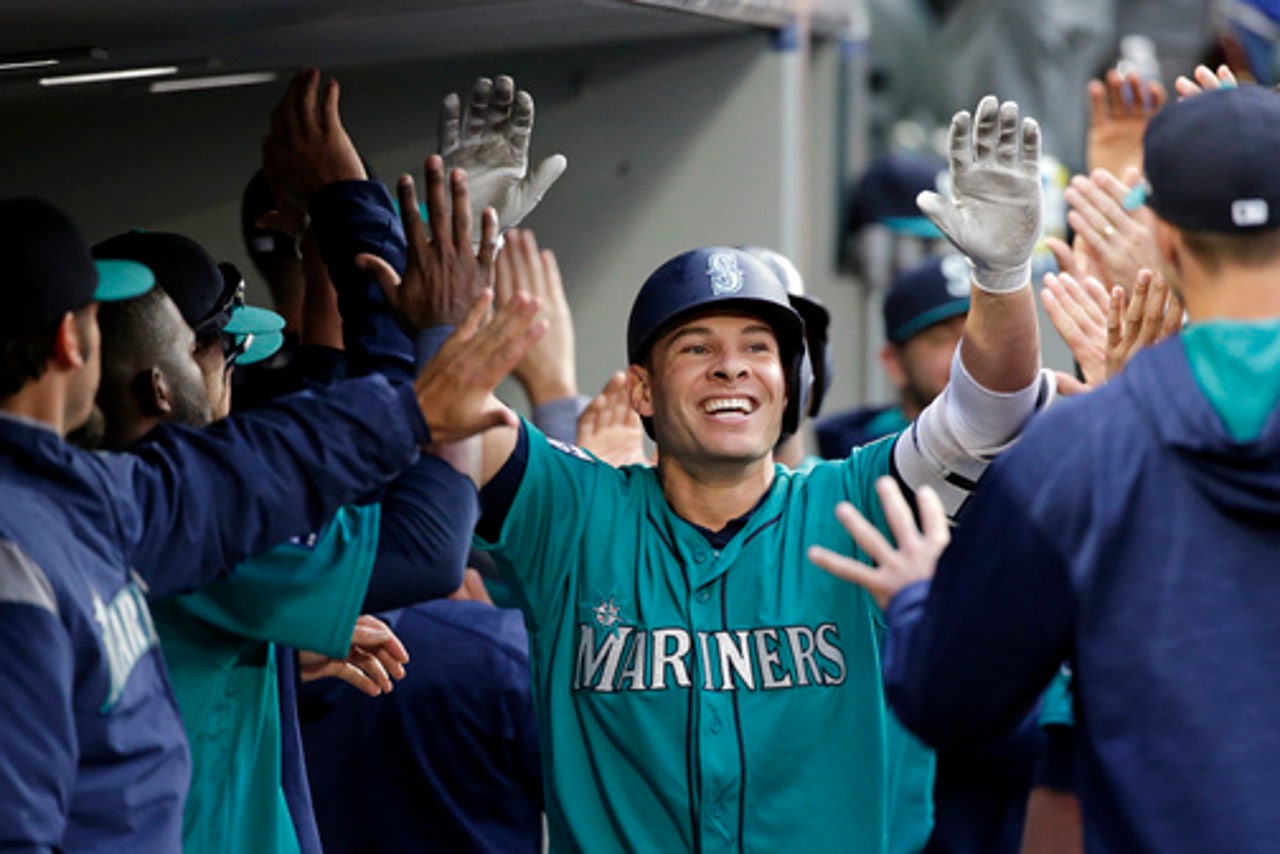 Danny Valencia

Valencia was adamant -- and painfully honest -- with his old friend.

He explained to Alonso the importance of a hitter unleashing his "A" swing until there were two strikes. And he stressed to Alonso the importance of generating power from his lower half.

"He relied on his hands too much," says Valencia, who is now with the Mariners. "I said he barrels the ball up better than most everyone I had played with, but it was all hands. He only had pull power, and he's way too strong to not be able to hit the ball out all over the park."

https://www.youtube.com/watch?v=EaN_jjPikik

Votto, whose presence led to the Reds' trade of Alonso to the Padres in Dec. 2011, also was a major influence. Alonso says he reached out to Votto about four times during the off-season. Each time, Votto responded with a long text.

"He's Albert Einstein when it comes to hitting. He says things sometimes that I don't even understand," Alonso says. "But once you really think about them, you realize what he's talking about.

"I actually asked him about the leg kick. I asked, 'Do you think I could do something like that?' And he said, 'Absolutely, I think you can. You do have good hand-eye coordination. You do have a great approach. You do hit lefties well. You hit the ball the other way. I don't think there is a reason you can't do those things."

Says Votto, "With almost every hitter that I chat with, we usually discuss comfort. I ask, 'Does it feel comfortable?' Or, 'How do you feel about it?' If I get a positive reply, then clearly they are on to something they like and I wouldn't want to get in the way of that.

"Yonder was the same way. He sent me some video in the off-season. It was a side view of him hitting. He seemed to have added more rhythm and a high leg kick to his swing. I asked him how it felt and he said, 'Fantastic!' It's funny how much feeling good about something and believing in it can be something that can create change."

Votto concludes with a typical Votto thought:

"Yonder is reaching his potential now. I'm not sure what kind of ceiling he has, but I'm happy for him and I wish him nothing but long, deep fly balls and a plague to the shift."

https://www.youtube.com/watch?v=wSG1eHZAOos

Humbled by fans' All-Star vote

Alonso, in the second update of the AL All-Star balloting, trailed Cabrera by about 40,000 votes.

That alone shocked him.

"I was in awe. It was so humbling," Alonso says. "I could not believe I was behind a Triple Crown winner, let alone one of the best hitters in our era, in our generation, in all of baseball."

In the third update, the one announced this week, Alonso pulled ahead of Cabrera by 4,457 votes.

"I'm still humbled by the situation," Alonso says. "Sure, there is a lot of time left until the All-Star Game. But it's one of those things where you say, 'My hard work has finally paid off. I'm in the middle of this thing.' "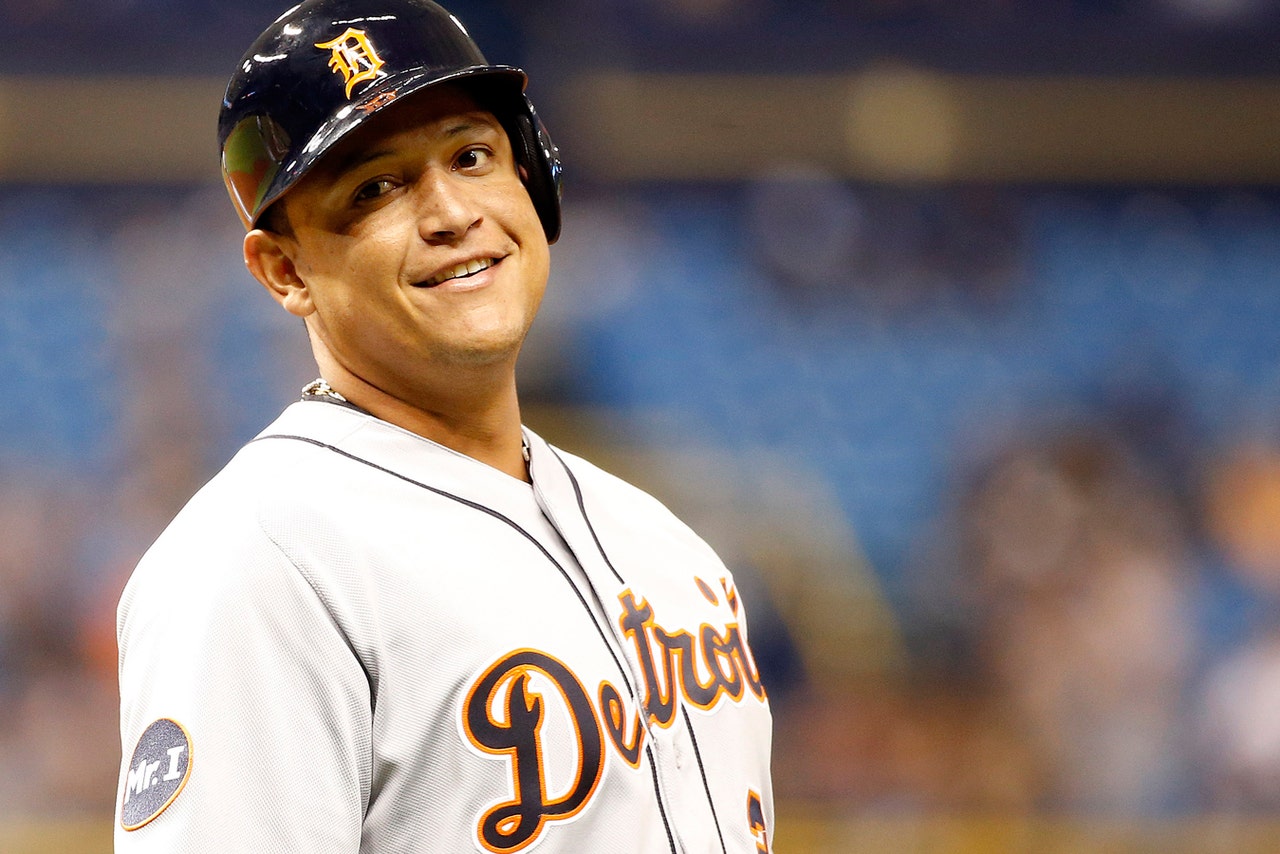 Kim Klement-USA TODAY Sports

At least so far, fans are not simply voting for big names from the past. Yankees rookie Aaron Judge leads all vote-getters. The Reds' Zack Cozart is ahead of the Dodgers' Corey Seager among NL shortstops. The Twins' Miguel Sano and Indians' Jose Ramirez lead Machado among AL third basemen.

Alonso believes that he is drawing support throughout the Bay Area, from Giants fans as well as A's fans. And he believes social media is making fans more aware of which players are producing All-Star seasons, even if they are in smaller markets.

He doesn't want to get ahead of himself.

But yes, he is allowing himself to dream.

"My dad and I, we used to watch baseball all the time," he says. "And when the All-Star Game came, it was like a holiday. He was a happy guy waking up that morning – the All-Star Game was that night. I remember that's how my dad was. I assume everybody is like that, especially in Miami, especially in the Cuban community, the Latin community."

I ask Alonso what the moment would mean to his father, Luis, who had played professionally in Cuba, and his mother, Damaris. He replies, "I don't even know," then starts talking about what it would be like to share the All-Star experience with his father and 18-month-old son, Troy.

"I'm going to do the whole stuff I used to watch when I was a kid – the player with his son, the player with his dad," Alonso says. "I'm going to make sure my dad is a big leaguer and an All-Star, in the locker room and everything."

And his son? He would be part of it, too, even at 18 months old?

"He can swing it, though," Alonso says, chuckling. "He's got a little leg kick."



 
---
---