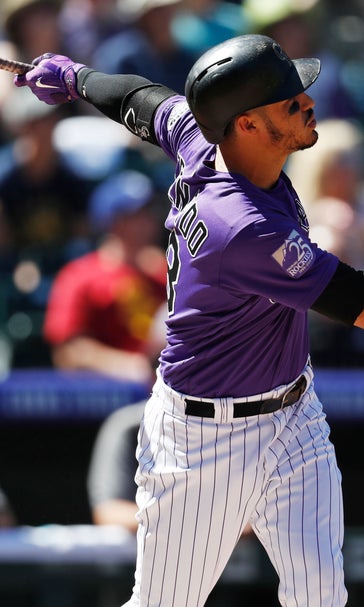 Arenado, Story homer to help Rockies beat Diamondbacks 10-3
September 13, 2018
DENVER (AP) — Kyle Freeland got in on the fun at the plate, too, for the Colorado Rockies.
Freeland pitched effectively into the seventh and had two hits, and the Rockies beat the Arizona Diamondbacks 10-3 on Thursday to maintain their NL West lead.
Nolan Arenado and Trevor Story homered and David Dahl had three hits and two RBIs to help Colorado remain 1 1/2 games ahead of Los Angeles and increase its advantage over the third-place Diamondbacks to 4 1/2 games. Los Angeles won 9-7 at St. Louis on Thursday night.
"We're playing good baseball, we're a very confident team," Arenado said. "Everyone's playing a part. It's great."
Freeland played two parts — keeping Arizona's offense in check until his left calf cramped up in the seventh and doing damage with his bat. He had an RBI double in the second inning and started a rally in the fourth with a bunt single down the third base line.
"I was amazed with him today. I really was," Arenado said. "I was like, 'He's an animal. He wants to pitch, he wants to hit, he wants to run, he just wants to be out there.' The best pitchers in this game, that's how they are."
Freeland (15-7) was just as effective on the mound. He allowed two through six innings and left with one out in the seventh after giving up two extra-base hits. A cramp that bothered him in the sixth inning flared up again, but he said he is fine.
"I've had it on the mound a couple of times before the season," he said. "It's nothing that I have concern about."
He was scheduled to face Clay Buchholz in the finale of the four-game series but the Diamondbacks right-hander was scratched from the start because of tightness in his right elbow. Matt Koch (5-5) started in his place and allowed four runs on eight hits in three innings.
Manager Torey Lovullo said Buchholz felt the tightness in his elbow 26 pitches into his 32-pitch warmup and he was shut down.
"We have learned through some difficult circumstances just get him off the mound and get him evaluated," Lovullo said. "So he is presently on his way back to Arizona to see our team doctors and obviously get an MRI."
A.J. Pollock homered for Arizona. The Diamondbacks are 3-12 in September. They lost 5-4 on Wednesday night when DJ LeMahieu hit a two-run homer off Yoshihisa Hirano in the ninth inning.
Arizona trailed 5-1 when Freeland gave up a triple to Steven Souza Jr. and a double to Nick Ahmed in the seventh. Freeland left after manager Bud Black and trainer Keith Dugger came to the mound.
Yencey Almonte gave up an RBI double to Ketel Marte that made it 5-3. The Rockies responded with five runs in the bottom of the inning.
Things don't get easier for the Diamondbacks. They head to Houston to play the AL West leaders in a three-game weekend series.
"We gotta get going, time is running out," Souza said. "We are making it more difficult on ourselves but it's not impossible."
After Arenado and Pollock traded solo home runs, Freeland hit an RBI double over Pollock's head in center to drive in Arenado and give the Rockies a 2-1 lead.
Story's home run in the third made it 4-1 and Freeland came through again in the fourth. He laid down a bunt single down the third base line to lead off and then scored on Dahl's double to the corner in left.
POWER COUPLE
Arenado and Story entered the franchise record books with their long balls. Arenado's drive, his team-leading 34th, gave him 100 RBIs to become just the fourth player in Rockies history to have four straight seasons with at least 30 home runs and 100 RBIs.
Story's homer, his 33rd, is the most by a Colorado shortstop. He was tied with Troy Tulowitzki, who had 32 in 2009.
Story trails Arenado in homers this season but he did have bragging rights Thursday. His 471-foot drive bested Arenado's by 6 feet.
"I really don't care too much about that," Story said. "Maybe later it's cool to see how far it went. Just trying to put a good swing on the ball. If it goes over the fence, that's all that matters."
GOING SOCIAL
Thursday's game was aired exclusively on Facebook Live.
TRAINER'S ROOM
Diamondbacks: LHP T.J. McFarland was sent back to Phoenix to have an MRI on his sore elbow. Lovullo said McFarland's elbow soreness flared up Sunday but has been feeling better. If he checks out Lovullo said he would join the team in Houston.
UP NEXT
Diamondbacks: LHP Robbie Ray (5-2, 4.18) will open a three-game series at the Astros on Friday night.
Rockies: LHP Tyler Anderson (6-8, 4.89) will start Colorado's nine-game trip against San Francisco on Friday night.
---
---