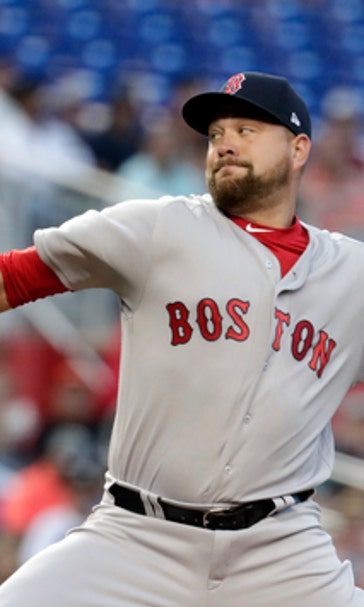 Another solid start for Red Sox as Johnson beats Marlins
April 2, 2018
MIAMI (AP) The way the Boston Red Sox are pitching, Derek Jeter, Jorge Posada and David Ortiz might not be able to hit them.
The All-Star trio sat together in the Miami Marlins owners box Monday night as Brian Johnson gave the Red Sox their fifth solid start in five games, allowing one run in six innings in a 7-3 victory.
All five Boston starters have allowed less than two runs, a franchise first to begin a season.
''It's what we expected,'' manager Alex Cora said. ''We know how special they can be.''
Hanley Ramirez and Mookie Betts each hit his first home run of the season for the Red Sox, who doubled their season total. They scored 10 runs in their first four games but are 4-1 because they've allowed only 12 runs.
The stingy pitching has come with three starters on the disabled list, including Drew Pomeranz, a 17-game winner in 2017.
Johnson (1-0) gave up rookie Brian Anderson's first career homer but stranded six runners. Boston starters have allowed three earned runs in 30 innings with 28 strikeouts.
''Everyone feeds off each other,'' Johnson said. ''You see one guy go out there and do well, and you want to do repeat that.''
The Marlins could have used some help from the lineup in the second row , where CEO Jeter watched his new team struggle against his old rivals. Joining him as spectators were former Yankees teammate Jorge Posada and ex-Red Sox slugger David Ortiz.
Before the game, Ortiz paid a visit to the Red Sox side of the field and caused a commotion.
''Who can miss David when he shows up? Nobody,'' Ramirez said. ''The crowd was going crazy too.''
Trevor Richards (0-1), the Marlins' minor league pitcher of the year in 2017, retired his first seven batters in his major league debut but then allowed five runs in 4 1/3 innings.
The Marlins gave up 12 hits after pitching well against the Chicago Cubs in the opening series of the season.
''That's a good lineup over there,'' Miami manager Don Mattingly said. ''They're a different animal than what we've seen the first four. Taking nothing from the Cubs, but this is a little different offense, where they all take their licks. They can ding you a little bit, and they are dangerous also.''
A bloop and a blast got the Red Sox on the scoreboard. Xander Bogaerts reached on a two-out swinging bunt single in the fourth, and Eduardo Nunez followed with an RBI double. Christian Vazquez added a two-run double.
Ramirez hit a two-run homer in the fifth. As he approached first base, he pointed at his family amid the large throng of cheering Red Sox fans behind their dugout.
''We've got like three suites,'' Ramirez said. ''I spent a lot of money on tickets.''
Rafael Devers doubled home a run in the ninth and has at least one RBI in each of his four games.
The Marlins' Starlin Castro had three hits and his 500th career RBI.
COMING THROUGH
Before the game, Ramirez promised his jersey to a young fan if he hit a homer. He made good on the agreement after the game and signed the jersey.
SPECIAL GREETING
The Marlins gave Anderson the silent treatment when he returned to the dugout after his homer. He walked along the bench doing phantom high-fives, and eventually his teammates mobbed him.
HOMECOMING
The trip to Miami stirred memories for Cora, who played for the Miami Hurricanes when their football team was a powerhouse. Among the players he knew were Warren Sapp, Ray Lewis and Dwayne Johnson.
''I played PlayStation with the Rock my freshman year,'' Cora said with a laugh. ''We went to his room and played, and all of a sudden 10 years later he's a superstar. I don't think he knows who I am.''
TRAINER'S ROOM
Marlins: C J.T. Realmuto (bruised back) began catching drills but is expected to be sidelined a few more weeks.
UP NEXT
LHP Chris Sale (0-0, 0.00 ERA) is scheduled to start for the Red Sox in the finale of their trip Tuesday night against RHP Jose Urena (0-1, 11.25 ERA). Sale allowed one hit in six innings on opening day but is the lone Boston starter without a win. ''This is a good road trip,'' Cora said. ''It can be a great road trip Tuesday, and we've got the right guy going.''
---
More AP baseball: https://apnews.com/tag/MLBbaseball
---
---