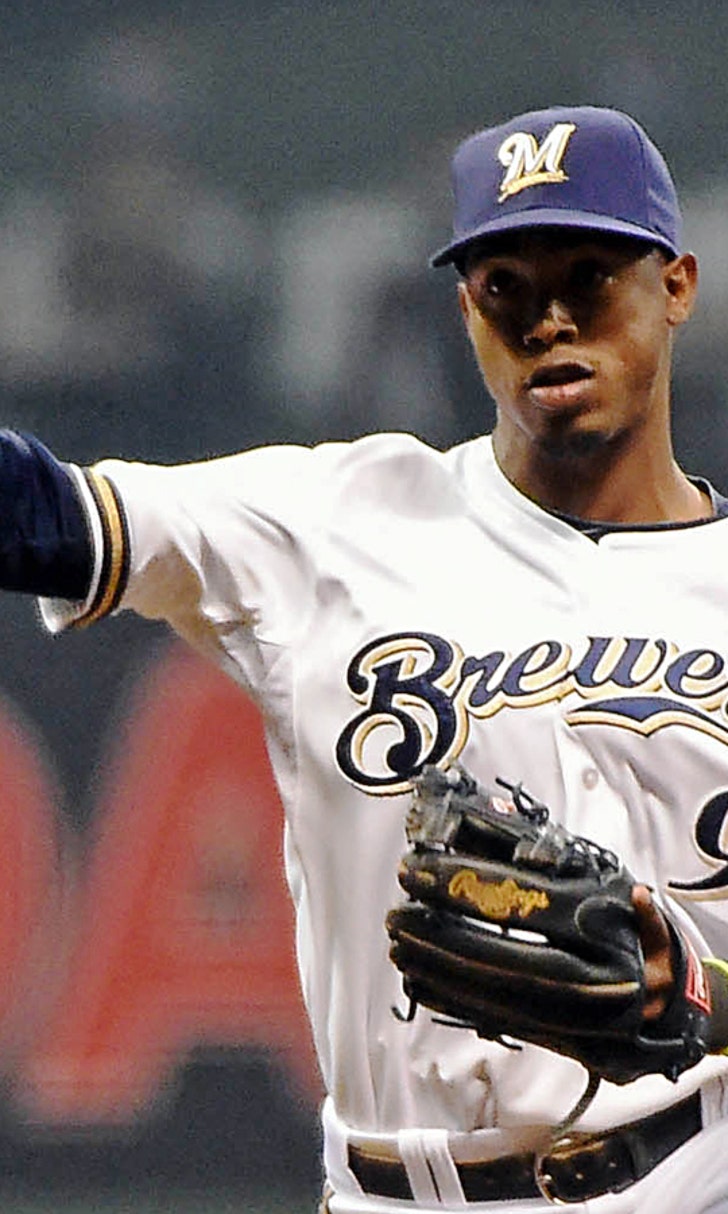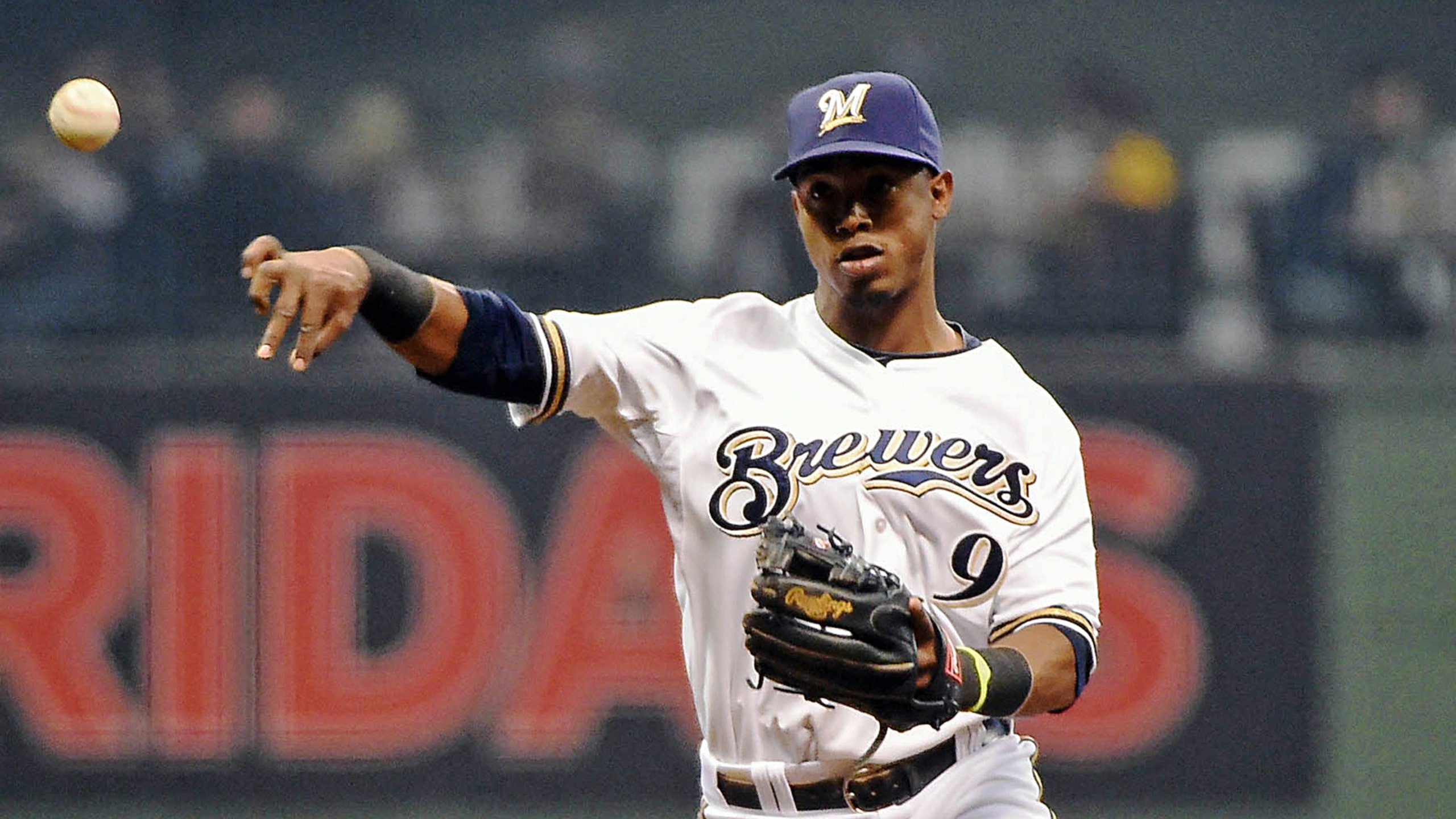 After years marked by tragedy, frustration, can Jean Segura blossom in desert?
BY foxsports • February 2, 2016
Look at the numbers — 2½ seasons of poor offensive numbers — and it's difficult to see why the Diamondbacks wanted Jean Segura.
Since July 19, 2013, Segura's OPS is .610, the lowest in the majors over that span for players with at least 1,100 plate appearances, according to STATS LLC.
Yet, his numbers do not necessarily tell the entire story.
Many fans know that on July 11, 2014, Segura's 9-month-old son Janniel died suddenly in the Dominican Republic, a tragedy that would devastate any of us.
But Segura, during his time with the Brewers, also was troubled by something else, something that contributed to him growing distracted, according to several people who know him.
Many of those people, including his former manager, Ron Roenicke, believe Segura is a strong candidate to bounce back with the D-backs, who acquired him with right-hander Tyler Wagner on Saturday for right-hander Chase Anderson, second baseman Aaron Hill, infield prospect Isan Diaz and $6.5 million.
It would be inaccurate to call Segura's issue with the Brewers a contract dispute.
A contract disappointment is more like it.
Segura, who turns 26 on March 17, rejected a seven-year, $40 million extension with an option for an eighth year in the spring of '14, according to major-league sources. He felt he deserved better, particularly since the Braves had just signed Andrelton Simmons to a seven-year, $58 million deal.
At the time, Segura was coming off a .752 OPS and All-Star appearance in his first full major-league season; the Brewers had acquired him from the Angels on July 27, 2012 as the centerpiece of the Zack Greinke trade. He didn't rate as highly as Simmons defensively — who does? — but was above average at short according to advanced metrics.
I know what you're thinking — the guy turned down $40 million, boo hoo. But with players, particularly young players, it isn't always that simple. They view the money as a reflection of what their team thinks of them, where they rank among their peers.
Two other infielders who were a year ahead of Segura and Simmons in service time signed extensions that spring — the Cardinals' Matt Carpenter (six years, $52 million) and Indians' Jason Kipnis (six years, $52.5 million).
The Brewers' offer to Segura was for considerably less, and it stung.
"That first year, he was really good, and not just numbers-wise," said Roenicke, who was fired by the Brewers 25 games into last season and is now third-base coach for the Angels. "He was really alert, heads-up at short, particularly on pickoffs when guys got big leads. He did all the mental stuff you want to see from your shortstop.
"The next year, there was so much going on. I don't know if I want to say it was a lack of concentration, but there was something different. We talked a little about the contract. He told me it was bothering him. After that, (he lost) his son and the rest of the year was really rough for him."
Roenicke said that Segura seemed poised to return to form last spring training, driving the ball better, looking more energetic, happier. But after a strong start, Segura produced virtually the same offensive statistics that he did in '14, though his defensive performance by several measures remained above average.
The Brewers traded Segura in part to clear a spot for top prospect Orlando Arcia, who is expected to join the team at some point this season; the ascent of Arcia also weighed on Segura, sources say.
The D-backs, meanwhile, again drew criticism for seemingly placing a different value on a player than the rest of the industry.
Segura could become either the team's shortstop or second baseman; he originally played second in the minors. Speed remains one of his attributes -- he has stolen 89 bases in 117 attempts over the past three seasons (76 percent).
"He really fits the depth that we're looking for as far as being a real good athlete, having a combination of skills," D-backs chief baseball officer Tony La Russa said. "He's got a live bat, live legs, good defensive skills — it's just a matter of him concentrating. We're trying to get deeper. He fits into our mix."
La Russa said he was aware that Segura had rejected an extension from the Brewers, but viewed the player's development through a wider lens.
"There are so many variables that you hear about a pitcher or player at any point in his career, especially a guy who has some talent, has some (early) success," La Russa said. "He gets kind of marked — not in a bad way, but people pay attention. All of a sudden, something goes one way or the other — it could be positive or negative — and he gets a lot of attention, a lot of speculation around him.
"In his case, he was a good-looking young player, a young All-Star. All of a sudden, there was the obvious stuff — getting hit by a bat with (Ryan) Braun (in the Brewers' dugout in April 2014), the family issue with his son. Everything else falls into (another) category. There is so much speculation, you rely on the reality. Is he healthy? What is his talent level? What is his character?
"A lot of people familiar with the Dominican (in the D-backs' organization) knew him. They liked his character a lot. He's a fresh, enthusiastic guy who has had some success."
Segura, for the first time, also has a measure of financial security; before getting traded, he signed a one-year, $2.6 million contract with the Brewers to avoid arbitration.
He is joining a team that wants him, a team that gave up a lot to get him, a team expected to be a factor in the highly competitive NL West.
"I think the change will do him good," Roenicke said. "I really like how (the Diamondbacks) play. They're aggressive. They've got some really good leadership with Paul (Goldschmidt). They all buy into it. The center fielder (A.J. Pollock) is a great player, and he buys into that kind of work ethic, too.
"(Segura) needs to be happy. He plays better when he's happy. When he first came over (in the trade), he was smiling all the time. You'd walk by him in the batting cage, and he would be smiling, laughing.
"You didn't see that much from him in '14 and the beginning of '15 (while Roenicke was still manager). Being around guys who are relaxed and having fun, that's what makes me think he can get to back where he was."
If he does, the past 2½ seasons will be remembered as a temporary setback, nothing more.
---
---