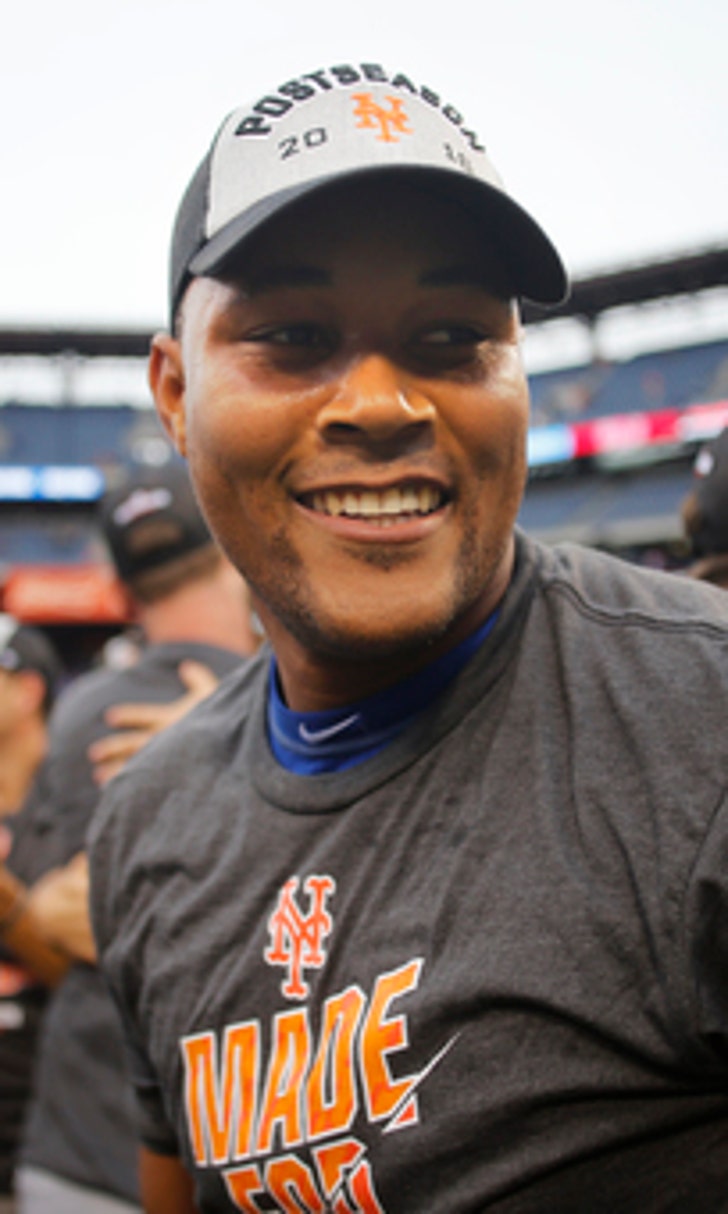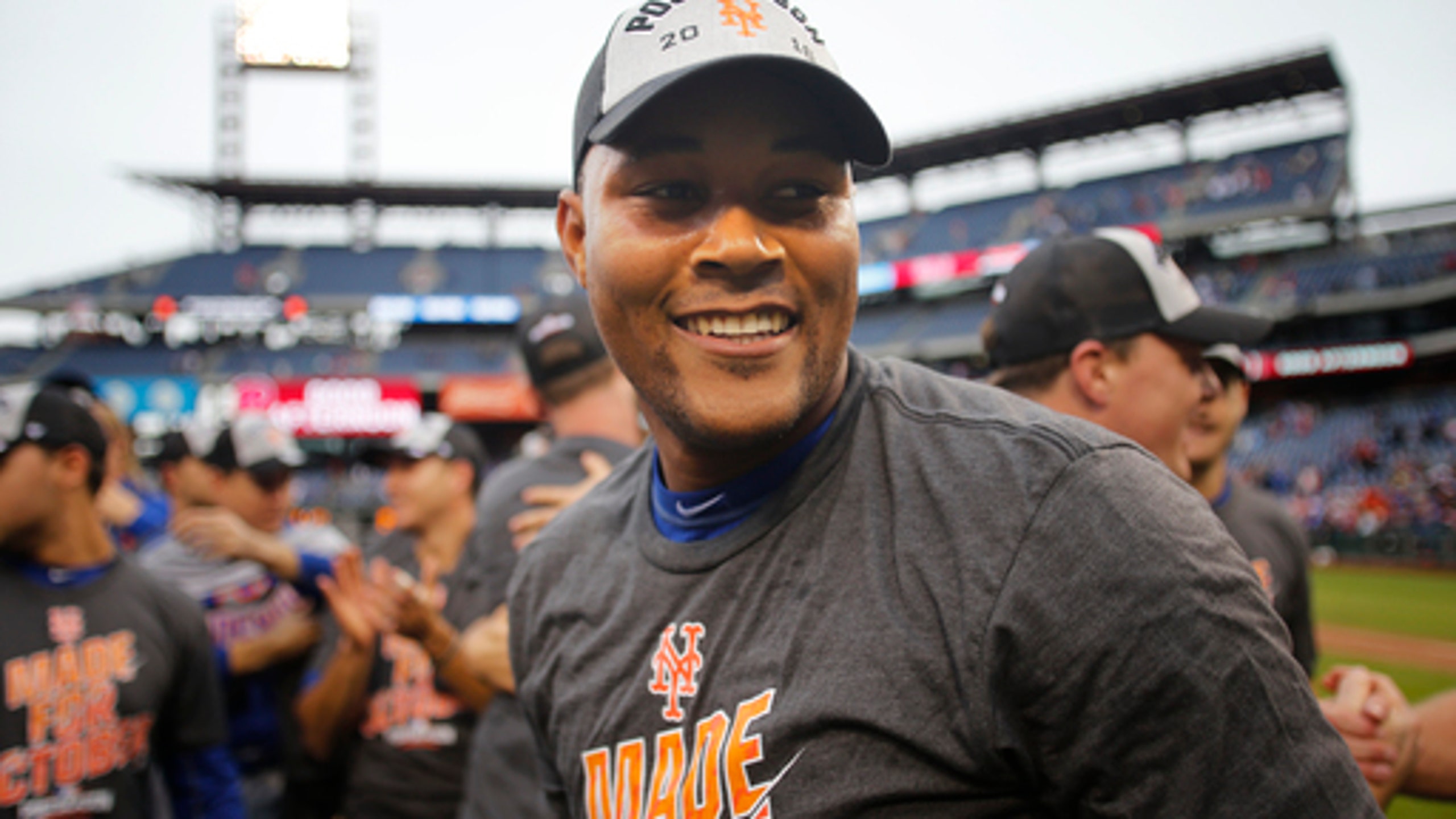 A capsule look at the Giants-Mets playoff game
BY foxsports • October 5, 2016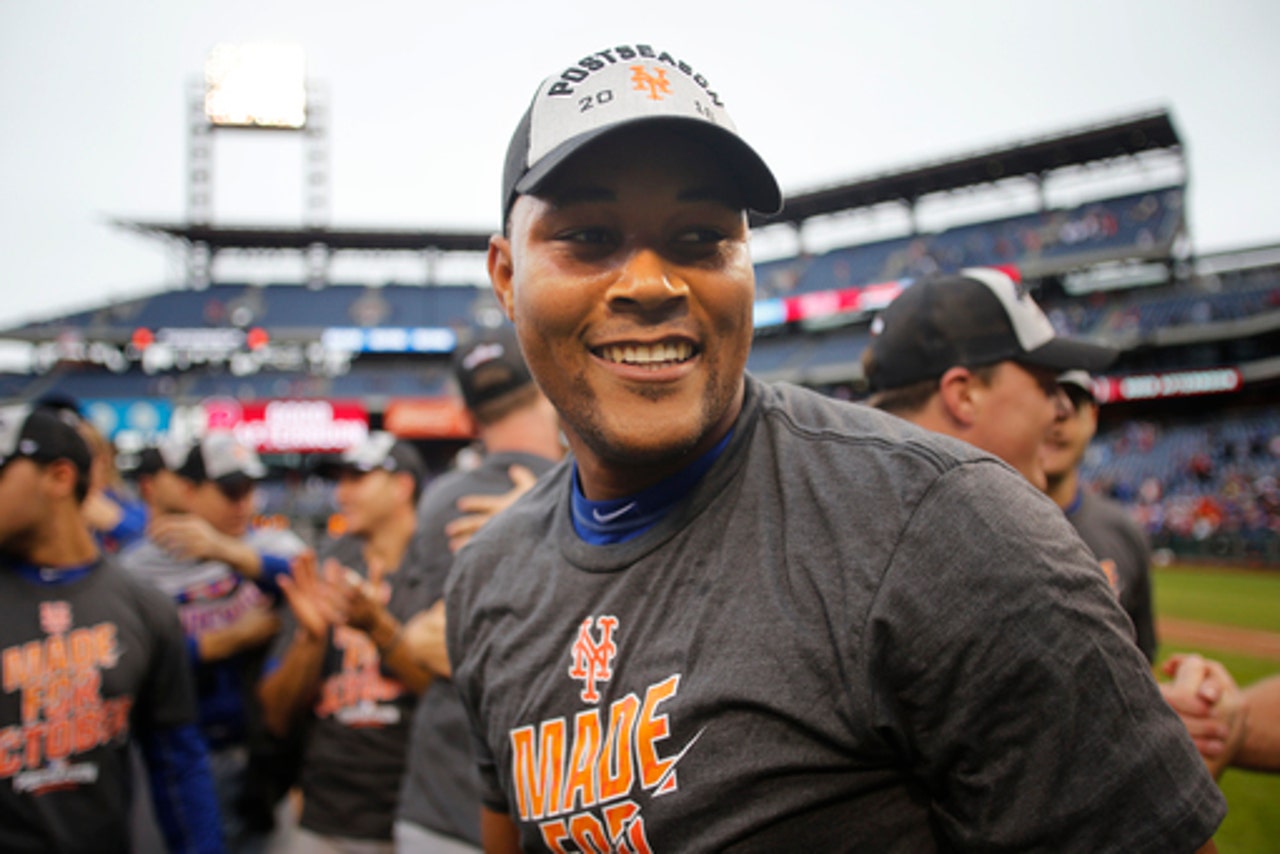 A look at the National League wild-card playoff between the San Francisco Giants and New York Mets:
---
Schedule: Wednesday, at New York, 8:09 p.m. EDT (ESPN).
---
Season Series: Mets beat Giants 4-3.
---
Projected Lineups:
Giants: CF Denard Span (.266, 11 HRs, 52 RBIs, 12 SBs), 1B Brandon Belt (.275, 17, 82, 41 2Bs, 104 BBs), C Buster Posey (.288, 14, 80, 33 2Bs), RF Hunter Pence (.289, 13, 57), SS Brandon Crawford (.275, 12, 84), LF Angel Pagan (.277, 12, 55, 15 SBs), 2B Joe Panik (.239, 10, 62), 3B Conor Gillaspie (.262, 6, 25).
Mets: 3B Jose Reyes (.267, 8, 24, 9 SBs in 60 games), SS Asdrubal Cabrera (.280, 23, 62), LF Yoenis Cespedes (.280, 31, 86), CF Curtis Granderson (.237, 30, 59), RF Jay Bruce (.250, 33, 99 with Reds and Mets; .219, 8, 19 in 50 games with Mets), 2B T.J. Rivera (.333, 3, 16 in 105 at-bats), 1B James Loney (.265, 9, 34 in 100 games), C Rene Rivera (.222, 6, 26 in 65 games).
---
Starting Pitchers:
Giants: LH Madison Bumgarner (15-9, 2.74 ERA, 251 Ks).
Mets: RH Noah Syndergaard (14-9, 2.60, 218 Ks in 183 2/3 IP).
---
Relievers:
Giants: RH Sergio Romo (1-0, 2.64, 4/4 saves), RH Derek Law (4-2, 2.13, 1 save), LH Javier Lopez (1-3, 4.05, 1 save, .211 BA vs LH hitters), RH Hunter Strickland (3-3, 3.10, 3 saves), RH Santiago Casilla (2-5, 3.57, 31/40 saves), RH George Kontos (3-2, 2.53), LH Will Smith (2-4, 3.35 with Giants and Brewers), LH Steven Okert (0-0, 3.21 in 16 games), RH Johnny Cueto (18-5, 2.79 in 32 starts), RH Jeff Samardzija (12-11, 3.81 in 32 starts).
Mets: RH Jeurys Familia (3-4, 2.55, MLB-high 51/56 saves in 78 games), RH Addison Reed (4-2, 1.97, 1 save in 80 games), RH Fernando Salas (3-7, 3.91, 6 saves in 75 games with Angels and Mets; 0-1, 2.08, 19 Ks, no walks in 17 games with Mets), LH Jerry Blevins (4-2, 2.79, 2 saves in 73 games, 42 IP), RH Hansel Robles (6-4, 3.48, 1 save), LH Josh Edgin (1-0, 5.23 in 16 games), RH Bartolo Colon (15-8, 3.43 in 34 games, 33 starts, team-high 191 2/3 IP), RH Robert Gsellman (4-2, 2.42 in 8 games, 7 starts).
---
Matchups:
This is the second postseason meeting between the teams. New York beat the Giants in four games during their 2000 NL Division Series. ... Both clubs finished 87-75, and the Mets earned home-field advantage for this game by winning the season series. New York took two of three at home early in the season before the teams split a four-game series at San Francisco in August. Bumgarner had two of the Giants' three wins and is 5-0 with a 1.80 ERA in six career starts against the Mets. He allowed four runs over five innings in a 10-7 victory Aug. 18. He had allowed four runs in his first 35 innings against New York, including six scoreless innings to outpitch Syndergaard on May 1. ... Syndergaard threw eight innings of two-hit ball to win 2-0 at San Francisco on Aug. 21. ... Posey is a .336 career hitter against the Mets. ... New York set a franchise record with 218 home runs, which ranked second in the NL and fifth in the majors. The Mets went 77-40 when they homered. ... New York also clocked a club-record 13 pinch-hit homers this season. Only the Cardinals (17) had more. ... In addition to his quality stuff and sensational postseason resume, Bumgarner could present a matchup problem for the middle of New York's lineup simply because he's a lefty. Granderson, Bruce and Loney all bat left-handed. Reyes and Cabrera are switch-hitters, but injured infielder Wilmer Flores (wrist) will be missed. Flores hit .340 with 11 homers in 100 at-bats vs. left-handers this season, including .393 with 25 RBIs in his last 61 at-bats. He had a whopping .710 slugging percentage against southpaws. Flores had been subbing at second base for injured Neil Walker (23 HRs). That role now belongs to T.J. Rivera, an undrafted rookie from New York City who won the Pacific Coast League batting crown. He's done an excellent job filling in. ... The winner heads for Chicago to play the NL Central champion Cubs in a best-of-five Division Series beginning Friday. New York swept the Cubs in last year's NL Championship Series and went 5-2 against them this season, including a four-game sweep at Citi Field.
---
Big Picture:
Giants: After leading the majors with a 57-33 record at the All-Star break, San Francisco stumbled to the finish and nearly missed out entirely on the postseason. The Giants ended the regular season with their first four-game winning streak of the second half to beat out St. Louis by one game for the second NL wild card. Now that San Francisco is in, manager Bruce Bochy's team hopes to extend the even-year karma that led to World Series titles in 2010, `12 and `14. ... San Francisco set up its rotation with the right man on the mound for this one in Bumgarner, the 2014 World Series MVP. He is 7-3 with a 2.14 ERA in 14 career postseason appearances, and 5-1 with a 0.99 ERA in his last seven postseason starts. ... The bullpen was the biggest issue in the second half, with the team setting a franchise record by losing nine games it led after eight innings, including five in September. ... Posey hit just three HRs in his last 63 games but picked up his performance late with 12 RBIs in the final nine games. ... Pence, who missed 48 games with a hamstring injury, had a strong finish, batting .340 over his final 24 games. ... San Francisco committed a major league-low 72 errors, with Crawford playing mistake-free defense in his final 43 games at shortstop. ... With 3B Eduardo Nunez still sidelined because of a hamstring injury, Gillaspie will get the nod. He is 7 for 14 with five RBIs in the past five games.
Mets: Following last year's World Series loss to Kansas City, the well-stocked Mets began the season with big expectations and legitimate aspirations of winning their first championship since 1986. Then the aches and pains started piling up. Every established regular besides Granderson spent time on the disabled list, in addition to handy part-time players Flores (16 HRs, 49 RBIs) and Juan Lagares. Lucas Duda (back) missed four months, and captain David Wright (neck surgery) has been out since late May. By early September, the imposing young rotation had been decimated by season-ending injuries to Matt Harvey, Jacob deGrom and Steven Matz. Zack Wheeler never made it back from March 2015 Tommy John surgery, further testing New York's pitching depth. The trade-deadline deal for Bruce looked like a bust before he finally went on a timely tear during the last week of the season. But when the resilient Mets reached down to the farm, several marginal prospects delivered under pressure. Gsellman and Seth Lugo saved the rotation down the stretch, while the 43-year-old Colon was a rock throughout - even becoming the oldest major leaguer to hit his first career home run. Loney and Rene Rivera, steady veterans dumped by Tampa Bay just before the season started, arrived from the minors and provided important contributions. Reyes, released by Colorado after serving a domestic-violence suspension, rejoined his original team at a new position July 5 and combined with Cabrera to energize a sagging offense. Both dyed their hair bright, too, and manager Terry Collins' persistent team finally took off. New York was 60-62 after losing at San Francisco on Aug. 19, the day Cespedes and Cabrera came off the DL. Then the Mets went an MLB-best 27-13 the rest of the way and jumped over four teams in the pennant race. They secured the top wild card on the penultimate day of the regular season, reaching the playoffs in consecutive years for the second time in franchise history (1999-2000). That allowed them to hold back Syndergaard for this game. Now, the Mets will try to make another October run with Cespedes. The star slugger can opt out of his contract and become a free agent again this fall.
---
Watch For:
- Closing Time. The bullpen that played such a key role in San Francisco's recent World Series championships melted down in the second half. Casilla tied for the most blown saves in the majors with nine and lost his job. After struggling to find a replacement, Bochy went to Romo, the closer during the 2012 title run. He successfully converted all four save opportunities in the final two weeks. Meanwhile, the Mets have a reliable formula at the back end in Salas, Reed and Familia.
- Running Wild. The 6-foot-6, 240-pound Syndergaard has trouble holding runners and is often slow to the plate. He allowed 48 stolen bases this season, 18 more than any other pitcher and most in the majors since 2001. It's a big reason why strong-armed Rene Rivera has become his regular catcher. San Francisco probably will try to take advantage. The Giants ranked eighth in the NL with 79 steals but were caught 36 times for a success rate of 69 percent.
- Power Outage. While the bullpen woes got the most attention, the Giants' bats also struggled in the second half. The team went from scoring 4.7 runs per game before the All-Star break to 4.0 afterward, with Posey, Crawford and Belt all struggling to hit for power.
- Tried and Tested. The Mets haven't played a team that finished with a winning record since Sept. 14 at Washington. Meanwhile, the Giants are coming off a three-game sweep of the NL West champion Dodgers.
---
---