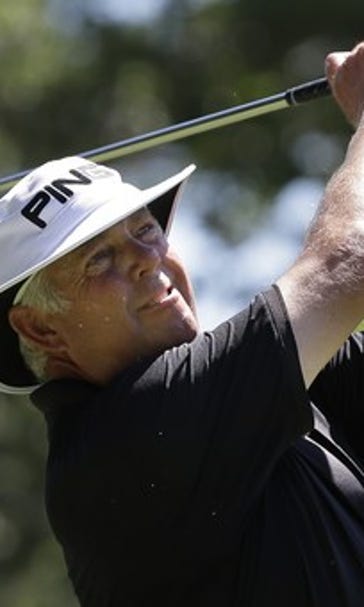 Triplett, Wiratchant take early lead at Senior British Open
July 26, 2018
ST. ANDREWS, Scotland (AP) American Kirk Triplett and Thaworn Wiratchant of Thailand shot 7-under 65s Thursday to lead the Senior British Open by one stroke after the opening round but both will be keeping a close eye on defending champion Bernhard Langer.
Long the dominant figure in over-50s golf, Langer arrived at St. Andrews as the man to beat. And not much has changed.
While Langer's 5-under 67 wasn't the best score over the Old Course, the German's lofty presence on the leaderboard will have the attention of every other contender.
Langer is tied for fifth alongside former PGA champion David Toms and another American, Scott McCarron, with the trio one shot behind former Ryder Cup captain Paul McGinley and Canadian Stephen Ames.
As many as 16 players shot 68 or less, a figure that almost included 68-year old Tom Watson, on a bright and breezy day.
The seven men atop the leaderboard were all at least 3-under par by the turn. But it was a different matter coming home. No one in the 144-strong field was better than 3 under for their final nine holes.
Wiratchant's round was highlighted by a run of five straight birdies from the third hole. Four more followed, with dropped shots at Nos. 13 and 17.
Triplett put his bogey-free score down to following instructions from his caddie, a local man well acquainted with golf's most famous venue.
''He was very descriptive,'' said Triplett with a smile. ''It was, `Hit it right at that tower' or `Right at that clump of bushes.' I did that a number of times and had a lot of good looks (at the pins) from the fairways. Then I putted well from 10-to-20 feet. That's what you have to do around here.''
Good putting from long distance was the dominant theme of a sunny day. Langer, Watson and Ames all emphasized its importance on the huge double-greens that are, at the end of the massively wide fairways, perhaps the most noticeable characteristic of the Old Course.
''I putted decently,'' Langer said. ''I made a number of medium-length putts to get me under par. And a couple of good ones went in coming home. I had two three-putts as well. But that happens out here. You can get some pretty long putts on this course.''
Watson was a lot more openly excited by his performance, especially after recording no more than a four on his card for what he said was ''the first time in 20 years.''
In search of his fourth Senior British Open title, Watson hit a number of quality shots but it was his putting that pleased the five-time British Open champion the most.
''My long putting is what I've been practising,'' said Watson, who missed a 25-foot putt on the 18th green to equal his age, and ended on 69. ''When you come to St. Andrews you know you are going to have 80-foot putts. I've been working on them a lot at Royal Oaks in Houston. So my touch is pretty good right now.''
John Daly also shot 69. Suffering from a long-standing right knee problem, Daly was clearly limping by the end of a round highlighted by four birdies and an eagle on No. 5.
''I take any chance I can to play at St. Andrews,'' Daly said. ''It's an awesome feeling to walk the fairways that so many great players have.''
---
---