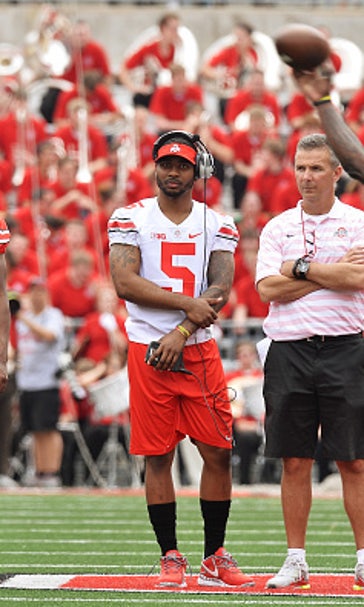 Could Ohio State really use all three quarterbacks?
April 19, 2015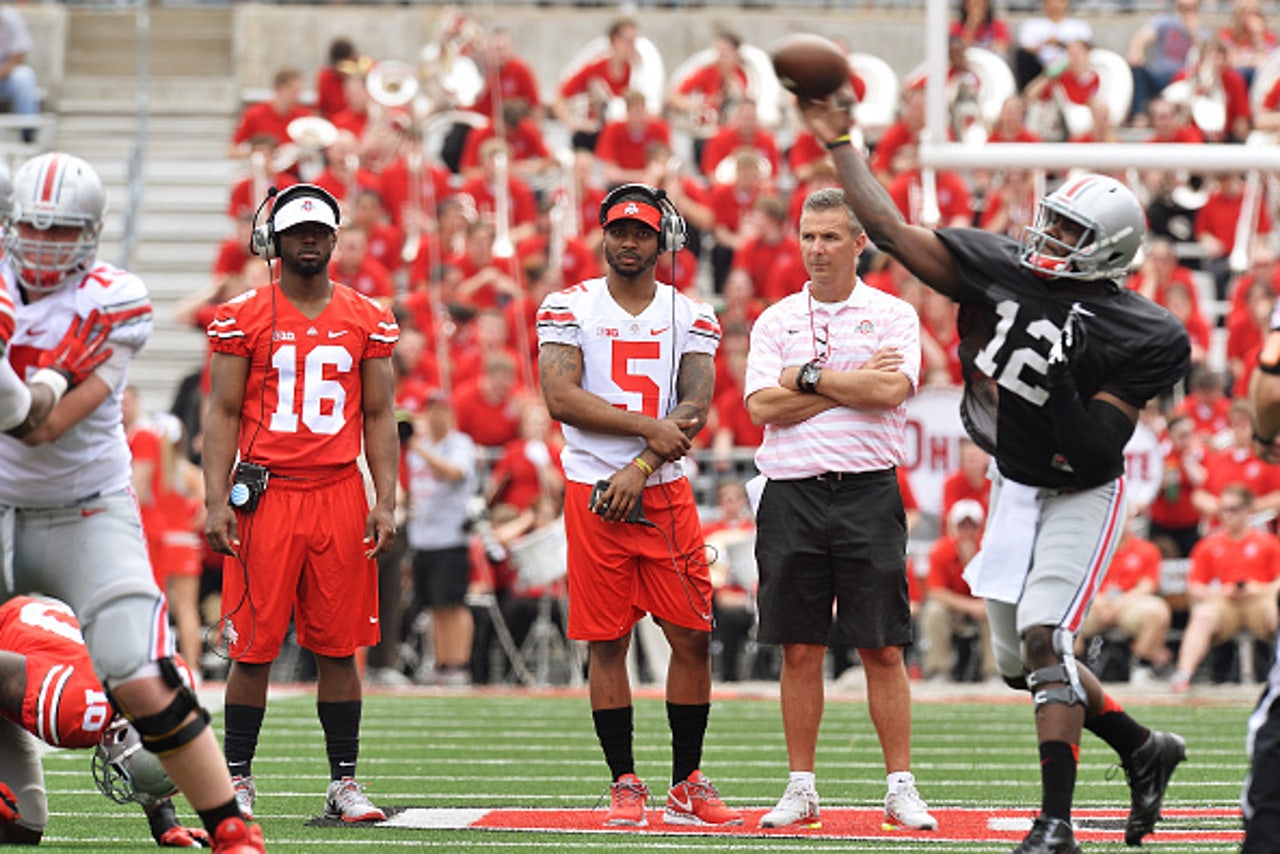 By David Kenyon
Urban Meyer and Ohio State have a problem. It's a good problem, but it's still a major issue that won't be resolved for a while.
The Buckeyes boast three championship-caliber quarterbacks in Braxton Miller, J.T. Barrett and Cardale Jones, a luxury unheard of seemingly at any level. The competition for the starting job is undoubtedly fierce, and the quarterback who takes the No. 1 spot will absolutely deserve it.
But, on Sunday, senior linebacker Joshua Perry mentioned something both intriguing and terrifying. According to ESPN's Joe Schad, Perry believes all three quarterbacks will be used in certain packages during the season.
Wait. Hold on. Back up. That's scary. But it's reasonable, too.
Miller is a dual-threat weapon, having amassed 5,292 yards and 52 touchdowns through the air and adding 3,054 yards and 32 touchdowns with his legs. A shoulder injury sustained prior to the 2014 season opener sidelined Miller for the year, however, which opened the door for J.T. Barrett.
All Barrett accomplished as a redshirt freshman was a Big Ten Conference record for total touchdowns, racking up 45 combined passing (34) and rushing (11) scores before a fractured ankle prematurely ended his season. Cardale Jones then stepped in for Barrett at the most critical point in Ohio State's schedule.
Jones did nothing but excel. In three appearances - the conference championship and a pair of College Football Playoff games - the redshirt sophomore tallied 742 passing yards, five touchdowns, 90 rushing yards and one rushing score. Oh, and he led the Buckeyes to a national title.
Even if Miller isn't the starter, he can be used in Wildcat formations. Barrett is the purest passer of the group, though he's an excellent runner, too. Jones, a 6-foot-5, 250-pound beast of a football player, can be utilized in short-yardage sets while still providing a legitimate passing threat.
Ohio State is already the favorite to win the championship. If the trio can figure out a way to coexist on the field, the Buckeyes will have the most versatile, dangerous and terrifying quarterback unit in the NCAA.
How's that for a problem?
More from Sportsnaut:
---
---