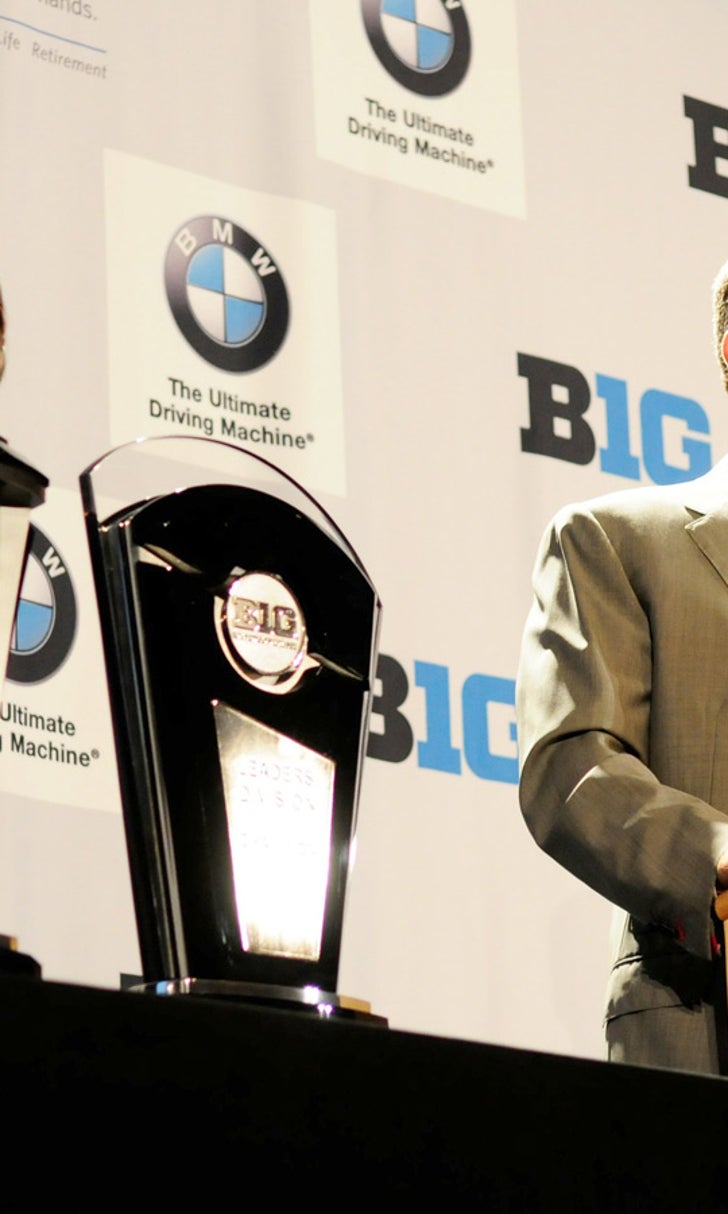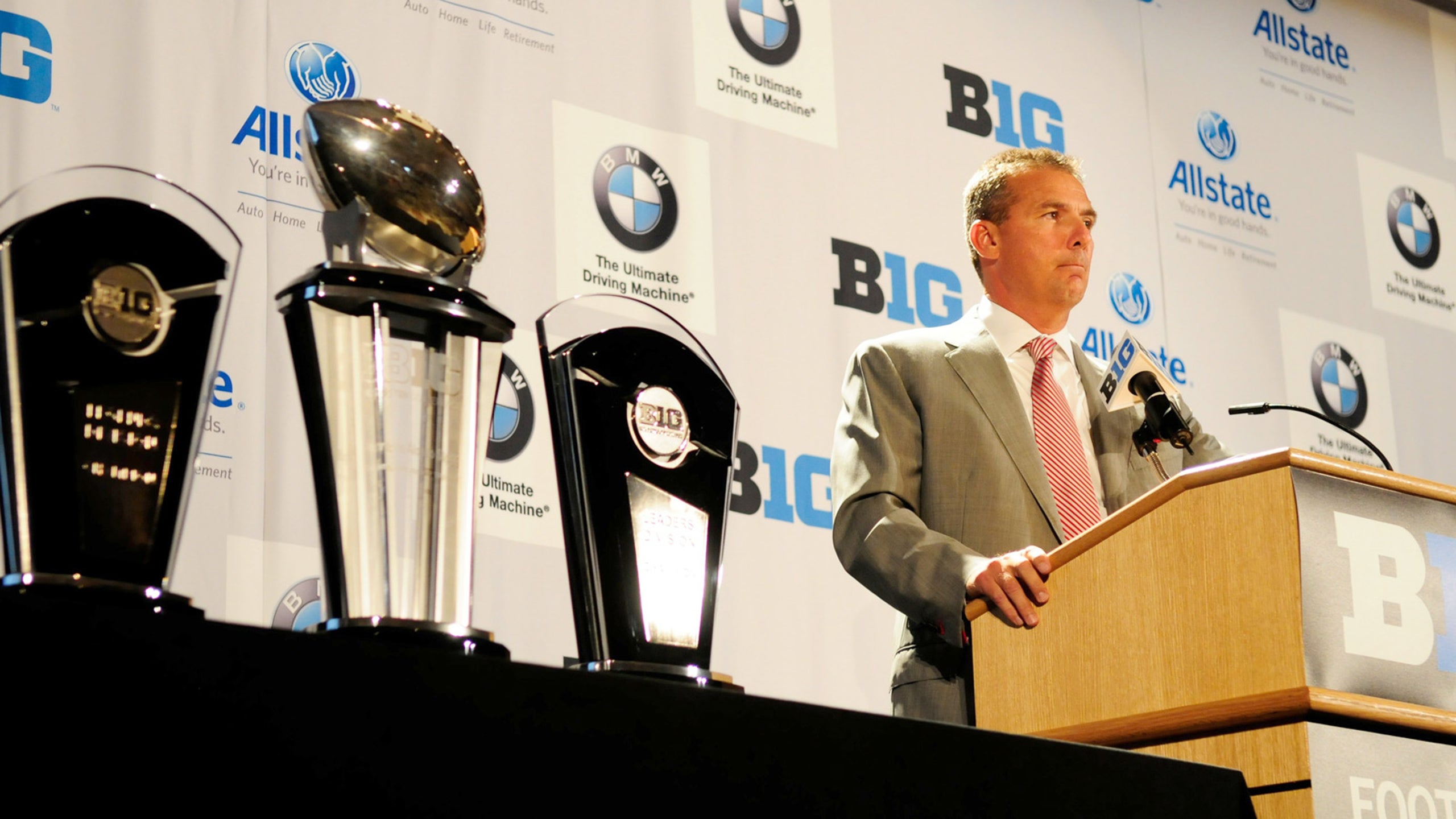 Big Ten Media Day Q's: How will new faces perform at Ohio State?
BY Marcus Hartman • July 29, 2015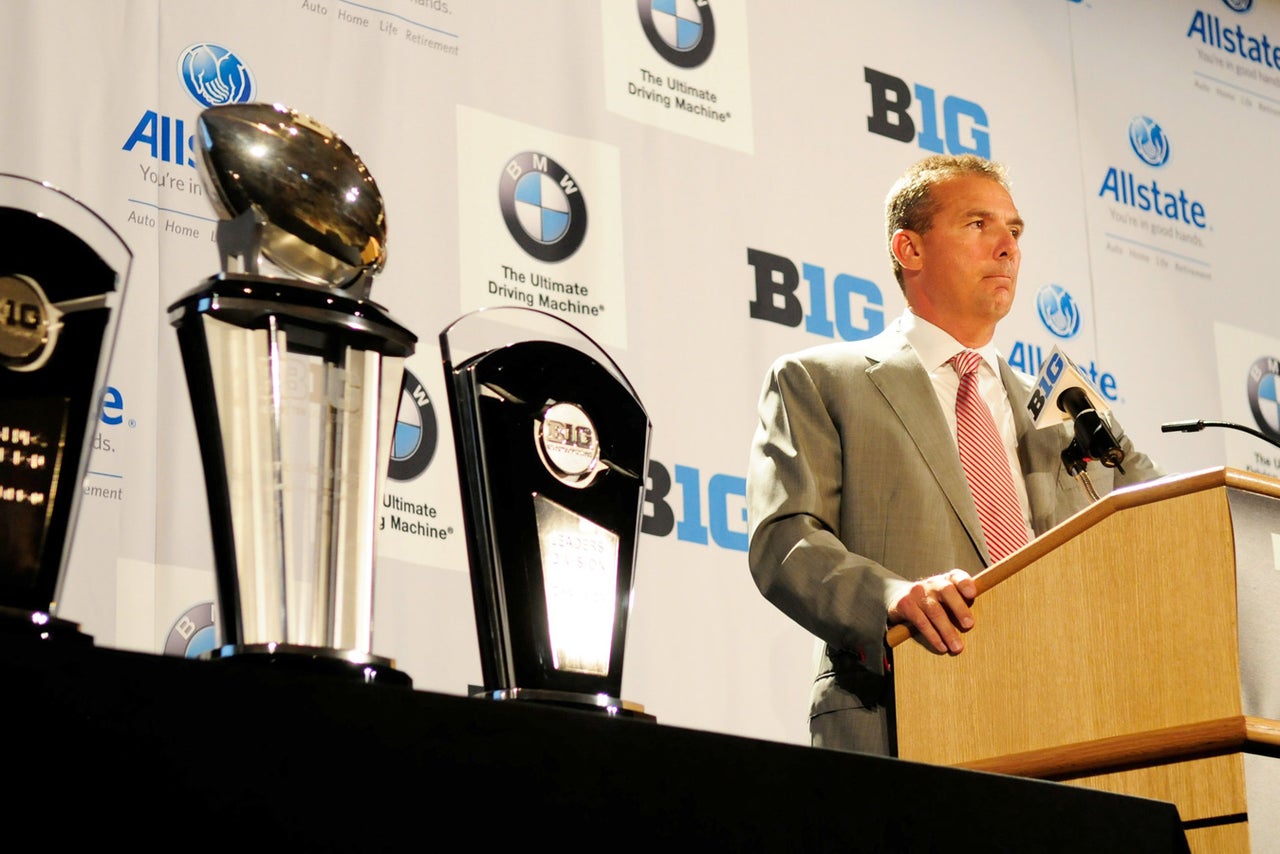 With coaches and representatives from all 14 Big Ten teams set to descend on Chicago this week for the conference's annual football media days, we preview some of the topics most likely to come up for discussion.
1. Who is going to be the starting quarterback for the defending champions?
OK, we admit there is probably no chance Urban Meyer is going to come close to naming a front-runner before preseason camp even starts, but we are curious if he will give away anything as far as how he might make a decision between Cardale Jones and J.T. Barrett.
The coach said at the conclusion of spring practice he would be grading everything the players do because that would remove personal sentiment. Expect Meyer to be asked if that is still the plan or if things have changed with Braxton Miller apparently removing himself from the race because choosing between two players figures to be easier than picking one starter out of three.
2. How will Braxton Miller adjust to a new role on offense?
Although Meyer subsequently tried to walk back some of the talk about Miller's reported move from quarterback to H-back/wide receiver, this is sure to be a major talking point (though not with Miller, who was in attendance last year but will not be in Chicago this year).
The possibilities are endless as far as how he can help Ohio State gain yards and score points, whether he is catching snaps, passes or even kickoffs and punts.
Of course, the coach will also get a chance to clarify just what is going on with his senior two-time Big Ten Most Valuable Player, too, as far as not only position but also health.
3. Have the Buckeyes found a deep threat?
Devin Smith was a four-year contributor for Ohio State and flashed his outstanding speed and athleticism from early in his freshman year, but he saved some of his best performances for last. Smith's ability to get open down the field and make athletic catches was a major factor as Ohio State routed Wisconsin, shocked Alabama and pounded Oregon in the postseason, but he has moved on to the New York Jets.
There is some experience coming back and a lot of untapped potential in the Ohio State receivers room, but it remains to be seen if anyone can stretch the field and scare defenses like Smith, who tied for the national lead with 12 receptions of 40 yards or more last season. His 28.1 yards per catch were more than four better than anyone else in the country.
4. Who will join the starting lineup for Ohio State's defensive line?
Cardale Jones and Ezekiel Elliott stole many of the headlines as the Buckeyes stormed through the postseason, but their exploits might have all been for naught without the Ohio State defense raising its game.
A major aspect of the improved play by that unit was the performance of the front, where three members of the rotation are gone in starting tackle Michael Bennett and ends Steve Miller and Rashad Frazier, who often shared time.
Joey Bosa and Adolphus Washington return as five-star talents who could both be in their last go-round in Scarlet and Gray, but they won't be able to do it alone. Washington will be among the Buckeyes in attendance in Chicago, giving him the chance to share what he has seen from a group of highly recruited but mostly unproven players at tackle and end.
5. How are the new coaches fitting in?
Ohio State broke numerous records on offense last season despite having to break in four new starters on the offensive line, a new starter at running back and another at wide receiver. Oh yeah, and they had to deal with not one but two season-ending injuries to quarterbacks who have put up historic numbers in their careers.
Offensive coordinator and quarterbacks coach Tom Herman received a lot of praise (and the Broyles Award as the nation's best assistant coach) for his work in those areas, as did running backs coach Stan Drayton, as Elliott churned out multiple 200-yard games to close out the season. Herman has become head coach at Houston while Drayton is a Chicago Bears assistant, opening the door for respective replacements Tim Beck and Tony Alford.
How they adapt to the successful staff Meyer has put together in Columbus could be big this fall as the Buckeyes deal with the pressures of trying to repeat as conference and national champions.
---
---